Discover the Best Beaches and Bays in Greece with Luxury!
One of the many reasons to love the Greek Islands — aside from incredible scenery, fresh seafood, and an ages-old culture — is that they have some of the world's most beautiful beaches and bays. We explore some of Greece's best beaches and bays and give you an idea of the perfect places to lay your beach towel. We also look at the yacht types that suit your luxury yacht charter.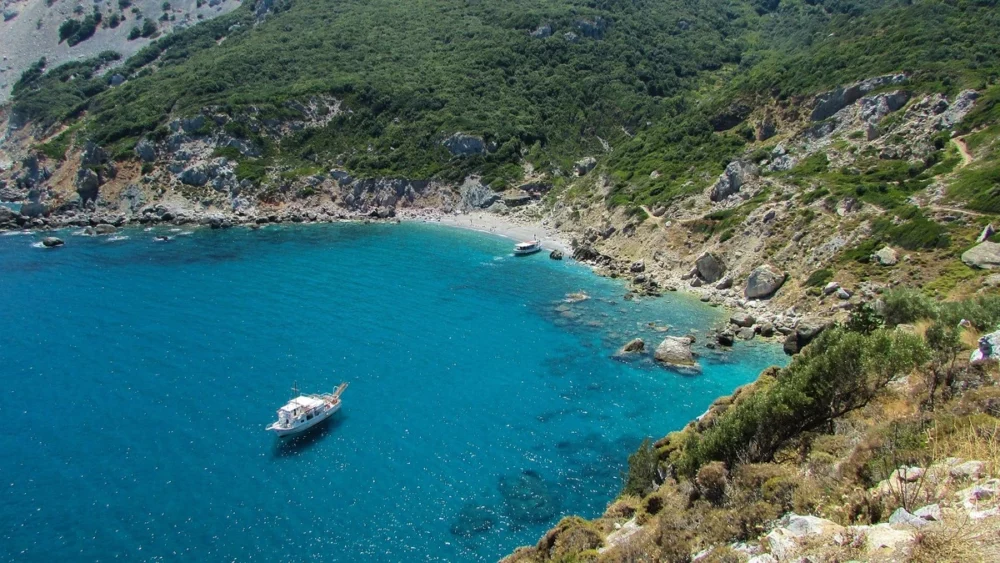 The Greek Islands are home to some of the world's best beaches and bays – calm expanses perfect for families and little ones who want to dip their toes in the Aegean; tiny, secluded coves where honeymooning couples can get away from the crowds; and red, white, and black sandy stretches that provide the ultimate photo-op for Instagram.
One of Greece's best beaches, Elafonisi, is in Crete. Although many yachts do not include Crete beaches on their itineraries, we can arrange for you to visit before or after your charter.

Luxury Yacht Charters
Best Beaches in Greece for Families
The Greek Islands are a fantastic destination for families looking to spend quality time together. There are beaches with various activities, which is great if you have kids of different ages. Teens can enjoy windsurfing, while younger kids can snorkel and play in the sand.
Here are some of the best beaches and bays in Greece for families:
Lefkada: The family-friendly beach of Porto Katsiki is a favorite amongst visitors. Calm, turquoise blue water and a stunning rock cliff make a beautiful background for family photos. Bring an umbrella as there is no shade, and water shoes are a good idea since the sand is pebbly.
Corfu: Moraitika Beach is one of the largest beaches on Corfu Island. It is a great spot for a family day out. It has beautiful blue waters, perfect for your yacht's water toys, and many nearby eateries, bars, and cafes. Thirty Corfu beaches have the much-sought-after Blue Flag award for quality.
Ithaca: Vathy Beach is one of the most picturesque beaches on Ithaca island, located close to Vathy port. The shallow waters make it ideal for swimming and snorkeling with children. The natural shade from the surrounding trees provides plenty of protection from the sun. There's also a beach bar nearby with snacks and drinks.
Nissaki Bay on Mykonos Island has breathtaking views and an abundance of hidden coves and pristine beaches. All are easily accessible by boat.
Lagada Beach in Kefalos Bay, Kos Island, has golden sand, turquoise waters, and fantastic views. The water is shallow near the shore and deepens farther out.
Athens may not be the first place in Greece that you think of when imagining sandy white beaches and sky blue seas. But the Athens Riviera is a stretch of coastline that boasts dozens of beaches for every type of beachgoer.

Astir beach, Kavouri Beach, and Thalassea are just a few options.

Luxury Yacht Charters
Best Beaches and Bays for Couples
One could argue that all of the beaches in Greece are romantic! However, several stand out as especially couple-friendly. A few excellent beaches and bays to spend quality time with your significant other include:
To reach one of the best beaches on Santorini, descend the 300 steps from Oia to Amoudi Bay. Majestic red cliffs and white-washed buildings typical of Santorini surround this small village. Stop at one of the charming taverns for a romantic seafood dinner.
The small island of Skopelos is home to several romantic beaches with breathtaking views. Panormos Beach is one of the most beautiful on the island, with its white sand and clear blue waters. A stroll along the beach at sunset will leave you feeling completely relaxed and refreshed.
Honeymooners should check out Lachania Beach on Rhodes. This is a large sandy beach with transparent water. There are 39 Rhodes beaches with the Blue Flag award for quality.
Finally, couples looking for something more off-the-beaten-track should head to Mykonos. Agios Sostis Beach is famous for its seclusion and stunning beauty, making it ideal for a quiet escape.
Best Greece Beaches for Watersports
The clear, clean waters of the Aegean Sea and consistent wind conditions attract watersports enthusiasts worldwide. Swimming, snorkeling, scuba diving, kayaking, and water skiing are just a few activities to enjoy when visiting the Greek islands.
Some of the best beaches in Greece for watersports include:
Mastichari Beach on Kos Island. This family-friendly beach has soft white sand and is very popular for wind sports like windsurfing and kiteboarding. It is also a good place to visit if you've always wanted to try flyboarding.
The beaches of Kefalonia, in particular, provide crystal clear water and ideal conditions for watersports. Antisamos Beach is one gorgeous beach surrounded by lush green hills and has clear water full of marine life. Snorkel, kayak, paddleboard.
Prasonisi Beach on Rhodes has consistent wind, making it a popular kitesurfer spot. Also, on Rhodes, Traganou Beach is a good, calm beach for swimming and snorkeling.
Agia Paraskevi Beach on Skiathos is a large, beautiful beach with blue waters and golden sand. Enjoy water skiing and jet skiing here.
Scuba divers will love the many shipwrecks to explore, including the HMHS Britannic off the coast of Kea, the Santa Maria wreck in Taxiarachis Bay, Santorini, and the HMS Perseus near Kefalonia.
Best Party Atmosphere Beaches
Greek beaches have plenty to offer if you desire an unforgettable party atmosphere on your luxury yacht charter.
For an exclusive vibe, head to Psarou Beach on Mykonos. Snuggled in a tiny bay, this little beach has some of Mykonos's clearest waters and finest sand. It is also a great spot for celebrity sightings!
Mykonos is also known as the Ibiza of Greece, so its beaches have a great party vibe. In particular, Paradise Beach has several bars and is popular with the younger crowd. Continue the party after dark at one of the nearby clubs.
On Rhodes, Anthony Quinn Bay, named for the actor, is a pretty beach with several bars and restaurants.
On Ios, Mylopotas Beach is the ultimate party beach. Revelers flock to this place to enjoy the translucent waters, sandy shore, and beach bars.
Jammin in Paradise Beach and Bar on Meganisi. This cozy seafront beach and bar has more of a laid-back party vibe but is perfect for summertime fun. Relax in the sun, have a frosty drink, and jam to reggae, Latin, ethnic, and jazz music.
Best Beaches for Naturists
If you're looking for more privacy and freedom on your yacht charter, you may want to consider the best beaches and bays in Greece for naturists. Nudism and topless sunbathing are accepted in some areas of Greece, and many beaches have designated nudist or nude-friendly areas.
Nudity is not legal in all public places in Greece, so it's important to check before you go. Also, watch for signs to avoid any potential run-ins with local law enforcement.
One of the most popular nude beaches in Greece is Skinari Beach, located on the island of Zakynthos. This beach offers plenty of privacy. It's perfect for those who want to take a dip without worrying about getting arrested!
Escape to Mykonos' Fokos Beach, a hidden gem, free from crowds and perfect for sunbathing "au natural" if desired.
Top Best Beaches and Bays in Greece Overall
Navagio Beach on Zakynthos: This spectacular beach, also known as "Shipwreck Beach", is on the coast of Zakynthos Island. Its picturesque blue-green waters, white sand, and surrounding rocky cliffs make it one of the most stunning beaches in Greece.
Black Beach on Santorini: This unique beach is on the south coast of Santorini island. It features jet-black sand, stunning cliffs, and crystal-clear waters. It's perfect for swimming, snorkeling, and exploring the volcanic landscape.
Agios Prokopios Beach on Naxos: Located on the west coast of Naxos Island, Agios Prokopios Beach is a large sandy beach with shallow waters. It is great for families with children.
Super Paradise Beach on Mykonos: Super Paradise Beach is a long stretch of white sand with calm waters ideal for wading, swimming, snorkeling, and people-watching. The beach has a lively atmosphere with plenty of beach bars, restaurants, and nightlife spots.
Yachts for Island Hopping in the Greek Islands
Catamarans have roomy common areas, and their two hulls provide more privacy for cabins than a monohull sailboat. Moreover, their shallow draft means you can get closer to sandy beaches. Traditional sailboats, or monohulls, give you a true sailing experience. Motor yachts are large, spacious, luxurious, and fast, allowing you to visit more islands.
We will help you select the best yacht for your beach-hopping adventure in the Greek Islands. A few excellent choices for your yacht charter to discover the best beaches and bays in Greece include:
Please call us today at 1 (321) 777-1707 or describe Your Vacation Vision to help you plan your fully-crewed private luxury yachting vacation! Inquire as soon as possible about your custom, crewed yacht charter.
You make the memories. We make the arrangements.