Romantic Greece Honeymoon Yacht Charter
There's something incredibly romantic and luxurious about planning a honeymoon on a private yacht. Whether it's the tranquil blue sea, peaceful sunsets, or secluded bays and coves, a Greece honeymoon charter is the perfect way to start your marriage in style.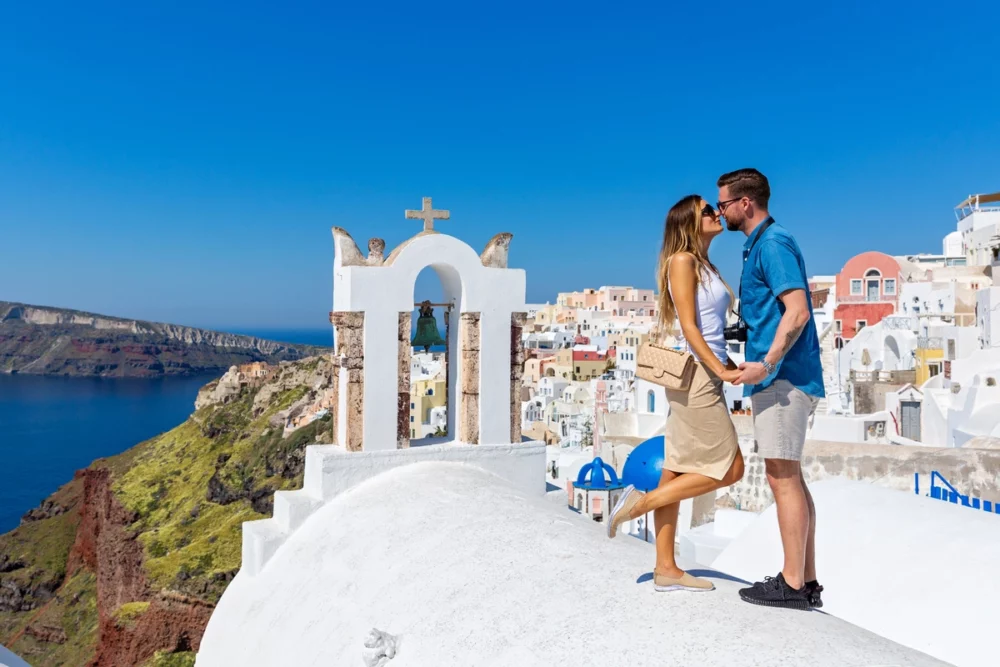 The benefits of booking a private yacht charter for your Greece honeymoon are plentiful. Not only will you have access to the finest amenities and services that only a luxury yacht can offer, but you'll also have the freedom to travel wherever you please.
Why a Greece Honeymoon Charter
The Islands
On your honeymoon in Greece, there are many islands and countless itineraries to explore. Best of all, you can visit a different island every day. Or, if you discover an island that strikes your fancy, you can stay longer. It is all up to you!
Privacy
You will have the utmost privacy aboard your yacht, and the quiet bays, secluded beaches, and peaceful anchorages will give you and your new spouse the time alone you deserve. Relax far away from crowded hotels or all-inclusive resorts. Moreover, with a professional crew to attend to your every need, you can enjoy each other's company without worrying about everyday stresses.
Adventure
Laying on the beach all day is fine, but you may want to lace up your hiking shoes and start exploring. Enjoy the hiking and cycling trails on every island. Greece and its islands are steeped in fascinating history, age-old culture, and ancient ruins such as the Acropolis of Lindos on Rhodes.
Delicious Cuisine
Fresh local ingredients and time-tested recipes make Greek cuisine some of the best you'll ever taste. Not only will you find excellent food wherever you go, but you will also have a private chef on board your yacht.
Before traveling, you will complete a Preference Sheet that lists your likes, dislikes, allergies, and intolerances. The highly trained chef will take this information and create a week's worth of mouth-watering meals, snacks, and beverages.
Nightlife
Whether your idea of nightlife is dancing til dawn at an exciting club or dining beneath the star-filled sky aboard your yacht, you will find plenty of nightlife in the Greek islands. Mykonos, one of the most well-known party islands, boasts numerous famous bars and clubs where you can rub shoulders with celebrities and the rich and famous. Even the beach bars turn up the music as the sun goes down!
Which Islands to Visit on a Greece Honeymoon Charter
There are so many Greek Islands that are perfect for a honeymoon. So, how do you know the best greek islands for a honeymoon? We've outlined the primary character of each island group so you can discover the best places to visit in Greece for couples.
Of all the Greece honeymoon destinations, the Cyclades Islands of Mykonos, Santorini, Paros, and Naxos may be the most popular.
Mykonos. This vibrant island is home to picture-perfect white sand beaches, colorful sunsets, and lively bars and restaurants. Spend your days relaxing on the beach, enjoying cocktails at sunset, or dancing the night away in a local club.
Santorini. Picture postcard-perfect views of white-washed houses overlooking the shimmering sea make Santorini one of the most romantic destinations in Greece. As one of the most famous Greek Islands, Santorini offers fine dining experiences, wine-tasting tours, sunbathing on the black sand beaches, and spectacular views from the top of Oia village.
Paros. Another Cycladic island that offers dreamlike honeymoons is Paros. Enjoy the authentic Greek island lifestyle and discover the island's culture from the locals.
Naxos. Naxos is an idyllic Greek island that will impress honeymooners looking for a quiet retreat. Enjoy breathtaking views from atop Mount Zas, or stroll around picturesque villages such as Apiranthos or Filoti.
Hydra, Spetses, Aegina, and Poros welcome couples with charming villages, secluded beaches, hiking trails, and authentic cuisine.
Hydra. Walk hand in hand with your beloved through the narrow alleys of Hydra. Dine at a quiet tavern by the sea, and visit art galleries and museums housed in old mansions. After dark, party the night away at a club or toast your new marriage at a quiet bar.
Spetses. No Greek Islands honeymoon would be complete without tasting the national drink of Greece — Ouzo. Enjoy a glass of this licorice-flavored drink at Throubi bar, overlooking the water. In addition, Spestes is one of the Best Greek Islands for a honeymoon.
Aegina. Aegina is a lush island full of pine and olive trees and small villages. For a romantic experience, take a ride in a horse-drawn carriage.
Poros. Make use of your yacht's water toys in Poros. Monastiri beach has calm water where you and your beloved can SUP or kayak the shoreline.
Visit the Dodecanese Islands of Rhodes, Kos, and Simi for cultural attractions, ancient towns, tranquil anchorages, swimming, scuba diving, and snorkeling.
Rhodes: With its ancient ruins, stunning architecture, cobblestone streets, and medieval town walls, Rhodes is like no other. Take a tour of the ancient city of Lindos and explore the Acropolis with its iconic Temple of Athena Lindia. Soak up some sun on the golden sand beaches, swim, and snorkel in the clear water.
Kos. Kos has numerous romantic things to do. Pearl-white beaches, fascinating ancient ruins, and welcoming villages make this an ideal island for newlyweds. Banish any leftover wedding stress with a couples massage or facial at The Therme Spa.
Simi. Newlywed couples who are foodies will rejoice in Simi, known for its fresh seafood and local cuisine. Be sure to try Simi's most famous dish – Symi shrimp. Although many of the island's restaurants are around the picturesque harbor in Gialos, numerous charming tavernas are scattered across the island.
The Ionian Islands of Corfu, Zakynthos, Ithaca, and Kefalonia offer beautiful beaches, island hopping, scuba diving, and nightlife.
Corfu. No Greek Islands honeymoon would be complete without tasting the national drink of Greece — Ouzo. Have a glass of this anise-flavored liquor at the Venetian Well, the most atmospheric restaurant in Corfu.
Zakynthos. Zakynthos has a little bit of everything for your Greek islands honeymoon; romance, adventure, sandy beaches, and turquoise waters. The famous Shipwreck Beach is great for taking Instagram photos!
Ithaca. Ithaca island is said to be the home of Odysseus. You'll love its stunning beaches, fragrant pine forests, and charming villages.
Kefalonia. Kefalonia boasts a lacy coastline with countless isolated coves and secluded beaches only accessible by boat. Wander the hidden, private bays and beaches at your own pace, then head back to your yacht for a late lunch prepared by your chef.
The Sporades Islands of Alonissos, Skiathos, Skopelos, and Skyros offer pristine natural beauty, peaceful beaches, and privacy — perfect for your honeymoon yacht charter.
Alonissos. Laid-back Alonissos is another beautiful island to visit on your honeymoon yacht charter in Greece. Visit the Marine Park of the Northern Sporades, a refuge for the rare Mediterranean monk seal.
Skiathos. Find a place away from the crowds on a pine-fringed beach. Wander charming streets and hillside hiking trails and find brilliant white-washed churches.
Skopelos. Reenact your favorite scenes from Mamma Mia, soak up the authentic atmosphere, and enjoy the scenery.
Skyros. Skyros is home to the rare Skyrian horse. A few farms on the island with these horses are worth a visit.
What Type of Yacht Should We Charter on Our Honeymoon?
There's no better way to start your life as Mr. and Mrs. than on a Greece honeymoon cruise.
Choose from a vast selection of Motor Yachts, Sailing yachts, Catamarans, and Power Catamarans. See our Boat Comparison Chart for detailed information about the yacht types.
We would love to learn more about your preferences to recommend possible yachts for a honeymoon sailing experience in Greece. It can be visiting small islands on this sailing vacation—or more nightlife.
Sample Yachts
We will work closely with you to plan your first vacation together as a married couple. From the first phone call to the day you return from your trip, we will ensure you have the time of your lives on your Greece honeymoon charter.
Please call us today at 1 (321) 777-1707 or describe Your Vacation Vision to help you plan your fully-crewed private luxury yachting vacation! Inquire as soon as possible about your custom, crewed yacht charter.
You make the memories. We make the arrangements.