Ionian Islands yacht charters. The Ionian Islands also called the Heptanese – the Seven Islands. The six northern islands are located in the Ionian Sea, off the west coast of Greece. The seventh island, Kythira, belongs to the Attica Region as it is off the southern tip of the Peloponnese. A total of twelve small and large islands belong to this group, seven of them being the principal ones.
These are Kerkyra (also known as Corfu), Paxi (Paxos, Paxoi), Lefkada (Lefkas), Ithaki (Ithaca), Kefalonia (Cephalonia or Kefallinia), Zakynthos (Zante) and the southernmost island, Kythira (Cythera), that is not part of the Ionian Region but does belong to the Ionian Islands.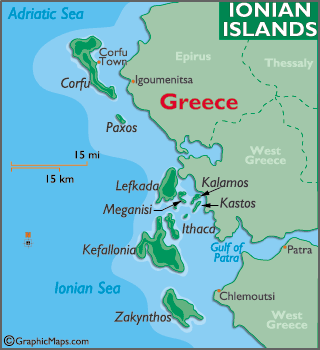 The smaller islands are Antipaxi, Erikousa, Mathraki, Othoni, Meganisi and the deserted island of Strofades.
The Ionians are a very popular yacht charter destination in Greece. Either starting and ending within the islands or doing a one way from Athens via the Corinth canal ending at one of the islands or ports. You can also sail from The Ionians to Athens. During the months of July and August, many crewed catamarans are based in the Ionians. The Meltemi winds that affect the Cyclades have less impact here.
Ionian Islands Destinations
To discover your Ionian Islands yacht charters vacation, Contact Luxury Yacht Charters a division of CKIM Group at 321-361-4055
You make the memories. We'll make the arrangements.