Meganisi | Idyllic Retreat in Nature's Embrace
Welcome to Meganisi, a hidden gem in the Ionian Sea waiting for you to explore! This awesome Greek island has got it all – pristine beaches, cute little villages, and fascinating history. Discover secret hideaways, explore charming towns, and soak up the island's fascinating past.
With its laid-back vibes and friendly locals, Meganisi will steal your heart and give you memories for a lifetime. The island is close to Skorpios Island, formerly owned by the late Greek shipping billionaire Aristotle Onassis.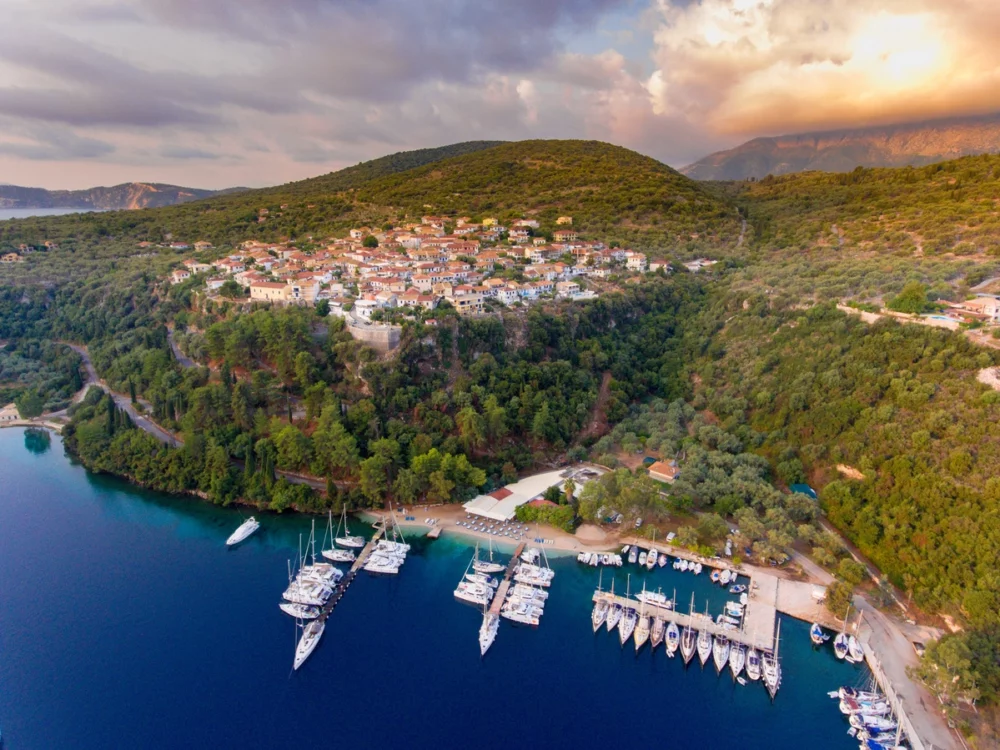 A Brief History of Meganisi
People have inhabited Meganisi since ancient times. It has witnessed the influence of various civilizations, including the Byzantines, the Venetians, and the Ottomans. The island's historical legacy is evident in its architecture, traditions, and captivating folklore, providing a captivating backdrop to your yacht adventure.
A Treasure Trove of Sights and Experiences
Meganisi, although small, boasts an array of captivating sights and experiences that make it an ideal destination for luxury yacht charters. Discover the island's hidden coves and picturesque beaches, such as Agios Ioannis, Spilia, and Vathy. The crystal-clear waters invite you to snorkel or bask in the Mediterranean sunshine.
Don't miss the opportunity to explore the island's charming villages, including Spartochori and Katomeri. The traditional stone houses and winding streets lead to breathtaking Ionian Sea vistas.
Places to See in Meganisi
For history enthusiasts, visiting the Cave of Papanicolis is a must. This natural marvel was a secret hideout for the Greek submarine Papanikolis during World War II. Today it offers a fascinating glimpse into the island's wartime past.
Additionally, Meganisi is home to several ancient ruins, such as the Roman Mansion in Vathy.
Things to Do in Meganisi
Discover Secluded Beaches: Meganisi has stunning beaches that offer tranquility and natural beauty. Kayak to hidden coves like Agios Ioannis or Spilia and swim in crystal-clear waters.
Explore Charming Villages: Wander through the picturesque villages of Spartochori and Katomeri, where time seems to stand still. Admire the traditional stone houses, narrow streets, and vibrant flowers adorning the pathways. Stop by local tavernas and cafes to savor delicious Greek cuisine and experience the island's warm hospitality.
Snorkel: Explore the vibrant underwater world, teeming with colorful marine life.
Sample Local Delicacies: Enjoy fresh seafood, locally sourced produce, and traditional Greek dishes served at waterfront tavernas. Try local specialties like tzatziki, souvlaki, and the island's renowned olive oil.
The Pleasures of Luxury Yacht Travel
Embarking on a luxury yacht charter allows you to experience Meganisi and its surroundings in unparalleled style and comfort. With a private yacht, you can explore hidden coves and secluded beaches inaccessible to larger vessels or land-based travelers. Dive into the sea directly from the yacht's deck, or relax on a sun lounger while enjoying the gentle sea breeze.
Indulge in delectable cuisine prepared by your onboard chef, who will tantalize your senses with a range of Mediterranean delights. Savor freshly caught seafood and fine wines as you dine al fresco on the yacht's spacious deck.
Luxury yacht charters also offer an array of amenities to enhance your journey. Unwind in a private spa, dip in the jacuzzi, or enjoy a revitalizing massage surrounded by the Ionian Sea's tranquil beauty. In addition, your captain and dedicated crew will see to your every need.
8-Day Itinerary with Meganisi
Departure from Corfu
Embark on your luxury yacht on the vibrant island of Corfu, known for its Venetian architecture and lush landscapes. Settle into your luxurious accommodations and enjoy a welcome cocktail as your captain sets sail toward Meganisi. Spend the evening relaxing on board, taking in the stunning sunset views over the Ionian Sea.
Day 2: Discovering Meganisi
Arrive at Meganisi and anchor in one of its picturesque bays. Start your day with a refreshing swim and a gourmet breakfast prepared by your onboard chef.
Explore the island's charming villages, such as Spartochori and Katomeri, strolling through narrow streets and admiring traditional stone houses. In the afternoon, visit the Cave of Papanicolis, and learn about its historical significance. Enjoy a delightful dinner on board, surrounded by the tranquil beauty of Meganisi.
Day 3: Sailing to Lefkada
Set sail from Meganisi to the nearby island of Lefkada, known for its stunning beaches and vibrant atmosphere. Anchor in the bay of Porto Katsiki, where you can swim in the turquoise waters and relax on the sandy beach. Have a beachside lunch prepared by your chef.
In the afternoon, explore the charming town of Nidri and enjoy some shopping or a leisurely walk along the harbor. Return to your yacht for a gourmet dinner under the stars.
Day 4: Enchanting Kefalonia
Cruise to the captivating island of Kefalonia, famous for its rugged landscapes and picturesque villages. Anchor in the bay of Myrtos, known for its stunning turquoise waters and dramatic cliffs. Dip in the sea or relax on the yacht's deck, enjoying the breathtaking views.
In the afternoon, visit the charming village of Assos, with its colorful houses and Venetian castle ruins. Indulge in a traditional Greek dinner at a waterfront taverna.
Day 5: Tranquil Ithaca
Continue your journey to the mythical island of Ithaca, renowned as the home of Odysseus in Greek mythology. Anchor in one of the island's secluded coves, such as Gidaki or Filiatro. Spend the day swimming, snorkeling, and enjoying water sports.
Explore the ancient ruins of Odysseus's Palace and the Cave of the Nymphs, steeped in legend. In the evening, savor a gourmet dinner on board while relishing the peaceful ambiance of Ithaca.
Day 6: Picturesque Paxos
Sail to the idyllic island of Paxos, famous for its emerald-green waters, olive groves, and charming coastal villages. Anchor in the picturesque port of Gaios and stroll through its narrow streets lined with cafes and boutique shops. Visit the enchanting Blue Caves and marvel at their natural beauty. Enjoy a sunset cocktail on the yacht's deck before indulging in a sumptuous dinner at a local tavern.
Day 7: Exploring Antipaxos
Discover the neighboring island of Antipaxos, renowned for its pristine beaches and vineyards. Anchor in one of its secluded bays, such as Voutoumi or Vrika, and spend the day swimming and snorkeling in crystal-clear waters. Enjoy a beachside picnic prepared by your chef, complemented by local wine. In the afternoon, sail back to Meganisi, where you can unwind with a relaxing spa treatment.
Day 8: Return to Corfu
As your luxury yacht charter ends, set sail back to Corfu, enjoying the final moments of tranquility on the Ionian Sea. Arrive in Corfu in the afternoon, allowing time for any last-minute exploration or shopping in the old town. Gather on board for a farewell dinner, reminiscing about the unforgettable experiences and precious memories created during your journey.
Note that this is just a sample. Your captain will work with you to create a custom itinerary based on your preferences and the weather conditions.
Please call us today at 1 (321) 777-1707 or describe Your Vacation Vision to help you plan your fully-crewed private luxury yachting vacation! Inquire as soon as possible about your custom, crewed yacht charter.
You make the memories. We make the arrangements.