Paxos | Magical Island of Beauty
Paxi (Paxoi) stands as the smallest jewel in the Ionian Islands. However, Paxos and the neighboring island of Antipaxos claim the title of the largest within this scenic group. In Greek mythology, Poseidon, the God of the Sea, created Paxos by striking Corfu with his trident. He did so to establish peace for himself and his wife, Amphitrite.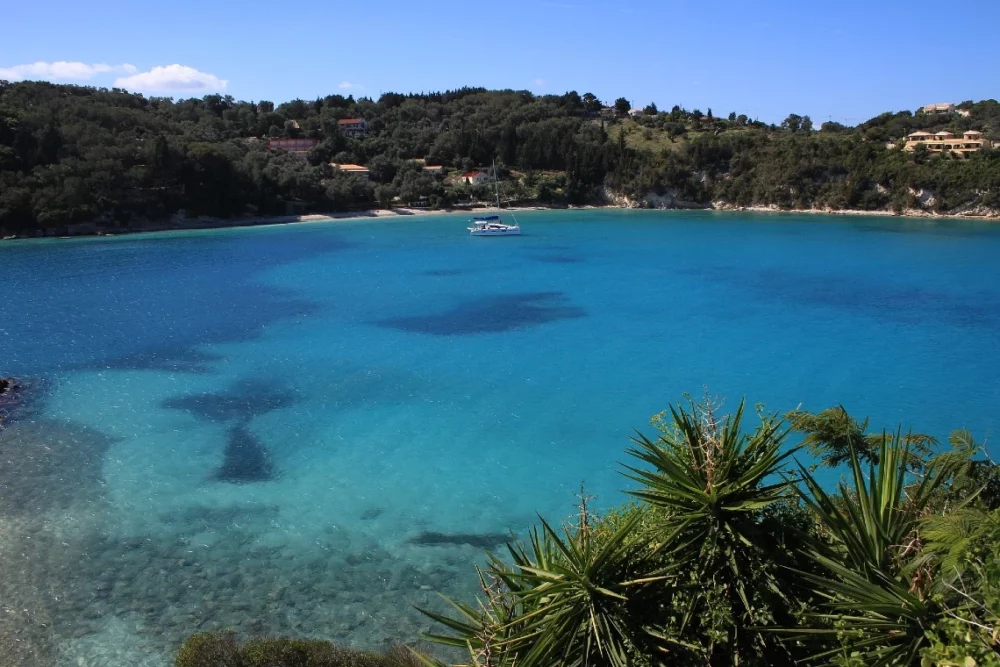 Climate
Paxos enjoys a Mediterranean climate with mild, rainy winters and hot, sunny summers. For instance, the usual temperature each day goes from 9.5 °C in January to 25 °C in August. Hence, the best time to visit is May to October when there's little rain.
Places to see
Towns and Villages of Paxos
Paxos is a hidden gem nestled in the beauty of the Ionian Sea. Moreover, it boasts several picturesque towns and villages. Each one brings a special charm.
Gaios
Gaios serves as Paxos's main port and capital. It welcomes visitors with a delightful mix of traditional Greek architecture and a lively harbor. Contrastingly, along the shoreline lies the petite islet of Agios Nikolaos, adorned with a castle sharing its name. Undoubtedly, it forms an iconic spectacle against the azure canvas of the sea.
Lakka
Located 7 kilometers north of Gaios, Lakka is a tranquil haven. Adding to its charm are the verdant hills and trees, serving as natural windbreaks. In addition to this green sanctuary, Lakka provides a safe harbor for yachts and sailboats. Because of this, many sailors like to come here for a safe and relaxing time.
Loggos
Loggos, found on the southeast coast of Paxos, is a spectacular village that feels calm and peaceful. Furthermore, with waterfront eateries and colorful boats bobbing gently in the harbor, Loggos is the perfect place to unwind. The friendly locals add to the charm, crafting an ambiance that harmonizes seamlessly with the island's tranquil essence.
Magazia
Magazia exudes genuine charm and provides a captivating vantage point of the vast mountains spanning the entire island.
Graceful cypress trees and verdant olive groves grace the village, bestowing upon it a captivating allure. Meander along the winding paths. Moreover, inhale the refreshing aroma of the Southern sea breeze. Indeed, immerse yourself in the tranquil ambiance that envelops Magazia in Paxos.
Things to do on Paxos
Go to the beach. Paxos presents a variety of beaches ideal for families and couples. Particularly, these include Harami, Arkoudaki, Kaki Lagada, Kamini, Kloni, Levrehio, and Monodedri, each promising a distinctive coastal experience.
Soak in thermal springs. The springs have been popular and famous for their healing properties since antiquity.
Kayak. Dedicate an afternoon to the exploration of breathtaking rock formations and exquisite shorelines.
Hike. Although Paxos is just 8 miles long and 3 miles wide, many walled paths and trails are available for walking. You may want to walk to the winepress museum in Magazia or the impressive Erimitis Cliffs. However, if you're not keen on heights, you may opt to see the cliffs from your yacht.
Dive. The waters around Paxos, host OASI SUB. The diving center serves as both a school and meets diverse diving needs, including underwater filming.
Bike. Embark on a refined journey, exploring the island's beaches and villages. Elevate your experience by partaking in a delightful bicycle ride.
Birdwatch. Exploring the village of Lakka and the bay of Loggos on Paxos offers an excellent bird-watching experience. Additionally, these fantastic spots give you a one-of-a-kind experience with a variety of birds.
Delight in the breathtaking experience of witnessing the sunset from the pristine white cliffs of Eremitis.
Gastronomy
Discover a variety of tasty dishes. Begin with taramosalata, a fish egg dip with onion, garlic, and lemon. You may also enjoy spicy sausages (loukaniko) and flavorful garlic and herb meatballs (keftethes). Lastly, dive into kleftiko, a slow-cooked lamb dish with veggies, and savor papoutsakia (eggplant filled with beef and topped with cheese).
Explore Paxos through an Ionian Islands Yacht Charters.
Please call us today at 1 (321) 777-1707 or describe Your Vacation Vision to help you plan your fully-crewed private luxury yachting vacation! Inquire as soon as possible about your custom, crewed yacht charter.
You make the memories. We make the arrangements.