Paxos
Paxi (Paxoi) is the smallest island of the Ionian Islands; Paxos and the nearby island of Antipaxos are the largest islands within this group. In Greek mythology, Poseidon, the God of the Sea, created Paxos by striking Corfu with his trident to create peace for himself and his wife, Amphitrite.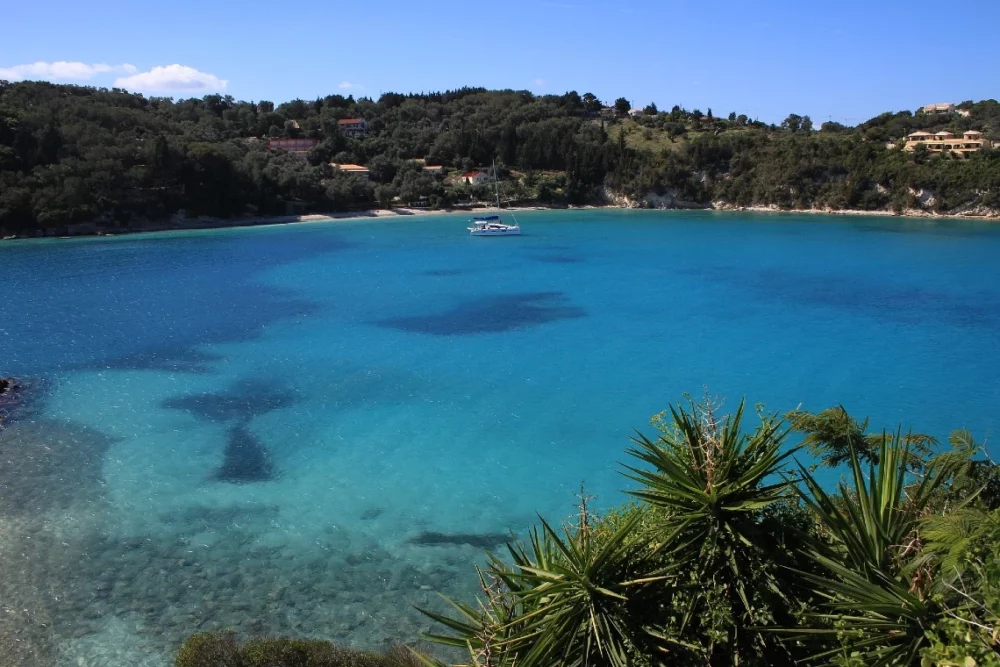 Climate
Paxos enjoys a Mediterranean climate with mild, rainy winters and hot, sunny summers. The daily average temperature ranges from 9.5 °C in January to 25 °C in August. The best time to visit is May to October when there's little rain.
Places to see
Towns and villages. Gaios is the main port and capital of Paxos. On the tiny islet of Agios Nikolaos, opposite Gaios, a castle bearing the same name has landmark status. Lakka is 7 km north of Gaios. Flourishing green hills and trees block the strong winds and shelter this second-largest village on Paxos, making it a safe harbor for yachts and sailboats.
Loggos is a charming settlement on the southeast side of the island.
Magazia is a mountainous village in the central part of Paxos, and it is blessed with cypress trees, olive groves, and lush green vegetation.
Things to do
Go to the beach. There are beaches for families and beaches for couples. Some of them are Harami (sand and pebble beach), Arkoudaki (secluded beach with sand and pebbles, Kaki Lagada (sandy beach, turquoise waters, abundant lush greenery offering plenty of shade), Kamini and Kloni (secluded beaches with sand and pebbles), Levrehio (sandy and pebbly and one of the most popular beaches on Paxos), and Monodedri (sand, white pebbles, verdant vegetation).
Soak in thermal springs. The springs have been popular and famous for their healing properties since antiquity.
Kayak. Spend an afternoon exploring spectacular rocks and beautiful beaches.
Hike. Although Paxos is just 8 miles long and 3 miles wide, many walled paths and trails are available for walking. You may want to walk to the wine-press museum in Magazia or the spectacular Erimitis Cliffs. However, if you're not keen on heights, you may want to see the cliffs from your yacht.
Dive. The waters around Paxos are some of the most beautiful in Europe. One diving center, OASI SUB, is in Lakka. This center does not only function as a diving school, but also it can facilitate other diving needs, such as underwater filming.
Bike. An excellent way to discover the beaches and villages on the island is by bicycle.
Birdwatch. The most popular locations on Paxos for bird watching are the village of Lakka and the bay of Loggos.
Watch the sunset from the white cliffs of Eremitis.
Gastronomy
Ionian tables are not only for eating but also for socializing with friends and family. You may find delicacies such as taramosalata (fish roe dip with onion, garlic, and lemon), loukaniko (spicy sausages), papoutsakia (eggplant filled with beef and topped with cheese), keftethes (meatballs with garlic and herbs), and kleftiko (lamb with vegetables slow-cooked in a stone dish).
Paxos can be visited during one of the Ionian Islands Yacht Charters.
Please call us today at 1 (321) 777-1707 or describe Your Vacation Vision to help you plan your fully-crewed private luxury yachting vacation! Inquire as soon as possible about your custom, crewed yacht charter.
You make the memories. We make the arrangements.