Kefalonia Yacht Charter
Kefalonia is the largest of the Ionian Islands. Sapphire blue waters surround this brilliant green island. It has everything you could want in a Greek Yacht Charter destination, from spectacular beaches to incredible restaurants, hidden caves and coves, quaint villages, and more.
Because the island is so large, you may want to plan to stay for a few days. That way, you'll be able to see all this gorgeous island has to offer.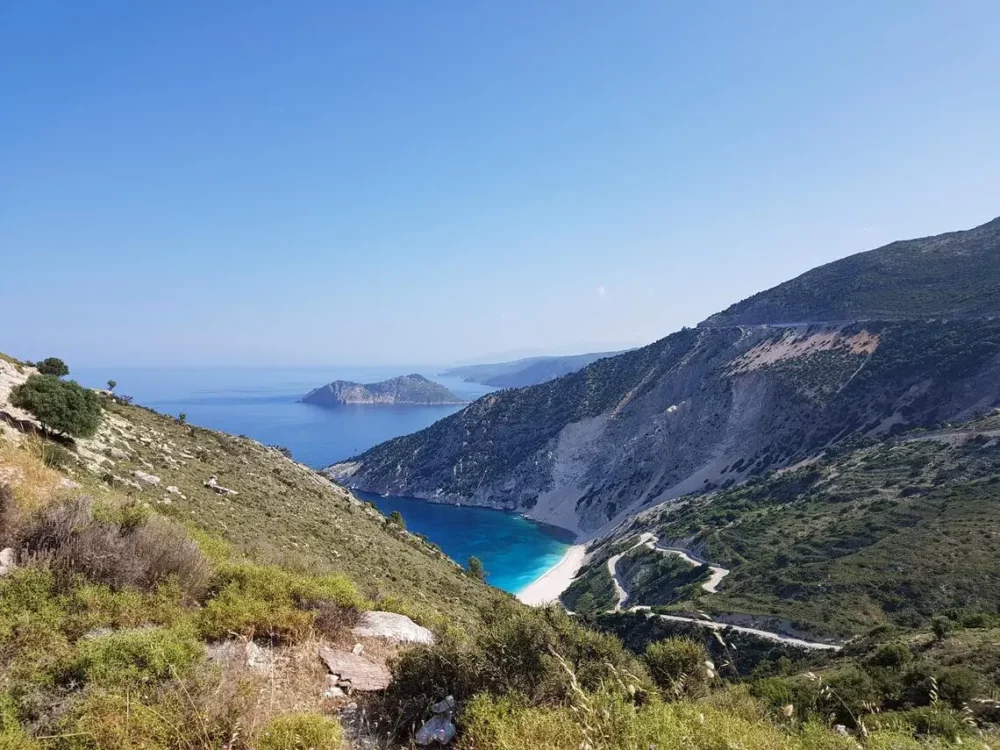 Famously known as the Island of Beauty, Kefalonia will have you in awe of its natural surroundings and gorgeous scenery, so it's no wonder that many people feel compelled to visit this island at least once in their lifetime.
Places to see
Melissani Lake Cave. Take a tour of the lake inside the cave. When the sun is directly overhead at noon, the sunlight hitting the turquoise-blue waters fills the cave with a magical blue light.
Fiskardo. Fiskardo is one of the few villages not affected by the major earthquake in 1953. It's a welcoming place, surrounded by pretty pebbled beaches and quiet coves. There are many Byzantine churches and others.
Argostoli.
Asos Castle in Asos. The Venetians built this castle in 1593. It's an excellent example of military architecture and one of the largest in Greece.
Wineries. The Sclavos Winery offers tours and tastings.
Mt Ainos. This mountain is in the north and offers hiking opportunities for the more adventurous type. The ascent takes about 3 hours, but there are some spectacular views along the way, and at the top, you can see many Kefalonia. Mount Ainos contains fascinating archaeological sites, old villages, caves, and ancient ruins.
Things to Do
Walk. Take a scenic stroll.
Go to the beach. There are many choices, such as the famous Petani beach, the red clay beach of Xi, and pristine Myrtos Beach.
Rent a car. The island has an efficient road network. And you may find some interesting back roads off the beaten path.
Water sports. There's something for everyone to do on the water, be it snorkeling, diving, windsurfing, paddleboarding, kayaking, or simply swimming.
Climb. In addition to Mt Ainos, Kefalonia has more mountains with inviting exploring trails. Various trails are marked in Kefalonia's north, around Fiskardo. You can hike up to the Venetian fortress in Assos and marvel at its size, fields, houses, and sea views.
Gastronomy
On Kefalonia, native recipes abound, and recipes are often handed down from generation to generation. Meat dishes include classics such as Souvlakia, Stifado (veal cooked with onions and tomato sauce), and Giovetsi (lamb cooked with rice). In addition, you'll find fish, shellfish, locally grown vegetables, honey, and cheese. Try local cheeses such as Feta, Manuri, Kefalotiri, Tirokafteri, mizithra, and pretza.
High-quality wines abound in Kefalonia. For example, Robola (white and dry), which is the most famous wine of Kefalonia, the Mavrodafne (red, strong, and sweet), and the Muscat (sweet and white).
Marinas and Anchorages
Fiskardo Marina. This medium-sized marina has water and electricity, a restaurant and bar, and a grocery store.
Lixouri South Marina. A large harbor in the village of Lixouri 30 km west of Argostoli. Amenities include water, a restaurant, a grocery store, and ATM.
Foki Bay. This is a very popular anchorage a few coves south of Fiskardo. It's a good place for an overnight stay if the weather is good.
Kefalonia is one of the islands and destinations many charter guests experience on an Ionian Islands Yacht Charter.
Please call us today at 1 (321) 777-1707 or describe Your Vacation Vision to help you plan your fully-crewed private luxury yachting vacation! Inquire as soon as possible about your custom, crewed yacht charter.
You make the memories. We make the arrangements.