Kefalonia Yacht Charter | Spectacular Greek Island
Kefalonia, Greece, is the largest of the Ionian Islands. Sapphire blue waters surround this brilliant green island. It has everything you could want in a Greek Yacht Charter destination, such as spectacular beaches, incredible restaurants, hidden caves and coves, quaint villages, and more.
Since the island is so large, you may want to plan to stay for a few days. That way, you'll be able to see all this gorgeous island has to offer.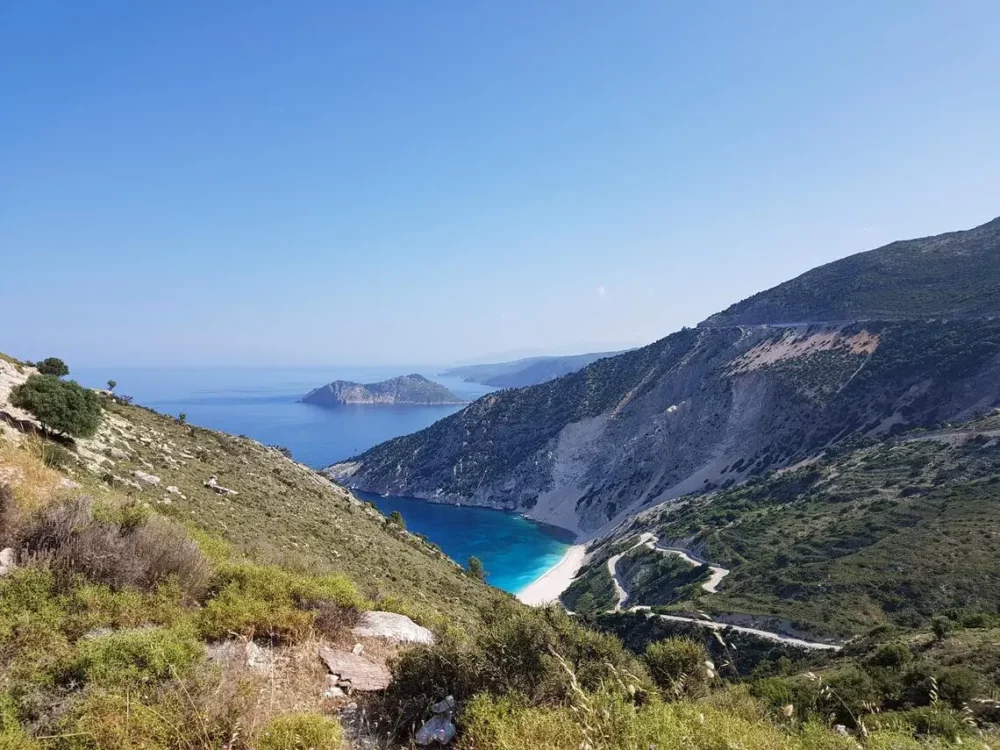 Kefalonia, also known as Cephalonia, is a testament to nature's grandeur, offering visitors a pristine paradise. This exquisite Greek island beckons travelers with its stunning landscapes, crystal-clear waters, and a rich tapestry of history and culture.
Climate
Kefalonia boasts a Mediterranean climate characterized by hot, dry summers and mild, rainy winters. Here are some climate-related details to consider:
Summer (June to August): Summers in Kefalonia are sun-drenched and warm. Temperatures often hover between 25°C to 35°C (77°F to 95°F). It's certainly the perfect season for beach lovers and water sports enthusiasts.
Autumn (September to November): Autumn brings milder temperatures and fewer crowds. It is an excellent time for hiking and exploring the island's natural beauty. Average temperatures range from 20°C to 28°C (68°F to 82°F).
Winter (December to February): While winters are relatively mild. Temperatures rarely fall below 10°C (50°F). This is the rainy season. If you prefer solitude and lower prices, it's a quieter time to visit.
Spring (March to May): Spring marks the island's rebirth, with blooming wildflowers and lush landscapes. Temperatures range from 14°C to 22°C (57°F to 72°F), so it's an ideal time for outdoor activities.
Places to see on Kefalonia Island
Melissani Lake Cave. Take a tour of the lake inside the cave. When the sun is directly overhead at noon, the sunlight hits the turquoise-blue waters and fills the cave with a magical blue light.
Fiskardo. Fiskardo is one of the few villages not affected by the major earthquake in 1953. It's a welcoming place, surrounded by pretty pebbled beaches and quiet coves. There are many Byzantine churches and others.
Argostoli.
Asos Castle in Asos. The Venetians built this castle in 1593. It's an excellent example of military architecture and one of the largest in Greece.
Wineries. The Sclavos Winery offers tours and tastings.
Mt Ainos. This mountain is in the north and offers hiking opportunities for the more adventurous type. Mount Ainos also has fascinating archaeological sites, old villages, caves, and ancient ruins.
Myrtos Beach: Often ranked among the world's most beautiful beaches, Myrtos boasts pristine waters surrounded by dramatic cliffs. It's a must-see for any visitor.
Assos Village: This picturesque fishing village has colorful houses and a Venetian fortress overlooking the bay.
Drogarati Cave: Marvel at the mesmerizing stalactites and stalagmites of Drogarati Cave, created over thousands of years.
St. Gerasimos Monastery: Pay your respects at this revered Greek Orthodox monastery dedicated to St. Gerasimos, the island's patron saint.
Korgialenio Historical and Folklore Museum: Immerse yourself in Kefalonia's cultural heritage through the exhibits at this museum. It is in a neoclassical mansion.
Agios Andreas Monastery: Visit this serene monastery perched on a hill, offering panoramic views and a tranquil atmosphere.
Katavothres: Explore the mysterious Katavothres, where seawater disappears into sinkholes and reemerges in Melissani Lake.
Lighthouse of Agioi Theodoroi: Witness breathtaking sunsets from the iconic lighthouse on a rugged cape overlooking the Ionian Sea.
Things to Do on Kefalonia Island
Go to the beach. There are many choices, such as the famous Petani beach, the red clay beach of Xi, and pristine Myrtos Beach. Swim in the turquoise waters while you're there.
Rent a car. The island has an efficient road network. You may also find some interesting back roads off the beaten path.
Water sports. There's something for everyone to do on the water, be it snorkeling, diving, windsurfing, paddleboarding, kayaking, or simply swimming.
Climb. In addition to Mt Ainos, Kefalonia has more mountains with inviting exploring trails. You can hike up to the Venetian fortress in Assos and marvel at its size, fields, houses, and sea views.
Beach-Hopping: With countless beaches dotting the coastline, spend your days swimming, snorkeling, and sunbathing at different secluded coves.
Watersports: Try your hand at thrilling water sports such as windsurfing, paddleboarding, and jet skiing in the island's pristine waters.
Hiking: Lace up your hiking boots and explore the island's trails, including those leading to Mount Ainos, Kefalonia's highest peak. It is in a national park.
Scuba Diving: Dive beneath the waves to discover Kefalonia's underwater treasures, from vibrant marine life to mesmerizing caves.
Explore Underground Lakes: Take a boat tour inside Melissani Cave. Or, venture into the underground lakes of Katavothres for a unique experience.
Wine Tasting: Savor the island's wines, particularly the Robola variety, by visiting local wineries and vineyards.
Horseback Riding: Discover the island's beauty on horseback, riding through lush valleys and along pristine beaches on the coast of the island
Cultural Festivals: Check local event calendars for festivals celebrating Kefalonia's rich cultural heritage. These festivals often feature events such as music, dance, and traditional cuisine.
Sunset Cruises: Sail into the mesmerizing sunset aboard your yacht, creating unforgettable memories against the backdrop of the Ionian Sea.
Gastronomy
On Kefalonia, native recipes abound, and recipes often pass from generation to generation. Meat dishes include classics such as Souvlakia, Stifado (veal cooked with onions and tomato sauce), and Giovetsi (lamb cooked with rice). In addition, you'll find fish, shellfish, locally grown vegetables, honey, and cheese. Try local cheeses such as Feta, Manuri, Kefalotiri, Tirokafteri, mizithra, and pretza.
Kefalonia's cuisine is a delightful journey of flavors, blending fresh ingredients and traditional recipes. Here are a few of the other tasty treats to try:
Kreatopita: Sample "kreatopita," a savory meat pie made with layers of flaky pastry as well as seasoned ground meat.
Robola Wine: Pair your meals with Robola Wine, a local favorite known for its crispness and unique character.
Seafood: Savor the catch of the day. Examples include everything from grilled octopus to "bourdeto," a spicy fish stew, and "gavros," anchovies marinated in vinegar.
Taramosalata: Enjoy "taramosalata," a creamy dip made from fish roe, olive oil, and lemon juice, served with fresh bread.
Moussaka: Delight in "moussaka," a comforting dish of layered eggplant, ground meat, and béchamel sauce, baked to perfection.
Kefalonian Meat Pie: Taste the island's signature dish, "Kefalonian meat pie," a hearty pie filled with ground meat, rice, and spices.
Feta Cheese: Relish creamy feta cheese, often served with local honey and sesame seeds.
Rovani: Satisfy your sweet tooth with "rovani," a traditional semolina cake soaked in syrup and sprinkled with cinnamon.
Kreatopita: Try "kreatopita," a beef or pork pie seasoned with herbs and encased in a crispy pastry shell.
Local Honey: Indulge in the island's honey, which is delicious as well as healthy.
High-quality wines abound in Kefalonia. For example, Robola (white and dry), which is the most famous wine of Kefalonia, the Mavrodafne (red, strong, and sweet), and the Muscat (sweet and white).
Marinas and Anchorages
Fiskardo Marina. This medium-sized marina has water and electricity, a restaurant and bar, and a grocery store.
Lixouri South Marina. A large harbor in the village of Lixouri 30 km west of Argostoli. Amenities include water, a restaurant, a grocery store, and ATM.
Foki Bay. This is a very popular anchorage a few coves south of Fiskardo. It's also a good place for an overnight stay if the weather is good.
Kefalonia is one of the islands and destinations many charter guests experience on an Ionian Islands Yacht Charter.
Please call us today at 1 (321) 777-1707 or describe Your Vacation Vision to help you plan your fully-crewed private luxury yachting vacation! Inquire as soon as possible about your custom, crewed yacht charter.
You make the memories. We make the arrangements.