Zakynthos | A Fabulous Holiday Destination
Zakynthos, Greece, may very well be the most beautiful Ionian Greek Island. It is home to the world-famous Navagio shipwreck, gorgeous beaches, and welcoming villages.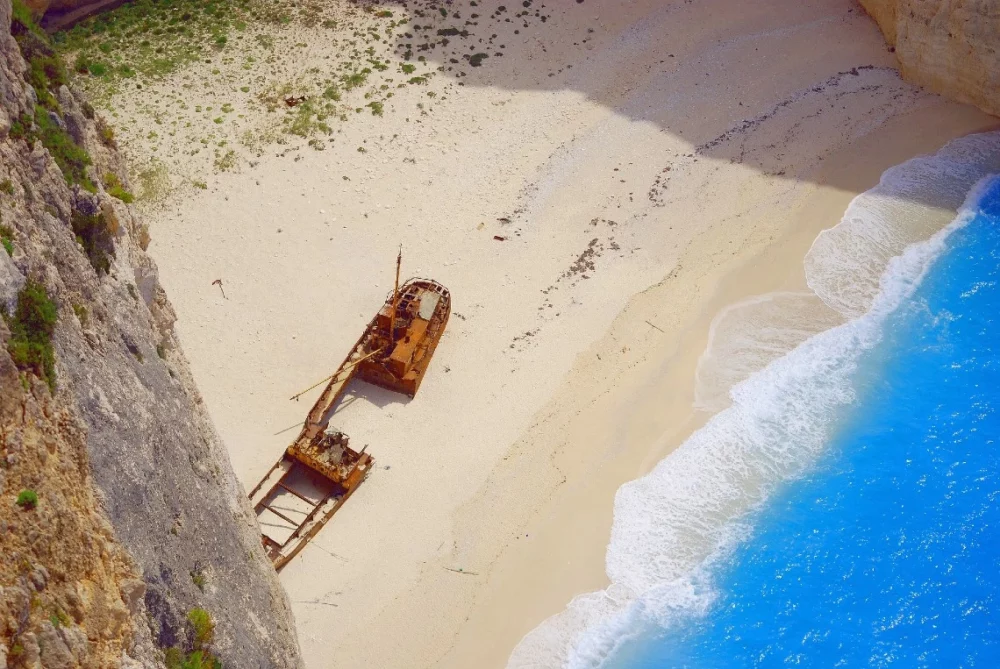 Places to see
Towns and Villages of Zakynthos
Zakynthos Town: As the capital of the island, Zakynthos Town is a bustling hub of activity. Stroll along its charming streets, visit the historic Solomos Square, and immerse yourself in the vibrant local culture. The town is famous for its Venetian architecture and picturesque harbor.
Maherado: Located in central Zakynthos, Maherado is a tranquil village known for its traditional Greek charm. Explore the narrow streets, discover local tavernas serving authentic cuisine, and take in the serene ambiance of this lovely village.
Volimes: In the northern part of Zakynthos, Volimes offers a glimpse into the island's rural life. The village is famous for its handicrafts, particularly intricate lacework and handwoven rugs. Don't miss the chance to visit the local workshops and witness these time-honored traditions.
Maries: Maries, a small village on the western side of Zakynthos, is enveloped in lush greenery and natural beauty. It serves as an excellent starting point for exploring the nearby Shipwreck Beach.
Agios Leon: This charming coastal village is perfect for unwinding and soaking up the Mediterranean sun. Enjoy the sandy beaches, savor fresh seafood at seaside tavernas, and experience the warm hospitality of the locals.
Discover Zakynthos's Unique Attractions
Blue Caves: Located on the dramatic west coast of Zakynthos, the Blue Caves are a natural wonder. Sail through the crystal-clear waters and marvel at the mesmerizing play of light and color created by the cave formations. It's a must-see destination for anyone visiting the island.
Askos Stone Park: Nature enthusiasts will appreciate a visit to Askos Stone Park. Here, native plants and wildlife thrive in a protected environment.
The Church of Agios Nikolaos Molos: This quaint church, nestled in a tranquil setting, offers a glimpse into Zakynthos's religious heritage. Admire the architecture and serene atmosphere while paying your respects to the local culture.
The Helmis National History Museum: Explore exhibits showcasing the island's past, from its geological formations to its diverse flora and fauna.
The Monastery of Agios Georgios Krimnon: Immerse yourself in the island's spiritual side with a visit to this monastery. Perched on a hilltop, it offers breathtaking views of the surrounding landscape and the Ionian Sea.
The Naval Museum: Explore Zakynthos's maritime history at the Naval Museum. Discover artifacts, models, and exhibits that chronicle the island's seafaring traditions and naval heritage.
Sarakina Mansion: Step back in time with a visit to this stunning historic estate surrounded by centuries-old olive trees.
The Venetian Bridge of Argassi: This ancient bridge stands as a testament to the island's past. It also offers a unique photographic opportunity.
The Venetian Castle: Explore the remnants of the Venetian Castle, a historical site that provides a glimpse into Zakynthos's medieval past.
Things to do
Go to the beach. Navagio Beach, also known as Shipwreck Cove, is the most famous beach of Zakynthos. It is on the island's western side, close to Anafotiria village. Or, visit other beaches, including Gerakas, Kalamaki, Agios Nikolaos, and Spiantza.
Kayak. Sea Kayaking Zakynthos offers organized trips suitable for all ages and skill levels. In addition, the company offers SUP trips and lessons.
Create. Make a ceramic souvenir of Zakynthos at Dionysia Avouri Studios. This is an excellent activity for both children and adults.
Climate
Zakynthos has a Mediterranean climate, with mild, rainy winters and hot, sunny summers. Winter, from December to mid-March, is mild. However, it can be rainy, especially in December and January. During those months, the island can receive more than 6 inches of rain per month.
Gastronomy
Traditional cuisine on the island includes meat, fish, vegetables, cheeses, salads, and olive oil. Try stuffed red peppers, mousaka, yiouvetsi (lamb with pasta), stuffed rabbit cooked in wine or stewed, stifado (calf with onions and tomatoes, or papoutsakia (eggplant stuffed with meat and béchamel).
For traditional fare, visit Avra Taverna Restaurant or Premier Restaurant.
Visit the island on your next Ionian Islands Yacht Charter. Zakynthos and Kefalonia are two of the most famous islands in the Ionians. Both islands have airports with flights to Athens and other destinations.
Please call us today at 1 (321) 777-1707 or describe Your Vacation Vision to help you plan your fully-crewed private luxury yachting vacation! Inquire as soon as possible about your custom, crewed yacht charter.
You make the memories. We make the arrangements.