Discover Sporades Islands Yacht Charters | Mama Mia
Your Sporades Islands Yacht Charters will visit some of the most beautiful islands in Greece. Evidently, some of the beaches are only accessible by boat.
The Sporades lie along Greece's central mainland and Evia. Surprisingly, they have held onto the area's original vibe and traditions, which haven't changed for centuries.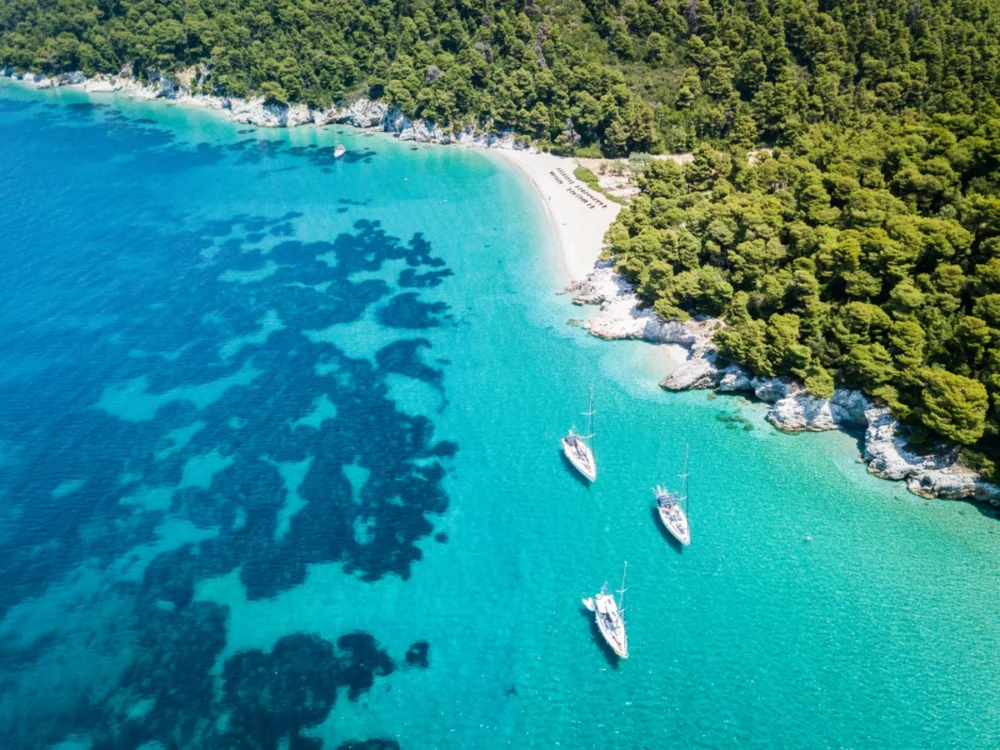 Four Sporades Islands are inhabited: Skiathos, Skopelos, Alonissos, and Skyros.
Sporades Island Destinations
Climate
The yacht charters in the Sporades offer the quintessential Mediterranean experience, with azure waters, sunny skies, and the prevailing wind. Indeed, the climate is perfect for sailing conditions and swimming from July to September. That's the time when the sea temperature is warm enough to enjoy a dip.
The Sporades generally have a Mediterranean climate, with relatively mild, rainy winters. The summer months are hot and sunny. During the night, you can enjoy Meltemi winds. In the winter, it rarely snows.
Places to see
Islands
Skiathos. The island of Skiathos holds its popularity as a beach destination. It is also famous for its vibrant nightlife, catering mainly to the younger crowd. Around Skiathos Town, many bars and restaurants await your choice.
Skopelos. It will be love at first sight when you sail to Skopelos Island. Its untamed natural beauty will entice you to explore the lush green pine forests inland. The friendly people and delicious local cuisine will surely make it hard to leave this amazing destination.
Alonissos. Immerse yourself in nature on Alonnisos. The air here is fragrant thanks to its pine forests, olive groves, and orchards. Visit the National Marine Park to see rare seabirds, dolphins, the Mediterranean monk seal, and other interesting marine life.
Skyros. The main village on Skyros, Chora, is a must-see. In fact, many consider it one of the most beautiful villages in the Aegean, with its whitewashed houses featuring iconic blue windows.
Attractions
Nature and parks. One such park is the National Marine Park of Alonnisos in the Northern Sporades. Here, the endangered Mediterranean monk seal lives in safety.
Churches and monasteries. The Monastery of Evangelistria in Skiathos is fascinating. In addition, a must-see church is the church of Agios Ioannis Kastri in Skopelos. It earned the nickname "Mamma Mia Church" because of its role as a filming location for the Hollywood movie.
Museums. There are many exciting museums in the Sporades. Explore the Folklore Museum on Skopelos. You can also visit the Maritime and Culture Tradition Museum on Skiathos, as well as the Drakontóschisma Heritage Museum in Skopelos.
Beaches. Each island has a variety of beaches for every interest. From quiet and secluded to lively and active, you'll certainly find just the right spot to lay your towel.
Landmarks and historical sites. Greece boasts a rich historical heritage, and the Sporades islands are no exception. Indeed, ancient ruins, abandoned temples, and historical sites are waiting for you to explore.
Your Sporades Islands Yacht Charters | Things to do
Scuba dive. Countless reefs, underwater caves, and brilliant sea life surround the islands.Since scuba diving has become popular, you'll find dive centers on most small islands.
Kayak. Sea kayaking is a great way to explore the islands. After that, you can end the day watching the sunset as you glide along the peaceful coastline.
Hike. Walk coastal trails with panoramic views, old donkey paths, or along a beach. Evidently, the islands offer trails of various levels of difficulty.
Shop. Look for local art, handmade jewelry, clothing, and olives.
Dine. Your yacht chef will create amazing meals; however, try one of the islands' restaurants or tavernas for authentic cuisine.
Your Sporades Islands Yacht Charters | Gastronomy
The local cuisine in the Sporades islands (Skyros, Alonissos, Skiathos, Skopelos) boasts simplicity and intense flavors. Definitely, the fresh aromatic herbs, olive oil, and fresh meat have something to do with this.
In addition, the islands are well-known for their dairy products, thyme honey, and spoon sweets.
Waters abundant in delectable seafood surround the Sporades islands. Besides fish, there are lobster, shrimp, crab, squid, and octopus, to name a few. Moreover, if you enjoy seafood recipes, you will appreciate a delicious meal in the waterfront taverns of Alonissos Island.
Sample Route
Sporades Islands Yacht Charters offer a unique experience. For instance, they have fewer charters compared to those in the Cyclades, Saronic Gulf, and Dodecanese Islands.
Below is one sample schedule. We will work with you to create a custom route based on your interests and desires. The weather conditions may also play a role.
Day 1 Skiathos to Limnonari 10nm
Arrive in Skiathos and board your yacht. Consequently, set sail for Limnonari.
Day 2 Limnonari to Skantzura 15nm
Limnonari is a small sandy beach hidden in a magnificent cove. Because pine trees surround the bay, the waters of Limnonari appear green. Spend time relaxing and snorkeling. There is also a small beach bar where you can purchase drinks and snacks.
Day 3 Sail around Alonissos – Alonissos (Patitiri) 17nm
Patitiri is the capital town of Alonnisos. Spread your towel out on the beach, or you can explore the nearby Alonnisos Museum. You may also indulge yourself with a massage or facial at the award-winning Amani Spa.
Day 4 Alonissos (Milia) 3nm – Kyra Panagia 12nm
Milia Beach is a beautiful pebbly beach with sparkling green waters hidden in the heart of a lovely bay. Swim and snorkel in turquoise waters, beach comb, and relax. Later, sail to Kyra Panagia, where you can visit another spectacular beach. You can then venture farther inland to see the cave church of St Luke.
Day 5 Psathoura 12nm – Milia Kokkinokastro 12nm – Planitis 11nm
A day of sailing takes you to Psathoura, home to one of the tallest lighthouses in the Aegean Sea. Relax on the beach at Milia Kokkinokastro. You can also wander into the nearby forest, or walk along the coast.
Anchor for the night at Planitis Island.
Day 6 Alonissos (Mourtia) 21nm – Skopelos 6nm
After a morning at the beach, sail to Skopelos Island. Enjoyable activities on Skopelos include hiking, exploring small villages, and swimming in the clear water at a secluded beach. You may also want to visit the Marine Park of Alonissos. In the evening, stop by an open-air tavern for a drink.
Day 7 Tsougria 17nm – Skiathos Island 4nm
Tsougrias is a protected natural habitat just opposite Skiathos' main port. Indeed, its beautiful white sand beaches, lush vegetation, and clear waters make it a popular summer destination.
Return to Skiathos to end your journey.
Please call us today at 1 (321) 777-1707 or describe Your Vacation Vision to help you plan your fully-crewed private luxury yachting vacation! Inquire as soon as possible about your custom, crewed yacht charter.
You make the memories. We make the arrangements.