Alonissos | Greek Island Brimming with Beauty
Alonnisos is an island in the Sporades, and it is brimming with greenery, including pine, oak, fruit trees, and vineyards. In contrast with the lush plant life, there are rocky coasts and enchanting pebbly beaches on brilliant blue waters. If you're looking to spend time in nature on your Greek Luxury Yacht Charter, Alonissos is a beautiful destination.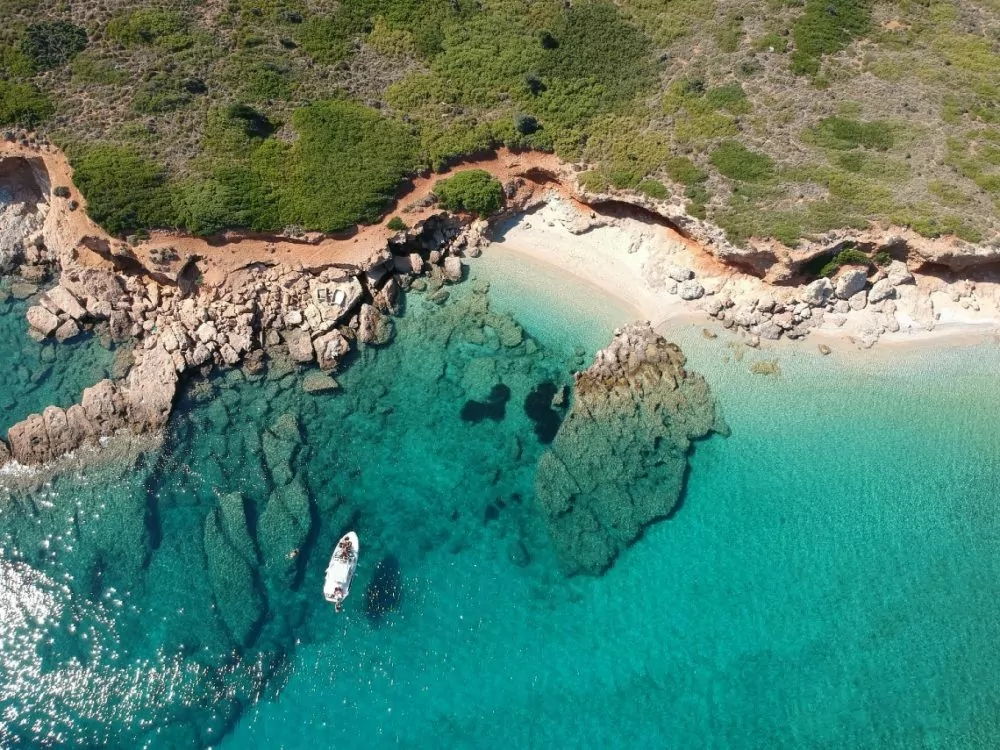 Climate
Alonissos boasts a delightful Mediterranean climate, making it a year-round destination. Summers are warm and dry, perfect for sunbathing and water activities, with temperatures averaging around 30°C (86°F). Spring and autumn bring milder weather, ideal for exploring the island's natural wonders and hiking its scenic trails. Winters are mild, making Alonissos a peaceful retreat during the off-season.
Places to See
Church of the Birth of Christ Church in Old Alonnisos. This church, built in the 12th century, is one of the few that still stands after the earthquake in 1965. The town has several other picturesque churches, such as the Church of Panagia Vounou and a 16th-century monastery called Kyra Panagia.
Chora (Old Town): Alonissos' charming capital, Chora, is a labyrinth of narrow streets, white-washed houses, and picturesque squares. Explore the old town's ancient ruins, medieval churches, and vibrant local life.
Patitiri: The island's main port, Patitiri, is a vibrant hub offering a mix of modern amenities, traditional tavernas, and shops. Stroll along the harbor, savor fresh seafood, and soak in the atmosphere.
National Marine Park of Alonissos, Northern Sporades: Alonissos is renowned for its pristine waters and vibrant marine ecosystem. The marine park is home to the endangered Mediterranean monk seal, dolphins, and a rich variety of fish. Explore the park's visitor center to learn more about its conservation efforts.
Kastanorema Beach: This secluded beach on the southern coast is a hidden paradise. Accessible by boat or a hiking trail, it offers crystal-clear waters and tranquility away from the crowds.
The Old Alonissos Village (Paleokastro): This abandoned hilltop village showcases the island's history. It also offers panoramic views of the Aegean Sea. It's a great spot for photography and a taste of local heritage.
Things to Do | Alonissos
Go to the beach. There are many lovely beaches, such as Agios Dimitrios Beach, Megalos Mourtias Beach, Mikros Mourtias Beach, and Leftos Gialos Beach.
Visit Kalamakia Village in Alonnisos.
Yoga and Wellness Retreats: Alonissos' serene ambiance makes it an ideal destination for yoga and wellness retreats. Join a class or retreat to rejuvenate your body and mind in a tranquil setting.
Walk. Footpaths and trails meander through the island. Because Alonnisos isn't crowded, you may not even pass anyone on your walk.
Dive. There are numerous dive sites around the island where you'll be amazed at the natural splendor of the underwater world. Connect with one of the local dive shops to schedule a trip. A few options include Blue Dream Dive Center, Triton Dive Center, and Seacolours Dive Center.
Local Workshops: Engage with local artisans to learn traditional crafts like pottery and weaving. Create your unique souvenirs while immersing yourself in Alonissos' culture.
Gastronomy | Alonissos
Local cuisine on Alonissos Island is based mainly on traditional recipes. The local seafood, vegetables, olive oils, and cheeses are a big part of many dishes. Treats include fouskakia (traditional donuts), hamalia (triangle-shaped sweets with delicious filling sprinkled with sugar), and an almond sweet called amigdalota.
Meltemi Restaurant and Bar. This restaurant serves authentic Greek cuisine, including fresh seafood, pasta, and homemade desserts. You'll especially enjoy the magnificent view from the dining room.
Elenas Restaurant. This family-run establishment is directly on the beach of Leftos Gialos. They serve fresh local cuisine, including locally caught fish, lobster, and goat cheese.
Marinas and Anchorages
Many inviting and pristine bays around Alonnisos Island are perfect for mooring. In the north, there's the bay of Gerakas. Another well-protected anchorage is in the bay of Xero, and this spot is well protected from the northern winds.
Please call us today at 1 (321) 777-1707 or describe Your Vacation Vision to help you plan your fully-crewed private luxury yachting vacation! Inquire as soon as possible about your custom, crewed yacht charter.
You make the memories. We make the arrangements.