Skopelos
Skopelos is an island in the Sporades Islands group. It's an island of contrasts. At the same time exciting, tranquil, charming, and rugged; it has something for everyone to enjoy.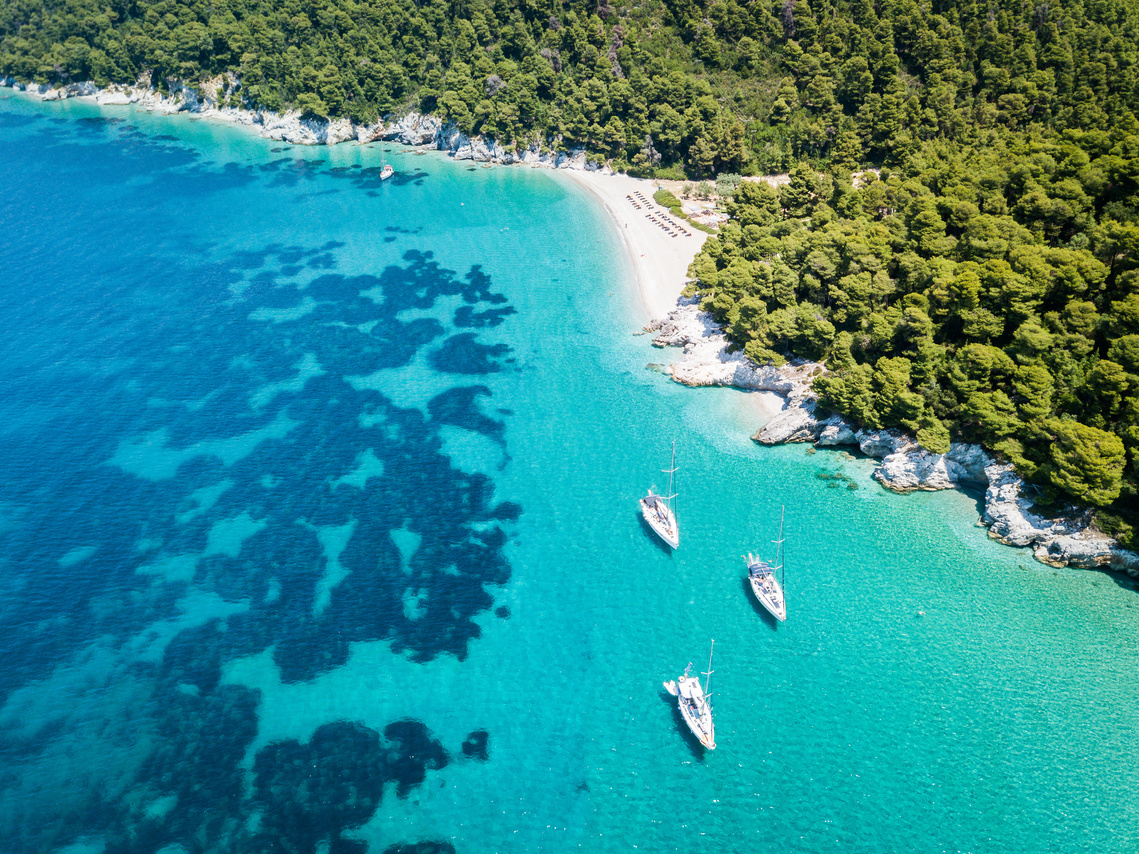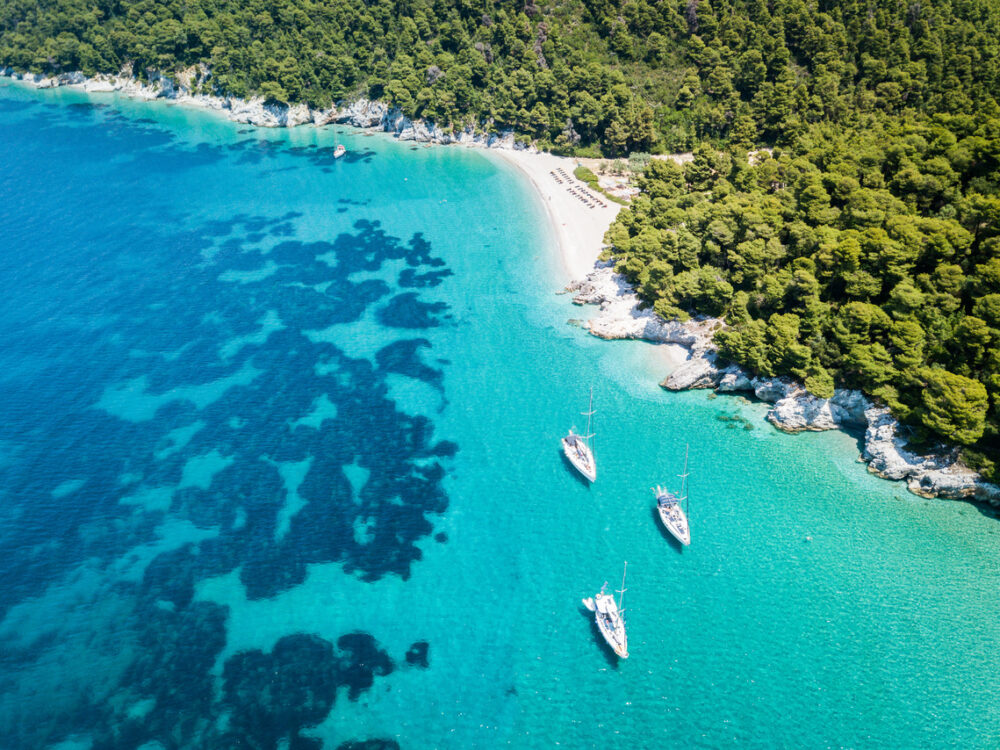 Climate
The climate in Skopelos is mild. It is generally warm with more rainfall in the winter than in the summer.
Places to See
Glossa Village. A working village that reflects authentic Greece.
More than 360 churches and monasteries. Visit one or more such as the Monastery of Timios Prodromos, Agios Riginos Monastery, Monastery of Evangelistria, and Monastery of Agia Varvara, the oldest monastery on Skopelos.
Skopelos Folklore Museum. Here you can explore the island's rich history with a collection of folklore exhibits.
Drakondoshisma "Dragon's Cleft." This spectacular steep gorge, surrounded by the sea, is on the island's south. Legend has it that a dragon jumped from the cliff into the sea, creating a deep cleft in the mountainside, thus earning the name "Dragon's Cleft."
Things to Do
Water sports of all kinds, including diving, snorkeling, kayaking, and paddleboarding.
Beaches. Enjoy some favorites like Stafilos Beach, Velanio Beach, Panormos Beach, Milia Beach, Hovolo Beach, and Limnonari Beach. One top-rated beach is Kastani Beach. You can see this beach and the Skopelos Church of Agios Ioannis Kastri in the 2008 movie "Mamma Mia."
Birdwatch. The best place to see a variety of bird species is the Eastern side of the island. You may see birds such as Eleonora's Falcon, the Grey Heron, and King Fisher. Furthermore, you may see beautiful wild peacocks roaming the island.
Climb. Lace up your hiking shoes and visit Delphi mountain in the center of the island and Palouki mountain in the southeast.
Gastronomy
Skopelos is known for its unique cuisine with seafood and sweets. Some of the best-known dishes are Astakos Giouvetsi (lobster baked with orzo) and Rofos Stifado (grouper cooked with onions). Many dishes include local fruit such as plums.
Olives and olive flavor are many traditional recipes. Other staples are feta cheese, tiropita (phyllo dough filled with cheese), and pine honey.
Marinas and Anchorages
Skopelos has three main ports: Skopelos, Agnontas and Glossa.
Limin Skopelou Marina. A small port in Skopelos town. Amenities include water, a restaurant and bar, a grocery store, and an ATM.
Loutraki Marina. A medium-sized port in the city of Loutraki. Amenities include water, a restaurant and bar, and a grocery store.
Please contact us at 1 (321) 777-1707 or complete our contact form to start planning your yacht charter vacation! It's never too early, or too late to inquire about your bespoke private yacht charter.
You make the memories. We make the arrangements.