Skyros | Heavenly Greek Island Paradise
Skyros, the largest of the Sporades islands, is an ideal destination for those who love action and want to relax on the beach. History lovers will also find plenty to experience here since several myths from Greek Mythology refer to heroes associated with the island.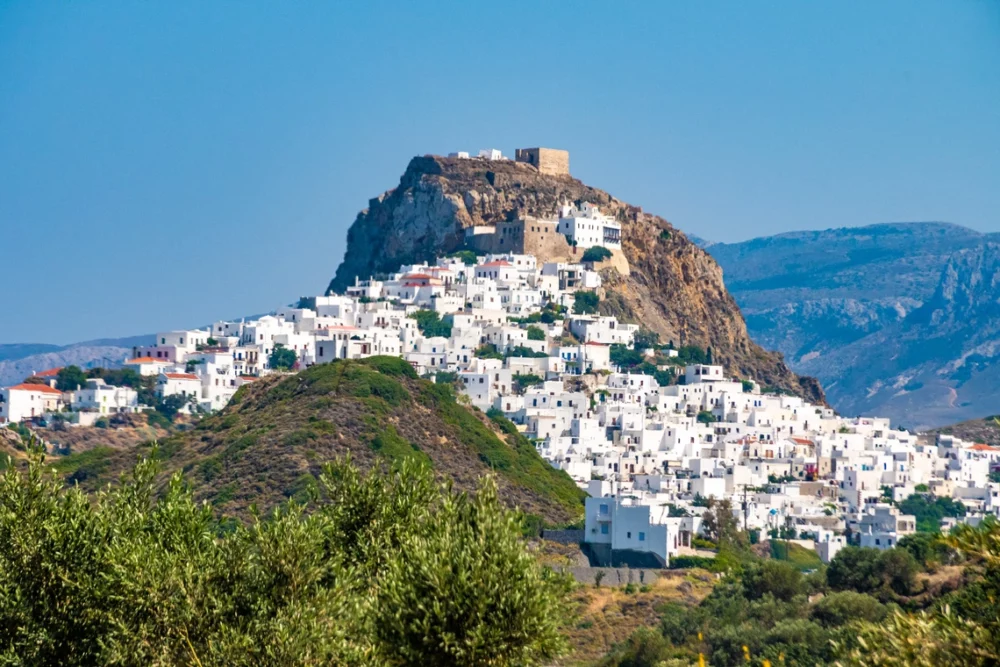 Climate
Skyros Island enjoys a Mediterranean climate characterized by mild, rainy winters and warm, sunny summers. While it may not be as scorching as some southern Greek islands during the summer, it still offers a delightful environment for visitors. Winters on Skyros can be cool and windy, making it an appealing destination year-round.
Places to See | Skyros
The Castle of Skyros: Perched above the main town, this Byzantine castle provides panoramic views of the island. Within the castle's walls lies the Monastery of Agios Georgios, an exquisite church with historical significance.
Folk Art Museum and Archaeological Museum: Immerse yourself in Skyros's rich history and culture by visiting these museums. Learn about the island's heritage through a collection of artifacts and exhibits.
Mouries Farm: Dedicated to protecting the unique Skyrian horse, this farm is an excellent place to understand the island's equine heritage. Witness these elegant creatures and learn about their historical importance.
Things to Do
Explore Skyros Town: Meander through the charming streets of Skyros Town, where you'll find a vibrant atmosphere with cafes, boutiques, and local shops. Make sure to visit Manna, a delightful shop offering locally-produced goods like handmade jams, dried figs, and sun-dried tomatoes.
Hiking: Since Skyros boasts an array of footpaths that wind through its picturesque landscapes, you'll want to explore. As you hike, you'll encounter small chapels, hidden villages, and breathtaking vistas, making it an excellent way to connect with the island's natural beauty.
Snorkeling: Head to Kalamitsa Beach, known for its tranquil bay with crystal-clear waters, perfect for snorkeling. Explore the underwater world and discover the marine life thriving in this peaceful cove.
Beach Bliss: Skyros boasts some of Greece's most stunning beaches. Whether you choose Magazia, Molos, Petritsa, or Theotokos, you'll enjoy golden sands, clear waters, and ample sunshine.
Scuba Diving: If you're a diving enthusiast or looking to try it for the first time, visit Gorgonia Diving Center. Since they offer lessons and organized dives, you can explore the island's underwater treasures.
Gastronomy on Skyros
Skyros's gastronomy offers a delightful journey into the heart of Greek cuisine. Fresh, locally sourced ingredients such as olive oil, fruits, and vegetables take center stage in its dishes.
The island's culinary scene showcases essential herbs like oregano, thyme, mint, and rosemary, infusing flavors and aromas that speak to the soul. Be sure to sample traditional Skyrian dishes prepared with love and authenticity, providing a true taste of the island's culture and heritage.
Marinas and Anchorages
Most of the anchorages on Skyros are on the Southwest coast. These anchorages are Ormos ay Fokas, Ormos Pevki, Stenon Valaxa, and Ormiskos Linaria.
Limited space for yachts is available at the quay in Linaria, but you can find an anchorage.
Please call us today at 1 (321) 777-1707 or describe Your Vacation Vision to help you plan your fully-crewed private luxury yachting vacation! Inquire as soon as possible about your custom, crewed yacht charter.
You make the memories. We make the arrangements.