Greece Motor Yacht Charters a Luxury Experience
You can have it all by selecting one of the Greece Motor Yacht Charters. There's no wrong way to experience Greece on your crewed yacht charter.
Greek motor yacht charters provide tremendous comforts and amenities for this Mediterranean paradise. In addition, groups of all sizes will undoubtedly feel at home aboard one of these top motor yachts.
Explore our Greek motor yachts for charter, current specials, and itineraries. There are more yachts to choose from, so please contact us for more options.
Sail Away to Paradise with Greece Motor Yacht Charters
With our carefully crafted packages, you can experience the best of what the Mediterranean offers. You'll find it all on our charters, from luxury yachts to breathtaking views of the Greek Islands. Whether you're looking to explore the ancient ruins of Greece or soak up the sun at one of the stunning beaches, we have the perfect yacht for you. Let us take you away on a journey of a lifetime and sail away to paradise!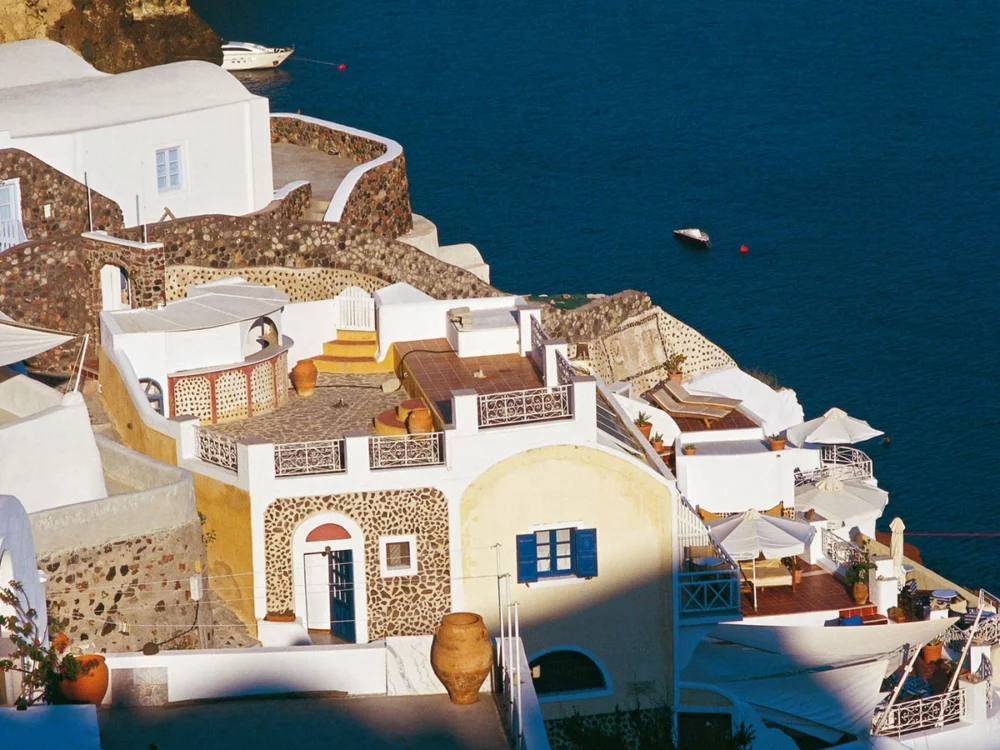 Welcome to a world of adventure, luxury, and unparalleled beauty – the Mediterranean Sea. If you've always dreamt of sailing through crystal-clear blue waters, exploring picturesque islands, and soaking in the sun on a luxurious yacht, Greece Motor Yacht Charters is here to turn your dreams into reality.
Picture yourself standing on the deck of a magnificent yacht. The wind is in your hair, and the scent of the sea fills your lungs. As you set sail, the stunning azure waters of the Mediterranean surround you. This is the start of your unforgettable journey.
A yacht charter allows you to experience the Mediterranean in a way few others can. With Greece motor yacht charters, you can craft a unique holiday tailored to your preferences. Whether you want a romantic getaway for two, a fun-filled adventure with family and friends, or a peaceful retreat for well-deserved relaxation, we have the perfect yacht.
Your yacht charter experience is not just about the destinations but also the journey itself. Our luxury yachts provide the utmost comfort and elegance. They offer spacious cabins, inviting lounges, and world-class amenities.
An experienced crew will cater to your every need. They will make sure that your time on board is nothing short of extraordinary!
Choosing the Right Yacht for Your Charter Experience
A yacht charter in the Mediterranean is an experience unlike any other. But with so many options available, how do you choose the right yacht for your charter experience? Don't worry; we're here to guide you through the process and help you find the perfect vessel.
What Size Yacht Is Best?
First, consider the size of the yacht. Are you looking for an intimate yachting experience or a larger vessel to accommodate a group of friends or family? We have a wide range of motor yachts to suit every group.
What Amenities Are There?
Next, think about the amenities and features that are important to you. Do you desire a spacious sun deck for lounging and soaking up the Mediterranean sun? Or maybe a jacuzzi for ultimate relaxation? Our Greece motor yacht charters have a variety of amenities to enhance your charter experience.
How About the Itinerary?
If you're interested in visiting the Cyclades Islands' vibrant nightlife and picturesque beaches, a yacht that offers speed for island hopping may be ideal. On the other hand, if you're looking for a more leisurely and family-friendly experience, exploring the tranquil Ionian Sea with its calm waters and picturesque anchorages might be more suitable.
Before your charter, we will work closely with you to craft a personalized itinerary based on your interests and desires. It can be as active or as relaxed as you would like. We will arrange pre- or post-charter hotel stays, airport transfers, and more.
Remember that all itineraries are subject to change based on sailing conditions and the weather.
Let's Discuss the Budget
Budget is an important consideration. Yacht charters can vary in price depending on the yacht's size, amenities, and destination. We offer a range of packages to suit different budgets, ensuring that your dream charter experience is within reach.
Once you've considered all these factors, our experienced team is here to help you decide. We can provide expert advice and recommendations based on your preferences.
So, whether you're a first-time yacht charterer or an experienced yachtsman, we have the perfect vessel for your experience in the Mediterranean. Let us help you make memories as you cruise through crystal-clear waters and discover the beauty of this iconic region. Your dream yacht charter awaits!
Explore the Cyclades Islands: From Mykonos to Santorini
Explore the breathtaking beauty of the Cyclades Islands, from the vibrant Mykonos to the enchanting Santorini. We are here to create a journey like no other, where you'll experience the true essence of the Mediterranean.
Mykonos
Our yacht charters allow you to explore the Cyclades Islands at your own pace, hopping from one stunning destination to another. Start your adventure in Mykonos, known for its vibrant nightlife and cosmopolitan atmosphere. Here, you can dance the night away in world-renowned clubs, relax on pristine sandy beaches, and wander through the narrow streets of Mykonos Town, lined with whitewashed buildings and colorful bougainvillea.
Santorini
Next stop, Santorini. As you arrive on this iconic island, famous for its breathtaking sunsets and picturesque cliffside villages, prepare to be amazed. Explore the charming town of Oia with its winding cobblestone streets and blue-domed churches. Relax on the volcanic beaches with their unique black or red sand.
Paros, Naxos, and Delos
But the Cyclades Islands offer more than just Mykonos and Santorini. Sail to islands including Paros, with its beautiful beaches and traditional villages. Or, discover the untouched beauty of Naxos, famous for its archaeological sites and lush landscapes. Delos, a UNESCO World Heritage Site, is another must-visit destination.
As you sail through the Cyclades Islands, the beautiful turquoise waters of the Aegean Sea surround you. Take a dip in secluded bays, discover hidden caves, and snorkel among colorful marine life. And at the end of each day, relax on the deck of your yacht. Sip a refreshing cocktail and watch the sun sink into the horizon.
The Beautiful Ionian Islands: Perfect for Families and First-Time Yachters
The Ionian Sea offers a wealth of beauty and charm with its calm and clear waters, picturesque anchorages, and various family-friendly activities. Whether traveling with little ones or embarking on your first yachting adventure, we can create the perfect itinerary to suit your needs and ensure a memorable vacation for all.
Corfu
One of the highlights of the Ionian Sea is its collection of idyllic islands, each with its unique charm. Start your journey in Corfu, known as the "Emerald Isle" for its lush green landscapes and stunning beaches. Explore the Old Town, a UNESCO World Heritage Site, with its narrow cobblestone streets and vibrant atmosphere. Visit the beautiful Paleokastritsa, where you can swim in crystal-clear waters and discover hidden caves.
Zakynthos
Next, set sail to the stunning island of Zakynthos, famous for its Shipwreck Beach. Visit this iconic site, and take photos of the shipwreck on the white sandy beach. Dive into the inviting sea, snorkel among vibrant marine life, or relax on the soft sands.
Lefkada
For a taste of authentic Greek island life, head to Lefkada. A floating bridge connects this verdant island to the mainland. Explore the charming villages, indulge in fresh seafood at local tavernas, and discover the island's stunning beaches. Hike and soak in the island's natural beauty.
One of the advantages of cruising the Ionian Sea is the calm and gentle winds. The protected waters provide a safe and comfortable cruising experience, allowing you to relax and enjoy the journey. And you'll have the expertise of an experienced crew to guide you every step of the way.
The Ionian Sea offers endless possibilities for relaxation. You can anchor in a secluded bay and swim in crystal-clear waters. Or explore charming coastal towns. Soak up the sun, discover hidden treasures, and immerse yourself in the laid-back Greek lifestyle.
The Dodecanese Islands
Positioned like scattered gems in the southeastern Aegean Sea, the Dodecanese Islands unveil a world brimming with stories, cultures, and natural marvels. This archipelago isn't just a typical Greek getaway – it's a mosaic of influences, blending Greek heritage with Ottoman echoes, creating a tapestry uniquely its own.
Wander the ancient streets of Rhodes, where medieval castles are guardians of time. Then, traverse to Karpathos, where tranquil shores whisper tales of seafaring adventures. The allure lies not only in the past but in the vivid present. There are vibrant festivals, traditional artistry, and an array of authentic experiences to discover.
The Saronic Islands
Nestled close to Athens and yet a world away, the Saronic Islands offer a serene escape. These islands are a delightful blend of history, relaxation, and authentic Greek charm. From the iconic ruins of Aegina to the pristine beaches of Poros, each island unveils a distinctive character.
Stroll through Hydra's car-free streets, where donkeys are the preferred mode of transportation. Or, savor fresh seafood in a waterfront taverna on Spetses.
Experiencing the Greek Lifestyle: Local Food, Wine, and Culture
When you embark on a Greek yacht charter, you get to experience the beauty of the Mediterranean Sea. You can also immerse yourself in the vibrant Greek lifestyle. One of the best ways to truly experience a country is through its food, wine, and culture. Greece offers an abundance of all three!
The Food
Greek cuisine is renowned for its fresh and flavorful ingredients, focusing on Mediterranean flavors. Every meal is a feast for the senses, from the iconic Greek salad with juicy tomatoes, cucumbers, olives, and feta cheese to delicious grilled octopus.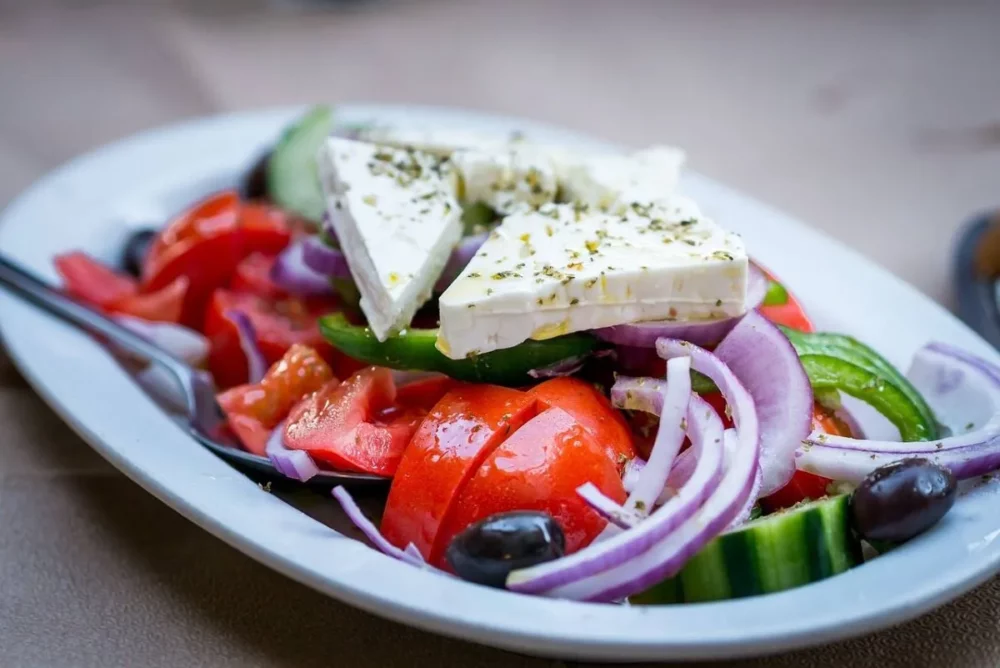 Indulge in traditional dishes such as moussaka, made with layers of eggplant, ground meat, and béchamel sauce. Or, try souvlaki, tender skewered meats served with tzatziki sauce. And, of course, don't forget to try the delicious Greek desserts, like baklava or loukoumades (honey puffs).
The Wine
Regarding wine, Greece has a long and rich history of winemaking. With over 300 indigenous grape varieties, Greek wines are diverse and unique.
From the volcanic island of Santorini, enjoy a crisp white wine. Indulge in a rich red from the region of Nemea, or savor a sweet dessert wine from Samos Island. Greek wines cater to every palate.
Also, visit local wineries and vineyards to learn about the winemaking process and sample exquisite wines.
The Culture
Greek culture is deeply rooted in history and mythology, and exploring the ancient ruins and archaeological sites is a must-do. Visit the Acropolis in Athens, home to the iconic Parthenon, and learn about the rich history of the ancient Greeks. Explore the archaeological site of Delos, believed to be the birthplace of Apollo and Artemis, and discover the well-preserved ruins. Immerse yourself in the local traditions and festivals, where you can witness traditional music, dance, and customs.
Greece Motor Yacht Charters | Book Your Holiday Today
Experiencing a Greek yacht charter is a journey of the senses. Take a fantastic trip and savor the flavors of Greek cuisine, taste unique wines, and immerse yourself in Greece's rich culture and traditions. Sail away to paradise.
Please call us today at 1 (321) 777-1707 or describe Your Vacation Vision to help you plan your fully-crewed private luxury yachting vacation! Inquire as soon as possible about your custom, crewed yacht charter.
You make the memories. We make the arrangements.