Are you planning a Greek vacation and looking to explore the best-hidden gems? With so many stunningly beautiful islands, narrowing down the perfect places to explore can be hard. Don't worry; we've got you covered! From secret beaches to hidden coves, our Greek Islands yacht charters show you the best of what Greece offers.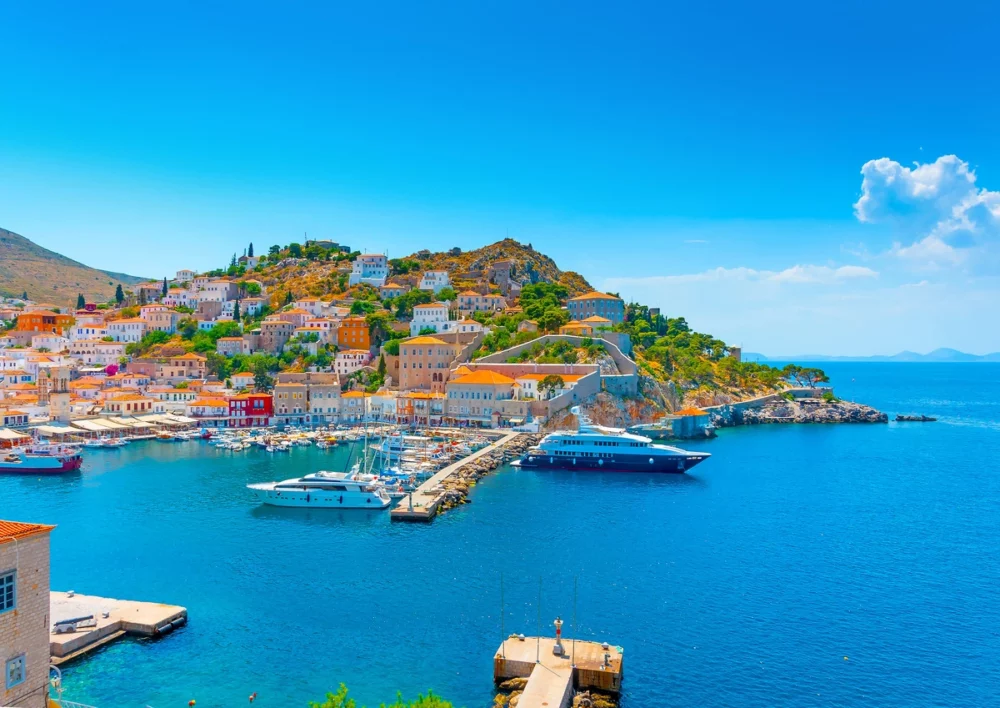 Why Charter a Yacht in the Greek Islands?
Luxury Greek Islands yacht charters offer many experiences and activities. Here are some things you can see and do during your charter. Below, we've highlighted a few ways to spend your time in Greece.
Island Exploration
Greece is home to numerous beautiful islands, each with its unique charm. Explore the Cyclades, Ionian Islands, Dodecanese, Sporades, or other island groups depending on your itinerary. Visit iconic destinations like Mykonos, Santorini, Corfu, Rhodes, and more. Discover the local architecture, stroll through charming villages, and immerse yourself in the island culture.
Beaches and Swimming
Greece is renowned for its stunning beaches and crystal-clear waters. Anchor in secluded coves or visit famous beach destinations like Navagio Beach in Zakynthos or Sarakiniko Beach in Milos. Enjoy swimming, snorkeling, paddle boarding, or relaxing on pristine sandy shores.
Historic Sites
Greece is full of history! You can explore ancient ruins and archaeological sites during your charter. Visit the Acropolis in Athens, the Palace of Knossos in Crete, the Temple of Apollo in Delphi, and the ancient city of Ephesus in Turkey (if your charter includes Turkish waters). Experience the remnants of ancient civilizations and immerse yourself in Greece's rich historical heritage.
Local Cuisine and Dining
Greek cuisine is renowned worldwide, and a yacht charter provides ample opportunities to savor the local delicacies. Enjoy fresh seafood and traditional Greek dishes like moussaka and souvlaki, and indulge in regional specialties. Visit local tavernas, seaside restaurants, and beachside taverns to experience the flavors of Greece.
Water Sports and Activities
Take advantage of the clear waters and enjoy a range of water sports and activities. Snorkel among vibrant marine life, try diving at popular dive sites, kayaking or paddleboarding or enjoy thrilling jet ski rides. Many yachts have water toys and equipment to enhance your aquatic adventures.
Sunset Views and Nightlife: Greek Islands Yacht Charters
Greece is famous for its captivating sunsets. Enjoy breathtaking views from the deck of your yacht as the sun dips below the horizon. Once the evening arrives, experience the vibrant nightlife of popular islands like Mykonos or Ios, with beach clubs, bars, and nightclubs offering entertainment and a lively atmosphere.
These are just a few examples of the many things to see and do during a Greek Islands yacht charter. The flexibility of a charter allows you to tailor your itinerary and make the most of your time exploring the beauty and culture of the Greek islands.
What Yachts Can You Charter in the Greek Islands?
Whether you're looking for a sleek and modern vessel or a traditional wooden schooner, a yacht out there will fit your needs. Here are some of the most popular types of crewed yachts that you can charter in Greece:
1. Motor yachts: Motor yachts are a great option to cover a lot of ground quickly. They are fast, comfortable, and luxurious and can be equipped with the latest amenities and technologies.
2. Sailing yachts: Sailing yachts are the classic choice for a Greek Islands yacht charter. They offer a unique sense of freedom and adventure and are perfect for those who want to get up close and personal with the islands' stunning natural beauty.
3. Catamarans: Catamarans are a popular choice for families and larger groups, as they offer plenty of space and stability. They are also very efficient and easy to maneuver, making them ideal for exploring Greece's coves and bays. You can choose between sailing catamarans and power catamarans like ELLY.
4. Gulets: Gulets are traditional Turkish wooden sailboats that have recently become increasingly popular in Greece. They offer a unique blend of traditional craftsmanship and modern luxury and are perfect for those who want a truly authentic experience. These yachts, also known as motor-sailors, mainly use their engines for power but do have sails to aid in cruising.
Top Hidden Gems to Visit in Greece
Greece warrants more than one trip; this is fundamental. If you've already been or are interested in learning about the many incredible destinations within Greece, please head to our sample Greece itineraries. Below, we've highlighted a few hidden gems for your next yacht charter.
Alonissos
Alonissos is one of the lesser-known Greek islands, but it is a true hidden gem worth visiting on a Greece yacht charter. This island is located in the northern Aegean Sea and is known for its blue-green waters, pristine beaches, and charming villages. Alonissos is a quiet island perfect for those who want to escape the hustle and bustle of more popular tourist destinations.
One of the top attractions on Alonissos is the Alonissos Marine Park, a protected area home to diverse marine life, including dolphins, seals, and monk seals. Visitors can take a guided tour of the marine park to see these animals up close and learn about their habitat and conservation efforts.
Another must-visit attraction on Alonissos is the old town of Chora, a beautiful maze of white-washed houses and cobblestone streets. You can wander through the narrow alleyways, enjoy panoramic sea views, and explore the quaint shops and cafes.
Overall, Alonissos is a serene and picturesque island perfect for a relaxing and rejuvenating Greece yacht charter vacation. Don't miss the opportunity to discover this hidden gem for yourself!
Skiathos | Greek Islands Yacht Charters
Skiathos is a popular Greek Island destination for travelers who enjoy the outdoors and stunning beaches. It is also an excellent stop for those on a Greek yacht charter vacation. Skiathos boasts over 60 beaches, some of which can only be accessed by boat, making it a perfect destination for those on a yacht.
Lalaria Beach is a must-see while on Skiathos. This stunning beach is only accessible by boat, making it an excellent destination for those on a Greece yacht charter. Its unique rocky formations and clear water make it an ideal spot for snorkeling and swimming.
Another must-visit spot on Skiathos is Koukounaries Beach. It is considered one of the best beaches in Greece and is located in the southwestern part of the island. It features a stunning bay with clear waters and golden sand, making it the perfect destination for sunbathing, swimming, and relaxation.
When visiting Skiathos, be sure to check out the Skiathos Town. This picturesque town offers a wide range of restaurants, shops, and tavernas, making it the perfect spot to grab a bite to eat or shop.
Skiathos is a stunning island destination for travelers on a Greek Islands yacht charter. Its unique beaches and picturesque town offer a wide range of activities for those looking to relax and enjoy their vacation.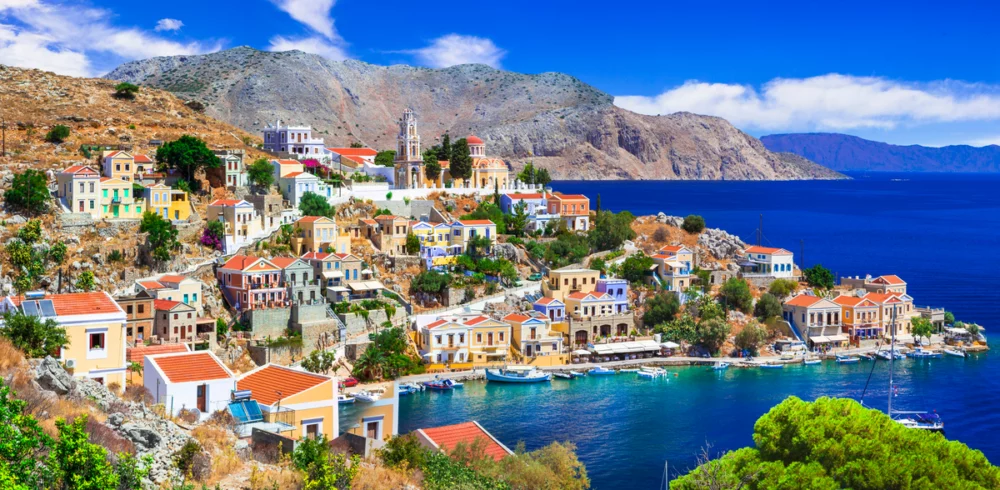 Hydra
Another popular stop on your Greek Islands yacht charter is the charming island of Hydra. Located in the Saronic Gulf, this picturesque island boasts a quaint, car-free town filled with cobblestone streets, traditional whitewashed houses, and vibrant bougainvillea.
Here, you can stroll through the town, sample local Greek cuisine at one of the island's many restaurants, and admire the views from several panoramic lookout points.
One of Hydra's most popular attractions is the Hydra Museum Historical Archives. Housed in a restored 18th-century mansion, the museum offers visitors a fascinating glimpse into the island's rich history and cultural heritage.
Meanwhile, Hydra's beaches, such as Mandraki Beach, Vlychos Beach, and Kaminia Beach, are some of Greece's most beautiful and secluded.
Whether you're looking for a quiet afternoon stroll, a cultural excursion, or an adrenaline-fueled adventure, Hydra has something to offer everyone. Don't miss the opportunity to explore this idyllic Greek Island during your yacht vacation.
Poros | Greek Islands Yacht Charters
Poros is a small but picturesque island in the Saronic Gulf that should be on your itinerary if you plan a Greek Islands yacht charter. It's just a short ferry ride from Athens, making it an ideal stop if you're short on time.
Despite its size, Poros is packed with things to see and do. The island's charming harbor is lined with waterfront cafes and restaurants, and it's the perfect spot to grab a coffee or enjoy a leisurely lunch while watching the boats come and go.
The town's narrow streets are lined with neoclassical buildings and pastel-colored houses, and plenty of quaint shops sell handmade souvenirs.
One of Poros's main attractions is the Temple of Poseidon, perched on a hill overlooking the town. The temple dates back to the 6th century BC and is worth the steep climb. From the top, you'll be rewarded with sweeping views of the Saronic Gulf and the surrounding islands.
Another must-see in Poros is the Russian Dockyard, built in the 19th century by the Russian Navy. The dockyard is now home to a small museum that tells the story of Poros's maritime history, and it's a fascinating glimpse into the island's past.
Head to one of the island's beaches for a day of relaxing. Love Bay and Russian Bay are popular spots for swimming and sunbathing and are easily accessible from the town center.
Poros may not be as well-known as some of the other Greek Islands, but it's worth a visit if you're looking for a laid-back, authentic island experience. Its proximity to Athens makes it a convenient stop on any yacht vacation itinerary.
Spetses
Located just a few miles from the mainland, Spetses is a charming Greek island perfect for yacht vacations. Despite its small size, the island offers plenty of things to see and do, making it an ideal destination for those seeking a balance of relaxation and adventure.
One of the best ways to explore Spetses is by taking a stroll along the narrow streets of its historic Old Town. Charming old buildings, traditional tavernas, and lively cafes are here. Be sure to check out the local museums, including the Bouboulina Museum, which tells the story of the Greek War of Independence.
If you're in the mood for outdoor adventure, hike through the island's lush hillsides or rent a bike to explore the scenic coastline.
Beach lovers won't be disappointed either, with Spetses boasting some of the most picturesque beaches in Greece. Vrellia and Agioi Anargyroi are just some of the island's popular spots for pristine sands.
As for nightlife, Spetses is home to a thriving scene that offers something for everyone. Whether you're looking for a laid-back cocktail bar or a buzzing nightclub, Spetses has plenty to offer.
Overall, Spetses is a great destination for those looking for an authentic Greek experience on their yacht vacation. This hidden gem will leave a lasting impression with its stunning scenery, rich history, and vibrant culture.
Other Mediterranean Destinations like Greece
While Greece is undoubtedly one of the top Mediterranean destinations, other nearby locations are worth considering for your next yacht charter vacation. Some of these destinations include:
1. Croatia: Croatia's beautiful coastline has charming historic towns, stunning beaches, and picturesque islands. The country also boasts over 1,000 islands, making it the perfect place to explore by yacht.
2. Italy: With its rich culture, mouth-watering cuisine, and stunning coastlines, Italy is a must-visit destination. Explore the Italian Riviera, the Amalfi Coast, or the Aeolian Islands for a truly unforgettable experience.
3. Turkey: Turkey's turquoise waters, secluded bays, and historical landmarks make it an ideal destination for yacht charters. Visit the Lycian Coast for some of the most stunning natural beauty in the Mediterranean.
4. Spain: From the Balearic Islands to the Costa del Sol, Spain's coastline is home to some of the most beautiful beaches in Europe. Explore the lively culture, delicious food, and vibrant nightlife on your yacht vacation.
No matter which charter destination you choose, a yacht vacation is the perfect way to explore all the hidden gems each location offers. Our Greek Islands yacht charters offer secluded beaches, exploring historic towns, or indulging in delicious cuisine; a yacht charter allows you to experience it all in ultimate luxury and comfort.
Please call us today at 1 (321) 777-1707 or describe Your Vacation Vision to help you plan your fully-crewed private luxury yachting vacation! Inquire as soon as possible about your custom, crewed yacht charter.
You make the memories. We make the arrangements.