A Greek crewed charter boat is a private yacht available for charter in Greece. The charter, or rental, comes with a professional crew to provide guests with an exceptional and worry-free vacation experience.
This type of charter typically includes a captain, a chef, and other crew members, such as a stewardess or deckhand. A Greek crewed charter boat allows guests to explore the country's beautiful coastline and islands. See the famous Santorini or, if you prefer, the lesser-known gems of the Ionian Sea.
The crew runs the boat, including navigation, maintenance, activities, and meal preparation. Crews can range from as few as 2 to more than 50, depending on the size and amenities of the yacht. The professional crew of luxury yacht charters also provides five-star hospitality to their guests.
Many chefs also have resumes that include Michelin-star restaurants across the world. Some crew members are scuba certified, massage therapists, or yoga instructors. Others can have skills including water skiing and surfing. Inquire with our brokers regarding what type of activities most interest you.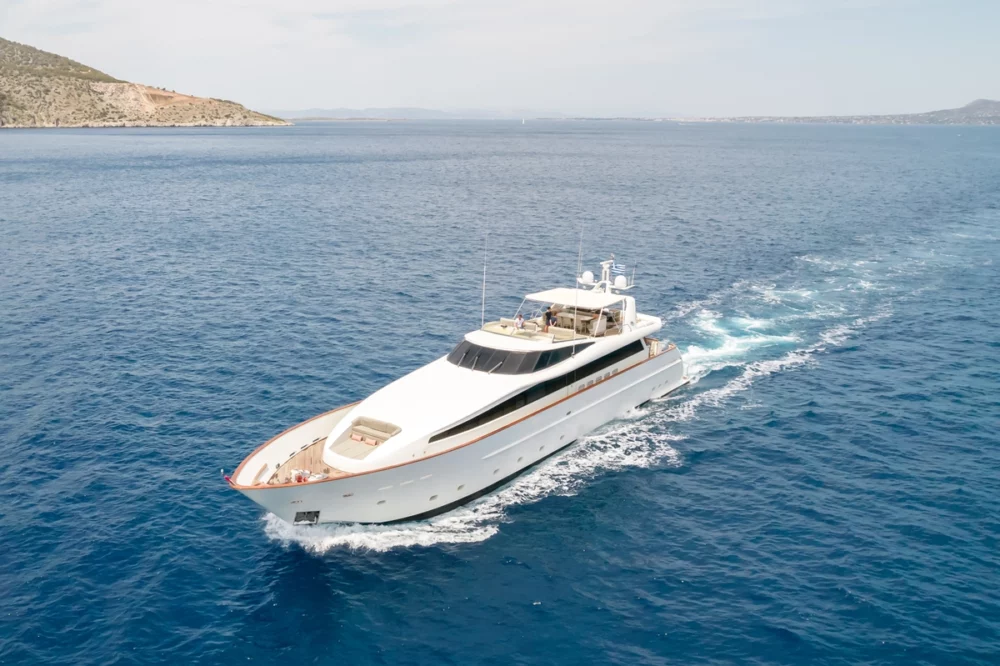 Why Charter a Boat In Greece?
Chartering a boat in Greece offers many benefits and unique experiences. Here are some of the top reasons why Greece is an excellent destination for a charter:
Stunning Islands and Coastline
Greece is renowned for its breathtaking islands and picturesque coastline. From the iconic white-washed buildings of the Cyclades to the lush landscapes of the Ionian Islands, there are many destinations to explore. The clear waters, secluded bays, and pristine beaches make Greece an ideal setting for a yacht charter.
Rich History and Culture
Greece boasts a rich cultural and historical heritage. You can visit ancient archaeological sites such as the Acropolis in Athens, the Palace of Knossos in Crete, or the Temple of Apollo in Delphi. Enjoy the Greek people's local traditions, cuisine, and warm hospitality.
Flexibility and Freedom | Greek Crewed Charter Boat
Chartering a boat in Greece allows you to design your itinerary and explore at your own pace. You can visit multiple islands, anchor in secluded coves, and discover hidden gems that may not be accessible by other means of transportation.
Privacy and Exclusivity
With a charter boat, you can escape the crowds and discover secluded bays and beaches inaccessible to larger vessels or land travel. Enjoy the privacy and exclusivity of having your own floating oasis tailored to your preferences.
Chartering a boat in Greece offers an unparalleled combination of natural beauty, cultural richness, and freedom to explore, making it a sought-after destination for yacht enthusiasts and travelers seeking an unforgettable experience.
What Types of Boats Can You Charter?
Greek crewed charter boats come in various sizes and styles, including motor yachts, sailboats, and catamarans. Importantly, the crewed charter experience allows guests to sit back and relax. At the same time, the crew takes care of everything, from sailing the boat to preparing delicious meals tailored to their preferences. Crewed charters in Greece often allow guests to explore the country's beautiful coastline and islands, from the famous Santorini to the lesser-known gems of the Ionian Sea.
Crewed Yachts to Charter in Greece
What Can You Do on a Greek Crewed Charter Boat?
You can do plenty of things on a Greek charter boat, depending on your preferences and the charter's itinerary. Here are some popular activities you can enjoy on a Greek charter boat:
Island Hopping: One of the most popular things on a Greek charter boat is to explore the many beautiful islands Greece offers. Whether you want to visit the famous Mykonos and Santorini or discover lesser-known gems like Folegandros or Milos, a Greek charter boat allows you to travel in comfort and style.
Swimming and Water Sports: The crystal-clear waters of the Aegean and Ionian seas are perfect for swimming, snorkeling, and other water sports. Charter boats have water toys, such as kayaks, stand-up paddleboards, and water skis, to help you make the most of your time on the water.
Relaxing and Sunbathing: Plenty of deck space and comfortable lounging areas make a Greek charter boat a perfect place to relax and soak up the sun. Whether you prefer reading a book, napping, or enjoying the beautiful views, a charter boat allows you to unwind and recharge.
Exploring Local Culture and Cuisine: A Greek charter boat allows you to experience Greece's local culture and cuisine uniquely and intimately. From dining on fresh seafood to exploring charming local villages, a charter boat allows you to discover the authentic side of Greece.
Onboard Activities: Many charter boats have various onboard activities, such as board games, books, and entertainment systems, to keep you entertained on the boat. Some boats also offer onboard yoga or fitness classes, cooking classes, or wine tastings.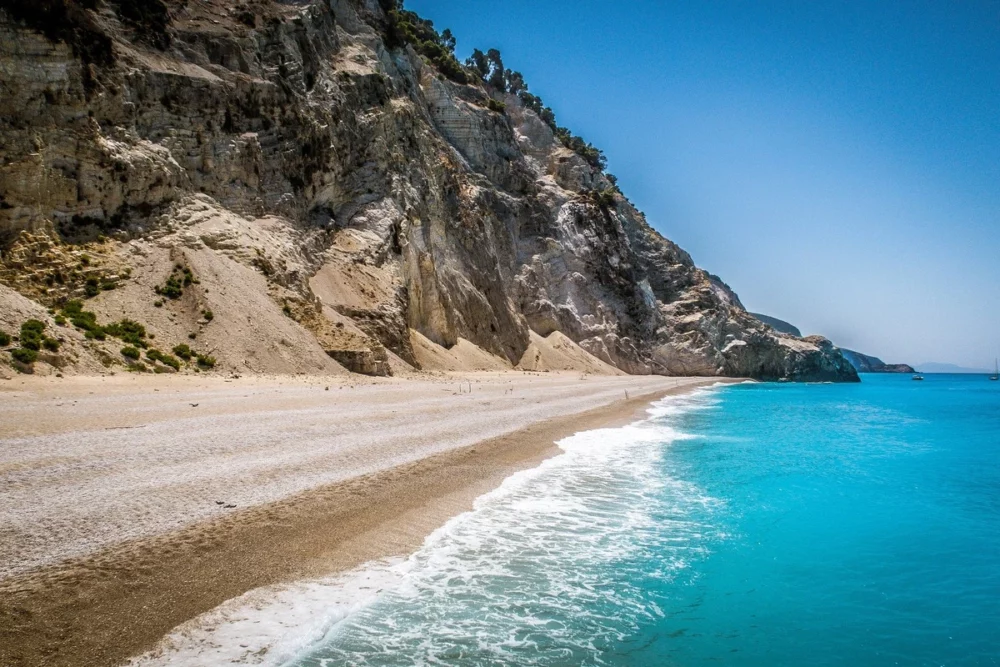 Where Can You Visit on a Greek Crewed Charter Boat
Greece offers a wealth of stunning destinations to visit on a Greek crewed charter boat. Here are some of the best places to explore:
Cyclades Islands: The Cyclades archipelago is a must-visit destination, featuring iconic islands such as Mykonos, Santorini, Paros, and Naxos. Enjoy the vibrant nightlife, picturesque white-washed villages, beautiful beaches, and delicious local cuisine.
Ionian Islands: The Ionian Islands, including Corfu, Zakynthos, and Kefalonia, offer lush landscapes, crystal-clear waters, and charming villages. Explore secluded bays, visit historic sites, and indulge in the region's famous hospitality.
Dodecanese Islands: The Dodecanese Islands, including Rhodes, Kos, and Symi, boast a rich history and cultural heritage. Discover ancient ruins, medieval castles, and traditional Greek villages while enjoying the warm Aegean Sea.
Sporades Islands: The Sporades Islands, like Skiathos, Skopelos, and Alonissos, are famous for their natural beauty and tranquility. Enjoy pristine beaches, pine forests, and stunning marine life, including swimming with dolphins in Alonissos Marine Park.
Saronic Gulf Islands: The Saronic Gulf Islands, including Aegina, Hydra, and Poros, are near Athens, making them easily accessible. Experience the charm of these picturesque islands, with their neoclassical architecture, crystal-clear waters, and rich history.
Crete: The largest Greek island, Crete, offers diverse landscapes and attractions. Explore ancient ruins like Knossos Palace, hike the Samaria Gorge, or relax on the beautiful beaches. While not many boats include Crete on their itinerary, it's a great place to visit before or after your charter.
These are just a few highlights of the many incredible destinations you can visit on a Greek crewed charter boat. The flexibility of a charter allows you to tailor your itinerary and explore the places that interest you most.
How Long Can You Charter a Greek Crewed Boat For?
The duration of a Greek crewed yacht charter can vary depending on your preferences and the yacht's availability. Typically, charter durations in Greece range from one week to several weeks. Here are some common charter options:
One-Week Charter: A one-week Greece charter itinerary is the most common option. This allows you to explore a specific region or island group. This duration balances between experiencing multiple destinations and enjoying leisure time onboard.
Two-Week Charter: A two-week charter allows for a more extensive exploration of Greece. This lets you visit multiple island groups and enjoy a more relaxed pace. It provides the opportunity to discover different regions, dive deeper into local culture, and visit more secluded destinations.
Longer Charters: Longer charters are available. These can range from three weeks to several months. Long charters allow for exploring a wider range of islands and more remote locations and embracing the leisurely cruising lifestyle.
Greece Crewed Yacht Sample Itineraries
Ultimately, the duration of your charter is flexible. It's best to discuss your desired charter duration with our charter brokers. They can provide options based on your specific requirements.
How To Arrive To Your Greek Crewed Yacht Charter?
To get to a yacht charter in Greece from the US, you would typically need to follow these general steps:
1. International Flights:
Start by booking international flights from the US to Greece. Several major US airports offer direct flights to Athens International Airport (ATH), the main international gateway in Greece. Also, some airlines offer seasonal or direct flights to other Greek destinations, such as Mykonos or Santorini. Alternatively, we can help arrange a private jet charter from wherever you want to depart.
2. Connecting Flights or Ferries:
Once you arrive in Greece, you may need a connecting flight or a ferry to reach your yacht charter. For example, if you're chartering in the Ionian Islands, you might take a domestic flight from Athens to Corfu or Preveza. Instead, you could take a ferry from Athens' port of Piraeus to your desired island.
3. Transfer to Marina:
After arriving at your destination in Greece, you may need to transfer from the airport or ferry port to the marina. We can assist with organizing transportation or provide recommendations for local transfer services.
4. Boarding the Yacht:
Once you reach the marina, you will board your yacht and meet the crew guiding you throughout your charter. They will provide a comprehensive briefing on the yacht's facilities, safety procedures, and itinerary for the trip.
Don't worry; our experienced yacht charter brokers will coordinate all your arrival transfers and details. We will do our best to ensure your trip goes as smoothly as possible. A Greek crewed charter boat makes for the perfect luxury vacation in the Mediterranean. Contact us today to start planning your getaway.
Please call us today at 1 (321) 777-1707 or describe Your Vacation Vision to help you plan your fully-crewed private luxury yachting vacation! Inquire as soon as possible about your custom, crewed yacht charter.
You make the memories. We make the arrangements.