Yacht Chartering in Greece
Greece is a popular destination for yacht charters, and it's easy to understand why. With its stunning coastline, crystal clear waters, and temperate climate, yacht chartering in Greece is ideal for a luxury sailing holiday.
Moreover, it offers the opportunity to explore the beautiful Greek islands, discover ancient historical sites, and enjoy some of the best cuisines in the world.
In this guide to yacht chartering in Greece, we'll look at the different types of charters available, the best places to visit, and how to make the most of your Greek yacht charter experience.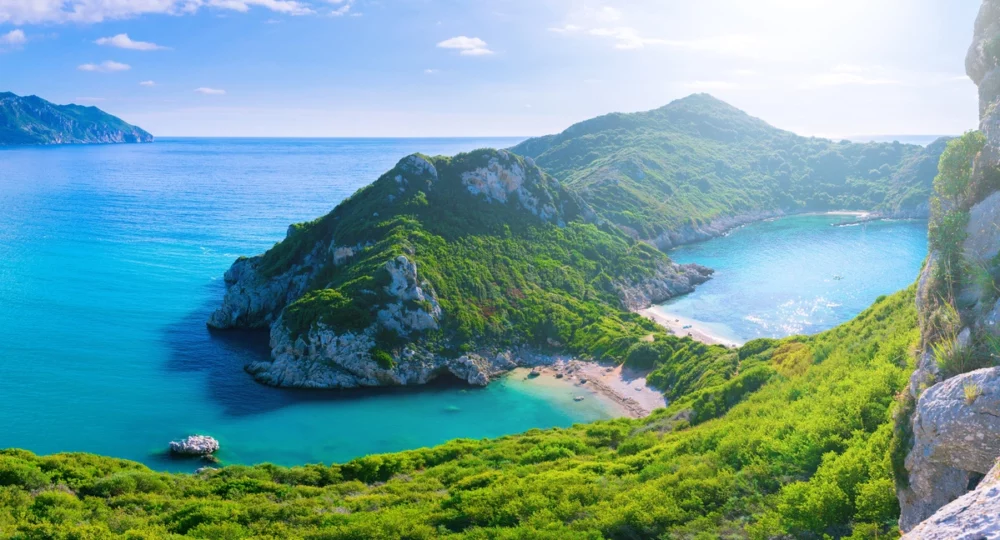 Charter Yachts to Choose From in Greece
When planning a yacht rental in Greece, you have several options. From sailing Greek charters to luxurious motor boats, there is a yacht to suit your budget and preferences. Popular Greek yachts include the classic gulet, catamaran, and motor yacht models. For more inspiration, head to our top 6 Greek yacht charters.
Greek Motor Yachts
Motor yachts offer luxury and speed, allowing you to explore more of Greece's beautiful coastlines. They also offer more space and typically more amenities on board. These include jacuzzis, gyms, saunas, and theater rooms. With their larger size, they can also accommodate larger water toys like jet skis and larger tenders for water sports.
Gulets for Charter In Greece
Gulets are traditional wooden sailing yachts that provide a smooth and comfortable ride due to their wide width. Most gulets range from 50 to 200 feet long and have four to six cabins and crew. Also known as Motor-Sailors, these unique boats can sometimes accommodate more guests, ranging from 18-36, depending on the boat's designation. Their spacious layouts are perfect for larger groups and friends celebrating milestone birthdays or weddings.
Catamaran Rentals Greece | Yacht Chartering In Greece
Sailing Catamarans in Greece typically range from 50 to 85 feet. They provide a great way to enjoy the water, with more adventure and thrill than Power Catamarans. Their wide layout, modern amenities, and water toys are great for families. Many offer flybridges for extra outdoor space, incredible views, and more dining options.
Sailboats Charters in Greece
Traditional sailboats in Greece are an excellent option for sailors to see the Greek Islands. Boats range from 50 to 150 feet and can be wooden or modern fiberglass models. They provide an authentic sailing experience for enthusiasts and those looking to learn the ropes! Plus, they're typically the most eco-friendly option.
Places to Visit on a Luxury Yacht Charter in Greece
An archipelago of over 200 islands, Greece is an excellent place to explore by yacht. Some popular charter areas include the Saronic, Cyclades, and Ionian Islands. Each island offers something unique and exciting to experience, so there's no shortage of places to visit on your yacht charter in the Greek Islands.
Popular Spots
Mykonos: With its bustling nightlife, stunning beaches, and picturesque villages, Mykonos is one of the most famous Greek islands for yacht charters.
Corfu: An idyllic island in the Ionian Sea, Corfu boasts a stunning coastline, crystal-clear waters, and lush landscapes. It's also home to plenty of historical sites and monuments.
Santorini: Known for its dramatic cliffs, beautiful sunsets, and stunning volcanic scenery, Santorini is a fantastic place to visit on a Greece yacht charter.
Rhodes: Located in the Aegean Sea, Rhodes is an excellent destination for history buffs and beach lovers. This island is home to numerous ancient ruins and several beautiful beaches.
Kefalonia: Home to some of the most spectacular beaches in the world, Kefalonia is an ideal destination for those looking to relax and unwind on their Greece yacht charter.
Lesser Known Islands
Hydra:An excellentt spot for sailing enthusiasts, Hydra also offers an incredible variety of architecture for sightseers, such as the exquisite dwellings built by Italian artisans. These stately homes of Greek revolutionaries in the 1821 War of Independence have since been transformed into museums. Moreover, the island is car-free and, therefore, very tranquil and relaxing.
Antiparos: The island offers many exciting activities, from swimming in its stunning coastal waters to participating in water sports or kite surfing. You can explore the 15th-century Venetian castle in the heart of the town (hora), visit the Antiparos Cave on Ayios Ioannis Hill to marvel at the oldest stalagmite in Europe, and even delve into the sea caves by boat or the various churches.
The Best Time to Charter a Yacht in Greece
The best time to go on a yacht charter in Greece is from mid-May to mid-October when the weather is warm and the days are long. During this period, you can expect temperatures between 60 and 80 degrees Fahrenheit, perfect for exploring the Greek Islands and sailing in the Mediterranean.
Summer Season
June to September is Greece's most popular time for yacht charters, and the islands are generally busier. This is the best time to find an abundance of cultural and culinary experiences, as well as entertainment for all ages. During July and August, you may also have the opportunity to experience local festivals and events, such as the International Film Festival in Mykonos.
Various yacht weeks in Greece take place throughout the summer and early September. These events combine friendly races and other competitions and celebrations across various islands.
Shoulder Seasons
April, May, and October are also great times to explore Greece via yacht charter. Temperatures during this time of year are cooler than in the peak summer months but still comfortable enough for sunbathing on deck or exploring local towns. The seas tend to be quieter during this period, and there can be fantastic deals on yacht rentals in Greece. Moreover, if you charter in April or early May, you can experience interesting traditions on a Greek Easter yacht charter.
When chartering a yacht in Greece, it's essential to remember that there may be restrictions on how much time you can spend sailing in certain areas. Local regulations can change throughout the year, so checking with your yacht provider for updates is always best.
Things to Do and See on a Private Yacht Charter in Greece
There are endless things to do in Greece, both on and offshore. Below we've highlighted a few you can't miss, and for more, head to our Greece yacht charter attractions post.
The Beautiful Beaches & Water Sports
You can explore some of Europe's best islands and destinations on your yacht charter in Greece. There is something for everyone, from white sandy beaches to crystal clear waters.
One of Greece's most popular activities on a yacht charter is sailing around the many breathtaking Greek islands. You can sail from island to island or stay at one destination longer and explore what it offers. If you want something more adventurous, there are plenty of spots for water sports, such as windsurfing, kitesurfing, and kayaking. In addition, the gorgeous waters lend themselves to excellent snorkeling.
Nightlife
Greece is also known for its amazing nightlife. From lively clubs in Mykonos to relaxed bars, there is something for every taste. This cosmopolitan island boasts an array of beach clubs and bars, world-class DJs, and live music performances. Enjoy the sunset from one of the many luxurious rooftops overlooking the Aegean Sea, or take a stroll along the cobblestone streets of Little Venice and take in the Mediterranean atmosphere.
Santorini is another favorite for nightlife in the Greek Islands. With its breathtaking cliffside views and spectacular sunsets, it's no wonder why this island is one of the most popular destinations in the Mediterranean. Visit Fira and enjoy some of the island's best nightlife. There are plenty of bars, pubs, and nightclubs to explore and plenty of local wine and cuisine to enjoy.
Archaeological Sites | Yacht Chartering In Greece
There are countless archaeological sites and ancient cities that you can visit. Don't forget to check out some of the picturesque Greek villages or hike up some of Greece's amazing mountains. Finally, explore the mainland and Athen's main attractions to take advantage of all Greece offers.
From iconic landmarks like the Parthenon in Athens to hidden gems like the Temple of Poseidon on the island of Sounio, there are plenty of fascinating archaeological sites you can visit on a yacht charter in Greece. The Parthenon in Athens is one of Greece's most famous and recognizable ancient sites. Built-in 447-438 BC, it served as a temple to the goddess Athena and still stands atop the Acropolis of Athens.
On the island of Delos, you will find the remains of an ancient city that was once the religious center for all of Greece. It is now a UNESCO World Heritage Site filled with ruins from all different eras, including several temples and tombs from the Hellenistic period. This is an excellent stop for anyone learning about Greek history and culture.
In Rhodes, you can explore the ruins of the ancient Kameiros, which the Dorians founded in the 7th century BC. The site includes several public buildings and monuments, including an acropolis, theatre, and stadium. This is an excellent opportunity to learn more about classical Greek architecture and culture.
Food and Wine
Make sure to sample the delicious Greek cuisine while you are here. Here are some of the most popular Greek food and wine you should try on your yacht charter. For more, head to our best restaurants and food in Greece.
If you're looking for delicious seafood dishes, Greece has you covered. Some popular dishes include Calamari Saganaki, Grilled Octopus, and Sea Bass with Lemon and Oregano. Greek cuisine also features several mouth-watering meat dishes. A few of the most beloved include Souvlaki (skewered meat), Moussaka (a casserole with layers of eggplant and meat), and Stifado (beef stew).
Greek food isn't just about meat and seafood. The country's vegetable dishes are just as flavorful and delicious. Some popular dishes include Briam (an oven-baked vegetable casserole) and Gigantes Plaki (giant white beans in tomato sauce).
Lastly, there are plenty of sweet treats to enjoy in Greece. Popular desserts include Galaktoboureko (phyllo pastry with custard filling), Halva (semolina pudding), and Kataifi (shredded phyllo dough filled with nuts and honey). Greek wine is known worldwide for its unique flavor and complexity. Popular wines include Moschofilero, Assyrtiko, Agiorgitiko, Xinomavro, Malagousia, Limnio, Robola, and Mavrodaphne.
Yacht Chartering in Greece
A private yacht charter in Greece allows you to explore the best of what this amazing country has to offer. From sailing around the islands, experiencing the nightlife, exploring mainland Greece, and sampling local cuisine, you will surely have an unforgettable experience yacht chartering in Greece.
Please call us today at 1 (321) 777-1707 or describe Your Vacation Vision to help you plan your fully-crewed private luxury yachting vacation! Inquire as soon as possible about your custom, crewed yacht charter.
You make the memories. We make the arrangements.