When it comes to sailing yachts, the Mediterranean islands have produced some truly majestic vessels. In particular, one outstanding example is the classic Greek sailing-yacht AELLO. After a refit in 2008/2011, AELLO is returning to the charter market and is ready to take you and your guests on an exhilarating sailing holiday around Athens, the Cyclades, and beyond.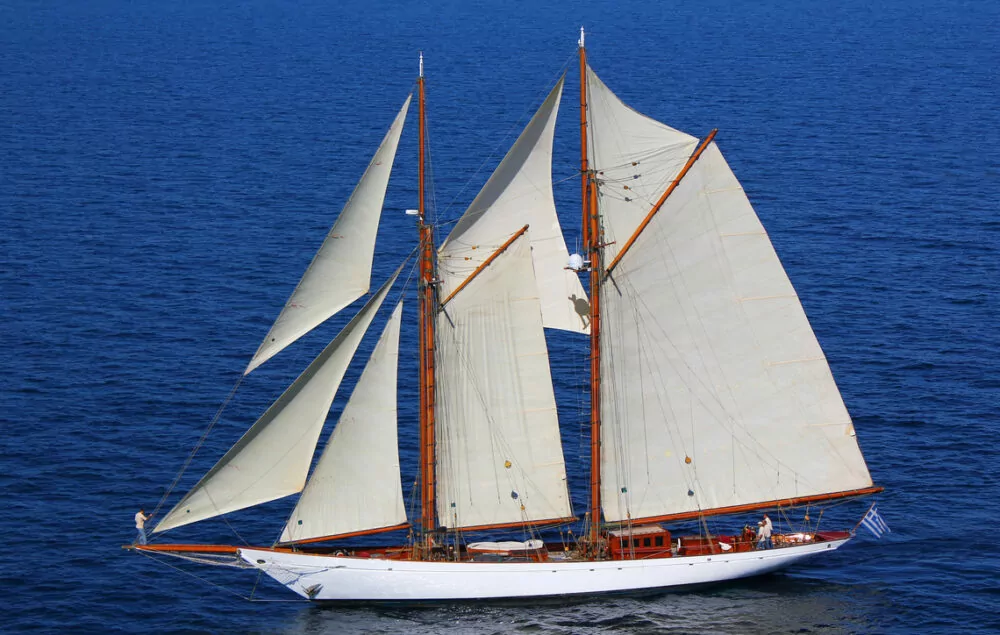 A Brief History of Classic Greek Sailing-Yacht AELLO
Beyond being a yacht, AELLO is a living relic from an era gone by, a floating testament to the past. Created as a sister ship to the renowned sailing yacht Meteor IV, it remains the sole surviving grand schooner designed by Max Oertz. Its origins are intertwined with the story of Antonios Benakis, a Greek merchant and art connoisseur who commissioned the yacht to be built in 1921.
AELLO's historical significance continues through its association with the Yacht Club of Greece, founded by Benakis in 1934, a legacy imprinted on the vessel's magnificent bronze wheel.
A touching part of AELLO's story is when Antonios Benakis returned to Greece, his ancestral home. Following years of sailing the Mediterranean, the yacht found itself in the hands of a British Baron and Admiral post-World War II. AELLO's path moved into a different phase, serving as a stately houseboat nestled in deep waters.
1982 marked a turning point as AELLO, named Xenia, found new custodians in cousins Symon and Jasper Bloomfield. Their painstaking efforts to rejuvenate the vessel led to a series of refurbishments. A fortunate coincidence led to AELLO's restoration using wood from a sunken ship that held valuable and rare Burma teak. This beautiful wood adds unmatched beauty to the yacht.
AELLO is truly unique, as it's the only yacht in the world made entirely from this rare wood. After brief Italian ownership, she sailed through Panama to the Caribbean and Pacific. Eventually, Classic Greek Sailing-yacht AELLO ended up on the coasts of Maine and Fort Lauderdale. There, an American industrial family member took her under their wing, enhancing her to excel in international races.
Having sailed extensively along the American coastline, crossed the Atlantic for races, and traversed the world's waters, AELLO returned to European shores. A Greek ship owner and art enthusiast finally claimed her, returning her to her native waters in the Eastern Mediterranean. AELLO now basks in her former glory, a living testament to history, craftsmanship, speed, and aesthetic allure.
Accommodations Aboard Your Greek Sailing-Yacht Charter
The classic Greek sailing-yacht AELLO accommodates up to 8 guests in 4 exquisite cabins. There is a master cabin with an en-suite bathroom, shower, plasma TV, and stereo. In addition, the double cabin has a private en-suite bathroom and shower, plasma TV, and stereo. There's also a bunk cabin with an en-suite bathroom and shower and a double-bed cabin with a separate bathroom and shower.
Water Toys and Amenities
In addition to a RIB tender and wooden sailing tender, the classic Greek sailing-yacht AELLO also features:
Water maker
VHF & Satellite telephones
Stereo music system
Plasma TVs
Fully-equipped galley
Large salon
Indoor dining area
Outdoor dining area
Sun awnings
Snorkeling equipment
Light fishing equipment
42-inch widescreen plasma TV with state-of-the-art surround sound system
40GB iPod with pre-loaded music such as Opera, Lounge, Pop, Rock, Italian, French, and Greek
Laptop with an internet connection
The Greek Islands
Greece yacht charter vacations offer views unparalleled in the Mediterranean Sea. Undoubtedly, your experience will amount to many years of future storytelling.
Relax on golden, quiet beaches and swim in endless crystal blue waters. Stroll along paths lined with whitewashed houses with blue roofs and raise a glass at a traditional taverna. Whether you choose to do a lot or a little, you can't go wrong with a Greek yacht charter aboard AELLO.
This luxury yacht offers an experience that's 100% tailored to your needs and desires. Want to stop in the middle of your journey for two days? Done. Want to spend three days exploring one island? Done too. Don't stress; our team of experts will plan every detail meticulously.
Book a Greek sailing-yacht holiday with the classic yacht AELLO today and explore Greece like never before.
Please call us today at 1 (321) 777-1707 or describe Your Vacation Vision to help you plan your fully-crewed private luxury yachting vacation! Inquire as soon as possible about your custom, crewed yacht charter.
You make the memories. We make the arrangements.