Explore Ancient Greece: Athens to Athens Itinerary
Embark on a voyage through time and luxury as you set sail on an Athens to Athens itinerary. This extraordinary journey unveils the treasures of Ancient Greece. You will fall in love with the azure waters, iconic historical sites, and the unparalleled comfort of a luxury yacht. It's a voyage where ancient history meets contemporary indulgence.
Please note that this Athens to Athens itinerary is only a sample. Your captain will decide the final route according to your preferences and the current weather conditions.
Day 1 | Athens
Begin your Athens to Athens Itinerary as you board your yacht in this ancient city. Before departing, take some time to explore. From magnificent ruins to modern neighborhoods, the vibe of Athens is exciting. The city is full of rich history, impressive archeological landmarks, and views of the surrounding mountains and distant sea.
Your captain and crew will have a brief safety meeting before you depart.
Since you'll be returning to Athens, don't worry if you don't have time to see everything. You'll be able to spend more time here when you return.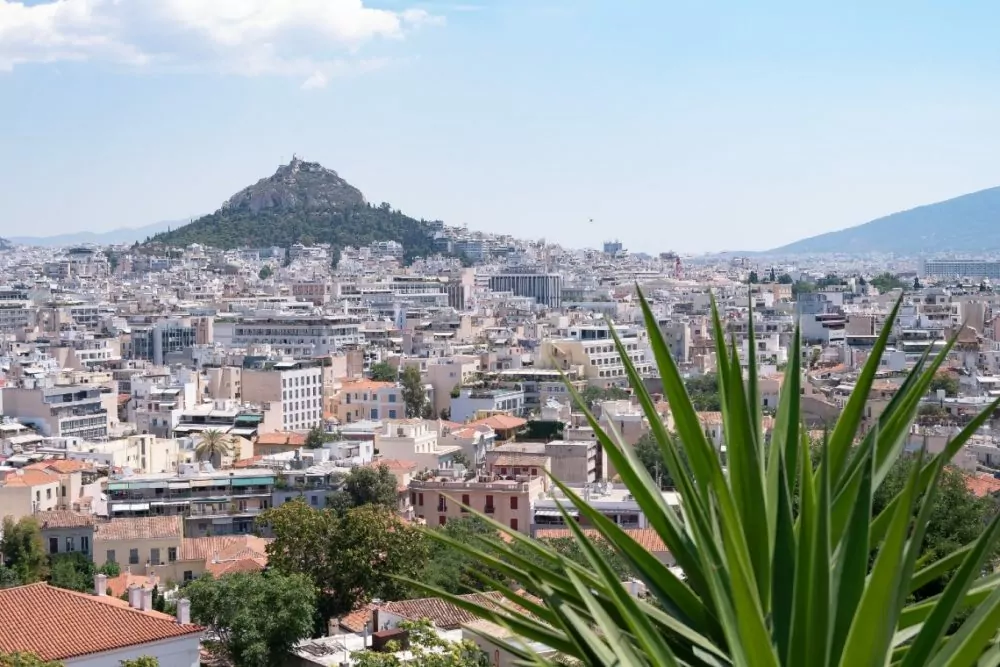 Places to see
Lysicrates Monument. A monument that was built in the 4th century as a trophy base.
Ancient Agora. A significant ancient gathering place.
Temple of Hephaestus. The temple was dedicated to the Greek god of building.
Temple of Olympian Zeus. Largest ancient temple on the Greek mainland.
The Theater of Dionysus. A prototype of Greek theaters.
Aristotle's Lyceum. A temple that was dedicated to Apollo Lyceus.
Parthenon. A former temple on the Athenian Acropolis that was dedicated to the goddess Athena.
National Archaeological Museum
Things to do
Plaka. Walk this area in the evening, and enjoy the nightlife, dining, and shopping.
Food lovers will enjoy a 4-hour gourmet tasting tour of Athens. Sample a selection of Greek specialties such as koulóuria (sesame bread rings) and loukoumades (Greek donuts).
Al Hammam & Niriides spa for a unique spa experience.
Athens Flea Market. Shop for clothes, vinyl discs, old books, street food, jewels of any price and type, and vintage gifts.
Stop by the Central Market, where you'll find snacks such as dried fruits, nuts, fresh fish, and meats.
Day 2 | Kea
Have a light lunch aboard your yacht as you cruise to Kea, the 'gate' to the Cyclades. It's a beautiful and rare natural environment with quaint villages and rugged landscapes. If you enjoy hiking, Kea is a paradise.
Places to see
Ancient Karthea: Its remains are undoubtedly impressive. Among them, you will see the city's acropolis and the temples of Athena and Pythios Apollon.
The Kea Lion: A trademark of Ioulida, is a 6th-century BC sculpture carved on a rock.
Ruins of the prehistoric settlement of Agia Irini. This settlement was one of the most important cultural centers of the Aegean until the 15th century BC when an earthquake destroyed it.
The Hellenistic 20m tower of Agia Marina is a significant fortification monument of the island.
Ioulida village, the capital of the island. This traditional village is peaceful and quiet. There are no cars here. Locals walk or ride bikes and occasionally travel by donkey.
Things to do
Koundouros Beach. Beach bar with food, drinks, and music.
Sykamia Beach. No facilities but an excellent beach.
Hike. Paths totaling 36 kilometers, 65% of which are stone-paved, cross routes through dense forests of tall oaks and lead to beautiful isolated beaches.
Bike.
Shop Aristaios for local handmade products.
Day 3 | Serifos
On day three of your Athens to Athens itinerary, arrive at Serifos. With its rugged mining sites, Serifos Island exudes a calm atmosphere that speaks directly to your senses. Despite its arid characteristics, Serifos is surrounded by the Aegean Sea. It is home to some magnificent beaches.
Places to see
Church St. Konstantinos.
Monastery of Taxiarches.
Archaeological Collection of Serifos.
Windmills.
Things to do
Take a walk along the main port of Livadi for cafés, fish tavernas, and pastry shops next to the seashore.
Visit the main square, Agiou Athanasiou. There are also many interesting historical monuments, such as the 17th-century Metropolitan church and the old Town Hall.
Go to the beach. There are plenty of beaches to choose from while visiting Serifos Island. Some are rocky, some pebbly, and some are sandy. Because some beaches are pebbly, you may want to bring water shoes.
Day 4 | Ios
On day four, you'll arrive at Ios Island. This island drips with ambiance. See blue-roofed white buildings perched on a hillside, a theater, and golden-sand beaches surrounded by an unbelievably blue sea. Ios is famous not only for its classic Greek style but also for its vibrant nightlife.
Places to see
Diesel Traditional Cheesery. This family cheese factory offers guided tours as well as tastings.
Panagia Gremiotissa Church
La Tomba di Omero
Agios Ioannis monastery
Things to do
Beaches. Ios has dozens of amazing beaches. Excellent choices are Manganari Beach, noted as one of the best beaches in Greece, and Mylopotas Beach.
Mylopotas has many services, such as WiFi, bathrooms, and restaurants. Bring your sunscreen since this beach is clothing-optional. Visit Tris Klissies for a secluded beach experience.
Scuba diving. Try Meltemi Watersports for its excellent dive trips and watersports like SUP, windsurfing, and water skiing.
Snorkeling
Nightlife. In addition to sampling local spirits, meet people from around the world on an Ios Bar Crawl.
Day 5 | Santorini
Santorini is sure to be one of the highlights of your Athens to Athens itinerary! The stunning island of Santorini was formed by volcanic eruption thousands of years ago. Indeed the gorgeous capital city, Fira, is a truly magical destination. Enjoy wandering through its winding narrow stairways and visiting the cafes, bars, and restaurants.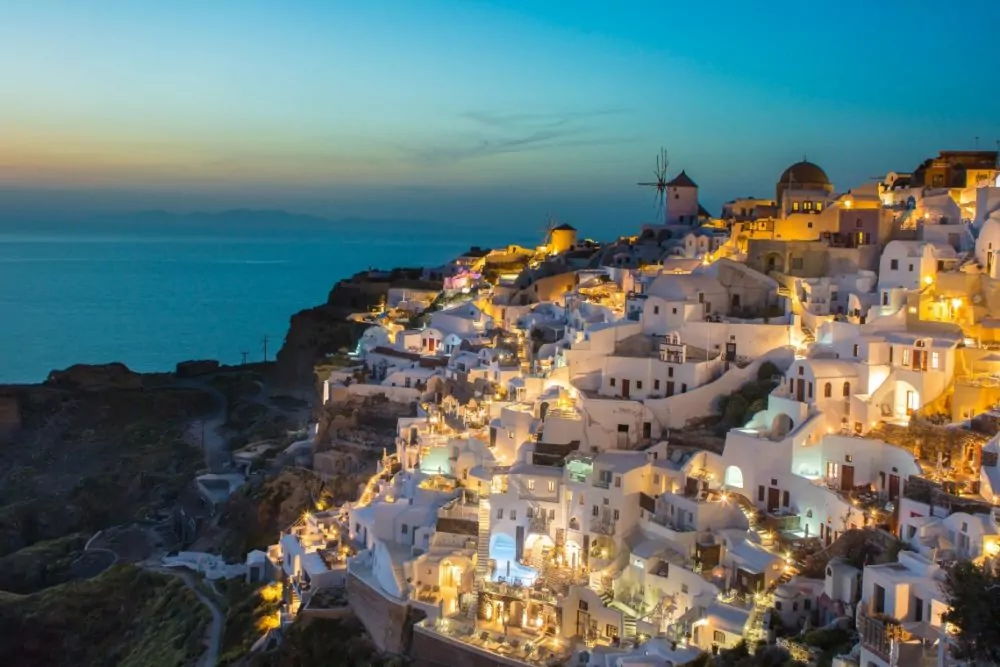 Places to see
The Museum of Prehistoric Thira is home to many prehistoric artifacts.
Akrotiri Archaeological Site: Often called the "Pompeii of the Aegean," Akrotiri is a prehistoric Minoan settlement buried by volcanic ash around 1600 BC. The well-preserved ruins offer a fascinating glimpse into ancient life.
Red Beach: This famous beach stands out due to its vibrant red and black volcanic sands, set against dramatic red cliffs. It's a surreal and picturesque spot for sunbathing and swimming.
Oia's Blue Domes: Oia, a charming village on the island's northern tip, is famous for its iconic blue-domed churches. These picturesque structures against the whitewashed buildings create a postcard-perfect scene.
Amoudi Bay: Located below Oia, Amoudi Bay is a tranquil fishing village known for its seafood restaurants. You can reach it by descending a steep staircase or via a short boat ride.
Things to do
Climb from the port to the clifftop capital.
Have an authentic Greek salad of fresh tomatoes, cucumber, onion, and feta cheese.
Sample the local wine. The island's volcanic soil influences the flavor of the wine.
Dine alfresco in Amoudi Bay. In addition to beautiful views of the caldera, you'll also have a front-row seat to a fantastic sunset.
Day 6 | Sifnos
Today takes you to Sifnos, another stunning Greek island. Get your camera ready to take hundreds of breathtaking photos of this classically Greek island. After a day of exploring, enjoy a gourmet meal aboard your yacht.
Places to see
Church of the Seven Martyrs
Moni Chrysopigi
Acropolis of Agios Andreas
Museum of Poplar Art & Folklore
Archaeological Museum of Sifnos
Things to do
Rent a scooter in the port town of Kamares and then explore the island.
Dive. Visit Sifnos Diving Center to find an organized dive trip such as a beach, boat, or night dive. The price includes equipment and underwater photographs.
Go to a beach (or two). Try Kamares Beach, Platis Gialos Beach, or Vathi Beach.
View out-of-this-world sunsets.
After sunset, stargaze.
Day 7 | Kythnos visit on an Athens to Athens Itinerary
Lovely Kythnos is the last full-day stop on your journey. And what an excellent place to visit! On Kythnos, there are over 70 beaches, quaint villages, and thermal springs.
Places to see
Castle of Oria. Byzantine Castle in the northwestern part of Kythnos.
Ancient sites such as Maroulas, a Mesolithic settlement near the village of Loutra
Folklore Museum of Dryopida
Folklore Museum of Chora
Things to do
Take pictures. The uniquely Cycladic architecture, sugar-cube houses clustered like white grapes on the hillsides, are worthy of any Instagram post.
Bask on the beach. Choose from one of 70 gloriously sunny shores. Kolona Beach is perhaps the most famous beach in Kythnos.
Soak in a hot spring. The Kythnos thermal springs in the village of Loutra One is indoors at Agioi Anargyroi spa, and the other is outdoors at Kakavos. The springs are said to have therapeutic properties and help alleviate the pain of arthritis.
Shop. Kythnos has lively markets and quaint boutiques where you can find locally-made souvenirs and art.
Taste the local honey. The unique plant life on the island gives the local honey a distinctive flavor.
Scuba dive. The most popular place for diving is Agios Sostis.
Day 8 | Athens
Return to Athens and end your Athens to Athens Itinerary. You can choose to stay in Athens longer. We will assist you in making arrangements for hotels and transfers.
Yachts for Your Athens to Athens Itinerary
When planning a yacht charter, selecting the right type of vessel is crucial for a comfortable and enjoyable experience. Here are some popular choices for your Athens to Athens itinerary:
Sailing Yachts
Monohull sailing yachts are classic and elegant, offering a traditional sailing experience. They are ideal for those who appreciate the art of sailing and enjoy a smoother ride in calmer seas.
TAMARITA is one sailing yacht to consider. A 46.5 meter Perini Navi sailboat, TAMARITA sleeps up to 10 guests in 4 cabins. This very comfortable yacht has an overflowing box of water toys and other luxurious amenities.
Catamarans
Catamarans provide stability, ample space, and comfort. With two hulls, they offer more room for lounging and socializing, making them a great choice for families and groups. Choose from sailing catamarans or power catamarans.
ALOIA 80 is a NEW Fountaine Pajot 80. This stunning catamaran has a spacious flybridge, decadent lounges, and many sunbathing beds. ALOIA 80 sleeps up to 10 guests in 5 cabins. An extensive list of water toys includes a Jet Ski Sea Doo Spark, a Fliteboard Air Jet, seabobs, and more.
Motor Yachts
If you're looking for opulence as well as speed, luxury motor yachts are the way to go. These vessels come with many amenities and spacious interiors.
176-foot PERSEFONI I is a custom-made motor yacht. Jacuzzi, Wave runners, Sea-Doo Spark, and tons of other fabulous water toys await your enjoyment. This yacht sleeps up to 12 guests in 6 well-appointed staterooms.
Choosing the Right Yacht
Selecting the right yacht depends on your preferences, budget, and sailing experience. Here are some factors to consider:
Group Size: Determine the number of passengers in your group, as it will dictate the size of the yacht you need.
Group Dynamic: Will you be traveling with a group of friends? Other couples? Will there be children or teens? Take these factors into consideration when choosing which yacht to charter.
Budget: Yacht charters in Greece can vary widely in price. Factors include the time of travel, size of the yacht, and other fees. Set a budget that aligns with your expectations and desired level of comfort.
Sailing Experience: If you are a first-time yacht charterer, you may want to consider a different yacht than if you are an experienced sailor.
Itinerary: Certain yacht types may be more suitable depending on the islands you wish to visit and the distances between them. Catamarans, for example, can get closer to the shore than larger motor yachts. Motor yachts can cover more areas quickly.
Amenities: Think about the onboard amenities you desire, such as cabins, bathrooms, and outdoor spaces. Also, consider the water toys you and your group would like to use.
The experienced and professional brokers at CKIM Group will work closely with you to find the perfect yacht for your adventure. Call today and start planning your Athens to Athens itinerary.
Please call us today at 1 (321) 777-1707 or describe Your Vacation Vision to help you plan your fully-crewed private luxury yachting vacation! Inquire as soon as possible about your custom, crewed yacht charter.
You make the memories. We make the arrangements.