Kythnos | A Wild and Rugged Escape
Kythnos (Thermia), is a beautiful mountainous island between Kea and Serifos in the western Cyclades. On weekends, it attracts many visitors to its wild beauty and lovely beaches, particularly Athenians. Due to its proximity to Athens, it has become a fashionable location for vacation homes.
A sprawling coastline reveals hundreds of bays and coves. The aroma of oregano and thyme, windmills, and lonely lighthouses are dispersed throughout the countryside.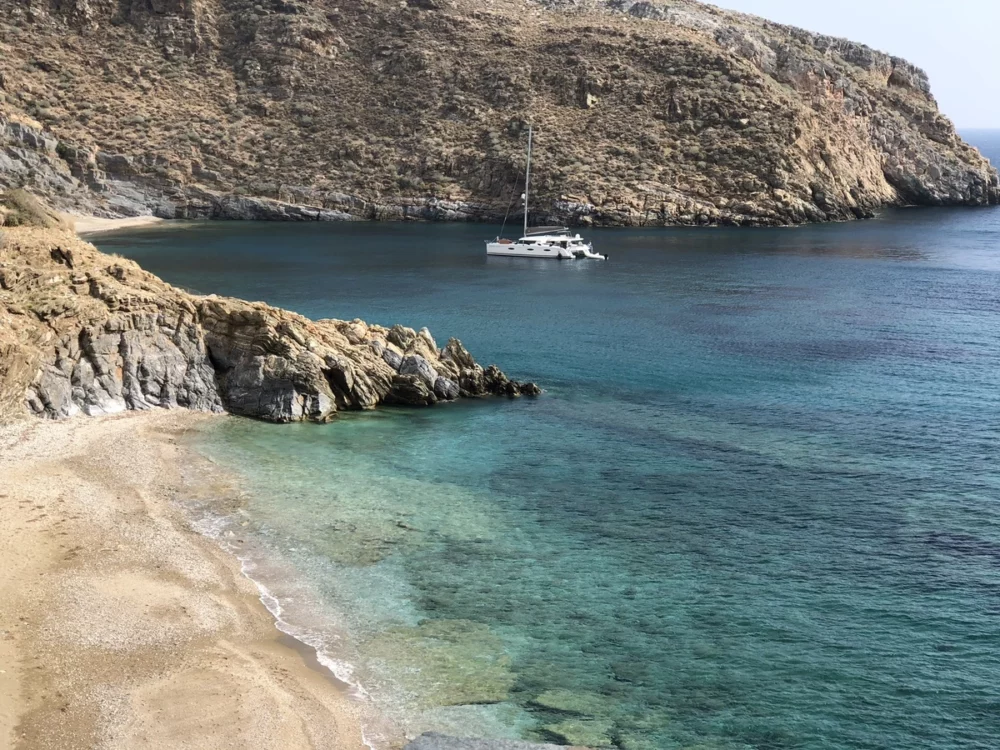 Places to see on Kythnos
Towns and villages. Chora and Driopida are the most traditional villages. They have stone houses and cobblestone streets that are winding, steep, and too narrow for vehicular traffic.
The Katafiki Cave in Driopida. Impressive stalactites and stalagmites provide an impressive experience. The cave was once a refuge from raids of pirates and other attackers. It was also the site of an iron mine until 1939.
Healing springs in Loutra. Loutra is a popular resort town that attracts many visitors seeking a cure in the thermal springs.
Driopida. A small hamlet, far from the sea and strong summer winds. In ancient times Driopida was the capital of Kythnos. The two-story whitewashed houses have red-tiled roofs, an unusual architecture for the Cyclades.
Byzantine Museum.
Merihas. Merihas has a lively nightlife that attracts young locals and visitors. Besides numerous tavernas and cafes, it does have some hotels as well.
Archaeological sites like the archeological site of Vriokastro. Remnants of walls, temples, altars, and Roman buildings can be found here.
The Monastery of Panagia in Kanala, a small coastal village. The monastery attracts many pilgrims since it houses the icon of the Virgin Mary, believed to have healing powers.
The castle of Oria. See traces of a fortified acropolis along with remnants of the fortified town.
Things to do on Kythnos
Swim. Numerous beaches offer privacy and a few diversions with tavernas and seaside bars. Some good beaches include Kolona Beach, Loutra Beach, Apokrousi Beach, and Agia Irini Beach.
Hike. The island offers an extensive network of trails that are often not well-marked but easy to follow. One of the most beautiful routes is the trail from Chora to Driopida, passing through amazing mountainous scenery. Another magnificent trail leads from the port village of Merihas to the lovely beach of Kolona.
Scuba dive. Divers can see caves, and shipwrecks, and an enormous amount of colorful fish at more than 30 dive sites. The most popular place for diving is Agios Sostis. A dive at the reef of Vouvokera will be interesting at greater depths, as is the Bay of Mamkos.
Mountain Bike.
Beaches on Kythnos
Explore a few of these beautiful sandy beaches during your visit to this serene Greek island.
Kolona Beach
Kolona is arguably Kythnos' most famous beach and a must-visit. It's unique because it consists of two crescent-shaped sandy strips that connect two islets to the main island. The crystal-clear waters on both sides are perfect for swimming and snorkeling. It's an ideal spot for those seeking a pristine and natural beach experience.
Loutra Beach
Near the village of Loutra, this beach is famous for its thermal springs. Visitors can enjoy a relaxing soak in the warm waters while listening to the sound of the sea. Loutra Beach also offers a mix of sand and pebbles, making it a great place to unwind.
Apokrousi Beach
This secluded beach is surrounded by lush vegetation, providing natural shade. Its calm and clear waters make it suitable for swimming, while the peaceful atmosphere makes it a perfect spot for relaxation. There are no beach bars or facilities, so bringing your essentials is advisable.
Agios Dimitrios Beach
Agios Dimitrios is a picturesque bay with crystal-clear waters and a sandy shoreline. It's a family-friendly beach with shallow waters, making it safe for children to swim. A traditional taverna nearby offers fresh seafood and Greek dishes.
Martinakia Beach
This beach has unique rock formations and crystal-clear waters. It's a peaceful and unspoiled spot ideal for snorkeling and exploring the underwater world. There are no facilities, so it's essential to bring your provisions.
Lefkes Beach
Lefkes is a sandy beach surrounded by low hills and greenery. It's a tranquil spot where you can enjoy sunbathing and swimming. The calm waters make it suitable for those looking for a relaxed beach day.
Episkopi Beach
Located near the village of Dryopida, Episkopi Beach is a sandy bay with clear waters. It's easily accessible and has a traditional taverna where you can savor local cuisine. The beach's proximity to the village adds to its charm.
Apokofto Beach
This picturesque beach offers a combination of sand and pebbles. It's an excellent spot for cliff diving into the azure waters below. There's a beachside restaurant where you can enjoy fresh seafood.
Simousi Beach
Simousi is a remote, isolated beach with a rugged and natural landscape. It's relatively unspoiled and offers solitude and tranquility. Access can be challenging, so consider it for a more adventurous beach day.
Fykiada Beach
Fykiada is a small beach located near Kanala village. It features fine sand and clear waters, making it suitable for swimming and relaxation. The nearby Kanala area also has a beautiful church, making it a lovely place to explore.
Climate
Kythnos' climate is undoubtedly the Mediterranean. The best time to visit is from May until October when temperatures are warm and pleasant, and there's limited rainfall. The highest average temperature is 27°C in August, and the lowest is 15°C in January.
Gastronomy
Kythnos has several tavernas/ restaurants where you can savor local delicacies. Try things such as domato-keftedes (deep-fried tomato balls), sardelles tis skaras (grilled sardines), sfougata (croquettes made from cheese), kolopia (pie with vegetables) and hima krasi the local wine.
Please call us today at 1 (321) 777-1707 or describe Your Vacation Vision to help you plan your fully-crewed private luxury yachting vacation! Inquire as soon as possible about your custom, crewed yacht charter.
You make the memories. We make the arrangements.