Serifos | Aegean Tranquility and Beauty
Serifos' unique Cycladic charm, rich history, and rugged mining sites make it an essential destination for your charter route. Moreover, this island offers a captivating blend of cultural heritage and natural beauty that you should not miss.
Indeed, the island exudes a calm atmosphere and speaks directly to the senses.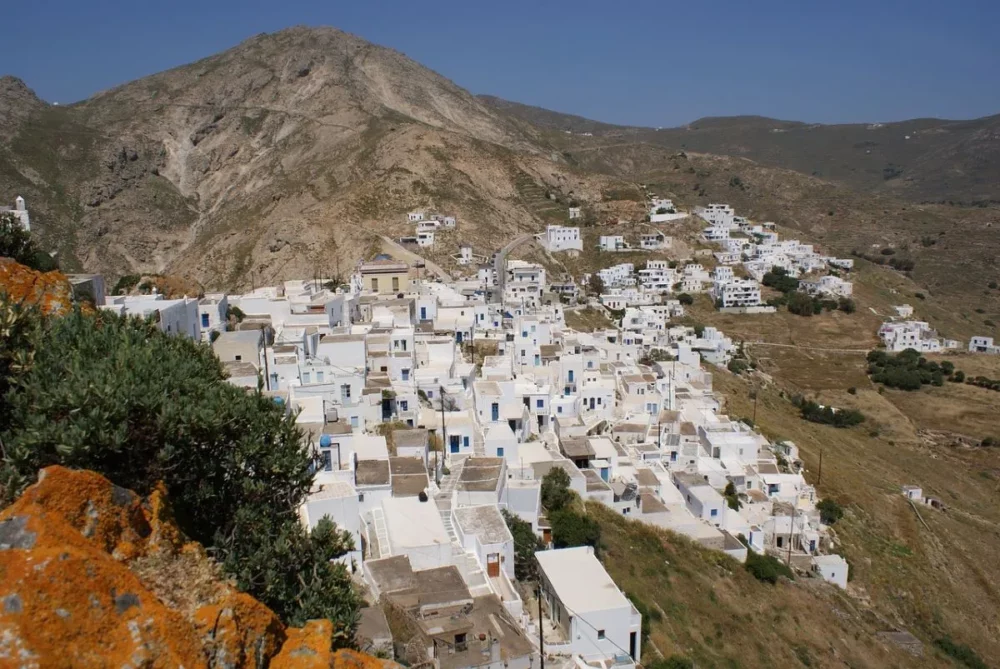 Climate
Like other Cyclades Islands, Sifnos has a Med climate, with mild, moderately rainy winters and warm, sunny summers. The wind also blows frequently.
A cold wind from the continent can blow in winter, while the Meltemi defines summers. The Meltemi is a wind that tempers the heat while keeping the sea temperature cool. However, this can also make the sea rough and create marine currents.
Places to see | Serifos
Chora. The main town sits grandly on a hill. As such, Chora guarantees awe-inspiring vistas of the serene countryside and the boundless Aegean Sea. Without a doubt, you can enrich your stay here by wandering its narrow streets or dining in a traditional taverna.
Church of Agios Konstantinos.The Church of Agios Konstantinos stands as an structural marvel, a testament to the island's deep spiritual roots. Surprisingly, its whitewashed walls and azure domes create a striking contrast against the island's rugged terrain. Inside, you'll discover a serene haven adorned with intricate Byzantine-inspired frescoes.
Folklore Museum. Delve into the island's rich heritage at the Folklore Museum, where a treasure trove of history awaits. Likewise, explore the people's daily lives of Serifos through an array of artifacts such as textiles, ceramics, porcelain, utensils, and tools. Furthermore, admire local clothing and step back in time with a meticulous reconstruction of a traditional Serifian house.
Serifos Museum. Here you'll find articles that the people of Serifos once used daily. The museum also contains textiles, ceramics, porcelains, utensils and tools, local traditional clothes, and other objects. In addition, there is a reconstruction of a traditional Serifian house.
Piazza Square. The capital town of Chora overlooks the harbor. Here, you can enjoy a drink at one of the cozy tavernas' tables in the square.
Moni Taxiarchon Monastery. This exquisite walled monastery has a long history. It also offers a fantastic view.
Chrisopigi Monastery. This stunning monastery sits alone on the headland. Be sure to take a picture of the beautiful architecture.
Things to do | Serifos
Relax on a beach. Serifos offers various options: Livadi, Livadakia, Megalo Livadi, Psili Ammos, and more. Each offers something unique.
Swim. Since there are so many tranquil beaches, you're sure to find calm waters for a refreshing dip or swim.
Hike. Serifos offers various hiking opportunities for nature enthusiasts. Here are some of the notable hiking trails on the island:
Chora to Mega Livadi: This scenic coastal trail takes you from Chora to the picturesque village of Mega Livadi. Along the way, you'll pass by old mining facilities. You'll also enjoy panoramic views of the Aegean Sea.
Livadi to Koutalas Beach: Starting from Livadi, this trail leads you to Koutalas Beach, a tranquil and secluded spot. The path offers beautiful vistas of the coastline. Likewise, it allows you to explore the island's rugged terrain.
Chora to Panagia Skopiani: Hike from Chora to the charming church of Panagia Skopiani, perched on a hill with stunning vistas. This trail takes you through the island's countryside.
Mega Livadi to Vagia Beach: This coastal hike begins in Mega Livadi and leads you to Vagia Beach. Along the way, you'll encounter old mining structures and enjoy the serenity of the landscape.
Koutalas to Ganema Beach: This trail takes you from Koutalas to Ganema Beach, where you can relax on the sandy shores. The route offers glimpses of the island's mining history. It also rewards hikers with stunning sea views.
Gastronomy| Serifos
People traditionally bake Revithad from Saturday night until the next day, making it a Sunday dish. The long cooking time results in a delicious meal.
Local cheeses include gylomeni manoura, xynomyzithra, and chloromanoura. The first one is buttery sheep and goat milk cheese. The second is a mild, soft table cheese, while the third is a fresh-tasting, mild cheese.
Pastry lovers will also delight in amazing scones, anise cookies, and cakes. Other sweets include honeyed, fragrant, soft nougat (without added sugar), almond macaroons, patties stuffed with nuts, and Turkish delight.
Please call us today at 1 (321) 777-1707 or describe Your Vacation Vision to help you plan your fully-crewed private luxury yachting vacation! Inquire as soon as possible about your custom, crewed yacht charter.
You make the memories. We make the arrangements.