Ios | An Island of Sun, Sand, and Adventure
Halfway between Naxos and Santorini lies the beautiful Greek island called Ios. Cliffs come down to the sea on most sides of this hilly island with a little more than 2000 inhabitants. In typical Cycladic style, the very picturesque town of Chora displays white-washed houses with many stairs. Since the paths in Chora are very narrow, it is impossible to drive a car there.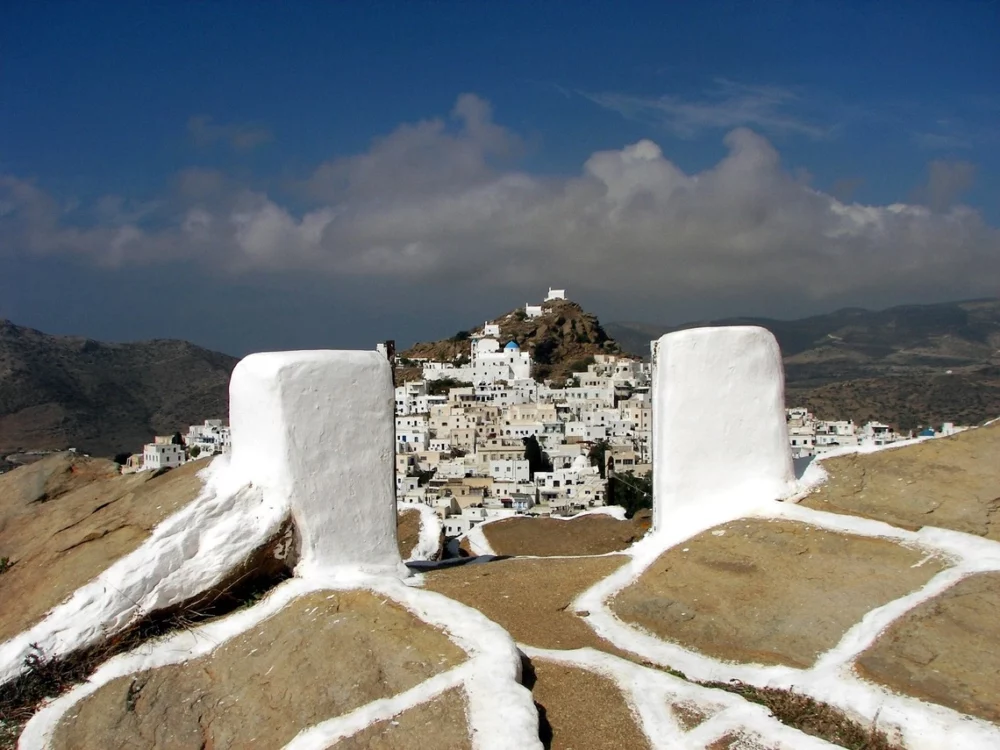 The island of Ios derives from the ancient Greek word for violets, "Ia," which grow in abundance on the island. Ios has a strong connection to the greatest poet of Greece, Homer. According to legend, Homer died on Ios because he violated a Pythian code.
Visit Ios when sailing the Cyclades Islands on your Greek Islands Yacht Charter.
Climate on Ios
The climate on Ios is Mediterranean, with mild, rainy winters and warm, sunny summers. The island is generally windy; in summer, it is cooled by a frequent wind that blows from the north. Summers see little rainfall.
Places to see
Towns and villages. Ios Chora, or Ios Town, is the main village on the island's western side. Built amphitheatrically on the slopes of a hill, it charms visitors with its narrow stone-paved alleys, white-washed houses with flowery courtyards, and churches covered with blue roofs.
The Church of Panagia Gremiotissa is dedicated to the saint protecting the island. In Greek, the name translates to "Virgin Mary of the cliff," most likely due to its location on top of the hill above Chora.
The Church of Agia Irina, a Byzantine church built in the 17th century AD, is on the Bay of Yialos. A beautiful path leads from the church to the beach.
The Monastery of Pyrgos, also known as the Monastery Agios Ioannis Prodromos, sits on the highest point on Ios. The view from there over the surrounding Cyclades Islands is spectacular.
The Windmills of Ios are a trademark of the island, standing on the hill above Chora. Twelve traditional windmills that once produced energy to grind grains are now used as homes.
The Theatre of Odysseus Elytis is on the highest point of Chora, behind the twelve windmills. This colossal structure can hold up to 1100 people. Most cultural events, like musical concerts, still occur here.
Skarkos is an early Cycladic settlement that shows that by 2800 BC, Man had a presence here. You can see it found from Skarkos on display in the Archaeological Museum in Chora.
The Archaeological Museum of Ios. Most interesting are clay statues dating from the first Cycladic period, prehistoric tools, burial columns, inscriptions from Classical, Hellenistic, and Roman times, and marble fragments.
The Tomb of Homer. Historical references to Herodotus show that Ios was the island where Homer died. Homer died between 1100 and 900 BC.
Things to do
Dive. Dive centers at the beach of Mylopotas offer equipment rentals and excursions to ancient shipwrecks, underwater volcanic caves, and exciting reefs.
Windsurf. Windsurfing centers are at Gialos and Mylopotas Beach. Excellent windsurfing locations include Mylopotas, Gialos, Agia Theodoti, and Manganari.
SUP, jet ski, kayak. Ios is a perfect destination for many fun water sports activities.
Hike. Ios has numerous excellent hiking trails. One such route leads from the beach of Mylopotas, passes by the areas of Klima and Pikri Nero, and ends at Manganari Beach.
Beaches on Ios
The beautiful beaches on Ios are so extraordinary they deserve their own section. Most of them are sandy, and some are secluded, but all the beaches on Ios are made for fun. The Aegean sea laps at the shores and invites you to swim, snorkel, and relax. Here are some of the best:
Mylopotas Beach
This is Ios' most famous beach and a popular hub for travelers. Mylopotas boasts a long stretch of golden sand and crystal-clear waters. Visitors can indulge in water sports, relax on sun loungers, or enjoy beachfront dining at the numerous tavernas and beach bars.
Manganari Beach
Located on the island's southern tip, Manganari is a paradise for beach lovers seeking a tranquil escape. Its white sands and turquoise waters provide the perfect setting for sunbathing and swimming. There are also water sports facilities available for those seeking more active pursuits.
Koumbara Beach
Nestled between hills, Koumbara is a secluded and quieter option. This beach offers natural shade and a peaceful atmosphere, surrounded by lush greenery. It's an excellent spot for a relaxing day, with crystal-clear waters ideal for swimming.
Agia Theodoti Beach
Another hidden gem, Agia Theodoti, is less crowded than Mylopotas but equally stunning. The beach is surrounded by hills, providing a serene backdrop. A couple of tavernas offer delicious Greek cuisine for those looking to dine with a view.
Psathi Beach
Located on the east coast of Ios, Psathi is a peaceful, secluded bay with soft sands and calm waters. It's an ideal spot for those who prefer solitude and a more off-the-beaten-path experience.
Tzamaria Beach
Rocky cliffs surround this small, picturesque beach and offer privacy. It's an excellent place for snorkeling, and the underwater caves are worth exploring.
Plakotos Beach
If you're looking for a quieter escape, Plakotos Beach is a hidden gem on the island's north coast. The rugged landscape and serene ambiance make it perfect for a peaceful day by the sea.
Kalamos Beach
Accessible by boat, Kalamos is a remote and unspoiled beach. It's an excellent choice for nature lovers and those who enjoy exploring pristine landscapes.
Valmas Beach
Located near Mylopotas Beach, Valmas offers a more relaxed atmosphere and is a great place to unwind with its gentle waves and inviting waters.
Agios Theodosis Beach
This beach is known for its unique rock formations and clear waters. It's a quieter option and ideal for snorkeling.
Gastronomy on Ios
You will find a vast variety of local cuisine made from local grains, vegetables, meats, and dairy products. Try matsi and mermitzeli (pasta) and sougli (pancakes). An excellent vegetarian dish is tsimetia (pumpkin flower filled with rice).
In almost every house, you'll find tzares (clay pots), kioupia (tuck boxes) with smoked meat or figs, cheese in salamoura (brine), olives, and olive oil.
Of course, to taste traditional Greek food, you can visit one of the island's restaurants. One to try is the Nest Restaurant in Chora.
Please call us today at 1 (321) 777-1707 or describe Your Vacation Vision to help you plan your fully-crewed private luxury yachting vacation! Inquire as soon as possible about your custom, crewed yacht charter.
You make the memories. We make the arrangements.