Naxos
Naxos is the largest and greenest island in the Cyclades, located in the center between Paros and Mykonos. This beautiful island has high mountains, fertile valleys, alluring seascapes, and quaint villages.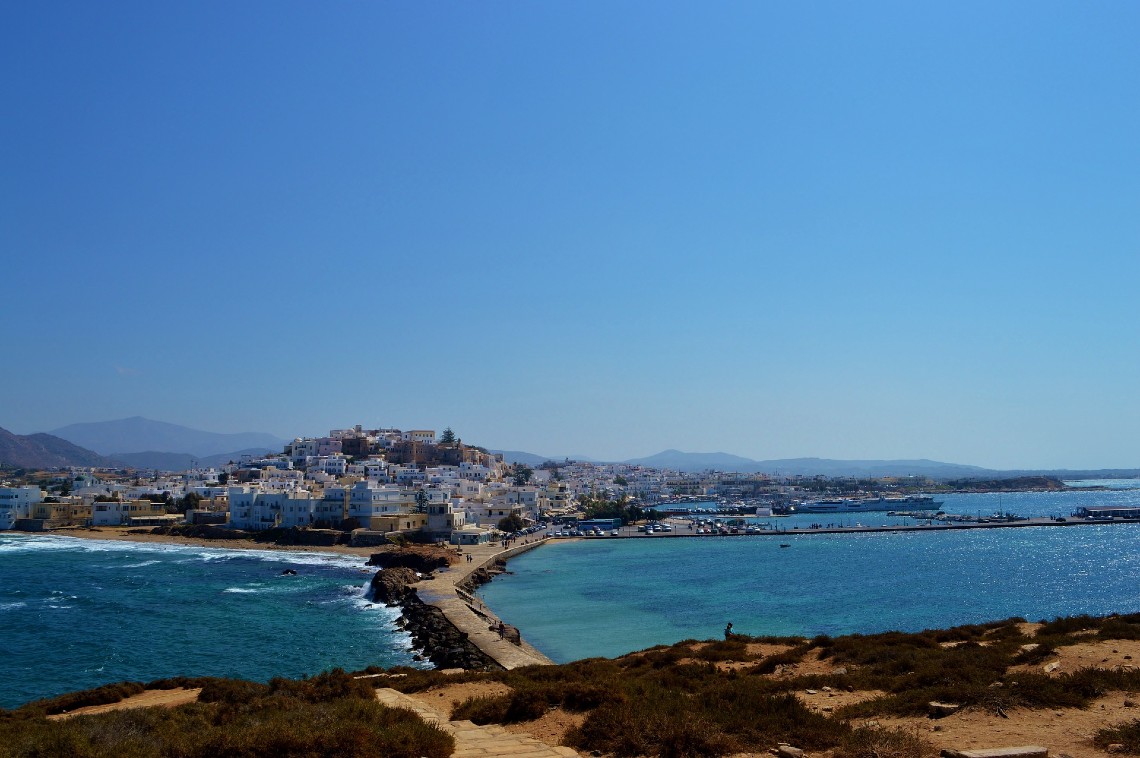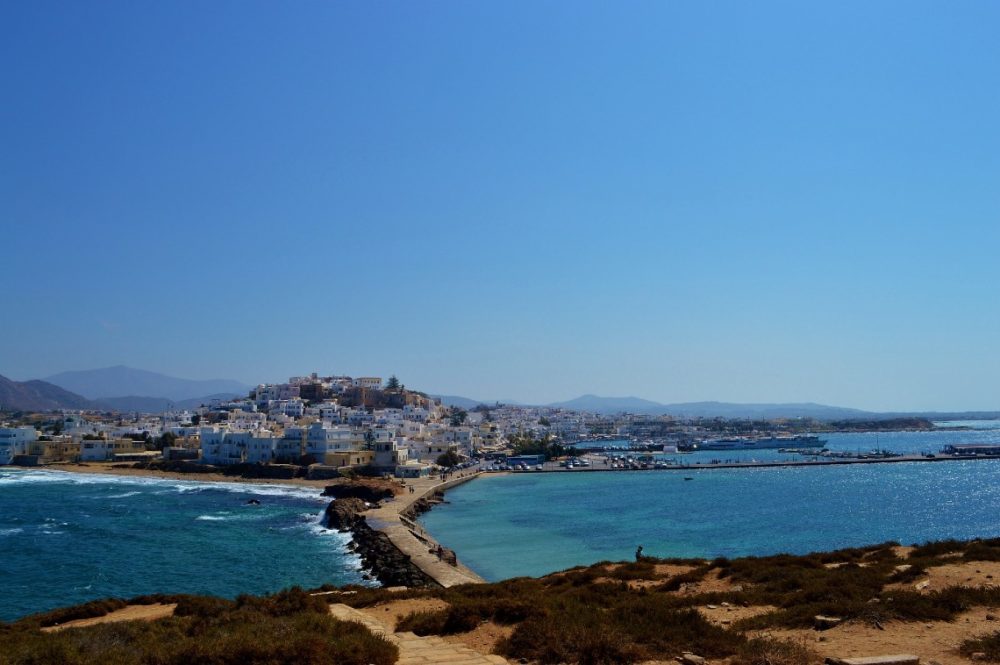 Places to see:
Chora – the largest town and capital with almost 7000 inhabitants. The main villages are Filoti, Apiranthos, Vivlos, Agios Arsenios, Koronos, and Glinado.
Mt. Zas the tallest mountain in the Cyclades.
The Marble Gate of Portara, the statues of Kouros, and the temple of Demeter.
Apiranthos village. Here, visit one of the oldest churches on the island. In addition, there are several museums like the Archaeological Museum of Apiranthos, a Geological Museum, a Museum of Folk Art, a Natural History Museum, and a Museum of Visual Art.
The Temple of Demeter in Sangri was built with the highest quality marble of Naxos around 530 BC. It was dedicated to Demeter, the ancient goddess of grain.
Things to do:
Windsurf and Kitesurf. Naxos is one of the most popular windsurfing and kitesurfing locations in Greece.
Scuba dive. The waters around Naxos offer numerous exciting destinations for diving enthusiasts. Explore the shipwreck of a Beaufighter torpedo bomber, a German seaplane, wrecks, and sea caves.
Dine. Try restaurants such as Stelida, Ntoyzenia, and Tavern Dalas. For outdoor dining, visit Elliniko.
Explore. Because of the island's rugged interior, renting a car is best to explore.
Hike. Journey over marbled paths, gorgeous hills, and fragrant olive groves while admiring ancient sites nestled between quaint little villages.
Sample some Kitron, a liqueur made from citrus fruit. Be careful, however, as this liqueur is quite strong.
Shop. The old quarter of the Chora, the Kastro, is a beautiful place for shopping. Visit art galleries, souvenir shops, and bakeries. Not only can you taste the locally produced wine, but also the aromatic herbs, meat, delicious cheese, and fresh fish.
Go to the beach. Naxos beaches Agios Prokopios, Agia Anna, Plaka, Mikri Vigla, and Orkos.
Climate:
Naxos has a Mediterranean climate with mild, rainy winters and warm, sunny summers. During the summer, the Meltemi Wind cools the island. Moreover, windmills use the wind for the production of electricity. The daily average temperature ranges from 12 °C (53.5 °F) in January and February to 24.5 °C (76 °F) in July and August.
Gastronomy:
The traditional dishes are based on meat and potatoes. However, vegetable dishes are also popular. Other specialties of the island include giachnada (different vegetables in fresh tomato sauce), goat stew, and herb pies.
You can include Naxos in a Cyclades Sailing Itinerary.
Please contact us at 1 (321) 777-1707 or complete our contact form to start planning your yacht charter vacation! It's never too early, or too late to inquire about your bespoke private yacht charter.
You make the memories. We make the arrangements.