Greek Bliss Escape | Mykonos to Mykonos Itinerary
Welcome to the Mykonos to Mykonos Itinerary, where you'll embark on a memorable journey through the Cyclades Islands, covering approximately 270 nautical miles. Although this is just a sample itinerary, it will give you a glimpse of the incredible experiences you can enjoy during a week in the Greek Islands.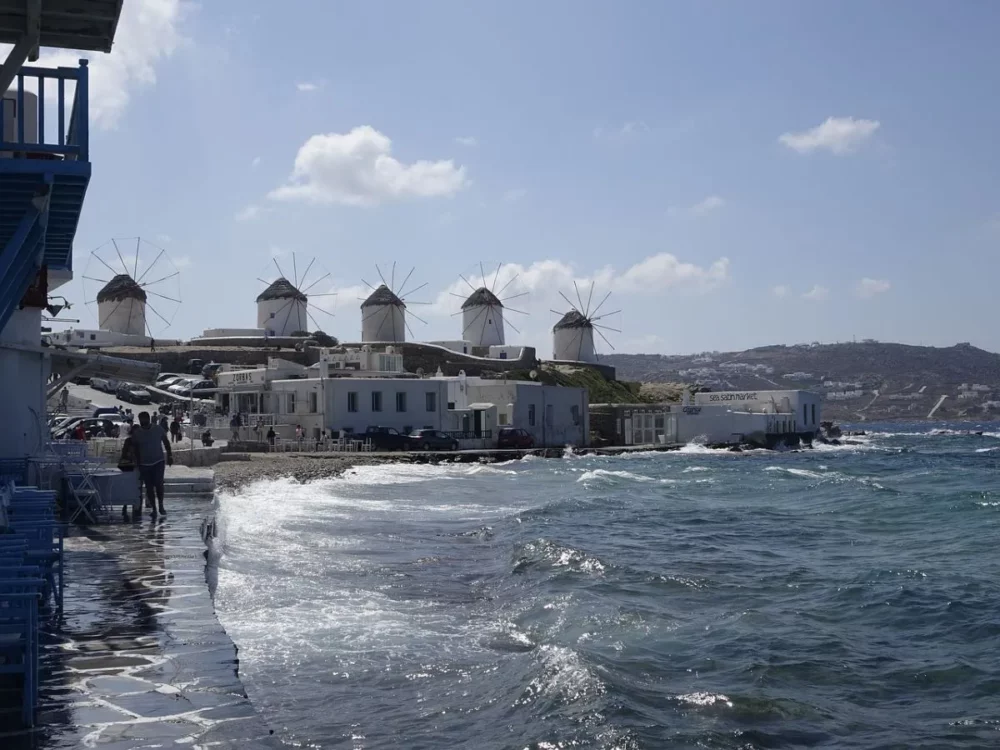 Day 1 | Mykonos
On the first day of your journey, depart from Mykonos and set course for the enchanting Island of Rhenia. You will pass by Delos Island, one of the oldest archaeological sites in the Mediterranean. Here, you can take a guided tour or enjoy a refreshing swim.
Day 2 | Schinoussa
Day two brings you to Schinoussa, aptly named "The Island of the Sun." Arrive at the picturesque port of Mersini, one of the Aegean's best harbors. This gorgeous island has lush green hills, pristine beaches, and inviting clear waters.
Although Schinoussa is small, it has many attractions. Forbes magazine even voted it one of the six must-visit places in Greece. Part of the allure of your Mykonos to Mykonos Itinerary is exploring the Little Cyclades group of islands, of which Schinoussa is a prominent gem.
Places to See on Schinoussa
The Archaeological Site of Schinoussa, nestled near Tsigouri Beach, unveils ancient remnants from the Hellenistic and Roman periods.
The Cave of Maniatis, also known as Pirate Cave, holds its own mysteries.
The Church of Panagia Akathi and the Castle of Schinoussa.
The Windmills of Schinoussa, though retired, symbolize the island's charm.
Things to Do on Schinoussa
Wander through the three villages: Hora, Messaria, and Mersini.
Embark on scenic hikes, uncovering colorful gardens, golden beaches, and elegant palm trees.
Immerse yourself in local culture by attending various cultural events.
Play beach volleyball on Tsigouri Beach.
Embrace the thrill of windsurfing.
Savor local delights like ladotiri cheese, kopanisti cheese, and the unique rakomelo, a blend of wine and raki.
Birdwatching enthusiasts can spot numerous migratory species. In fact, Schinoussa is a designated Important Area for Migratory Birds in the European Network of Natura 2000.
Day 3 | Santorini
After a hearty breakfast on board, your Mykonos to Mykonos Itinerary takes you to the breathtaking island of Santorini. Santorini is a photographer's dream with iconic colorful cliffs, dazzling whitewashed buildings, and signature blue rooftops. Don't forget your camera as you venture ashore to explore this captivating island.
Places to See in Santorini
Discover the Tomato Museum in Vlychada, a tribute to Santorini's renowned cherry tomatoes.
Lounge on the unique black sand beach at Perissa. The sun-soaked sand can get hot, so bring water shoes or sandals.
Dive into history at the Akrotiri Archaeological Site.
Visit the stunning Skaros Rock.
Explore the Orthodox Metropolitan Cathedral.
Things to Do in Santorini
Take a picturesque hike from Fira to Oia. Or, opt for a unique donkey ride.
If you're daring, take a thrilling cliff jump at Amoudi Bay.
Explore the intriguing Koutsoyannopoulos Wine Museum.
Day 4 | Ios
Ios, the next stop on your Mykonos to Mykonos Itinerary, is renowned for two distinct attractions. It has a lively nightlife scene and idyllic, unspoiled beaches. On the fourth day of your journey, you'll find that Ios offers a diverse range of activities. There is something for both adventure seekers and those looking for a tranquil escape.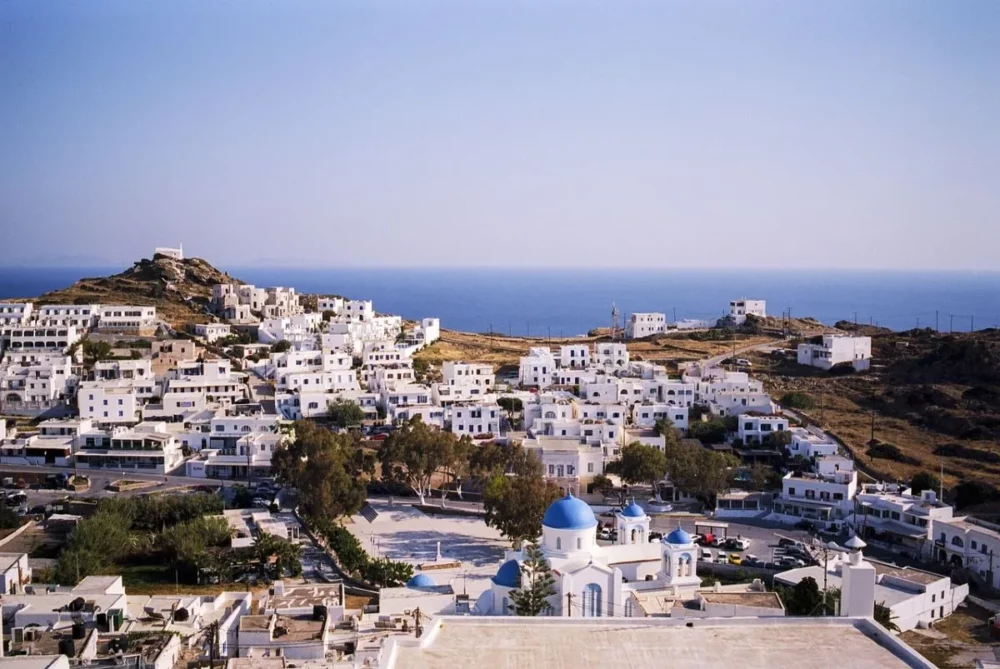 Ios has outstanding nightlife. When the sun dips below the horizon, the island truly comes alive. Enjoy dancing, live music, or a refreshing cocktail.
However, Ios isn't just about the party scene; it's also a paradise for beach lovers. The island boasts a collection of pristine beaches.
Ios offers a beach for everyone. You can enjoy the lively Mylopotas Beach for sunbathing and swimming in turquoise waters, or you can escape to the serene Plakotos Beach for a peaceful experience.
Ios also has many opportunities for exploration. You can embark on scenic hikes, discovering the island's rugged terrain and hidden gems.
Places to See in Ios
Discover the Panayia Gremiotissa church and Evangelisimos Cathedral.
Pay homage to Homer at Homer's Tomb.
Explore Skarkos Hill.
Visit the Archaeological Museum in Chora.
Things to Do in Ios
Enjoy the sun and surf at Mylopotas Beach, Plakotos Beach, and Manganari Beach.
Hike. Ios offers varied hiking paths.
Dive. The New Dive Scuba Diving Center is on the main beach of Mylopotas. You can dive directly from the beach or join an organized dive on a dive boat.
Nightlife. Ios is well-known for its vibrant club scene. Try the Far Out Beach Club.
Day 5 | Sifnos
Day five of your Mykonos to Mykonos Itinerary takes you to Sifnos Island. It is a place of flourishing olive groves, vibrant oleander, and inviting aqua waters. The island boasts three main villages: Apollonia, the capital, Kamares, and Kastro.
Places to See in Sifnos
Many churches, including Panagia Angeloktisti, Holy Monastery of Chrissopigi, and Church of Seven Martyrs, which is the symbol of the island
Apollonia Village, the capital, is built like an amphitheater around three hills. Stroll through this picturesque village and visit the Folklore Museum.
Things to Do in Sifnos
Rent a scooter in the port town of Kamares and then explore the island.
Dive. Visit the Sifnos Diving Center to find an organized dive trip.
Go to the beach. Try Kamares Beach, Platis Gialos Beach, or Vathi Beach.
Watch the sunset.
Day 6 | Serifos Island
Today, arrive at the beautiful island of Serifos. Your day on Serifos promises a perfect blend of aquatic adventures, island exploration, dining experiences, and vibrant nightlife.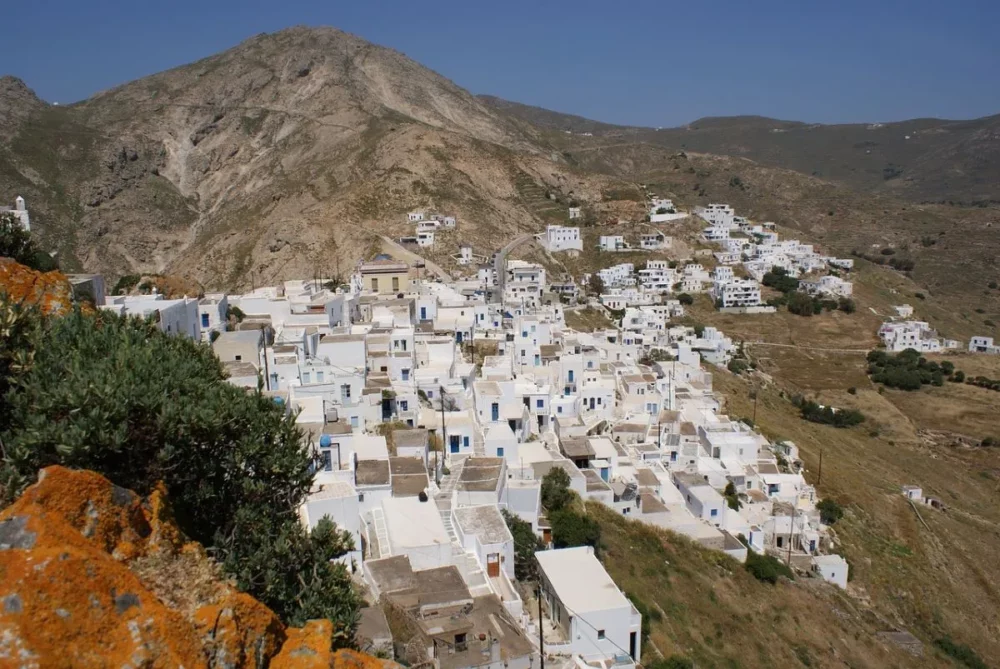 To kickstart your day, embrace the warm, azure waters surrounding the island. Dive into the refreshing sea and snorkel or swim. You'll also find a treasure trove of water toys aboard your yacht.
Later, explore the beauty that Serifos has to offer ashore. The island's charming capital, Chora, awaits your discovery. Perched on a hilltop, Chora boasts narrow winding streets, whitewashed buildings, and picturesque alleys.
A visit to Piazza Square offers a glimpse into the island's heart. The Church of Agios Konstantinos is a great place to enjoy breathtaking views of the sea and neighboring islands.
As night descends, the island's nightlife scene comes to life, albeit more modest than some of its neighboring islands. You stroll along the charming streets, or if you're in the mood for a relaxed evening, find a cozy bar to enjoy a drink. Serifos offers a serene atmosphere that's perfect for unwinding under the starry Aegean sky.
Places to See in Serifos
Piazza Square in Chora, Serifos' capital.
The Church of Agios Konstantinos has amazing views of the sea and nearby islands.
Serifos Old Mines
Serifos Monastery of Taxiarches
Archaeological Museum of Serifos
Serifos Grias Castle
Things to Do in Serifos
Walk. Visit the hilltop Chora (the main town) and get amazing panoramic views of the island and the surrounding sea. In Kato Chora, visit the Church of Evangelistria.
Try the local cuisine. Marathotiganita (fennel fritters), local soft white cheese called ksinomizithra and kapari (local capers), apaki (cured pork), sun-dried tomatoes, and pastaki Serifou (Serifian pie).
Beach. Like most of the Greek Islands, Serifos has many outstanding beaches.
Day 7 | Syros Island
On day seven, arrive in Ermoupolis, the bustling capital of Syros. Ermoupolis is the island's heartbeat, and it has a lively atmosphere.
The music scene on Syros is a harmonious blend of genres that caters to all tastes. Visit piano bars, get lost in the improvisations of jazz clubs, or lounge in the soothing rhythms of laid-back cafes.
Syros also boasts beautiful beaches. Discover a selection of beach bars that remain open late into the evening.
Stop by one of the island's tavernas to savor traditional Greek cuisine. Enjoy a leisurely meal, savoring the rich flavors of local dishes.
Places to See in Syros
Hermoupolis, the main port and capital of Syros. There are various restaurants, bars, shops, and cultural sites here.
Miaouli Square. The Sprawling 19th-century square is famous for its regal neoclassical municipal buildings and lush palm trees.
The Aquarium in Kini. This is a great attraction for both children and adults.
Things to Do in Syros
Hike. Syros has ten marked paths.
Bike. There are a couple of bicycle rentals on the island.
Horseback ride. We will assist you in making arrangements.
Shop. You can find jewelry, art, local delicacies, and more.
Day 8 | Mykonos
Return to Mykonos. After saying goodbye to your Captain and crew, extend your holiday vibe at one of the beaches in Mykonos, such as Super Paradise Beach. Afterward, explore Mykonos town and see the famous windmills.
End of the Mykonos to Mykonos Itinerary.
Please call us today at 1 (321) 777-1707 or describe Your Vacation Vision to help you plan your fully-crewed private luxury yachting vacation! Inquire as soon as possible about your custom, crewed yacht charter.
You make the memories. We make the arrangements.