Saronic Luxury | Athens to Nafplion to Athens Itinerary
This sample Athens to Nafplion 14-Day Itinerary highlights the beautiful Saronic Islands. Please note that this itinerary is only a sample.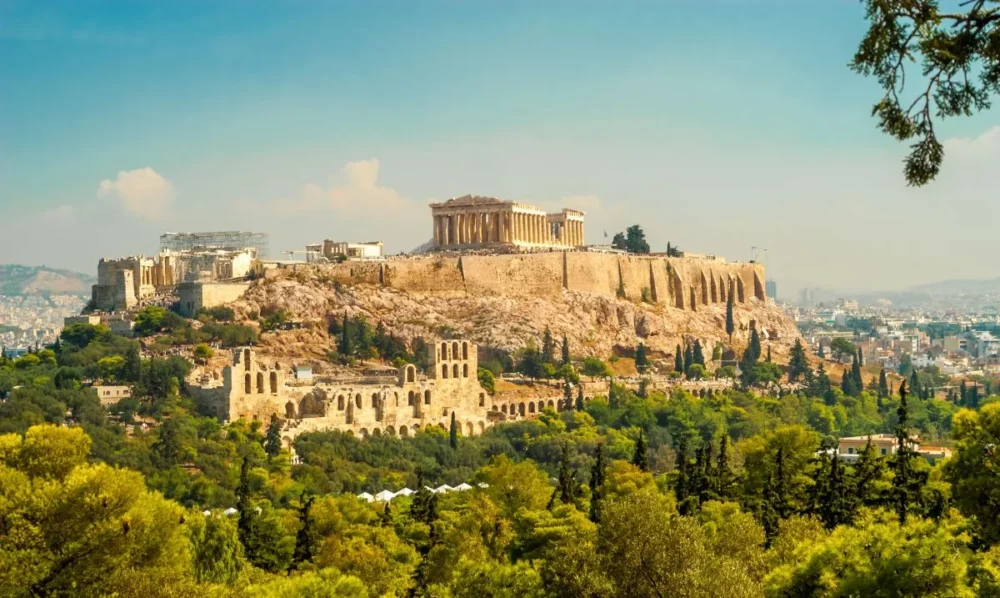 Opting for a 14-day charter instead of a 7-day one allows you to explore less-visited islands. You will have ample time to enjoy these hidden gems.
Day 1 | Alimos Marina (Athens)
Athens is a fantastic place to begin your Athens to Nafplion to Athens Itinerary. Once you board your yacht and your Captain reviews the safety procedures, set sail, and enjoy lunch on board.
Day 2 | Aegina – 16 NM
Aegina Island welcomes you with extensive sandy beaches and shallow waters suitable for families.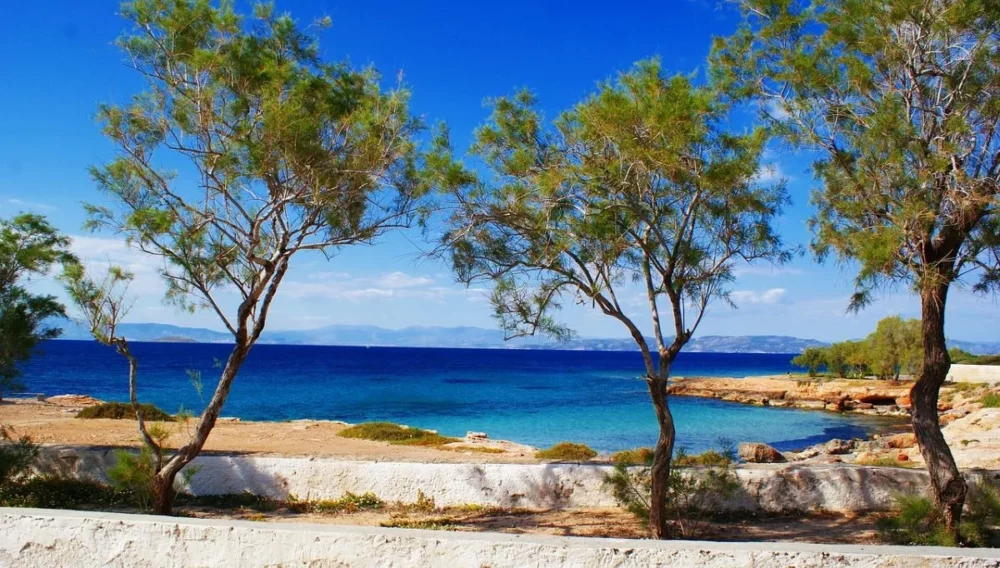 Places to see
Temple of Aphaia. This iconic Greek landmark stands on a 160m peak on the island's eastern side.
Agios Nektarios Monastery. Agios Nektarios was famous as a great miracle worker, particularly as a healer of disease.
Archaeological Site of Kolona. This was the former religious and political center of the island.
Things to do
Visit the beach. Two nice ones are Marathonas Beach and Moni Island Beach.
Snorkel. The waters around Aegina are crystal clear, so visibility is superb.
Stroll the Aegina waterfront. Perfect for people-watching, dining, and shopping.
Horseback ride.
Day 3 | Poros – 14 NM
Lush pine trees, crystal clear bays, and a lively waterfront characterize Poros.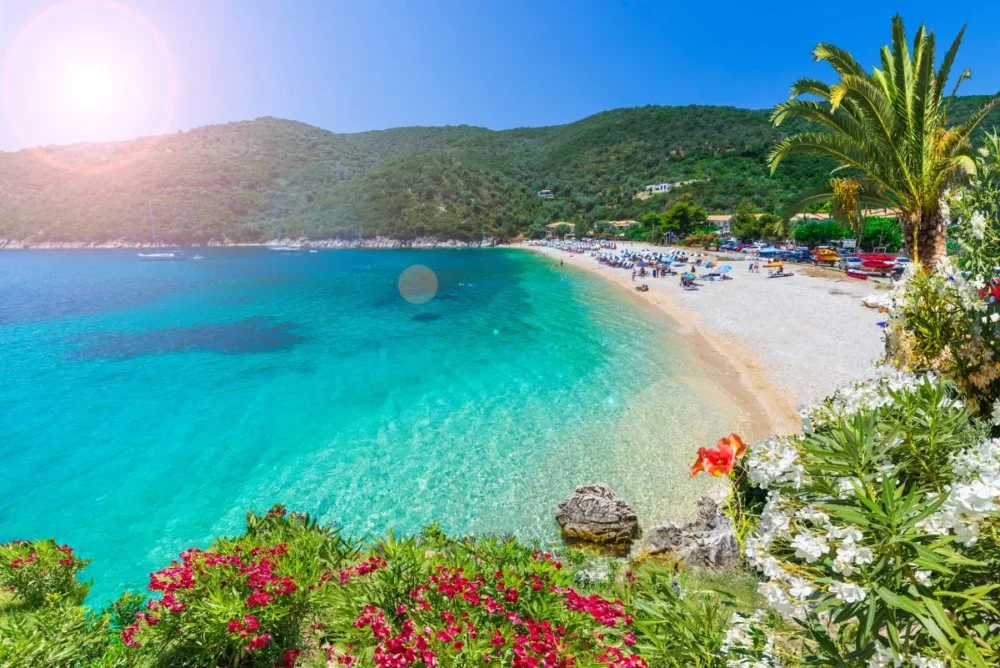 Places to see
The Poros Folkloric Museum. The museum includes a range of items such as farm tools, traditional furnishings, a loom, weavings, handicrafts, traditional costumes, and photographs.
The iconic Poros clock tower.
The Dana Lighthouse. A 15-minute walk from Poros town takes you to this lighthouse. In addition to a nice walk, you'll have a perfect viewing point over the Saronic Gulf and the Methana peninsula.
Things to do
Browse the waterfront. You'll find shops, cozy cafes, and restaurants.
Kayak.
Rent a quad-bike and tour the island. Moto Stelios rents scooters, quad, mountain, city, and electric bikes.
Day 4 | Hydra – 17 NM
Hydra is unique in that it has no cars or other motorized vehicles. It is also well-known as the location for filming the 1950s film Boy on a Dolphin with Sofia Loren. In ancient times, the island had the name Hydrea, a reference to the natural springs on the island.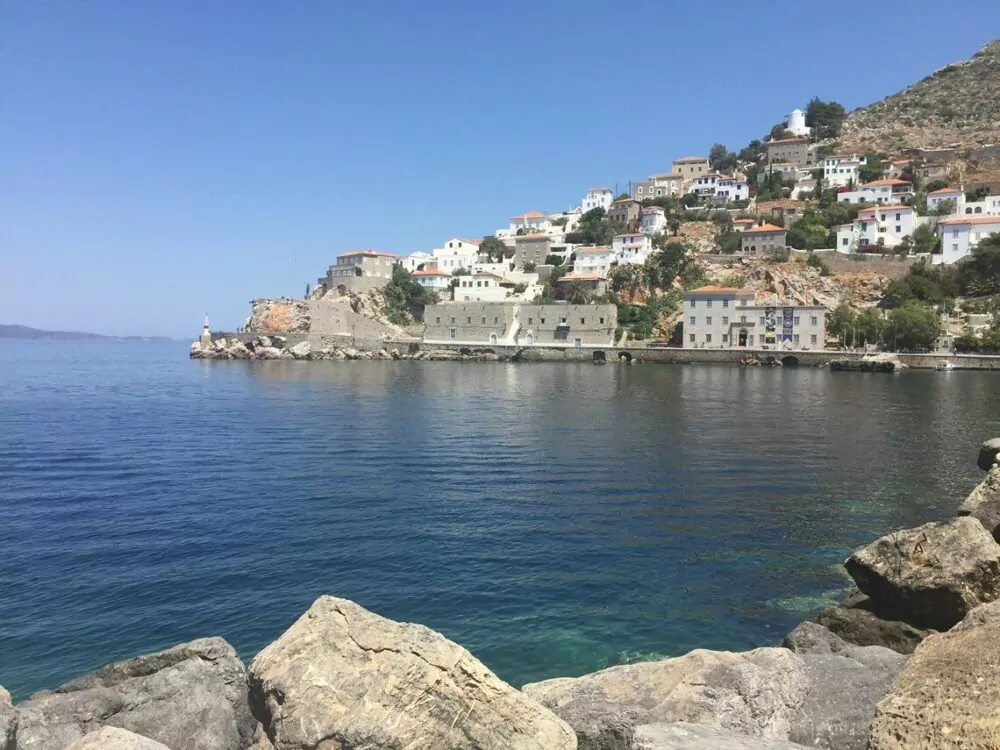 Places to see
Mount Eros. At 600 meters, Mount Eros is the highest point on the island. From the top, you will have fantastic views of the surrounding area.
Saint Nicholas Beach. The beach is at the southern point of Hydra.
Historical Archive – Museum of Hydra. This museum houses many items donated by the descendants of the families who dominated the island's social structure in the 1800s.
The Ecclesiastical Museum. You'll find this interesting museum housed in the Church of the Assumption of the Virgin near the port of Hydra. It displays ecclesiastical items, priests' clothing, and other holy items from the 18th and 19th centuries.
Things to do
Visit Cave Beach. It is the most popular beach in Hydra. The rocks create a raised natural platform suitable for diving into the water or sunbathing.
Dive. Hydra has many underwater caves and reefs, providing exciting diving sites.
Day 5 | Kyparissi (Peloponnese) – 30 NM
Kyparissi is such a beautiful place that it has been in the book The Most Beautiful Villages of Greece. And once you arrive, you'll see why. Recently this tiny village has gained popularity as a terrific rock-climbing destination. Besides that, this charming town has a few small tavernas, restaurants, and a sandy beach.
Day 6 | Plaka (Peloponnese) – 15 NM
When you arrive in Plaka, your yacht will moor in a quiet quay. There is a small selection of tavernas near the waterfront. Alternatively, travel six minutes to the small town of Leonidio, where you'll find a range of shops and restaurants to explore. This is an excellent spot to play with the yacht's water toys.
Day 7 | Paralio Astros (Peloponnese) – 21 NM
Paralio Astros is a beach resort for the village of Astros. It's a relatively untouched area and is popular with the Greeks.
Places to see
Ancient castle.
Astros Beach. This beach has nice, calm water, which is excellent for families.
Things to do
Shop. Note that many shops are open only in the mornings and evenings as siestas are popular.
Take a siesta on the beach or on your yacht.
Days 8 and 9 | Nafplion (Peloponnese) – 5 NM
Days 8 and 9 of your Athens to Nafplion to Athens Itinerary bring you to Nafplion. Nafplion is one of the most beautiful and romantic towns in the Peloponnese.
Places to see
Medieval Old Town
Italianate Syntagma Square. Here you can admire important historic buildings and monuments.
Archaeological Museum with essential artifacts from the Prehistoric and Mycenaean Eras.
Municipal Gallery
Palamidi Castle, which is 216 meters above sea level.
Bourtzi, a small Venetian fortress, is standing on the rocky islet of Agioi Theodoroi.
Things to do
Beaches. Choose from several nice beaches, including Arvanitia, Karathonas, Nea Kios, Miloi, and Kiveri.
Try Striftades and handmade pasta.
Dive. Few regional diving centers offer organized diving trips in reefs and islets of the Saronic Gulf.
Kayak or canoe.
Take a cooking class.
Day 10 | Vivari (Peloponnese) – 12 NM
Vivari, a picturesque coastal village in Greece, is a peaceful and charming destination.
Places to see
Things to do
Hike or walk. Trekking enthusiasts will love the mountainous country surrounding the village.
Learn about beekeeping.
Bike. Ride between beautiful orchards, olive trees, lakes, ancient ruins, and medieval streets.
Birdwatch. Vivari Salt Lake is home to herons, cormorants, kingfishers, ducks and swans, and other species.
Discover the incredible beauty of stars and the moon clear of town lights.
Go to the beach. Vivari is famous for crystal clear waters in a natural bay permanently protected from winds and swells.
Day 11 | Spetses Town (Spetses) – 20 NM
Spetses is a small island, approximately 7km from one end to the other. The island offers green landscapes, pine tree forests, hilly mountains, and lovely beaches. Its terracotta-roofed houses and rich history characterize the capital town of the same name.
Places to see
The monastery of Agios (Saint) Nikolaos, the patron saint of sailors, is just outside Spetses town.
Bouboulina Museum.
Things to do
Walk to the Spetses Lighthouse, one of the oldest lighthouses in Greece.
Explore the island on a scooter or ATV.
Enjoy the sunset.
Day 12 | Poros Town (Poros) – 35 NM
Today make another stop at Poros on the way back to Athens. This is a beautiful opportunity to explore more of the island's tranquil forests and monasteries. Or, if you prefer, visit the rustic town of Galatas just across the water.
Day 13 | Perdika (Aegina Island) – 12 NM
The simple charm of Perdika on Aegina Island enchants all who visit. It's a small fishing village with traditional Aegean-style houses, narrow streets, and fish tavernas.
Places to see
Camera Obscura. Stroll across the peninsula directly opposite the harbor and find a low building that is a 'camera obscura. This Camera Obscura is the first one built in Greece and the only one in the world with a 360° panorama.
Church of Agios Sozon.
Things to do
Go to the beach. In town, there is a small beach with sunbeds.
Have a traditional Greek meal at Deka.
Day 14 | Alimos Marina (Athens) – 24 NM
Return to Alimos and end your Athens to Nafplion to Athens Itinerary.
Please call us today at 1 (321) 777-1707 or describe Your Vacation Vision to help you plan your fully-crewed private luxury yachting vacation! Inquire as soon as possible about your custom, crewed yacht charter.
You make the memories. We make the arrangements.