Island-Hopping Adventure: Athens to Mykonos Itinerary
This Athens to Mykonos itinerary highlights many of the beautiful Greek Cyclades islands. You and your Captain will discuss your interests and desires for your holiday. Together, you will create a personalized itinerary based on your discussion and the weather conditions at the time you travel.
Note that it is best to arrive one day before your charter departs. That way, you will have days in Athens to explore.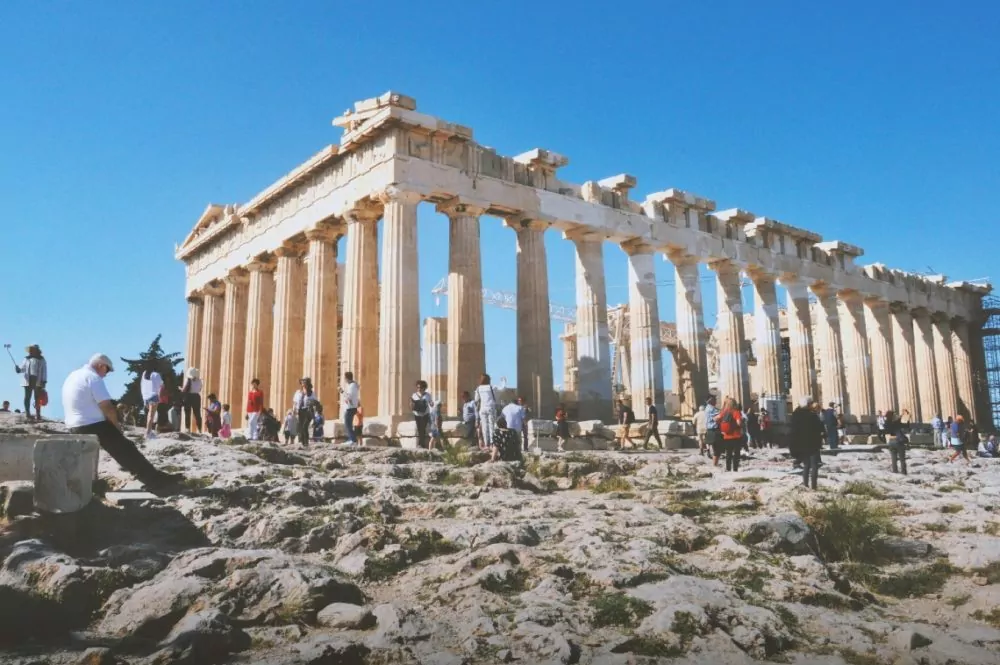 Day 1 | Athens to Poros – 29 NM
On the first day of your Athens to Mykonos Itinerary, meet your Captain and crew and board your yacht. Once on board, the Captain will conduct a safety briefing. Then, enjoy lunch while you sail to the beautiful Greek islands. Your first stop is Poros Island.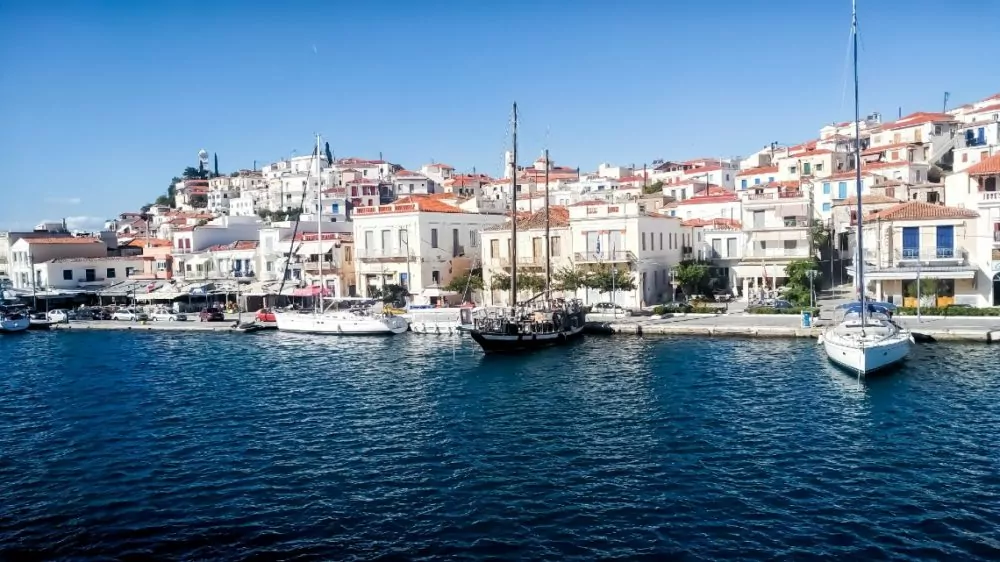 Places to see
Clock Tower with Panoramic Views: The Clock Tower in Poros offers more than just a glimpse of time. It also provides panoramic views of the island and the shimmering Aegean Sea. As you ascend this historic gem, be sure to bring your camera to capture the vistas.
Temple of Poseidon: Discover the Temple of Poseidon, an ancient sanctuary nestled on the island. This historic site is a testament to Greece's rich heritage. The serene location overlooking the waters celebrates Poseidon, the god of the sea.
Archaeological Museum of Poros: Delve into the island's history and culture at this museum. This ancient gem houses an impressive collection of artifacts. You see items such as pottery, sculptures, and relics that tell the story of Poros' ancient past.
Things to do
Kayaking Adventures: One of the best ways to experience Poros' pristine coastline is by going on a kayaking adventure. Paddle along the tranquil waters, exploring hidden coves, sea caves, and beaches.
Swimming in Azure Waters: Poros is well known for its crystal-clear waters. Take the opportunity to immerse yourself in the Aegean Sea, whether you choose to swim in secluded coves or popular beaches. The island's calm and warm waters make it an ideal destination for aquatic enthusiasts of all ages.
Beach Bliss: Poros boasts several stunning beaches, each offering its own unique charm. Among the top choices, Askeli Beach stands out with its long sandy shoreline and a variety of water sports activities. Poros Beach, the island's main beach, offers a vibrant atmosphere, perfect for people-watching and enjoying the sun.
However, the island's crown jewel is Love Bay, renowned as the best beach on Poros. This idyllic oasis features pine trees providing natural shade. It also has soft golden sand and the warm, crystal-clear waters of the Aegean Sea. A beach bar offers refreshments, snacks, and sandwiches, making it a perfect spot for relaxation.
Day 2 | Spetses – 31 NM
Spetses Island, nestled in the Saronic Gulf, is a gem steeped in naval history and Greek tradition. Its rich maritime heritage is part of the fabric of the island. You can totally see this history stuff in the cool places that make you want to check out what happened. Here, delve into the must-visit places and activities that make Spetses a captivating destination.
Places to see
The House of Bouboulina: A remarkable testament to Spetses' naval legacy is the House of Bouboulina. This historic mansion was once the residence of Laskarina Bouboulina. She was a fearless Greek heroine and shipowner who played a pivotal role in the Greek War of Independence. Roam through the beautifully preserved rooms to gain insight into her life and the island's maritime history.
The House of Hatzigiannis Mexis: Another treasure trove of history is this museum. It houses relics and artifacts from the War of Independence. As you peruse its collections, you'll discover the heroism and sacrifices of the island's residents during this period.
Church of Panayia Armata: Nestled on a hill, the Church of Panayia Armata stands as a testament to Spetses' spirit. Built between 1824 and 1830, it commemorates the Greek warriors' victory over the formidable Ottoman fleet. The church has a nice countryside vibe and some cool history stuff, making it a must-see spot.
Cathedral of Ayios Nikolaos: Immerse yourself in the island's religious heritage with a visit to the Cathedral of Ayios Nikolaos. Admire the intricate architecture and serene ambiance as you explore this sacred site. Indeed, it holds a special place in the hearts of the island's inhabitants.
Things to do
Horse-drawn carriage ride: Experience the island's timeless charm with a horse-drawn carriage ride along its narrow cobbled streets. As you leisurely trot through the picturesque alleys, you'll feel like you're in an era when such transportation was the norm.
Naval Battle Reenactment (September): If you can visit in September, don't miss the thrilling naval battle reenactment. This historic event recalls Spetses' important role in the War of Independence and gives you a peek into history.
Secluded Beach Exploration: Spetses boasts an array of secluded beaches. Revel in the crystal-clear waters and the serenity of these hidden paradises, perfect for swimming and relaxation. While you are in the water, make use of your yacht's water toys.
Scenic Island Walks: Discover the island's natural beauty by embarking on one of the many footpaths that crisscross Spetses. As you traverse these trails, you'll encounter charming small churches, quaint settlements, and hilltop vantage points offering breathtaking sea views.
Day 3 | Hydra – 12 NM
Journey to Hydra, an island whose name reflects its historical reliance on water sources. Today, it's a destination that blends natural beauty, cultural landmarks, and lively nightlife. Explore the must-visit places and activities that make Hydra a memorable stop on your Greek island itinerary.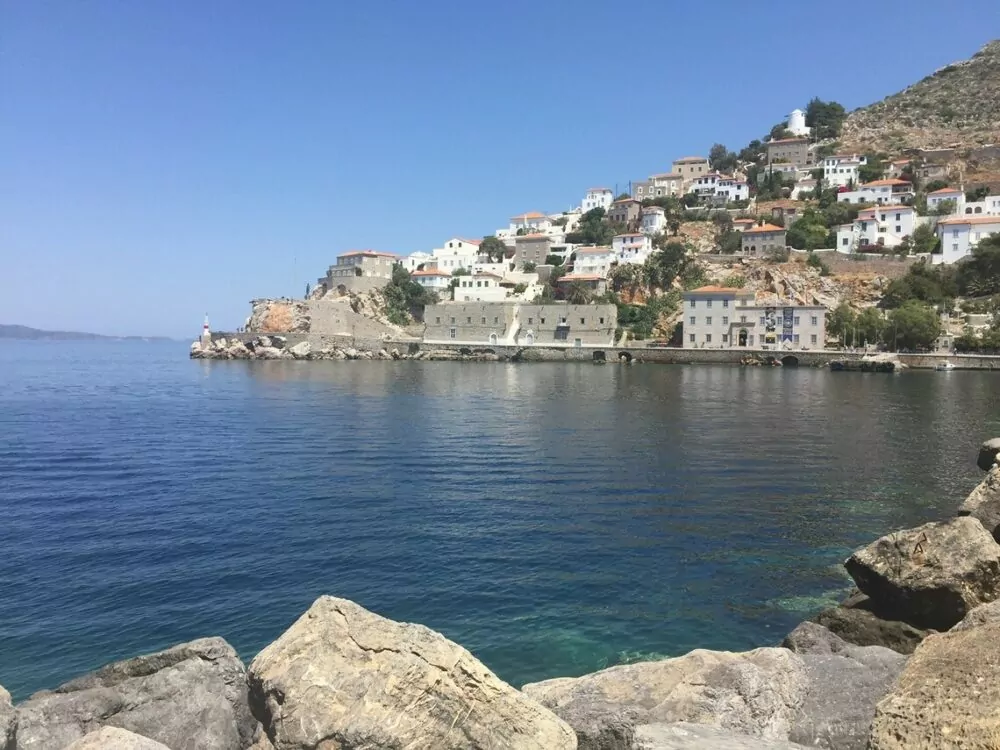 Places to see
Lighthouse: Begin your exploration with a visit to the island's lighthouse. Sitting right by the coast, this beacon of light has guided sailors for generations. Marvel at the panoramic views of the island's rugged coastline and the sparkling Aegean Sea. It is indeed a great spot for photographs.
Lazaros Kountouriotis Mansion: Dive into Hydra's history at this well-preserved 18th-century mansion. Serving as a museum, it showcases the island's maritime heritage. It also displays elegant architecture, period furnishings, and maritime artifacts.
Sophia Loren Windmill: For a touch of cinematic history, visit the Sophia Loren Windmill. The iconic actress filmed her first English movie, "Boy on the Dolphin" here. The scenic surroundings and the connection to this Hollywood classic charm this site.
Monasteries: Hydra boasts several monasteries, each with its unique character and spiritual significance. Explore these tranquil sanctuaries, such as the Monastery of Agia Efpraxia, and experience the island's spiritual side.
Things to do
Scenic Hiking: Hydra offers scenic trails that lead you through its picturesque landscapes. Whether you're seeking a leisurely walk or a challenging hike, there are options to suit every fitness level. Hike to hilltops and viewpoints to witness the island's beauty unfold.
Boutique Shopping: Stroll through the charming streets of Hydra Town and discover a variety of boutiques. The shops offer local crafts, unique souvenirs, and fashionable finds. You'll certainly want to pick up a special memento of your visit.
Taverna Delights: Immerse yourself in the island's culinary culture by dining at a local taverna. Savor traditional Greek dishes prepared with fresh ingredients and enjoy the friendliness of the locals. Hydra's waterfront restaurants are perfect for a leisurely meal with sea views.
Vibrant Nightlife: Hydra's port area transforms into a vibrant nightlife hub after dark. The nightlife scene is a testament to Hydra's vibrant spirit. In addition to nightclubs, you can also find some quiet bars and tavernas.
Day 4 | Kythnos – 48 NM
As your Athens to Mykonos itinerary continues, Kythnos Island emerges as your next destination. This rugged island boasts untamed natural landscapes, quaint traditional villages, and some of Greece's most pristine beaches.
Places to see
Merikhas: The Main Port: Begin your journey in Kythnos at the main port of Merikhas. As the island's gateway, Merikhas welcomes travelers with its picturesque harbor and charming waterfront. Stroll along the quayside, savoring the maritime atmosphere and admiring the boats that bob gently on the Aegean waters.
Katafýki Cave: Delve into the island's mysterious depths by visiting Katafýki Cave, one of Greece's most extensive cave systems. This underground wonder reveals a labyrinthine world of stalactites and stalagmites. You'll have a captivating glimpse into Kythnos' history.
Byzantine and Ecclesiastical Museum: Immerse yourself in the island's cultural heritage in this museum in Kythnos. You'll find this in the church of Agios Georgios (Saint George) in the village of Driopida. Admire exquisite religious artifacts, icons, and artworks that provide insight into the island's Byzantine past.
Things to do
Hike Along Old Footpaths: Kythnos beckons adventurers to explore its rugged terrain via its network of old footpaths. Lace up your hiking boots. Then, set off on a journey through picturesque landscapes, traditional villages, and hidden corners of the island. These trails offer opportunities to connect with nature and discover the island's rich cultural heritage.
Beach Escapes: Like all Greek islands, Kythnos boasts a wealth of outstanding beaches to suit every preference. Whether you prefer sandy shores or pebbly coves, seclusion or vibrant activity, Kythnos delivers. Consider a visit to Loutra Beach for its lively atmosphere and therapeutic hot springs. Or, seek solitude at Kolona Beach, where the pristine waters embrace both sides of a narrow sandbar.
Day 5 | Serifos – 11 NM
As you follow the Athens to Mykonos itinerary, you'll encounter the serene and rugged beauty of Serifos Island. This enchanting island near Athens offers a perfect blend of tranquility and exploration.
There is a great deal to see and do on your Athens to Mykonos itinerary. But remember to take some time to relax.
Places to see | Athens to Mykonos Itinerary
Old Mines: Dive into the island's industrial history with a visit to the Old Mines. Even though nobody uses them now, these mines were where a big worker protest happened in the 1900s. Explore the remnants of this bygone era, which played a pivotal role in the island's development.
Venetian Fortress in Pano Chora: Ascend to Pano Chora, the island's main town, and see the imposing Venetian fortress. This old building here shows how Serifos was a big deal back in the day.
Agios Athanasios Church: Immerse yourself in the island's ancient Greek spiritual heritage in this church. This serene place of worship has traditional Greek architecture and religious icons, offering a tranquil retreat.
Church of Evangelistria in Kato Chora: Venture into Kato Chora and discover this iconic church. Admire the charming architecture and immerse yourself in the island's religious traditions. In addition to its peaceful ambiance, this is a fantastic location for photos.
Things to do
Beach Escapes: Serifos boasts a collection of pristine beaches that cater to various preferences.
Serifos Island has beaches for everyone. There are busy ones like Livadi and Livadakia or quiet ones like Psili Ammos, Ganema, and Vagia. You can enjoy sunbathing, swimming, and water adventures at any of them.
Whitewashed Streets of Chora: Lose yourself in the enchanting alleys and whitewashed streets of Chora, Serifos' main town. As you wander through this charming labyrinth of Cycladic architecture, you'll encounter traditional tavernas, boutique shops, and vibrant squares. You'll get a glimpse into the island's local life.
Culinary Delights: Savor the island's culinary offerings at restaurants such as Yalos Seaside Obsession or Drimoni.
Day 6 | Paros – 34 NM
We will set sail after breakfast and head to Paros. This island is rich in history, beaches, culture, stunning views, and friendly locals.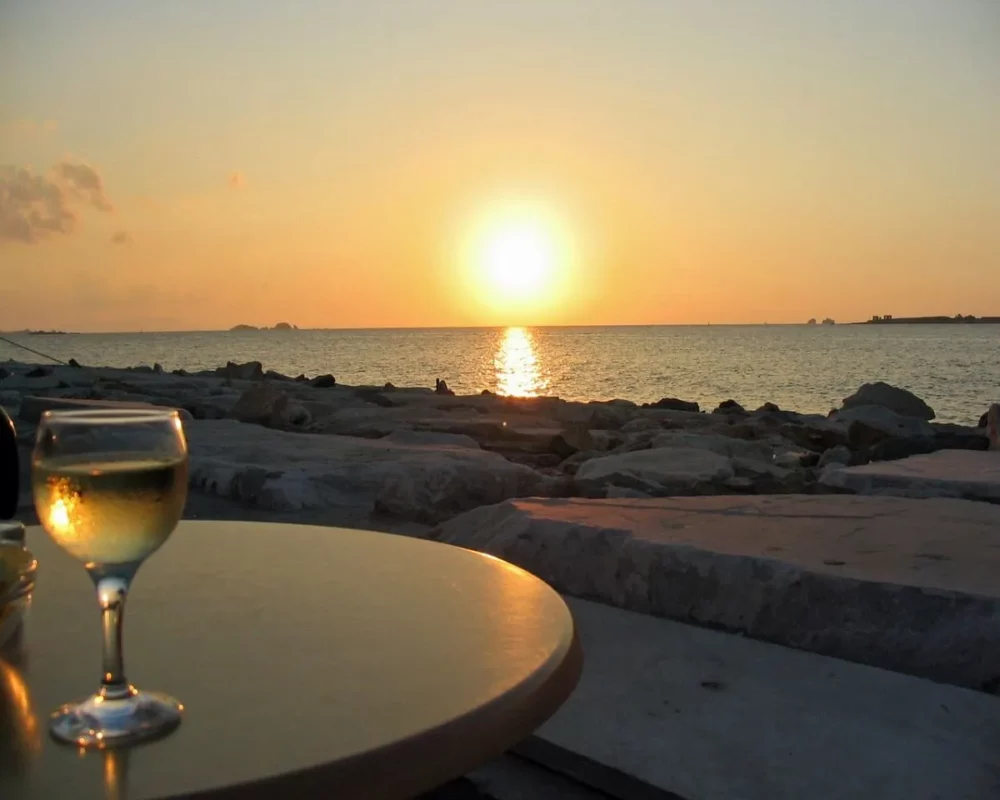 Places to see in the Greek Islands
Capital of Paros. This traditional village has sugar cube houses, impressive mansions, and a well-preserved 13th-century Venetian castle at the center.
Also, in the capital, see a 6th-century church of Panayia Ekatontapyliani, also called Katapoliani. The Parikia Byzantine Museum is on the ground floor of the church. Its exhibits include icons, wood-carved iconostases, and other heirlooms from various monasteries and churches on the island.
Furthermore, check out the marble quarries at Marathi. They used to mine the famous Parian marble here.
Things to do
Wander through beautiful traditional villages such as Naoussa, Marpissa, and Psychopiana.
Visit beautiful beaches such as Chrissi Akti, Kolymbithres, and Kalogeros.
Hike. There are many interesting hiking paths to explore.
Horseback ride
Take an art class.
Wine tasting at the local wineries.
Day 7 | Rineia – 19 NM
The tiny island paradise of Rineia is just off the coast of Mykonos. It makes an excellent stop on your Athens to Mykonos itinerary. The beaches here are reminiscent of the Caribbean. Although there are no restaurants, taverns, or shops on Rinea, you will find its peaceful atmosphere ideal for relaxing.
Day 8 | Rineia to Mykonos – 5 NM | Athens to Mykonos Itinerary
Arrive at Mykonos and spend at least a day in Mykonos town. After visiting some of the gorgeous Greek Islands on your Athens to Mykonos Itinerary, you'll want to plan your next trip.
From Mykonos, you may want to take a three-hour ferry ride to Santorini island. Arriving in Santorini, you can explore the villages of Fira, Firostefani, Imerovigli, and Oia. In Oia, you can spend at least 30 minutes marveling at the sight of the blue domes. These are churches built at the edge of the cliffs right next to one another.
After spending days in Santorini, you can take a ferry ride to the islands of Delos, another highly recommended destination.
As you arrive in Athens, don't forget to rent a car. You can then spend a full day exploring its attractions, including the Temple of Olympian Zeus.
After visiting Athens, it's time to pack up for your trip back home. You'll surely bring with you a diverse range of experiences. This will leave you with cherished memories of your wonderful trip to Greece.
Please call us today at 1 (321) 777-1707 or describe Your Vacation Vision to help you plan your fully-crewed private luxury yachting vacation! Inquire as soon as possible about your custom, crewed yacht charter.
You make the memories. We make the arrangements.