Saronic islands charter itineraries
Names of islands: Close to mainland Greece, the Saronic Gulf offers easy sailing, sheltered from the stronger winds of the Aegean. Saronic gulf islands charter itineraries usually begin from Athens' Kalamaki marina. Of the six inhabited islands, Aegina, Angistri, Hydra, and Poros are popular weekend retreats for Athenians. While Salamis is somewhat industrial, and Dokos is home to just a dozen monks.
The largest island and closest to Athens is Aegina. Sail to Agia Marina, where you can safely spend a night at anchor below the impressive fifth-century BC Temple of Aphaia. The local specialty is pistachio nuts, on sale across the island. Nearby, tiny Angistri is known for its fragrant pinewoods and low-key vibe.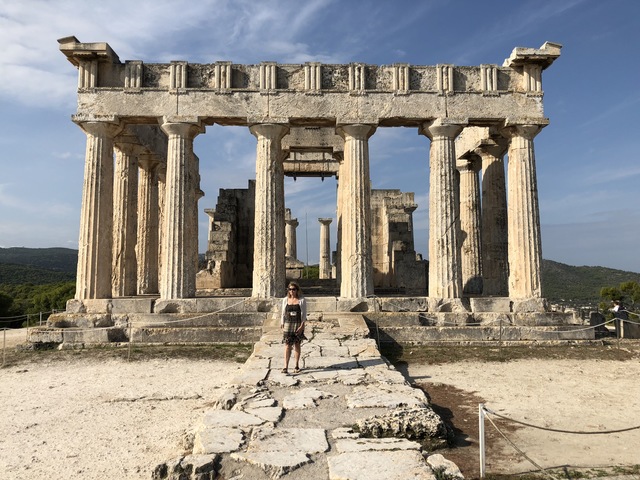 But for many visitors, the highlight is Hydra. Singer-songwriter Leonard Cohen lived here during the 1960s when the island became a magnet for international artists and bohemians. Historically, Hydra's wealth was from shipping, hence the elegant pastel-colored neo-classical mansions above the lovely harbor. Hike up to the hillside monasteries (there are no cars on Hydra – locals use donkeys instead) and later visit the Deste Foundation Project Space to see the contemporary art exhibition. Note Hydra's harbor gets packed with yachts in summer, often berthing several abreast.
North of Hydra, pine-scented Poros sits close to the mainland Peloponnese. In particular, Poros Town has a pretty harbor lined with lively cafes and restaurants.
While sailing the Saronic Gulf, you might also visit the volcanic Methana peninsular, with its sulfur springs, and the impressive third-century BC Epidaurus Theater, with its superb acoustics, both on the Peloponnese.
Saronic islands charter itineraries highlights
Activities: Exploring archaeological sites and monasteries; scuba diving and sea kayaking; cycling and hiking; attending an after-dark open-air performance at Epidaurus Theater during the Athens & Epidaurus Festival
Places of interest: Temple of Aphaia on Aegina; Hydra Town and the Deste Foundation Project Space (for contemporary art); Epidaurus Theatre on mainland Peloponnese.
Please contact us at 1 (321) 777-1707 or complete our contact form to start planning your yacht charter vacation! It's never too early, or too late to inquire about your bespoke private yacht charter.
You make the memories. We make the arrangements.