Greek Adventures | Saronic Islands Charter Itineraries
Close to mainland Greece, the Saronic Gulf offers easy sailing, sheltered from the stronger winds of the Aegean. Saronic Gulf Islands charter itineraries usually begin from Athens' Kalamaki marina. Of the six inhabited islands, Aegina, Agistri, Hydra, and Poros are popular weekend retreats for Athenians. While Salamis is somewhat industrial, and Dokos is home to just a dozen monks.
Aegina Island | Saronic Islands Charter Itineraries
The largest island and closest to Athens is Aegina. Sail to Agia Marina. There you can safely spend a night at anchor below the impressive fifth-century BC Temple of Aphaia.
The local specialty is pistachio nuts, which are on sale across the island. Nearby, tiny Angistri has fragrant pinewoods and a low-key vibe.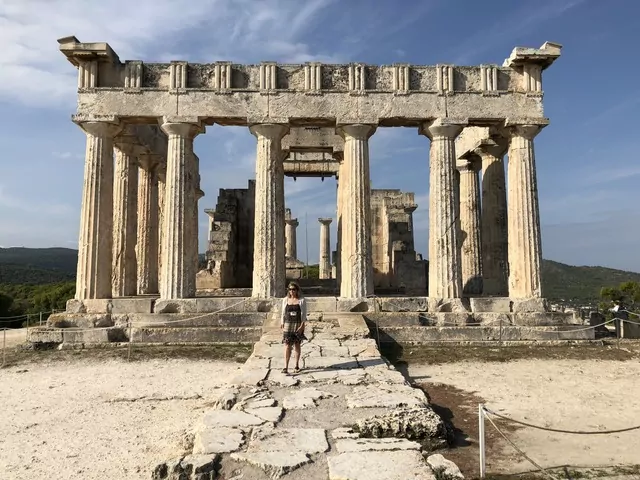 Agistri
Agistri is near Athens and offers sandy beaches, picturesque villages, and lush nature for a perfect weekend getaway. There's no shortage of swimming spots, from Skala and Aponissos to Dragonera and Megalochori. Moreover, the island has a handful of secluded beaches. Explorers seeking an immersive adventure can rent a bike and traverse the paths beneath the shade of the tall pine trees.
Hydra
But for many visitors, the highlight is Hydra. Singer-songwriter Leonard Cohen lived here during the 1960s when the island became a magnet for international artists and bohemians.
In fact, many artists and writers like to visit Hydra because of its peaceful atmosphere and lovely scenery. It's a place where you can experience a slower, more relaxed way of life while enjoying its beautiful beaches and history.
Historically, Hydra's wealth was from shipping, hence the elegant pastel-colored neo-classical mansions above the lovely harbor. Hike up to the hillside monasteries. There are no cars on Hydra – locals use donkeys instead. Later visit the Deste Foundation Project Space to see the contemporary art exhibition.
Poros
North of Hydra, pine-scented Poros sits close to the mainland Peloponnese. In particular, Poros Town has a pretty harbor lined with lively cafes and restaurants. Poros also offers an abundance of exciting water activities to all age groups.
From banana boat slides to waterskiing, there is something for everyone. Notable centers of activity are present in the organized beaches of Askeli and Neorio and less-traveled beaches.
Moreover, this Greek island has excellent sailing. Companies throughout Poros offer journeys and educational programs to traverse the Saronic Gulf and the surrounding coast of the Peloponnese.
Methana Peninsula | Saronic Islands Charter Itineraries
While sailing the Saronic Gulf, you might also visit the volcanic Methana peninsula with its sulfur springs and the impressive third-century BC Epidaurus Theater.
This volcanic peninsula, shaped by millennia of volcanic activity, boasts a distinct charm that sets it apart from other Greek destinations.
One of Methana's most striking features is its volcanic landscapes. Explore geothermal springs, mud baths, and fumaroles, all remnants of the area's volcanic history. The therapeutic properties of the thermal springs have made Methana a renowned spa destination for centuries. Immerse yourself in the warm, mineral-rich waters and revel in their rejuvenating effects.
Beyond its geothermal wonders, Methana offers captivating hikes and nature walks. The peninsula boasts lush forests, olive groves, and scenic trails that lead to panoramic viewpoints. Hiking enthusiasts can trek to the summit of Mount Methana. There, experience breathtaking vistas of the Saronic Gulf and surrounding islands.
Methana also has a rich history. Explore the ancient ruins of Methana that date back to the 4th century BC. Visit the well-preserved amphitheater that once hosted performances. The peninsula's archaeological sites provide a fascinating glimpse into its rich past.
In Methana, you'll find a genuine Greek experience away from the crowds. Quaint villages dot the landscape, offering authentic cuisine and warm hospitality. Whether you're indulging in seafood at a local tavern, taking a stroll along the harbor of Methana Town, or unwinding on the tranquil beaches, the Methana Peninsula promises an unforgettable journey.
Saronic Islands Charter Itineraries Highlights
Saronic Islands Charter Itineraries promise a captivating Greek adventure. Begin in Athens, exploring the ancient wonders of the Acropolis. Sail to Aegina, renowned for its pistachios, and then to Poros, with its charming town and historic clock tower. Hydra, a car-free paradise, offers idyllic beaches and vibrant nightlife.
Visit the island of Spetses, known for its pine-covered hills and captivating architecture. Delve into the history of Nafplion, the former capital of Greece, with its fortresses and old town. On this voyage, savor authentic Greek cuisine, swim in crystal-clear waters, and bask in the Mediterranean sun.
Here are a few of the activities and places of interest you will find in the beautiful Saronic Islands on your yacht charter holiday:
Activities:
Exploring archaeological sites and monasteries
Scuba diving
Kayaking
Cycling
Hiking
Attending an after-dark open-air performance at Epidaurus Theater during the Athens & Epidaurus Festival.
Places of Interest:
Please call us today at 1 (321) 777-1707 or describe Your Vacation Vision to help you plan your fully-crewed private luxury yachting vacation! Inquire as soon as possible about your custom, crewed yacht charter.
You make the memories. We make the arrangements.