Aegina
Aegina, a Saronic Island, is within two hours of sailing from the marinas of Athens. Visiting Aegina is a great way to experience the rich history, unique shopping, and excellent restaurants this area offers.
Aegina-Town has Neoclassical buildings and is a beautiful place to enjoy a leisurely walk. You'll find pistachio vendors offering samples of all things pistachio. Try tasty treats such as pistachio ice cream, chocolate with pistachio, and butter.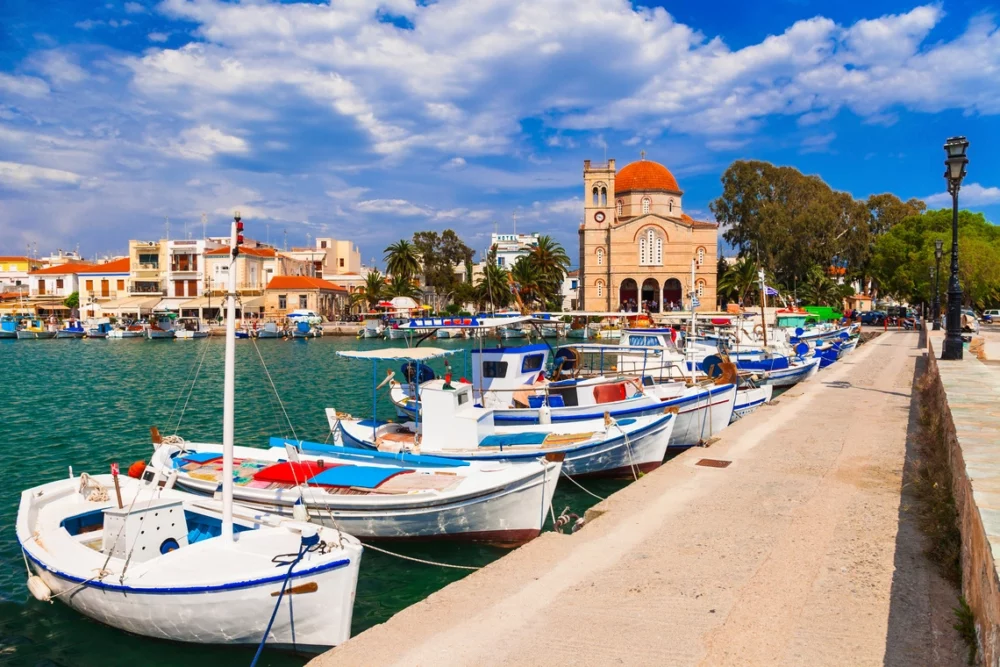 Climate
Aegina has a Mediterranean climate. The winters are mild, while the summers are hot and dry. It is the coldest in January. The most rain occurs in December. If you visit in August, you'll find it very hot. For the best weather, visit in the springtime.
Places to see
Aegina Town, the capital and main port. Once you get past the busy harbor, the town of Aegina is saturated in authentic Greek town life.
Perdika. A delightful, small fishing village with a marina.
The Historical and Folklore Museum of Aegina.
The Temple of Aphaia is dedicated to the goddess Athena.
The archeological site of Kolona. This site includes the ruins of the prehistoric city, the temple of Apollo, as well as parts of the late Roman wall of the citadel.
The Archaeological Museum of Aegina is on the archaeological site of Kolona.
The Monastery of Agios (Saint) Nektarios. This is the most important religious monument of Aegina.
Things to do
Go to the beach. Some famous beaches include Souvala Beach, Marathon, Agia Marina Beach, and Perdika Beach.
Yoga. Practice your asana by the sea.
Hike. The island has a wide variety of terrain, a mild climate, and gorgeous views.
Birdwatch. In addition to being eco-friendly, birdwatching lets you relax and connect with nature.
Gastronomy
The cuisine in Aegina uses high-quality ingredients such as fresh seafood, local meat, and produce. In addition, the local pistachio is incorporated into all sorts of drinks and desserts.
Try traditional dishes such as spanakopita (spinach pie), tyropita (savory cheese pastry), and dolmades (stuffed grape leaves).
Popular seafood dishes include grilled sardines, mini-fried fish, kalamarakia (squids), and psarosoupa (fish soup).
Please call us today at 1 (321) 777-1707 or describe Your Vacation Vision to help you plan your fully-crewed private luxury yachting vacation! Inquire as soon as possible about your custom, crewed yacht charter.
You make the memories. We make the arrangements.