Aegean Adventure | Athens to Saronic Islands Itinerary
The Athens to Saronic Islands Itinerary takes you to the Greek islands in the Saronic Gulf. Discover these beautiful islands' rich history, nature, traditions, and local cuisine. Note that this is only a sample itinerary. Your Captain will work with you to create a personalized itinerary based on your preferences.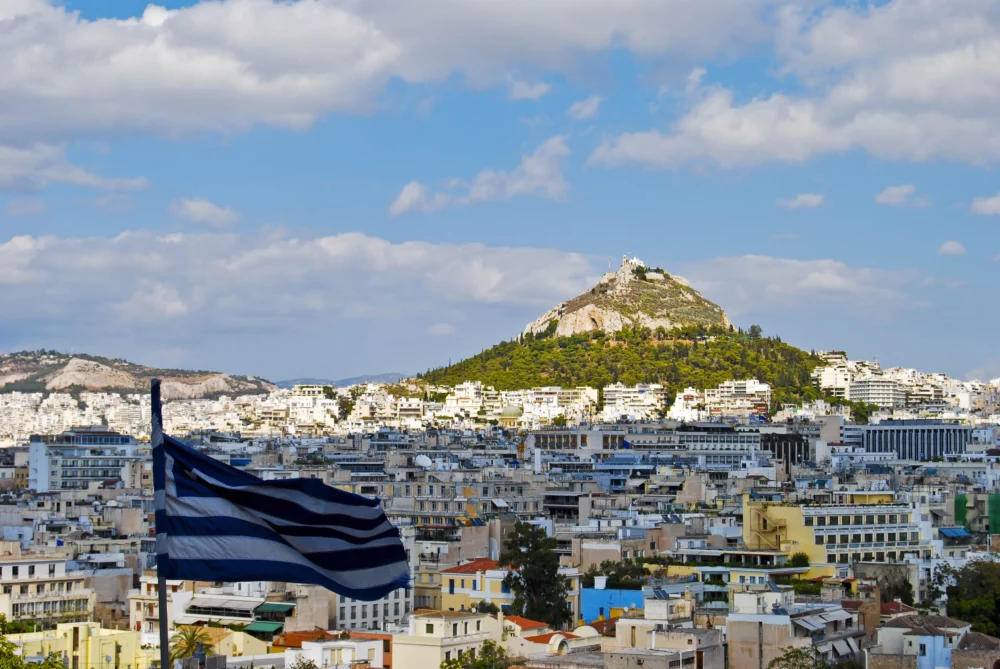 Day 1 | Alimos – Epidaurus 36 NM
Begin your journey in Alimos, Athens. After a brief safety meeting with the Captain, he will sail for Epidaurus.
Places to see
Archaeological Museum of the Asklepeion at Epidaurus. The Archaeological Museum of Epidaurus is one of the oldest museums of ancient Greek architecture. It is home to an extensive collection of essential finds discovered in the Sanctuary of Asklepios (1881-1928).
Ancient Theatre of the Asklepieion at Epidaurus. This amphitheater, known for its excellent acoustics, was built in 340 BC. The acoustics are so good that plays and concerts are still held here.
The Asklepieion of Epidaurus: The sanctuary Asklepieion was a sacred healing place devoted to Asklepius, the healer god who had the power to cure people of their ails.
Church of Agios Nikolaos. This lovely hilltop church can be seen from the port.
Things to do
Take a kayak tour to Epidavros, an ancient sunken city. PanExpiditions offers guided tours.
Scuba dive. Epidive has organized dive trips.
Hike. Many old footpaths cross the area. Note that hiking is best in autumn and spring when the weather is not so hot.
Go to the beach. You'll find beautiful beaches shaded by pine trees in Epidaurus.
Have lunch aboard the yacht or at a local seaside taverna. Mouria Restaurant is next to the sea, offering traditional Greek cuisine and a lovely view.
Day 2 | Epidaurus – Poros 22 NM
Poros Island is the next stop on your Athens to Saronic Islands Itinerary. This hilly island has pretty houses, a lively waterfront, fragrant pine trees, and inviting beaches.
Places to see
Sanctuary of Poseidon. This site dates back to the 6th century BC. It was a refuge for those shipwrecked or persecuted.
Town of Poros. Walk the picturesque waterfront promenade. Then, head in from the waterfront and discover local shops and restaurants.
Clock tower. The clock tower is the landmark of Poros Town. The tower, which is young by Greek standards, was only erected in 1927. The climb to the top is worth the effort; you will be rewarded with incredible views.
Archaeological Museum in Korizi Square, near the port. The museum was built on land donated by the Koryzis family in the 1960s and displays items from the Mycenaean period to the Roman period.
Lemon Forest. There are picturesque watermills and small houses nestled between the lemon trees.
Things to do
Go to the beach. Although Poros is a small island, it has several beautiful beaches, such as Askeli and Love Bay.
Take a cooking class. Aegean Flavors offers cooking programs in a friendly, relaxed Mediterranean atmosphere.
Shop. Browse interesting boutiques and take home local products and gifts. You can find anything from leather goods, pottery, jewelry, glassware, and traditional costumes.
Taste local cuisine. Oasis Taverna serves traditional Greek recipes with fresh ingredients. The restaurant is next to the harbor, so you may enjoy the sea view while you dine.
Day 3 | Poros – Hydra 15 NM
The main harbor and town, also known as Hydra, is embraced by a natural amphitheater with the town's houses cascading down its sides, all facing the sea. The landscape is rocky with many hills, the highest being Eros at about 500 meters.
Since motorized or wheeled vehicles are not allowed on Hydra, the island's main towns are within walking (or boating) distance.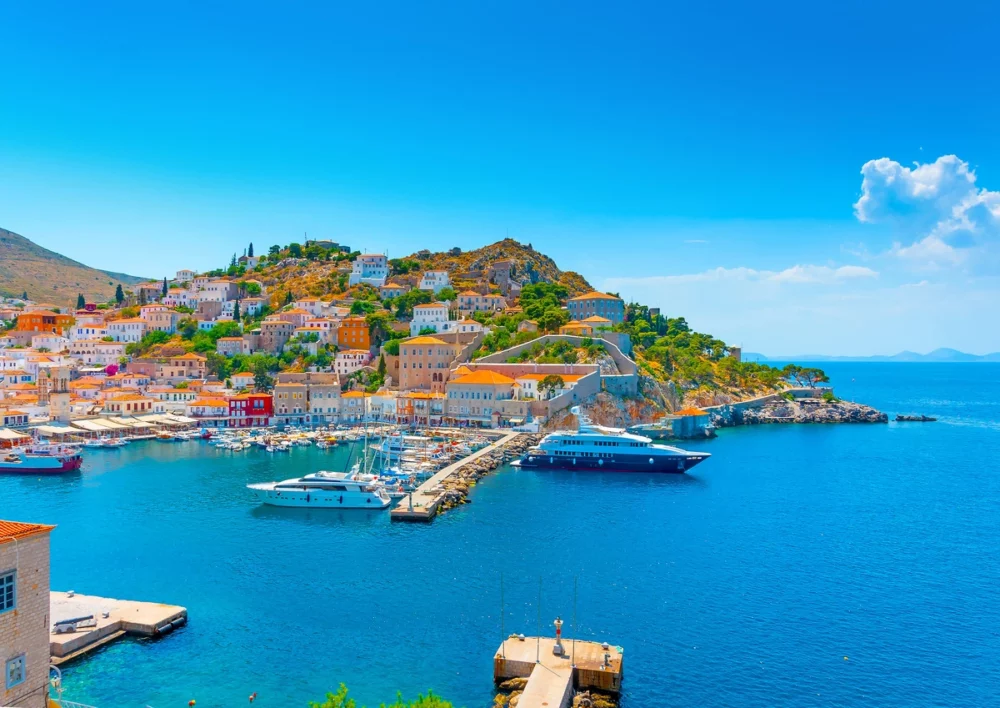 Places to see on an Athens to Saronic Islands Itinerary
Museums. The island has four museums: Historical Archives Museum of Hydra, Lazoros Kountouriotis Mansion, Tetsis House and Atelier, and the Ecclesiastical Museum.
Komiseos Theotokou Monastery in Hydra town. This stunning church features a Venetian bell tower and a domed interior.
Old Windmill. Its hilltop location gives marvelous views of the town and the sea.
Things to do
Horseback ride. Harriet's Hydra Horses has organized rides for all ages and levels of ability.
Visit the beach.
Pick olives.
Hike. Discover beautiful views when you walk or hike Hydra's mountain paths, forest roads, and cobblestone streets.
Day 4 | Hydra – Spetses 15 NM
Today take a quick sail to Spetses Island. This laid-back island has rolling hills, pine forests, and crystal-clear coves. Enjoy coffee and breakfast on the yacht, then head into town for a day of exploring.
Places to see
Bouboulina Museum. A museum dedicated to Laskarina Bouboulina, one of Greece's naval heroines.
Visit the two monasteries on Spetses: the Monastery of All Saints and the Monastery of the Virgin Mary of Gorgoepikoos.
Things to do
Pick up some fresh fish at Psaragora Fish Market. However, get there early because this small market is generally sold out before noon.
Walk to the Spetses Lighthouse, one of the oldest lighthouses in Greece. It's an easy 45-minute walk from the main town.
Take a horse and carriage ride. Since no cars are allowed on the island, you'll find this mode of transportation a fun alternative.
Visit the beach. There are several lovely beaches on Spetses, notably Kaiki Beach, also known as Scholes Beach. Alternatively, try Ayia Anargyri Beach on the southern side of the island. Nature lovers will like this scenic beach.
Day 5 | Spetses – Hermioni 12 NM – Athens to Saronic Islands Itinerary
Hermioni Island, also called Ermioni, is a small port town. You can taxi to Porto Heli for the nightlife and other attractions.
Places to see
Ekklisia Agii Taxiarches. A pretty church dedicated to the Archangels Michael, Gabriel, and Raphael.
Bisti Grove. It's worth seeing the old castle of the town as well as the remains of the temples of Athena and Poseidon.
The Historical Folklore Museum.
Roman Aqueduct from the 2nd Century.
Things to do
Rock Climb
Try local cuisine at tavernas such as Korali, Michalis, and Kati Psinetai.
Party at the Nikki Beach Club in Porto Heli.
Days 6 and 7 | Hermioni – Aegina 42 NM
Spend two days on Aegina, a rustic island with historic architecture, beaches, and many places to explore.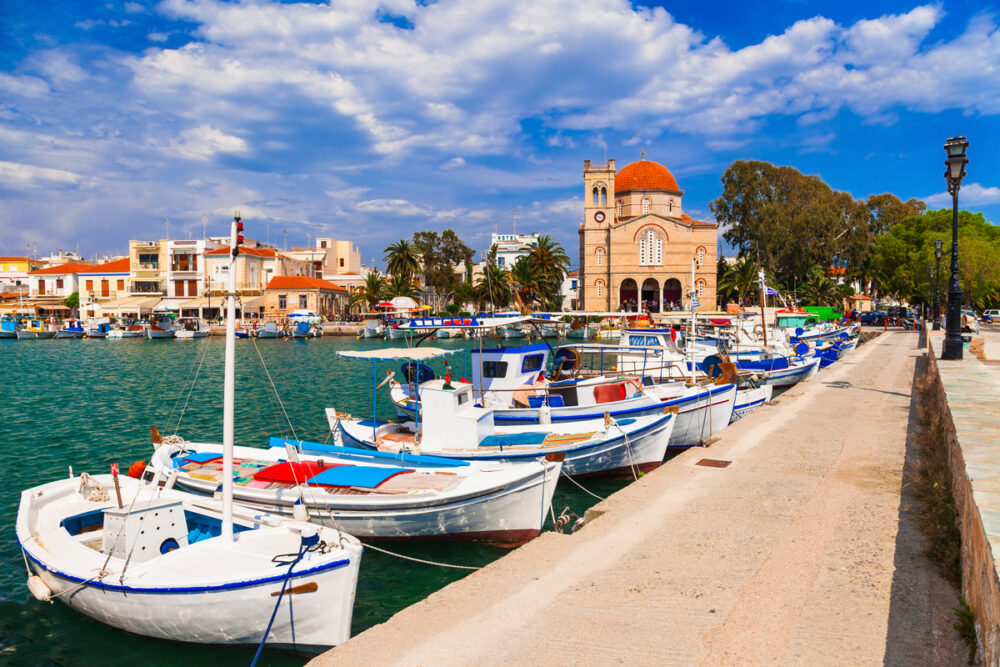 Places to see on an Athens to Saronic Islands Itinerary
The Temple of Aphaia is an impressive ancient site. The temple dates back to around 500 BC.
Perdika is a small picturesque fishing village. Enjoy fresh seafood from one of the tavernas.
Paleahora Village, the former capital of the island. This village is home to many impressive old churches.
Nektarios Monastery in Kontos Town.
Archeological site of Kolona and museum.
Things to do on an Athens to Saronic Islands Itinerary
Try pistachios. The Aegina pistachio is considered one of the best in the world.
Go to the beach. Several beaches are worth visiting, including Karnagio Beach, Marathonas Beach, Agia Marina Beach, and Mediavine Beach.
Rent a car or motorbike and tour the island.
Day 8 | Aegina – Alimos 17 NM
Return to Alimos, Athens, and end your Athens to Saronic Islands Itinerary.
Please call us today at 1 (321) 777-1707 or describe Your Vacation Vision to help you plan your fully-crewed private luxury yachting vacation! Inquire as soon as possible about your custom, crewed yacht charter.
You make the memories. We make the arrangements.