Hydra | Island Jewel in the Saronic Gulf
Hydra, within easy access by ferry from Athens, is a must-visit when exploring the Saronic Islands. This peaceful island is free from traffic noise since cars are not allowed, and donkeys are the primary mode of transportation. Like many of the Greek Islands, the pace of life is slower than in the US or Athens.
Enjoy a leisurely meal at one of the tavernas on the waterfront or the many side streets.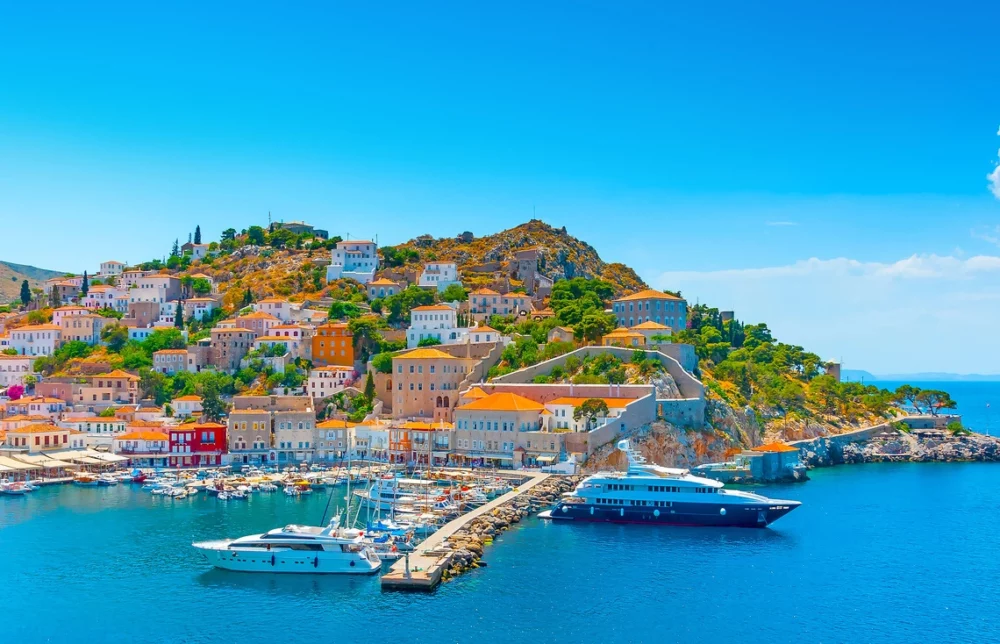 Climate
Hydra summers are hot and sunny. Temperatures range from 25 to 38°C and sometimes rise to 44°C during July and August.
Hot winds from the south blow slowly during August. The sea temperature averages 27°C. Rainfall is rare, and the humidity is low.
Places to See on Hydra
Hydra Town: The heart of the island, Hydra Town, is a charming harbor town with narrow cobblestone streets, colorful mansions, and a vibrant atmosphere. Stroll along the picturesque waterfront, explore the bustling market, and discover local shops and galleries.
Kaminia: Just a short walk from Hydra Town, the small town of Kaminia offers a peaceful escape and some of the island's best dining options. Enjoy traditional Greek cuisine with panoramic views of the sparkling sea.
The Ecclesiastical Museum: Located within the cloisters of the Cathedral Church of the Assumption of the Virgin Mary in Hydra Town, this small museum houses a collection of church artifacts and regalia. Explore the religious heritage of the island through these cherished items.
The Monastery of Agia Efpraxia: Embark on a scenic 40-minute hike to reach this all-female monastery, which stands as one of Hydra's intriguing sites. Surrounded by natural beauty, the monastery offers a tranquil retreat and a glimpse into the island's spiritual history.
The Monastery of Agia Triada: Another notable monastery on the island, the Monastery of Agia Triada, exudes a serene ambiance. Set amidst a captivating landscape, it invites visitors to explore its peaceful grounds.
The Historical Archives Museum: Delve into the island's history at the Historical Archives Museum, where you can uncover valuable insights into Hydra's past through a collection of documents and exhibits.
The Bastions with Cannons: Remnants of Hydra's protective fortifications. These cannons encircle the port, serving as a reminder of the island's rich history. Take a leisurely stroll around the harbor and admire these relics of a bygone era.
The National Merchant Marine Academy: Located in Hydra Town, this prestigious institution plays a significant role in Greece's maritime education. While you may not tour the academy, its presence adds to the island's maritime character.
Things to Do on Hydra
Beach Exploration: Hydra offers a variety of beautiful beaches to suit different preferences. Whether you seek secluded coves like Vlychou Beach and Agios Nikolaos Beach or vibrant spots like Hydronetta Beach, there's a shoreline waiting for you. Don't miss the unique charm of Mandraki Beach.
Scuba Diving and Snorkeling: Dive into the crystal-clear waters surrounding Hydra to discover captivating underwater landscapes. Reefs, caves, and diverse marine life await beneath the surface, making it a haven for scuba divers and snorkelers.
Hiking Adventures: Explore the island's rugged terrain and scenic trails on foot. The hiking paths offer breathtaking vistas and a chance to connect with nature. The hike to the Monastery of Agia Efpraxia is a rewarding experience, combining natural beauty with cultural exploration.
Gastronomy
On Hydra, traditional foods are prepared in many ways. Grilled, baked, fried, or skewered, you're sure to find something new and exciting to taste. For example, stifado (rabbit stew with onions, red wine, and cinnamon, kleftiko (lamb marinated in garlic and lemon and slow-baked), and yemista (baked vegetables stuffed with rice).
Fish dishes are abundant and include local seafood like mullet, squid, herring, mackerel, and octopus.
Please call us today at 1 (321) 777-1707 or describe Your Vacation Vision to help you plan your fully-crewed private luxury yachting vacation! Inquire as soon as possible about your custom, crewed yacht charter.
You make the memories. We make the arrangements.