Hydra
Hydra, within easy access by ferry from Athens, is a must-visit when exploring the Saronic Islands. This peaceful island is free from traffic noise since cars are not allowed, and Donkeys are the primary mode of transportation. Like many of the Greek Islands, the pace of life is slower than in the US or Athens.
Enjoy a leisurely meal at one of the tavernas on the waterfront or the many side streets.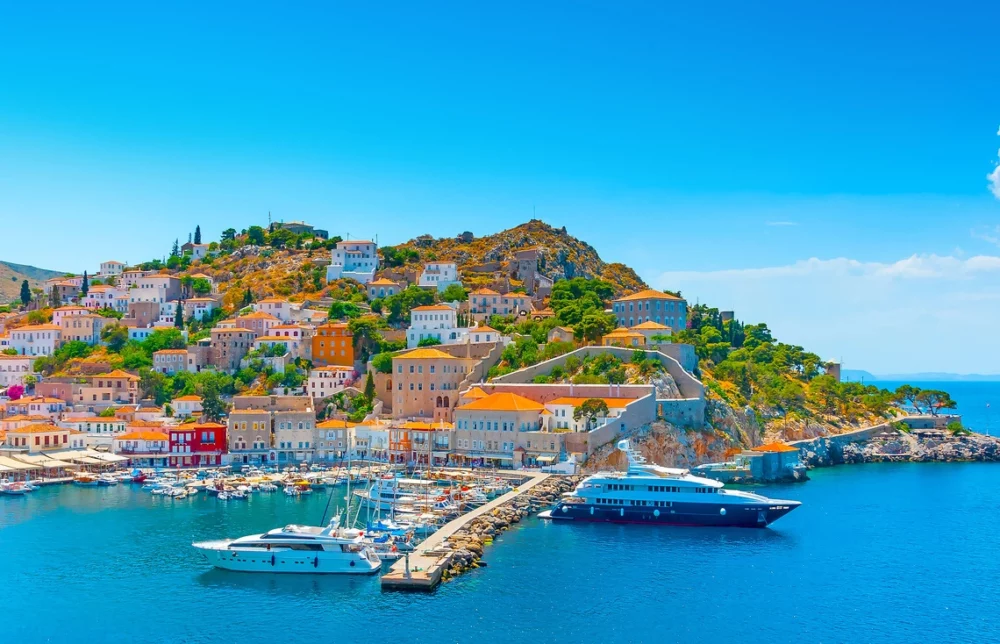 Climate
Hydra summers are hot and sunny. Temperatures range from 25 to 38°C and sometimes rise to 44°C during July and August. Hot winds from the south blow slowly during August. The sea temperature averages 27°C. Rainfall is rare, and the humidity is low.
Places to see
Hydra Town is the main town with a small harbor.
Kaminia. This small town is within walking distance of Hydra Town, and several good restaurants offer authentic food and fantastic views.
The Ecclesiastical Museum. You'll find the museum within the cloisters of Hydra's Cathedral Church of the Assumption of the Virgin Mary in the center of the port. It's a small museum that houses the church artifacts and regalia. Many of these items are used during services and church celebrations.
The Monastery of Agia Efpraxia. This all-female monastery is one of the island's most exciting sites. To reach it, you can take the hiking trail. It's about a 40-minute walk from town.
The Monastery of Agia Triada
The Historical Archives Museum
The Bastions with Cannons. These cannons were once used for protection. They surround the port of Hydra and serve as reminders of a glorious past.
Things to do
Go to the beach. Vlychou Beach, Kaminia Beach, Hydronetta Beach, Agios Nikolaos Beach, Mandraki Beach, Bisti, Agios Georgios, Kaoumithi and Nissiza, Limnioniza
Scuba dive and snorkel. The underwater world around Hydra has many fascinating reefs, caves, and sea life.
Hike
Gastronomy
On Hydra, traditional foods are prepared in many ways. Grilled, baked, fried, or skewered, you're sure to find something new and exciting to taste. For example, stifado (rabbit stew with onions, red wine, and cinnamon, kleftiko (lamb marinated in garlic and lemon and slow-baked), and yemista (baked vegetables stuffed with rice).
Fish dishes are abundant and include local seafood like mullet, squid, herring, mackerel, and octopus.
Please call us today at 1 (321) 777-1707 or describe Your Vacation Vision to help you plan your fully-crewed private luxury yachting vacation! Inquire as soon as possible about your custom, crewed yacht charter.
You make the memories. We make the arrangements.