Enchanting Saronics | Lavrion to Saronic Islands Itinerary
A one-week Lavrion to Saronic Islands Itinerary takes you to some of the most beautiful islands in the Saronic Gulf. The itinerary comprises relatively short sailing trips, with one or two exceptions.
So, if you and your guests prefer relaxed holidays, then one week in the Argosaronic Gulf can be ideal.
Day 1 | Aegina – 35 NM
Your starting point is the Lavrion-Olympic marina. On day one of your Lavrion to Saronic Islands Itinerary. The first destination is the cove of Agia Marina on Aegina Island.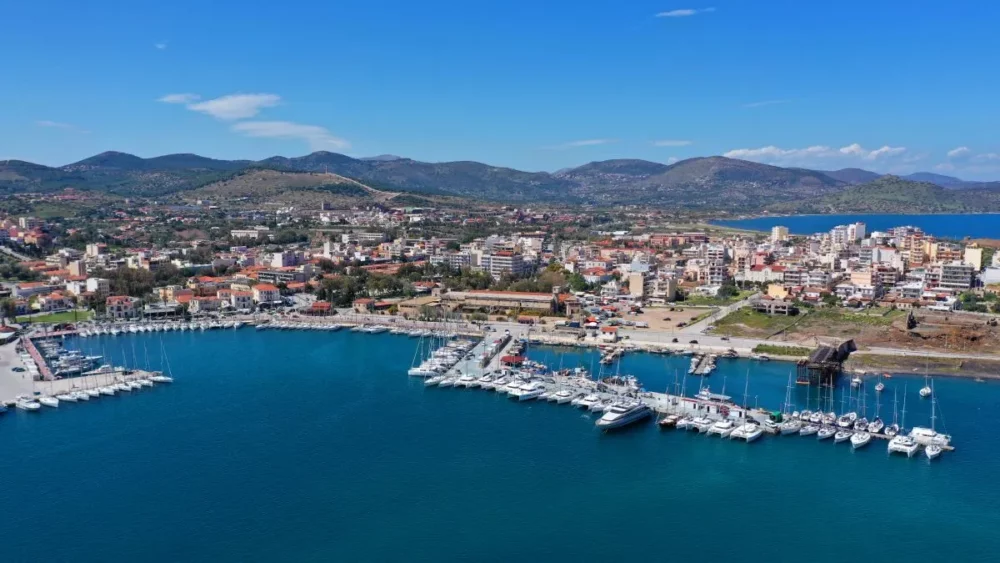 Places to see
Temple of Apollo
Tower of Markellos
Temple of Athena Aphaia
Aegina Agios Nektarios Monastery
Aegina Archaeological Museum. The museum has findings from all the ancient sites on the island.
Church Isodia Theotokou
Things to do
The port has many restaurants, bars, and cafes in the narrow streets behind the docks.
Rent a motorbike and tour the island, visiting the main spots, such as Aegina Town, Perdika, Vagia, and Marathon.
Hike. Many old footpaths cross the island.
Days 2 and 3 | Hydra – 27 NM
The next day sail to the island of Hydra. This island was significant in the Greek Revolution (19th century). The island is also motor vehicle-free.
Places to see
Mount Eros. The highest point on Hydra and well worth a climb. The view from the summit is spectacular. Use caution in the summer as the climb is strenuous.
Profitis Ilias Monastery Hydra. Located on the slope of Mount Eros at an altitude of 588 meters. Hike, or take a horse ride to this lovely monastery.
Memorial to Fallen Hydriots in World War II. The memorial commemorates Hydriots who died in combat during the Second World War.
Things to do
Explore Hydra on horseback. Harriet's Hydra Horses offers organized rides around the island.
Swim and have fun in Mandraki Bay, right by the yacht.
Have a romantic evening in the beautiful Old Town, dining in a restaurant or drinking at one of the bars.
Shop cute boutiques such as Asproulis for lace, crocheted, and embroidered apparel and linens or Koutsikou Hydra for clothing, accessories, and home decor.
Day 4 | Spetses – 15 NM
Spetses Island is about 15 miles from Hydra. This small Greek island welcomes you with crystal clear water, narrow old streets, fantastic beaches, and waterfront restaurants.
Places to see
Lighthouse. One of the oldest lighthouses in Greece is located on the right side of the old harbor.
Spetses Museum. The museum is in the Mansion of Hatzigianni-Mexi, a local 19th-century tradesman.
Monastery of Agioi Pantes. Since this monastery is on top of a hill, you have a fantastic view of the town and the sea.
The Monastery of Agios Nikolaos, the patron saint of sailors, is just outside Spetses Town. It is open to visitors, but there is a dress code—long trousers and covered shoulders for men and long skirts for women.
Bekiri's Cave. This impressive cave is difficult to reach but well worth the effort. It's close to Agioi Anargyri beach, on the island's western side. The cave's interior is fascinating, with blue-green water and a little beach.
Things to do
Walk the old footpaths that crisscross the island.
Admire the architecture in Spetses town.
Swim at one of several beaches.
Shop at local boutiques. Nord Ceramics Art & Design offers art from Greek artists. Ratih has unique clothing, accessories, and jewelry.
Day 5 | Dokos – 9 NM
On day five, you leave Hydra to visit the nearby island of Dokos. The trip lasts for almost an hour. Dokos is an uninhabited small islet fully protected from winds. The cove is large, so you can have complete privacy away from other yachts and enjoy a relaxing day and night on your yacht.
Day 6 | Poros – 22 NM
At Poros, your Captain can berth at the picturesque port, with traditional restaurants, fish taverns, and many bars. If you prefer anchoring, the coves within the strait of Poros offer safe shelter and a beautiful natural landscape.
Places to see
Sanctuary of Poseidon. This ancient temple dates back to the 6th Century BC.
Town of Poros. Stroll along narrow streets and find quiet tavernas and restaurants.
Lemon forest
Citron art gallery
Things to do
Swim.
Shop. The Municipal Market of Poros has fresh fish and meats, and the waterfront at the Port of Poros is also an excellent place to walk and browse various shops.
Visit the beach. Askeli Beach, Miko Neorio Bay, Love Bay, or Russian Bay. All have clear water for swimming or wading and warm sandy beaches.
Day 7 | Agkistri – 14 NM
After you leave Poros, head to the island of Agistri. It is one of the best destinations in the area. It has lush, fragrant pine trees covering the island's hills, and the lace-like, rocky coastline offers good shelter from the wind. You will spend the night in Agkistri.
Places to see
Villages. The island has four: Metochi, Limenaria, Skala, and Milos. Each village offers a unique mix of restaurants, tavernas, and bars.
Church of Agioi Anargyroi.
Things to do
Dine at the fish taverna "To Agistri" in the center of Skala. This restaurant has a view of the blue Saronic Gulf and traditional Greek made-to-order meals.
Horseback ride.
Kayak.
Walk. Metochi village is the perfect place to reach; some main trails are marked, making great walking and exploring excursions.
Scuba dive.
Day 8 | Return to Lavrion Olympic Marina
On day eight of your Lavrion to Saronic Islands Itinerary, your yacht returns to the Lavrion Olympic marina. A wonderful, calm sailing excursion is coming to an end.
Please call us today at 1 (321) 777-1707 or describe Your Vacation Vision to help you plan your fully-crewed private luxury yachting vacation! Inquire as soon as possible about your custom, crewed yacht charter.
You make the memories. We make the arrangements.