Picture yourself in a world where luxury and the endless blue waters converge, where every moment is unique. Welcome to the realm of Greece catamaran charter VALIUM 62, a true masterpiece sailing through the enchanting Greek Islands. This isn't just a typical vacation; it's an opportunity to truly experience the art of living.
A Haven of Luxury
Indulgence is the name of the game on Greece catamaran charter VALIUM 62. The dining area is a haven of culinary pleasures. Stylishly designed settees, ambient lighting from the ceiling, and the added charm of adjustable blinds on the panoramic windows – it's certainly a fusion of taste and aesthetics.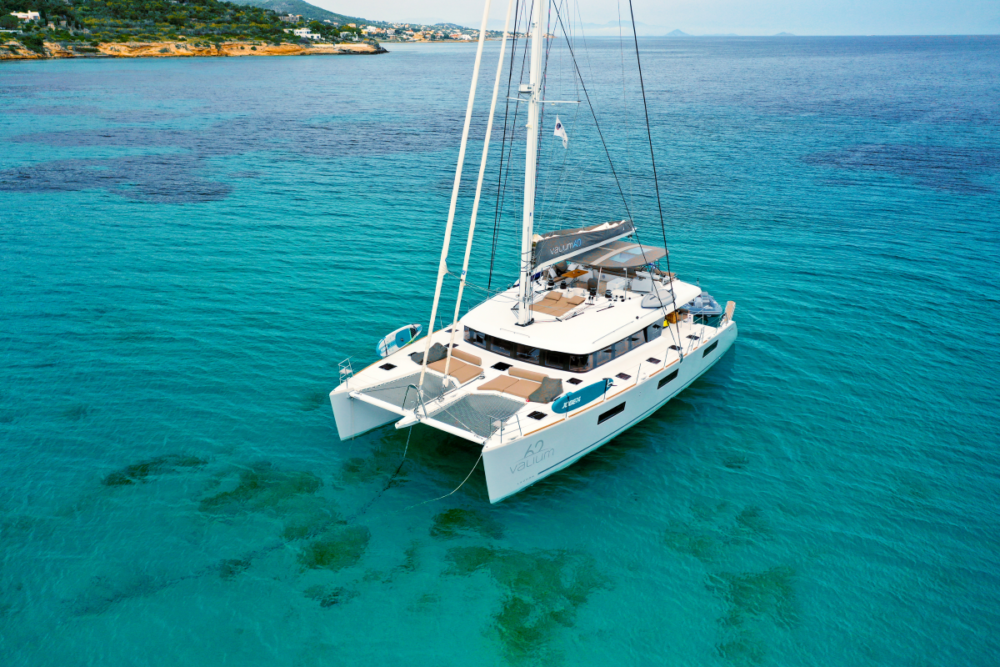 Delight in Opulence
Your accommodations are roomy and relaxing. Five double VIP cabins await, each a private haven of comfort. The air-conditioned cabins also have ensuite bathrooms and showers.
Three outer deck areas invite you to enjoy the gentle sea breeze. Whether it's tasting gourmet wonders in the large dining space, diving into an array of fun water sports, or simply unwinding under the sun's warmth, VALIUM 62 offers a variety of experiences.
Water toys include:
Seabob (x2)
Standup Paddleboards (x2)
Kayak
Wakeboard (adults)
Water ski (adults and children)
Fishing gear
Snorkeling gear
Towable tubes
An Exceptional Crew
However, it's not only about the yacht; the extraordinary crew transforms your journey into an unforgettable adventure. With careful attention to detail and a commitment to crafting tailor-made experiences, they go beyond just creating a vacation. They create lasting memories.
Captain – Stefanos Vogiatzis
A true Aegean native, Captain Stefanos has navigated these waters since childhood. Hailing from vibrant Santorini, he exudes an outgoing charm matched with sea sports knowledge. Having skippered yachts up to 65 feet, Stefanos is well-versed in Mediterranean charters.
Chef – David Karatzas
With an early culinary interest, David has evolved into an excellent chef, particularly passionate about Mediterranean and Greek traditional fare. His culinary journey embraces the trio of Mediterranean herbs, olive oil, and wine, crafting a voyage through local flavors.
Beyond the galley, he finds joy in seeing new landscapes, organizing treks, and preparing outdoor feasts. David's culinary magic blends simplicity, tradition, and innovation, promising an amazing dining experience.
Deck/Steward – Ioannis Aliferis:
Born with the sea in his blood, Yiannis has honed his skills by serving on Santorini's catamaran boats. Armed with sailing and first aid certifications, he prioritizes safety while infusing social charm into his services. An adept problem-solver, Yiannis transforms challenges into solutions, ensuring seamless journeys. Fluent in Greek and English, he embodies the essence of hospitality.
The Destination | Greece Catamaran Charter VALIUM 62
Aboard VALIUM 62, explore the Greek Islands, a realm where history, nature, and beauty unite. The Cyclades archipelago is just one of the destinations to see. This archipelago includes Islands such as Santorini, Ios, and Naxos.
Santorini
Anchored in volcanic mystique, Santorini unveils its iconic whitewashed buildings against the backdrop of the cobalt Aegean Sea. Wander through narrow streets, savor local wines, and witness the magic of sunsets. While on Santorini, be sure to see the caldera.
Mykonos
Mykonos boasts pristine beaches, vibrant nightlife, and an old town adorned with Bougainvillea. Revel in its energetic ambiance or seek tranquil moments on secluded shores.
Paros
With its serene atmosphere, Paros captivates with azure waters and charming villages. Engage in water sports such as snorkeling, kayaking, and jet skiing. Dine at authentic tavernas, and explore the island's picturesque landscapes.
Naxos
Home to stunning beaches and ancient ruins, Naxos offers a blend of relaxation and history. Uncover archaeological treasures and indulge in the laid-back rhythms of island life.
Ios
Known for its vibrant nightlife as well as stunning beaches, Ios invites you to dance, swim, and unwind. Don't miss the tranquility of inland villages and the stunning panorama from its hilltop chora.
Greece catamaran charter VALIUM 62 is more than just a vacation; it's an exploration of sophistication, a passage to a world where you can embrace the art of living. So, take the plunge and set sail on an incredible journey that redefines a vacation. Your voyage aboard VALIUM 62 awaits.
Please call us today at 1 (321) 777-1707 or describe Your Vacation Vision to help you plan your fully-crewed private luxury yachting vacation! Inquire as soon as possible about your custom, crewed yacht charter.
You make the memories. We make the arrangements.