Have you been dreaming of the ultimate sailing adventure but are unsure where to start? Look no further than the luxurious catamaran sailing yacht VALIUM 52. This Lagoon 52 catamaran is the perfect choice for first-time yacht charters. It offers the ideal balance of relaxation and exploration as you cruise the Greek islands.
With its stunning design, plush interior, and state-of-the-art technology, VALIUM 52 will surely make your sailing experience first-rate.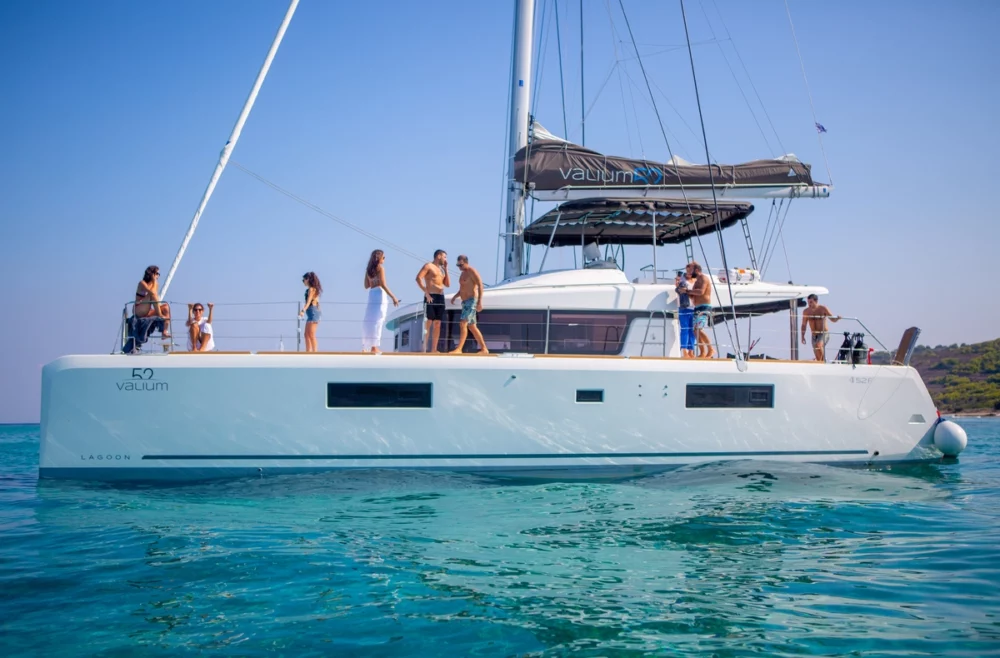 Why charter the catamaran sailing yacht VALIUM 52?
It's all in the details…
A huge amount of space on and also below the deck
An unprecedented level of comfort
Five well-appointed double-bed cabins with en-suite heads
Excellent Crew of three, including Chef onboard (great guest comments)
Dual access to the flybridge
A big selection of water toys (SUP, Kayak, Adults & kids- ski, Tubes, Wake-board)
Why choose a catamaran for sailing the Greek Islands?
When it comes to sailing the Greek Islands, choosing a catamaran is the best way to go. Catamarans are famous for their stability, which means you'll experience a smoother and more comfortable sailing experience. This is especially important for first-time sailors or those who may be prone to seasickness.
Catamarans offer ample space and comfort, with multiple cabins and a spacious deck area. This makes them perfect for couples, families, or groups of friends looking to sail together.
Another great advantage of catamarans is their shallow draft, allowing you to get closer to the shore. You can explore hidden coves and beaches that larger boats can't access. You'll also have the freedom to anchor in secluded spots and truly immerse yourself in the natural beauty of the Greek Islands.
And let's not forget the incredible panoramic views you'll get from a catamaran. With its wide beam and open design, you'll have clear views of the turquoise waters and breathtaking landscapes.
Experiencing the Best of Greece on a Sailing Adventure
If you want to experience the best of Greece, there's no better way to do it than on a sailing adventure with VALIUM 52. As you set sail on this luxurious catamaran, you'll enjoy spectacular views of the Greek Islands that you won't find anywhere else. From the beautiful blue waters of Santorini to the charming coastal towns of Mykonos, every moment on this sailing adventure is a chance to immerse yourself in the beauty and culture of Greece.
One of the best parts of sailing with VALIUM 52 is its freedom and flexibility. You can choose to spend your days lounging on remote beaches, snorkeling in crystal-clear waters, or exploring quaint villages. With the help of the experienced Crew, you'll have insider knowledge of the best spots to visit and the most picturesque locations to capture on camera.
But it's not just about the destinations. It's about the journey too. As you sail from one island to another, you'll have the opportunity to relax on the spacious deck, enjoy delicious meals prepared by the onboard chef, and soak up the sun while taking in the panoramic views. It's the perfect balance of adventure and relaxation, allowing you to experience the best of Greece at your own pace.
Exploring the Greek Islands with VALIUM 52
When you set sail on the luxurious catamaran VALIUM 52, you're not just embarking on a sailing adventure through the Greek Islands. You're uncovering the special places that make Greece truly unique. With the guidance of the experienced Crew, you'll have the opportunity to explore places that are off the beaten path and discover the true essence of the Greek Islands.
Imagine anchoring in a secluded bay with crystal-clear waters, surrounded by cliffs and untouched nature. You can snorkel in the vibrant underwater world, swim in secluded coves, or relax on pristine beaches. The Crew will take you to lesser-known islands where you can experience the authentic Greek lifestyle. Visit charming fishing villages and dine at traditional tavernas serving delicious local cuisine.
You'll see breathtaking landscapes as you sail from one island to another. You'll also have the opportunity to explore ancient ruins, visit historic landmarks, and immerse yourself in Greece's rich history and culture.
Please call us today at 1 (321) 777-1707 or describe Your Vacation Vision to help you plan your fully-crewed private luxury yachting vacation! Inquire as soon as possible about your custom, crewed yacht charter.
You make the memories. We make the arrangements.