Best Restaurants and Food in Greece
Are you looking for the best restaurants and food in Greece to enjoy on your Greek Islands yacht vacation? Look no further! This traveler's guide will take you through Greece's best food and restaurants.
From traditional Greek dishes to more modern gastronomic delights, we'll explore the best in Greek dining and authentic Greek food to ensure you have a delicious and memorable vacation.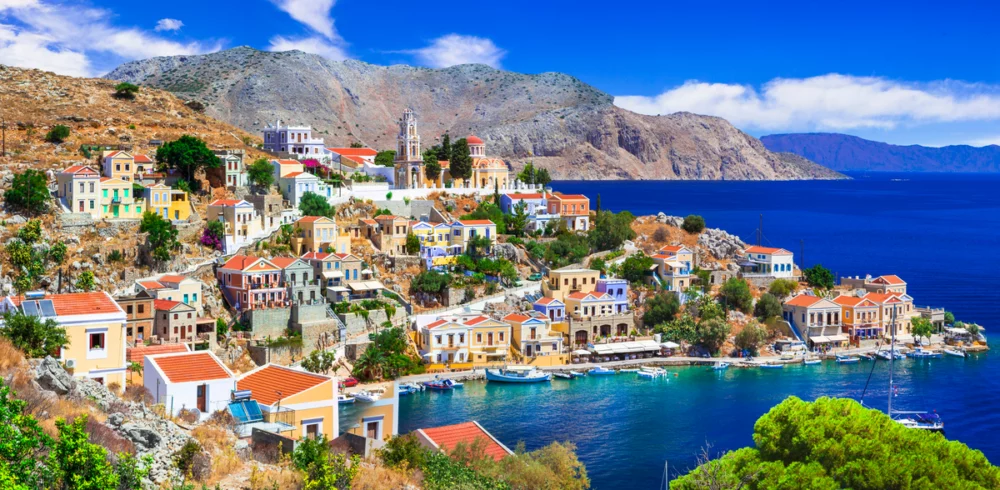 Popular Greek Dishes to Try on a Greece Charter Yacht
One of the best ways to experience the culinary delights of Greece is to charter a yacht for your vacation. From traditional seafood dishes like a grilled octopus to classic Greek salads, tzatziki sauce, and roasted lamb, you can try various delicious dishes during your stay. What food is Greece famous for?
Here are some of the most notable and delicious dishes to try when exploring the best places to eat in Greece on vacation.
Grilled Octopus: A classic dish in Greece, this fresh seafood delight is served with olive oil, garlic, and oregano. The octopus is usually grilled to perfection, giving it a smoky flavor.
Greek Salad: This hearty salad is a favorite of many travelers. It typically consists of tomatoes, cucumbers, onions, feta cheese, olives, and herbs like oregano and thyme, all topped with olive oil.
Roasted Lamb: This is one of the most popular dishes in Greek cuisine. It's usually cooked with potatoes and oregano and served with pita bread or tzatziki sauce.
Moussaka: A traditional eggplant-based dish topped with béchamel sauce and cheese. It's often served as an appetizer or side dish but can also be enjoyed as a main course.
Souvlaki: A popular fast-food dish in Greece, souvlaki is made with grilled pieces of pork or chicken and served with various accompaniments like tomatoes, onions, tzatziki sauce, and pita bread.
Pastitsio: A rich and tasty pasta and minced meat casserole.
Saganaki: Popular dish prepared in a traditional pan of the same name, saganaki are made with feta cheese, shrimp, or mussels.
Spetsofai: Rustic dish of Greek sausage, multi-colored peppers, and tomato sauce.
These are just some famous Greek dishes you can enjoy when you charter a yacht for your next vacation in Greece.
Traditional Greek Food To Try
Greece is one of the most beloved holiday destinations in the world, and its traditional cuisine is a massive part of that appeal. Greek cuisine is diverse and rich in flavors, and it's no surprise that so many travelers come here to experience it for themselves. Notably, Greek food culture ranges from seafood dishes to street food and everything in between; there is something for everyone regarding the best places to eat in Greece on vacation.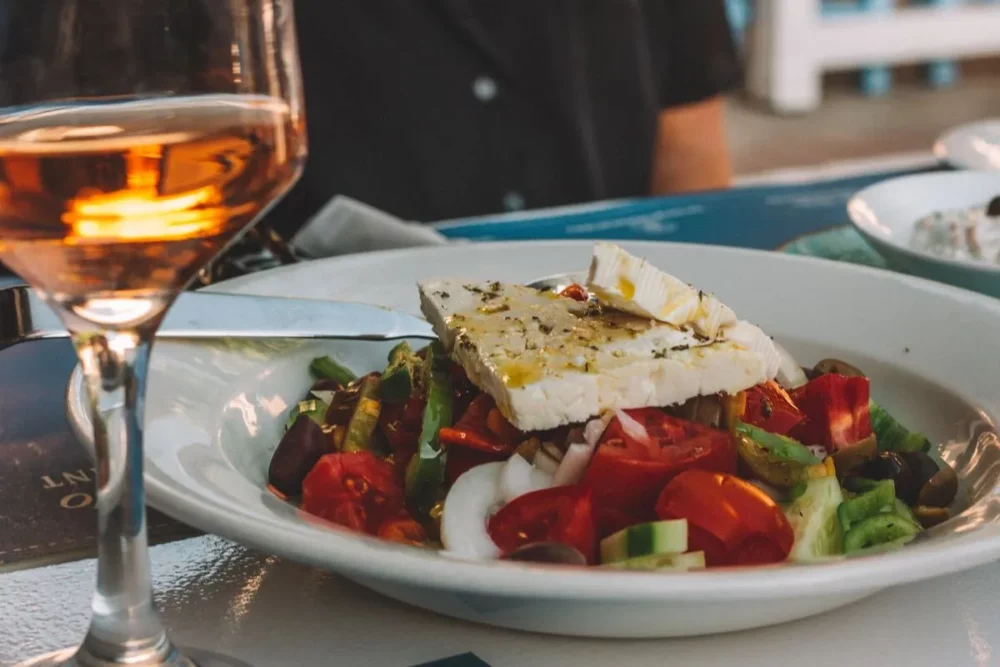 Discover Mediterranean Ingredients
The Mediterranean climate and its history strongly influence Greek cuisine. The Greeks have been eating local, seasonal ingredients for centuries, and this tradition has made their food exceptionally flavorful and healthy. Many dishes are plant-based, making Greece an excellent place for vegetarians to feel at home.
What are Greek foods, you are wondering? Greek Mediterranean food includes olives, feta cheese, tomatoes, potatoes, legumes, grains, greek meats, and herbs like oregano and thyme. Additionally, seafood is another significant component of Greek cuisine, as fish and other seafood are abundant in the country.
Enjoy Traditional Meze | Best Restaurants and Food in Greece
One of the best ways to experience traditional Greek cuisine is to dine at a meze restaurant. In Greek, these are called Mezedopoleio, Ouzeri, or Tsipouradiko. These eateries serve up small plates of various dishes so that guests can sample different flavors and ingredients.
Typical meze dishes include:
Taste Greek Street Food
Spanakopita – spinach pie
Tzatziki sauce – yogurt dip served with pita bread or vegetables
Dolmades – stuffed Greek grape leaves with rice and meat or vegetables
Keftedes – vegetable fritters made with eggplant, zucchini, or sometimes octopus
Htapodaki – boiled and marinated octopus, typically found on the islands
Kalamarakia – fried calamari
Stuffed peppers – green peppers stuffed with feta, rice, nuts, and currants
Bougiourdi – fried feta cheese
Melitzanosalata – eggplant dip, also known as Baba Ganoush in Lebanese
Greek Taramosalata – fish roe dip
Tirokafteri – spicy feta dip
Plevrótous mushrooms – hearty grilled mushrooms with rosemary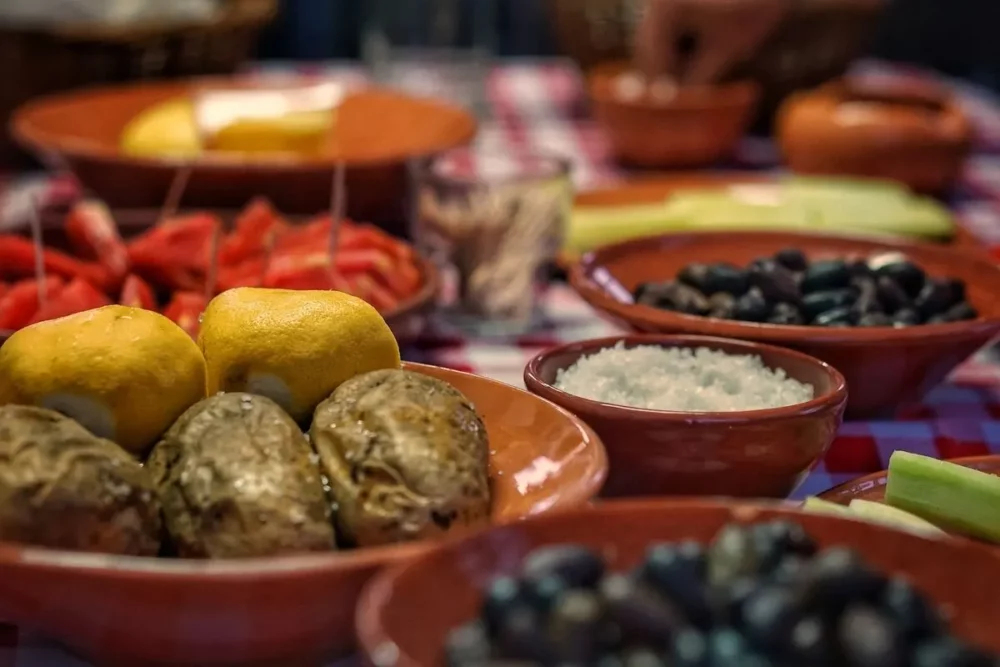 Street food is another excellent way to explore traditional Greek cuisine without spending too much money. Many delicious options are available, from grilled meat to gyros to loukoumades (deep-fried donut balls with honey syrup) and loukoumi (nougat candy)!
Best Restaurants in Greece
Greece has some of the best restaurants in the world, and it's no surprise that many are right on the beach or near the ocean. You'll visit various islands with distinct cuisines on a Greek yacht charter. You should also look at the best Athens restaurants to enjoy before or after your charter.
In addition, the King George Hotel and the Grande Bretagne Hotel restaurants offer views of the Acropolis.
While dining, don't forget to try some of the amazing and rare Greek wines. Like some wines from Italy, many native Greek grapes are hard to find outside of the tiny islands from where they grow. Whether you're looking for a romantic dinner with a view or want to grab a bite of delicious Greek food, here are some of the best restaurants in Greece for every type of traveler.
Best for Seafood Lovers:
If you love seafood, then you'll love the restaurants in Greece that specialize in this type of cuisine. Some of the best restaurants in Greece for seafood include Delfinia on Hydra Island, Miramare at Mykonos, and Milos Restaurant in Athens. These restaurants serve fresh seafood dishes with local ingredients like olive oil and herbs.
For a Romantic Dinner:
Greece is known for its stunning views, so why not combine dinner with an unforgettable view? Head to Skyros Island for dinner at Olympos, which sits atop a sea cliff. Or, if you're in Santorini, visit 1900, which is set inside a cave overlooking the caldera. Of course, nothing beats views of the beautiful Aegean Sea.
Great for Traditional Greek Food:
When visiting Greece, try traditional Greek dishes like moussaka (a casserole made with eggplant, potatoes, and ground beef) and souvlaki (skewered meats cooked over charcoal). These dishes can be found in family-run restaurants all over Greece. Still, some of the best Greek restaurants to sample traditional Greek fare are Mezedopoleio Agnanti and Gastone in Athens and Taverna Theodorou in Crete.
Top Yachts to Charter for the Best Restaurants and Food in Greece
From meze restaurants to fine dining restaurants and street food vendors, you'll have a fantastic time trying the delicious traditional Greek cuisine. We hope your appetite has peaked with our traveler's guide to Greece's best restaurants and food.
Please call us today at 1 (321) 777-1707 or describe Your Vacation Vision to help you plan your fully-crewed private luxury yachting vacation! Inquire as soon as possible about your custom, crewed yacht charter.
You make the memories. We make the arrangements.