One of the joys of sailing the Greek islands is eating at local restaurants and tavernas. You're in for a real treat, with plenty of fresh seafood and local seasonal fruit and vegetables. Here we take a gastronomic journey across the Aegean and Ionian seas on your Greek food yacht charter vacation.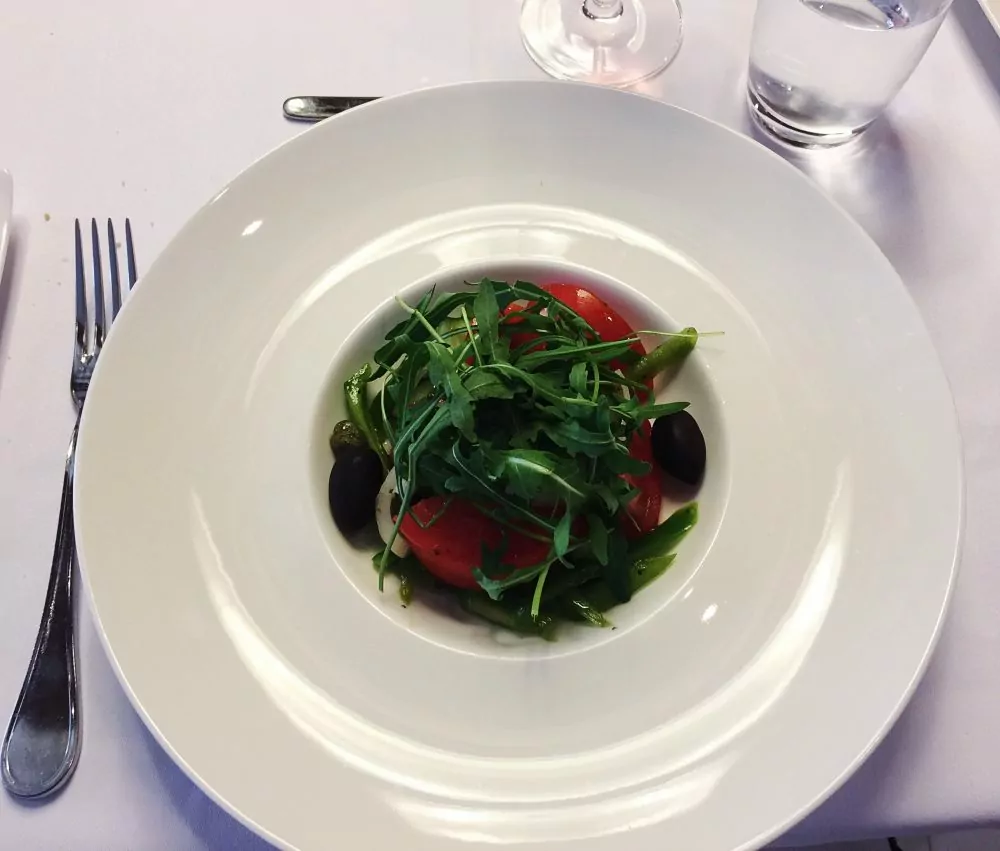 Classic Greek Food
Everyone has their favorite Greek dish. The classics include mousaka (eggplant layered with a tomato-based meat sauce, topped by béchamel) and taramasalata (fish roe dip). Then there's tzatziki (garlicky yogurt and cucumber dip), often served with souvlaki (grilled skewered meat) and pita bread. In addition, the renowned Greek salad (tomato, cucumber, onion, black olives, and feta cheese) is known as horiatiki in Greece.
Ubiquitous ingredients include olive oil, fresh herbs, and Mediterranean summer vegetables like tomato, eggplant, zucchini, and peppers. Likewise, you'll see plenty of pulses – beans, chickpeas, and lentils – so this is an ideal country for vegetarians. Then there's seafood, notably sea bass, swordfish, octopus, squid, shrimp, and delicious barbecued meats and casseroles.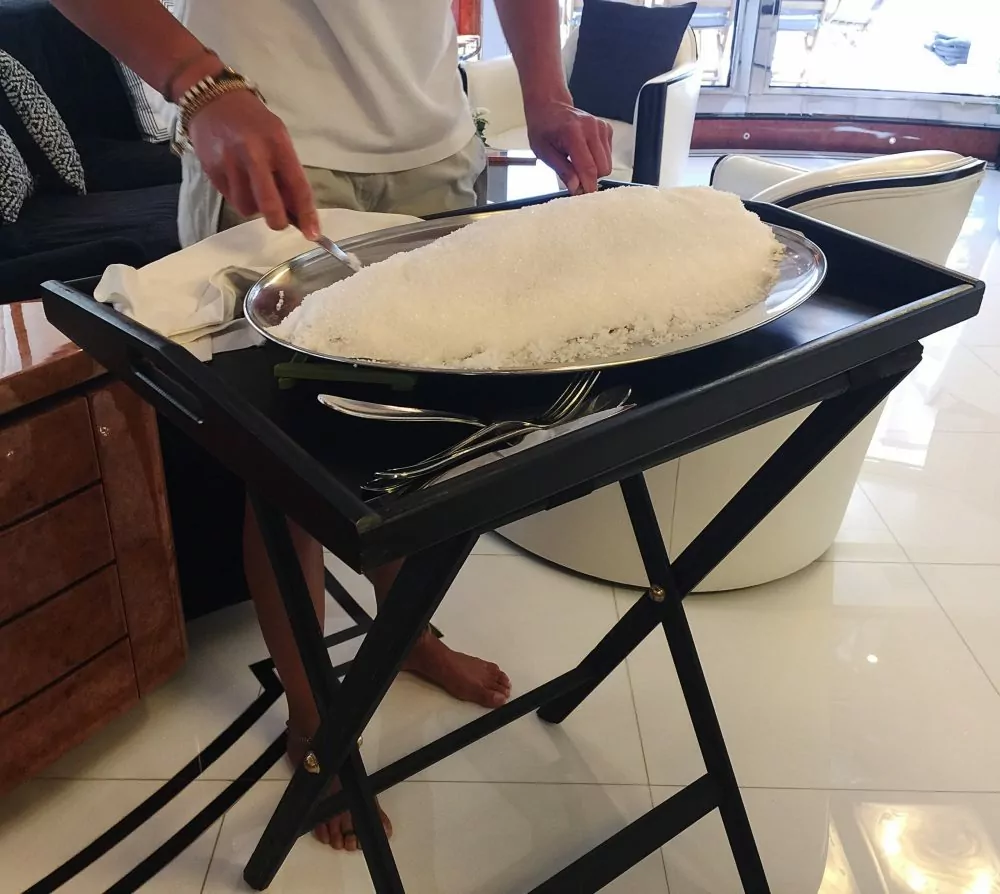 Popular desserts include sliced watermelon, creamy Greek yogurt with honey, and syrupy baklava. In fact, Greek food has many dishes that were brought here by the Ottomans, originating from Turkey. Moreover, as you sail from island to island on your yacht charter vacation, you'll also discover some unique local specialties.
Greek Food Yacht Charter | Cyclades Treats
If your yacht charter in Greece vacation takes you to Santorini, you've arrived at the Star of Contemporary Mediterranean cuisine. Up-market restaurants, such as 1800 in Oia and Selene in Fira, offer stunning views over the caldera here. But for more traditional Greek food, visit Metaxi Mas in Exo Gonia.
Here, they serve Santorini's old-fashioned favorites – fava (puree of split peas), tomato keftedes (tomato fritters), and baked white eggplant. Be sure to try Santorini's excellent white wines, too.
Lesser-known Sifnos was home to Nicholaos Tselementes, who wrote the first Greek recipe book in 1932. It's still regarded as a classic today. Sifnos is famed for hearty casseroles cooked in terracotta pots in wood ovens.
These include mastela (lamb or goat slow-cooked in wine) and revithada (chickpea soup). You'll find both at Okyalos in the hilltop capital of Apollonia. And at To Tsikali on Vathi beach, with tables on the sand, backed by tamarisk trees and an old church.
Greek Food Yacht Charter | Dodecanese Delights
On Rhodes, for romantic fine dining in medieval Rhodes Town, head for Alexis 4 Seasons. Try the sublime shrimp risotto with ouzo, fennel, and saffron – the saffron comes from Kozani in northern Greece. Or, for authentic Rhodian Greek food, drive inland to the rural village of Apollonia, to eat at the much-loved Paranga. Here they slow-cook goat with chickpeas and beans in handmade earthenware bowls in a wood-fired oven.
Greek Food Yacht Charter | Ionian Specialties
For altogether different Greek food, a yacht vacation on the Ionian will see you feasting on Venetian-inspired local cuisine. Historically, the Ionian islands were part of the Venetian Empire – Corfu was under Venice from 1386 to 1797.
Corfu's specialty is pastitsada – rooster slow-cooked with onion, garlic, tomato, red wine, vinegar, cinnamon, cloves, and bay leaf. It's served with pasta and can also be made with beef. Another Venetian dish is bourdeto – fish, casserole in tomato, garlic, and red pepper.
You can try both at the Venetian Well on a peaceful square in Corfu's old town. Or at Palia Peritha in the centuries-old village of Perithia, where the same family has served guests since 1863.
Please call us today at 1 (321) 777-1707 or describe Your Vacation Vision to help you plan your fully-crewed private luxury yachting vacation! Inquire as soon as possible about your custom, crewed yacht charter.
You make the memories. We make the arrangements.