Would you like to embark on a fun and exciting family adventure? Or maybe join a group of close friends for an exceptional experience? Consider a Luxury Yacht Charter in Greece! Discover the top Greece yacht charter activities that will make your vacation unforgettable.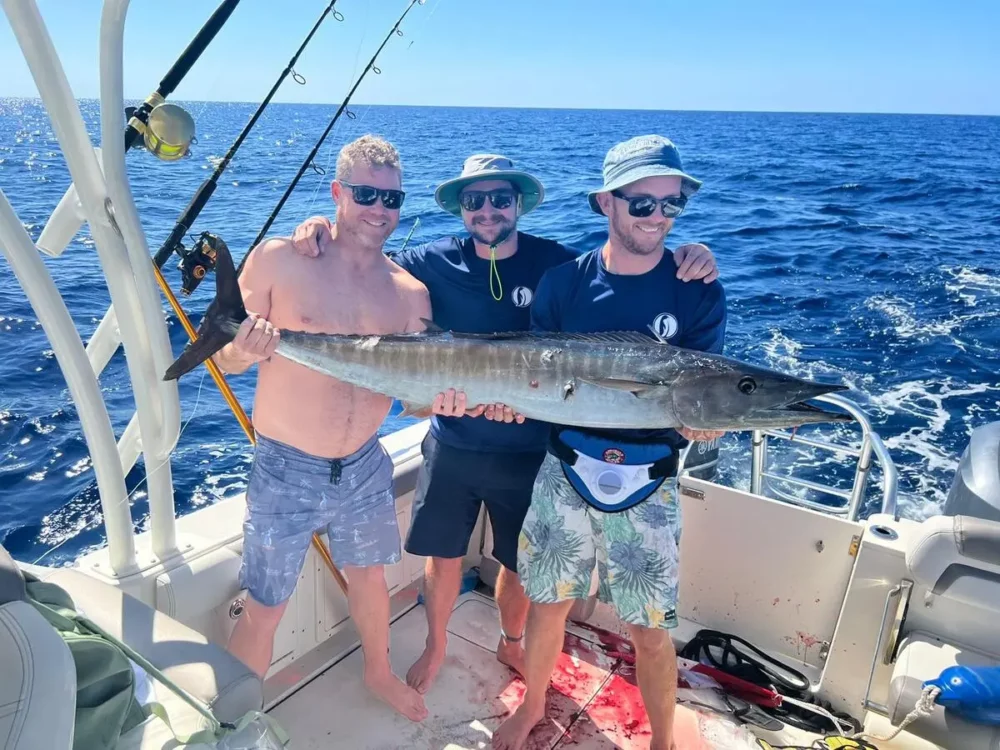 Top Activities for Your Greece Yacht Charter
There are countless activities you can do while on your Greece yacht charter. From relaxing
Fishing
Since Greece is surrounded by water, it's no surprise that a love of fishing is part of the country's culture. You will find hints of this love everywhere, from the fantastic seafood restaurants and tavernas to the fishing villages with local fishermen bringing in their nets daily. It's no surprise that fishing in Greece has become a top-rated fishing vacation destination!
Scuba Diving
Greece is a scuba diver's paradise, offering diving enthusiasts the time of their lives. Some of the country's best spots for scuba diving include the wreck of the "Santa Maria," a 111-foot steel passenger ship, which lies southeast of the island in Taxiarachis Bay.
Exploring Hidden Gems
All of the Greek Islands are special. However, a few stand out with their hidden bays, warm sandy beaches, and quaint villages: Alonissos, Amorgos, Ikaria, Ithaca, Kalymnos, and Paxi.
Experiencing Culinary Delights
You could quickly eat your way through the Greek islands! Every place you go, there's something new and tasty to try. While you're on your Luxury Yacht Charter, be sure to try local feta and goat cheeses. On Tinos, taste the local Assyrtika white wine or the dark red Maurotragano.
Delving into History
The Greek Islands are a paradise for history enthusiasts. It's no wonder exploring history is one of the top Greece yacht charter activities! A few places to whet your appetite for exploring include Naxos. Here, see the Temple of Apollo.
On Rhodes, you will find some of the best old landmarks, such as the Lindos Acropolis. On Delos, next to Mykonos, visit the Archaeological site of Delos, a UNESCO World Heritage Site.
Hiking
Exploring the islands on foot is a great way to experience their beauty up close. The islands offer many paths for hikers of every fitness level.
Shopping
Browse the small, locally owned shops in the Greek islands offering traditional products. Or, shop at larger designer boutiques in larger cities like Athens, Santorini, Rhodes, Corfu, and more. You will find something to take home as a memento of your yacht charter vacation.
Celebrating
Easter is a beautiful time to visit the Greek Islands and experience the warm and sunny springtime weather. It is also the most important holiday in Greece, filled with rich traditions, customs, and foods.
Rock Climbing
This intense sport may not be the first activity that comes to mind when considering your Greek yacht charter. However, it is a trendy sport. Kalymnos Island is said to be one of the world's best destinations for climbing, as it has vast rocky landscapes and excellent weather conditions throughout the year.
Sunning on a Beach
Choosing the best beach in the Greek Islands would be difficult since they are all wonderful. That being said, a few of the most popular include Navagio Beach (also known as Shipwreck Beach), Erisos Beach near Fiskardo, and Fteri Beach on Kefalonia. These beaches rate high with visitors because of their sandy shores, uninterrupted scenery, and calm waters.
The Greek Islands
Greece's islands offer many historical attractions, beautiful beaches, and sensational scenery. After a long day of fishing, use the yacht's amenities, and enjoy swimming, snorkeling, jet skiing, and other watersports.
When not on the water, why not take advantage of the unspoiled beaches or explore the ruins of ancient civilizations, such as the Acropolis in Athens?
Moreover, you can visit quaint villages, ancient monuments, and traditional markets to buy authentic, locally crafted souvenirs. The Greek islands are full of culture, history, and beauty. The Greek Islands are grouped into:
The Cyclades | Top Greek Yacht Charter Activities
The Cyclades Islands in English means: "circular islands," forming a circle around the sacred island of Delos. According to Greek mythology, Poseidon (God of the Sea) was furious at the Cyclades' nymphs and turned them into islands. Catamaran ELLY is a great choice for chartering in the Cyclades.
Amorgos. This quiet island is very famous due to the movie The Big Blue.
Delos. Considered the birthplace of Apollo.
Folegandros. One of the most picturesque islands of the Cyclades island chain.
Ios. Known for its party atmosphere.
Kea. Kea is a fantastic island for water sports of all kinds.
Kythnos. Features beautiful landscapes, sandy beaches, and traditional villages.
Little Cyclades. Small, secluded, and peaceful islands.
Milos. Milos is rich in history and volcanic beauty.
Mykonos. Mykonos is another island known for its great nightlife.
Naxos. Visit Naxos for its delicious, locally grown foods.
Paros. On Paros, enjoy hidden coves, beaches, and calm swimming areas.
Santorini. Santorini is best known for its caldera views, classic Cycladic architecture, and romantic sunsets.
Serifos. Serifos remains virtually unchanged and is one of the hidden gems of the Cyclades.
Sifnos. Sifnos is known for its colorful pottery and mountainous terrain.
Sikinos. Sikinos is a peaceful island known for its delicious locally-made cheeses and wines.
Syros. An authentic, calm island.
Tinos. Tinos is famous for the Church of Panagia Evangelistria, its 80 or so windmills, villages, and its Venetian fortifications.
The Sporades
The Sporades, situated along Greece's central mainland and Evia, have kept the original island habitat and tradition, which has remained the same over the centuries.
Alonissos. This small island is known for its natural beauty.
Skiathos. On Skiathos, enjoy the warmth of its friendly and welcoming people.
Skopelos. Called the green and blue island for its natural beauty, with pine forests, pebble beaches, and turquoise water.
Skyros. Famous for its local lobster. Try one grilled over an open fire.
The Ionians
The Ionians are a top-rated yacht charter destination in Greece. You can begin your trip starting and ending within the islands or by embarking from Athens and ending at one of the islands. In addition, you can also sail from The Ionians to Athens. During July and August, many crewed catamarans are based in the Ionians.
Kerkyra (also known as Corfu)
Paxi (Paxos, Paxoi)
Lefkada (Lefkas)
Ithaki (Ithaca)
Kefalonia (Cephalonia or Kefallinia)
Zakynthos (Zante)
The southernmost island, Kythira (Cythera), is not part of the Ionian Region but does belong to the Ionian Island.
The smaller islands are Antipaxi, Erikousa, Mathraki, Othoni, Meganisi, and the deserted island of Strofades.
The Dodecanese
The Dodecanese Islands are a stunning archipelago in the southeastern Aegean Sea. Dodecanese Islands yacht charters are a fantastic way to see a lesser-known side of Greece. Rhodes has been the area's dominant island since antiquity. Of the others, Kos and Patmos are historically the more important; the remaining twelve are
Agathonisi. Known as the "island of kindness."
Astypalaia. "The Butterfly of the Aegean"
Chalki. A relaxed, friendly island.
Kalymnos. Known for sponge harvesting and rock climbing.
Karpathos. Second largest of the Dodecanese islands.
Kasos. The southernmost island in the Aegean Sea.
Leipsoi. In Greek mythology, the island where Odysseus was shipwrecked and held by Nymph Calypso.
Leros. A mountainous island with a rugged coastline.
Nisyros. An off the beaten track destination with natural and cultural sights to explore.
Symi. Laid-back island with stunning views, a tranquil port, and beautiful seaside hikes.
Tilos. Home to rugged mountains, green hills, and picturesque beaches.
Kastellorizo. Stunning island home to the Blue Cave.
Other islands in the chain include Alimia, Arkoi, Chalki, Farmakonisi, Gyali, Kinaros, Levitha, Marathos, Nimos, Pserimos, Saria, Strongyli, Syrna, and Telendos.
The Saronic Islands | Top Greek Charter Yacht Activities
The Saronic Islands are some of the closest Greek islands to Athens. Your charter will take you to the mainland and the islands of Aegina, Agistri, Poros, Hydra, Salamina, and Spetses. Since each island has a unique character, you'll want to experience as much as time allows. You will find plenty to see and do, from the elegance of Aegina to carless Hydra.
Aegina. Famous for minting the earliest coins in Greece.
Agistri. This tiny island is excellent for camping.
Hydra. Hydra is a historic haven for artists and bohemians.
Poros. A lush, low-key island with sandy beaches, pine forests, and a charming harbor town.
Salamina. The island is best known for the Battle of Salamina (480 BC), a turning point in the Persian Wars.
Spetses. Spetses has smart cafes, art stores, and stylish boutiques.
The Yacht | Your Home Away From Home
A luxury yacht can take your experience to a new level when planning a vacation. Luxury yacht charters can make your adventure even more memorable. Here are just a few reasons why a yacht charter is a great holiday:
Yachts have large, luxurious staterooms with comfortable beds and ensuite facilities. Some have full-size bathtubs, walk-in closets, and office space.
Hand-crafted cocktails as you watch the sunset. Sure, you could have the usual glass of wine or beer, but why not try something new? How about a French Martini made with raspberry liqueur, vodka, and pineapple juice? Your crew is highly skilled and can create something special just for you.
Gourmet meals. Each meal is an absolute delight when prepared by your private chef. You will feel as if you are dining in your very own 5-star restaurant! Many returning yacht charter guests rave about the sumptuous fare they receive and the attention paid to the dining experience, such as tablescaping and presentation.
Spacious sundeck for sunbathing. Yachts usually have more than one area for sunbathing, including convenient beach clubs where you can quickly and easily enter and exit the sea.
Air-conditioned interiors. After a day in the sun, relax in the superb comfort of your yacht's salon.
Gyms and gym equipment. Work out with all the latest equipment or practice your yoga flow.
Watertoys such as jet skis, paddleboards, kayaks, wakeboards, water skis, eFoils, and more
Yachts for Adventures in Greece | Top Greek
There are many options for your Greece yacht charter. Choose from motor yachts, power and sailing catamarans, and motor sailers.
These are a few motor yacht options:
M/Y GLAROS
GLAROS is a 132-foot motor yacht that sleeps up to 12 guests in 2 King(s), 2 Queen(s), 2 Twin(s), and 2 Pullman. The Captain is an avid fisherman and will love showing you all of his favorite spots.
M/Y PAREAKKI
PAREAKKI is a 97-foot motor yacht that sleeps up to 10 Guests in 1 King(s), 2 Queen(s), 2 Twin(s), and 2 Pullman.
M/Y MILOS AT SEA
MILOS AT SEA is a 115-foot Codecasa motor yacht accommodating up to 10 guests in 4 cabins. The cabin configuration is two doubles, two twins with two Pullman. All have en-suite facilities.
P/C ALTEYA
ALTEYA, A 70-foot Sunreef power catamaran, is incredibly comfortable and offers tons of space for socializing and relaxing. Sleeps 8 guests in 4 cabins.
Start Planning Today and Enjoy Top Greece Yacht Charter Activities.
Luxury yacht charters in the Greek Islands offer many experiences not found on land and are a fantastic way to explore this beautiful part of the world leisurely. Whether you go sailing, take a shore excursion, try watersports, visit nearby islands, enjoy fine dining, or all of the above, a yacht charter can be a once-in-a-lifetime trip you won't soon forget.
Book your yacht soon. The sooner you start the planning process, the more extensive the selection of yachts you can choose from. You'll also have more time to think about everything you want to see and do and create a fantastic itinerary with activities that everyone will love.
Please call us today at 1 (321) 777-1707 or describe Your Vacation Vision to help you plan your fully-crewed private luxury yachting vacation! Inquire as soon as possible about your custom, crewed yacht charter.
You make the memories. We make the arrangements.