Based in Athens, Greek Power Catamaran ELLY is available for charter starting in July 2023! The 67′ Fountaine Pajot is a brand-new yacht. She features a foredeck jacuzzi, spacious cabins, and modern styling to suit nearly every group's taste.
Key Features
ELLY can accommodate up to 8 guests in one master cabin and 3 queen-bed cabins
Large and wide cockpit, extensive flybridge, and forward deck
ELLY boasts a jacuzzi on the foredeck, in addition to a great sundeck
Easy access to the water from her hydraulic swimming platform.
An extensive range of water toys for your enjoyment
Charter Rates for 2023
High Season: 47,000 Euros per week (July and August)
Mid Season: 43,000 Euros per week (June and September)
Low Season: 34,000 Euros per week (rest months)
All rates are plus all expenses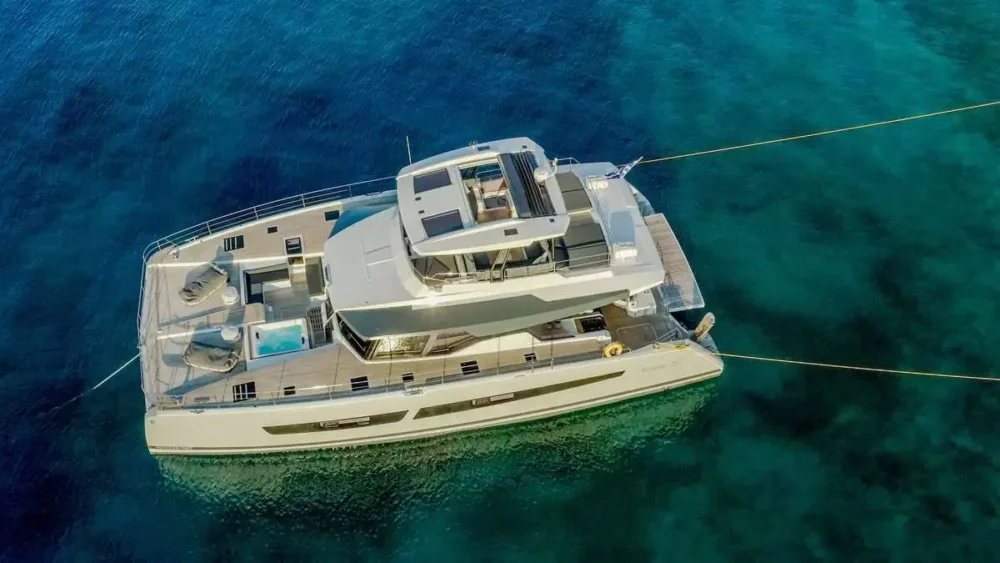 Exciting Water Toys on Greek Power Catamaran ELLY
Highfield tender 4,20 SPORT with 60 Hp
2 X Seabob
2 X SUP
2 X KAYAK
1 X Water carpet
1 X 3 person towable couch
1 adult wakeboard
1 children's wakeboard
Adult and child waterskis
Snorkeling gear
Fishing gear
Crew Aboard Greek Power Catamaran ELLY
Captain George
George has an impressive sailing career of over 100,000 nautical miles. He also has 30 years of experience in the yacht charter industry in Greece.
Starting in 1995, he has worked with many high-performance boats. His interest in sailing began at age 6 in his hometown, which surrounded the sea. In 1988, he completed postgraduate studies in mechanical engineering and served his country in the Navy.
Afterward, he was a sailing and diesel engine instructor at various nautical clubs. In 2010, he and his older brother started their Offshore Sailing Training Center called Himera after their boat in Volos. Recently, he has been captaining crewed charters. George is a proud father of 4 young boys and speaks Greek and English.
Chef Dimitris Dimitsas
With 22 years of professional culinary expertise, Dimitris graduated from the Thames Valley University of London in 2001. He earned a BSc in International Culinary Arts, a Food Hygiene certificate, and a State Diploma in Hotel, Catering and institutional Operations.
He has worked in many renowned restaurants, such as the London 4 Seasons Hotel and the UK Australian Embassy. In 2016, he sought a new challenge and embraced the yacht charter industry.
Apart from cooking, Dimitris loves diving and sailing with his children. He can accommodate meals to his client's demands. Chef Dimitris has a knack for transforming mundane recipes into tasty dishes by applying his ingenuity and fresh ingredients. He is proficient in the Greek, English, and Italian languages.
Where Can You Charter Greek Yacht ELLY?
An Athens yacht charter in the Cyclades Islands is the perfect way to explore the history of Greece. The Cyclades are a group of islands that comprise a large part of the Aegean Sea. They have been a popular destination for centuries.
Each island offers something unique and special, from Delos's ancient ruins to Santorini's stunning architecture. With a yacht charter from Athens, you can experience it all in a truly unforgettable way. View our sample Greece itineraries for more about everywhere you can charter throughout Greece.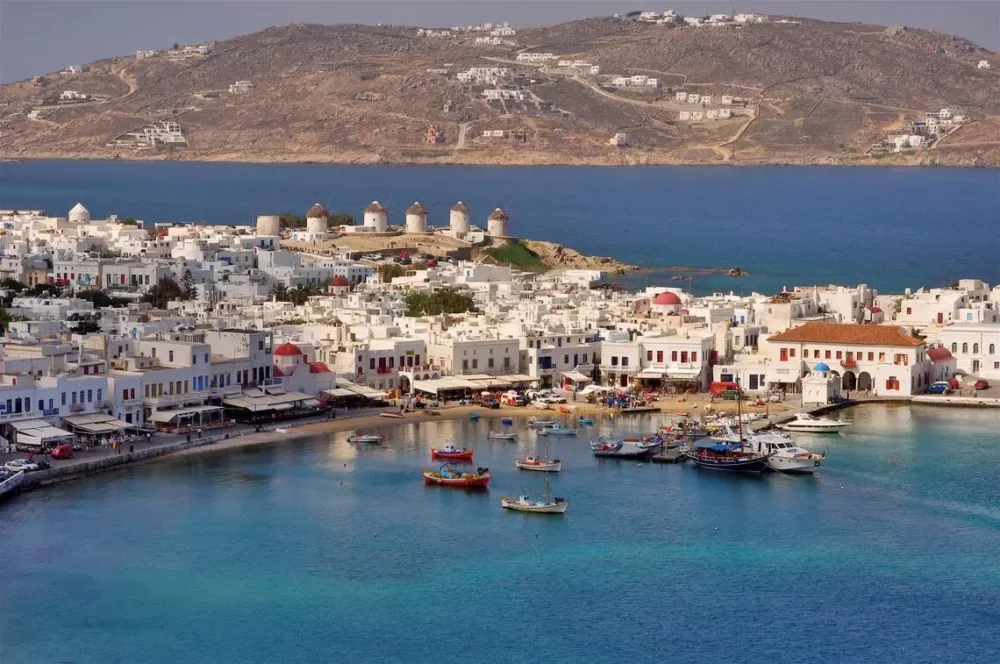 Athens to Athens Sample Itinerary Stops
The adventure begins as you board your luxury yacht in the bustling city of Athens. As you embark on your journey through the Cyclades Islands, you can feel the excitement building. The Greek islands are a mecca for sailors, offering some of the best sailing waters in the world.
Athens
As you depart from Athens, the vast blue expanse of the Aegean Sea stretches out before you.
You will feel like you have entered another world. Cruise past picturesque beaches, coves, and bays dotted with quaint fishing villages. The views of the white-washed buildings and blue-domed churches will take your breath away.
Kea
Known for its rich history and breathtaking landscapes, Kea is a must-visit destination in the Cyclades.
You will arrive at the port of Korissia, greeted by friendly locals. Explore the island's main town, Loulis, which sits high on a hill overlooking the sea. The town's narrow streets and charming houses made for a lovely afternoon stroll.
Also, take advantage of the opportunity to explore the ancient ruins of the Karthea Temple. This well-preserved temple complex dates back to the 6th century BC. It features several impressive structures, including a Doric temple and a theater.
Kythnos | Greek Power Catamaran ELLY
Kythnos is a small island located between Kea and Serifos. Kythnos is famous for its therapeutic hot springs, beautiful beaches, and picturesque villages.
Anchor in the protected bay of Merihas. Then, spend the afternoon swimming and soaking up the sun on the golden sand beach.
As the sun sets, head to the nearby village of Dryopida. This traditional Cycladic village has whitewashed houses, narrow streets, and stunning sea views.
You can explore Santorini on Greek Power Catamaran ELLY
Known for its stunning sunsets, iconic white buildings with blue domes, and dramatic caldera views, Santorini is truly a one-of-a-kind destination.
Anchor in the sheltered bay of Ammoudi, a small fishing village at the base of the Caldera cliffs. We spent the afternoon exploring the village and sampling local seafood dishes at one waterfront tavern.
Next, you can hike up to Oia, the charming village perched on the cliffs overlooking the caldera. The views are awe-inspiring. Take in the scenery, visit art galleries, and enjoy a refreshing drink at a local café.
Sifnos
Sifnos has beautiful beaches, charming villages, and ancient sites. As you approach, you'll see the imposing Kastro, a fortress that dates back to the 13th century.
Dock in the harbor of Kamares, a popular spot for tourists and locals. Explore the village and grab a bite to eat at a seaside tavern. Then, head towards the heart of Sifnos: the town of Apollonia.
Milos
Milos has volcanic landscapes, crystal-clear waters, and stunning beaches.
Navigate toward Kleftiko, one of the most famous landmarks on the island. This stunning natural archway, surrounded by crystal-clear waters, was once a hiding spot for pirates.
After enjoying swimming and exploring the area, head towards the port of Adamas. This picturesque village has colorful houses, traditional tavernas, and stunning sunset views.
Charter Greek Power Catamaran ELLY
As you can see, vacation dreams can come true aboard ELLY in Greece's Cyclades Islands. Contact us for help planning your next Mediterranean getaway.
Please call us today at 1 (321) 777-1707 or describe Your Vacation Vision to help you plan your fully-crewed private luxury yachting vacation! Inquire as soon as possible about your custom, crewed yacht charter.
You make the memories. We make the arrangements.