Scenic Wonders | Ionian Islands Charter Itineraries
This group consists of seven principal islands on the Ionian Sea, west of mainland Greece—Corfu, Paxos, Lefkada, Ithaki, Kefalonia, Zakynthos, and remote Kythira. The winds are gentler here, making it ideal for families and those with less experience. Indeed, Ionian Islands charter itineraries make for leisurely vacations.
If you watched the British comedy drama "The Durrells in Corfu," you'd recognize the lush green landscapes of the Ionian islands. The islands were part of the Venetian Empire for almost 400 years. Hence, the Italianate architecture, cuisine, and local dialect were briefly British (1809-1864), which explains why the locals played cricket on Corfu.
Ionian Islands Charter Itineraries | Corfu
The northernmost island of Corfu is famed for its UNESCO-listed old town. Here, you'll find two imposing Venetian fortresses and a lush interior adorned with silvery green olive groves.
Exploring Corfu's interior, you'll also find charming villages, traditional tavernas, and vineyards that produce excellent local wines. Moreover, the island's landscape is a tapestry of rolling hills, hidden valleys, and scenic vistas, calling you to explore its natural beauty.
Sailing South to Paxos | Ionian Islands Charter Itineraries
Sail south from Corfu, and you'll arrive in Paxos. Because of its relaxed atmosphere, Paxos has become a highly popular yachting destination. While exploring its turquoise bays, you'll see the west coast studded with amazing Blue Caves, and the tiny gem of an island called Anti-Paxos.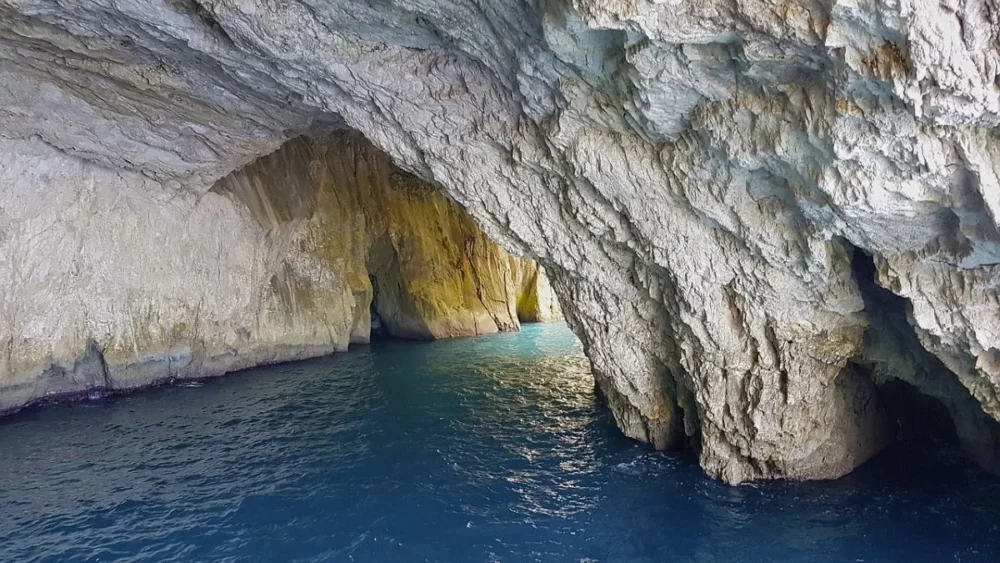 Discovering Anti-Paxos: A Hidden Jewel
Anti-Paxos also awaits your exploration in your Ionian islands charter itineraries. With its pristine beaches, vineyards, and rugged terrain, Anti-Paxos offers a delightful contrast to its larger neighbor. The island is also famous for its excellent wine. A visit to one of its vineyards is a must for wine lovers.
Adventures in Lefkada
Lefkada is particularly a paradise for water sports enthusiasts. The town also boasts an excellent marina where other charter yachts often moor. You'll discover glorious beaches such as Porto Katsiki along the exposed west coast.
Windsurfing Paradise: Vasiliki
On the other hand, if you have a passion for windsurfing, Lefkada's Vasiliki serves as your playground in your Ionian islands charter itineraries. This charming coastal village, nestled on the island's southern side, has steady and strong afternoon winds that create ideal conditions for windsurfing. The cool breeze and the sheltered bay particularly make Vasiliki one of the top windsurfing havens in Greece and the rest of the Mediterranean region.
Exploring Ithaki
Ithaki remains one of Greece's best-kept secrets. Time seems to slow down here, allowing visitors to savor every moment of their stay. Moreover, the island's unspoiled charm is immediately apparent as you approach its shores. In your Ionian islands charter itineraries, you'll find that Ithaki's landscapes have rugged cliffs, lush hillsides, as well as hidden coves.
Kefalonia's International Fame
Kefalonia gained international recognition as the setting for "Captain Corelli's Mandolin" (2001), featuring Penelope Cruz and Nicolas Cage. Consequently, yachters often make their way to the picturesque Fiskardo, a village framed by pastel-colored houses along a stunning deep bay.
Discovering Zakynthos (Zante)
Nearby, Zakynthos, also known as Zante, beckons with its iconic Shipwreck Beach, accessible only by sea. Don't miss the Zakynthos Marine Park, a particularly vital nesting ground for protected loggerhead sea turtles, in your Ionian islands charter itineraries.
Ionian Islands Charter Itineraries Highlights
Places to see
Palaiokastritsa Bay and its 13th-century monastery on Corfu
Porto Katsiki beach on Lefkada
Melissani Cave and Drogarati Cave on Kefalonia
Shipwreck beach on Zakynthos.
Things to do
Exploring fortresses and monasteries
Scuba diving
Sea kayaking
Windsurfing
Kite surfing
Cycling
Hiking
Caving
Wine tasting (notably Kefalonia's white Robola)
Olive oil tasting (especially on Corfu).
Please call us today at 1 (321) 777-1707 or describe Your Vacation Vision to help you plan your fully-crewed private luxury yachting vacation! Inquire as soon as possible about your custom, crewed yacht charter.
You make the memories. We make the arrangements.