Nautical Getaway Experience | MARIU Ionian Charter Itinerary
This sample M/Y MARIU Ionian Charter Itinerary from Athens to Athens gives you an idea of places to see and things to do on your yacht charter. Visit private islands, swim in turquoise waters, and explore quaint villages.
Day 1 | Athens to Galaxidi
Athens to the Corinth Canal | 33 nm, 2 hours 20 min
Corinth Canal to Galaxidi (overnight) | 38 nm, 2 hours 30 min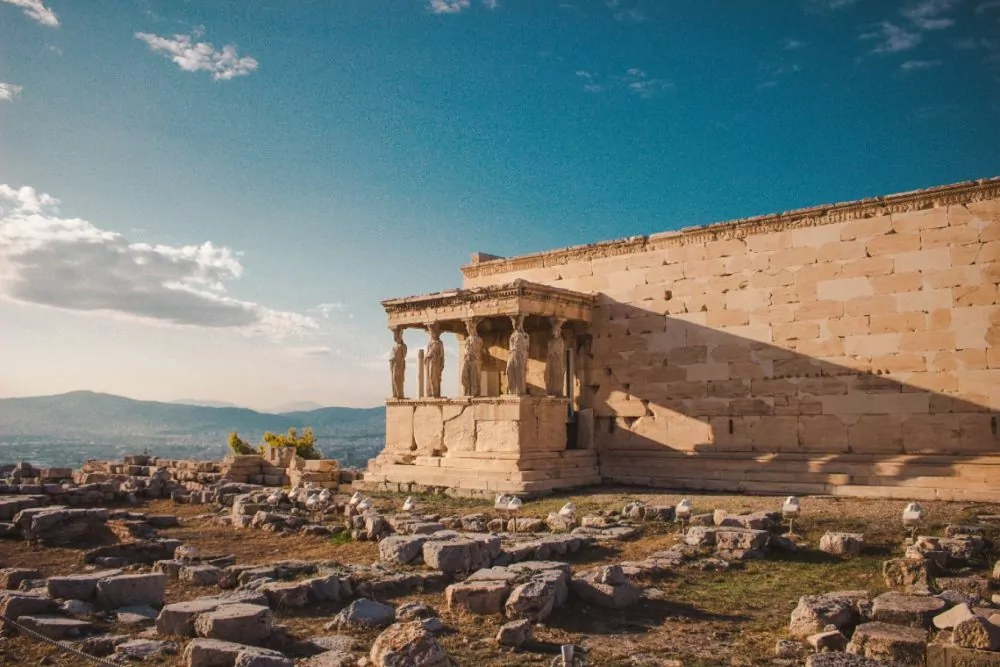 The heart of Athens beats in Syntagma Square, where the Parliament and most of the Ministries are. Be sure to check out Plaka, the oldest neighborhood in Athens and a great place for an early evening stroll. There are shops galore, and it's also where some of Athens' most talented artists and craftspeople have their workshops.
Meet your Captain and crew at the marina. Then, board your yacht and set sail.
Corinth Canal Transit | Mariu Ionian Charter Itinerary
The Corinth Canal, an engineering marvel of Greece, connects the northwest Gulf of Corinth with the southeastern Saronic Gulf, also known as the Gulf of Aegina. This canal has greatly impacted how ships travel in the area.
Before its construction, ships sailing between the Aegean and Adriatic seas were compelled to navigate around the Peloponnese Peninsula to the west coast of Greece. This detour extended their voyages by approximately 185 nautical miles.
Day 2 | Galaxidi to Zakynthos
Galaxidi to Zakynthos, Port (overnight) | 84 nm, 6 hours 15 min
Zakynthos, Port – Zakynthos, Navagio | 21 nm, 1 hour 30 min
Galaxidi is the prettiest of the resorts on the north coast of the Gulf of Corinth, on the Greek mainland. Narrow cobblestone streets and two small harbors grace the town. It makes a pleasant base for exploring the Ionian islands. The smaller harbor, Hirolaka, is residential and has a park with a splendid view of Itea and Delphi.
Zakynthos' highlight is the stunning white sands of Shipwreck Cove (also known as Navagio Beach). Its nearby towering cliffs and intensely blue waters have made it one of the most photographed beaches in the world. You will also want to visit the protected area of Laganas Bay. This is one of the world's important endangered loggerhead sea turtle breeding sites.
Day 3 | Zakynthos to Assos Bay on Mariu Ionian Charter itinerary
Zakynthos, Navagio to Kefalonia, Assos Bay (overnight) | 42 nm, 3 hours
This picturesque village is just north of the stunning Myrtos beach. The peninsula, covered in verdant trees, pines, and cypresses, is surrounded by the crystal-clear waters of the Ionian Sea.
Day 4 | Assos Bay to Paxoi, Gaios Port
Assos Bay to Antipaxoi, Voutoumi Beach | 50 nm, 3 hours 35 min
Antipaxoi, Voutoumi Beach to Paxoi, Gaios Port (overnight) | 4nm, 20 min
Paxos is one of a group of small islands set in the Ionian Sea. Moreover, Paxos can only be reached by boat, protecting it from the strain of modern tourism.
The capital of Paxos is the picturesque village of Gaios. You will find the pace unhurried and very relaxed, with friendly Greek warmth at its best. You may want to visit the Folklore Museum of Paxos.
Day 5 | Paxoi, Gaios Port to Meganisi, Vathi
Paxoi, Gaios Port to Lefkas, Eggremnoi or Porto Katsiki Beach | 40 nm, 3 hours
Lefkas, Eggremnoi or Porto Katsiki Beach to Meganisi, Vathi (overnight) | 18 nm, 1 hour 20 min
Large, green, and mountainous, with numerous valleys overflowing with vineyards, olive trees, and waterfalls, Lefkada (also known as Lefkas) boasts breathtaking scenery. Vasiliki, on the southwest corner of Lefkada, offers numerous beaches and cliffs to explore.
Your Captain will moor the yacht in lively Nidri, where you will spend the night. This former fishing village is now a favorite stopover for luxury yachts. Nidri is also a good base for exploring the host of little islets nearby.
Day 6 | Meganisi, Vathy to Kastos
Meganisi, Vathy to Kastos (overnight) | 14 nm, 1 hour.
Kastos, a hidden gem among the Ionian Islands, has an air of tranquility and serenity that beckons travelers seeking a peaceful escape. This idyllic island boasts many secluded beaches, where pristine shores meet the gentle lapping of the Ionian Sea. What sets Kastos apart is its status as a well-kept secret, untouched by the trappings of major tourism. Here, the pace of life slows down, allowing visitors to unwind and reconnect with nature.
Day 7 | Kastos to Nafpaktos
Kastos to Nafpaktos (overnight) | 57 nm, 4 hours 10 min
Nafpaktos, situated on the Greek mainland, graces the shores of a picturesque circular-walled harbor. This lovely harbor lends an enchanting ambiance to the town. Nafpaktos offers many attractions, such as trendy cafes where you can enjoy local flavors and unwind amid a scenic setting.
For those seeking seaside relaxation, the inviting Pisani Beach awaits. This beach has clear waters for swimming and leisurely sunbathing. In addition, the town's historical heritage is preserved through the well-maintained Nafpaktos Fortress, a testament to its rich past. Encircled by terraced stone walls, this Venetian castle is a formidable reminder of the town's strategic significance throughout history.
Day 8 | Nafpaktos to Athens
Nafpaktos to Hireon Vouliagmeni Lake | 54 nm, 3 hours 50 min
Hireon Vouliagmeni Lake to Corinth Canal | 5 nm, 25 min
Corinth Canal to Athens, Flisvos Marina | 33 nm, 2 hours 20 min
Once you return to Athens, spend more time exploring this fascinating city.
The end of the M/Y MARIU Ionian Charter Itinerary until the next time.
Please call us today at 1 (321) 777-1707 or describe Your Vacation Vision to help you plan your fully-crewed private luxury yachting vacation! Inquire as soon as possible about your custom, crewed yacht charter.
You make the memories. We make the arrangements.