Relaxing Galaxidi to Corfu Charter Itinerary
Soal in the captivating beauty of the Ionian Islands as you embark on a memorable Galaxidi to Corfu charter itinerary. Nestled off the picturesque west coast of Greece, these islands are a realm unto themselves. Each has its unique customs and traditions. Yet, when combined, they seamlessly merge to create small slices of paradise right here on Earth.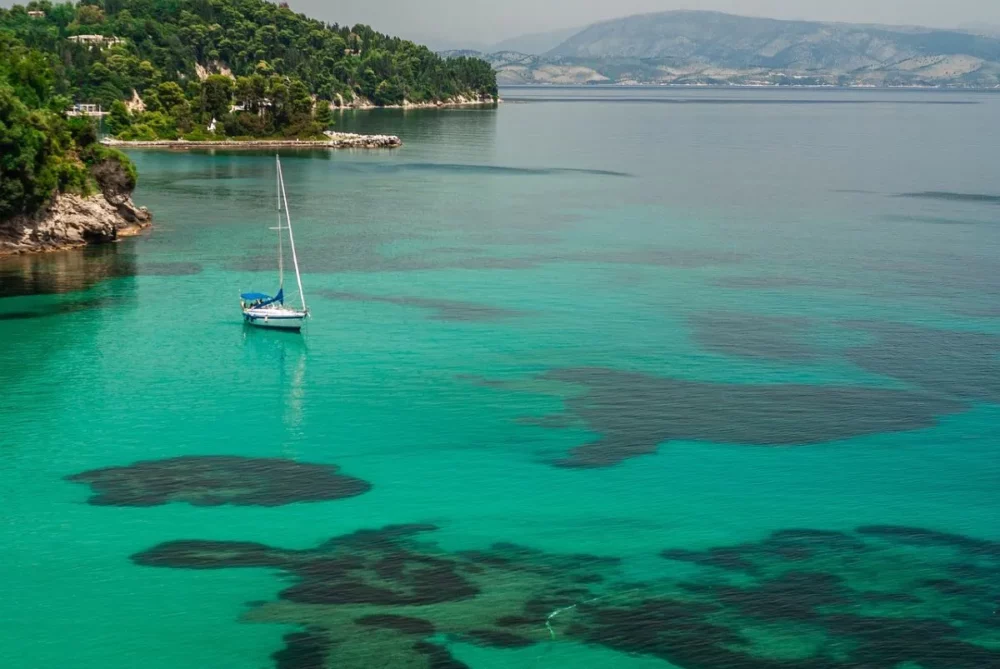 This Galaxidi to Corfu charter itinerary allows you to experience these captivating islands' beauty, history, and mythology.
8-Day Galaxidi to Corfu Charter Itinerary
Day 1 | Galaxidi
Begin this fantastic Galaxidi to Corfu charter itinerary in the most scenic and romantic destinations full of natural beauty. Meet your Captain and yacht at the marina and begin your week-long adventure. Galaxidi is in the Gulf of Corinth and has exquisite architecture, cobbled streets, and a lovely waterfront.
The Captain will have a short safety briefing. Then, set sail to Kefalonia.
Day 2 | Kefalonia
Kefalonia is the largest island in the Ionians. It is famous for its stunning beaches and picturesque seaside villages.
Five Things to Do on Kefalonia
Visit Myrtos Beach: Myrtos Beach is beautiful. It has crystal-clear turquoise waters and a dramatic backdrop of cliffs.
Explore Melissani Cave: Discover Melissani Cave, an underground lake surrounded by lush vegetation and stalactites.
Tour Assos Village: Assos is a charming, picturesque village known for its colorful houses and serene atmosphere.
Hike in Mount Aenos National Park: A hike in Mount Aenos National Park is a must for nature enthusiasts.
Visit Drogarati Cave: Explore Drogarati Cave, an impressive underground chamber with stalactites and stalagmites.
Day 3 | Zakynthos
Zakynthos also has the name "The Flower of the East" for its golden beaches, emerald waters, and rocky coasts. It is also home to the Caretta Caretta sea turtle and the monarch seal, both endangered species.
Today, take a few hours to enjoy your yacht's water toys.
Day 4 | Ithaki
On day four of your Galaxidi to Corfu charter itinerary, visit Ithaki, the mythical homeland of Odysseas. It is a laid-back island with beautiful villages, mountainous areas, and amazing lush greenery. Ithaca also offers a variety of remarkable beaches, secluded, peaceful coves, and alternative activities. Ithaki is the home island of Ulysses from Homer's Odyssey.
Day 5 | Meganisi
Meganisi is a picturesque island with amazingly clear waters, traditional architecture, magnificent sceneries, and small bays. Enjoy this charter itinerary's breathtaking view of the many islets scattered around Meganisi. Visit Agios Fanari Beach, with lovely clear water and a fun beach bar.
Day 6 | Parga
In Western Greece, Parga is located in a secluded bay of the Ionian Sea and is famous for its flawless beaches and beautiful waters. Colorful houses are constructed amphitheatrically along the slopes of a hill and surrounded by thick greenery, making Parga a scenic wonder.
Day 7 | Paxi
Located on the northern side of the Ionian Sea, Paxi, with its very cosmopolitan vibe, also offers traditional architecture and relaxing beach promenades. It's famous for its crystal turquoise waters, especially on the uninhabited islet of Antipaxi.
Three Things to Do on Paxi
Olive Oil Tasting: Paxi is renowned for its high-quality olive oil production. Visit local olive groves and family-run olive oil mills. Take part in olive oil tasting sessions, where you can sample a variety of flavors and then learn about the island's rich olive oil heritage.
Explore Gaios: Explore Gaios, the largest settlement on Paxi. Wander through its quaint streets adorned with traditional architecture, vibrant bougainvillea, and inviting cafes. Visit the Venetian fortress on the islet of Agios Nikolaos, connected to Gaios by a causeway.
Sunset at Tripitos Arch: Witness a breathtaking sunset at Tripitos Arch, a natural rock formation on the western coast of Paxi. The archway frames the view, so it's a perfect spot for capturing memorable photographs.
Day 8 | Corfu
Corfu has a rich multicultural heritage, historic monuments, stunning landscapes, and crystal clear seas. Corfu is one of the country's most beautiful and cosmopolitan islands. Most importantly, it is also a UNESCO world heritage site.
End of your Galaxidi to Corfu charter itinerary until next time.
Please call us today at 1 (321) 777-1707 or describe Your Vacation Vision to help you plan your fully-crewed private luxury yachting vacation! Inquire as soon as possible about your custom, crewed yacht charter.
You make the memories. We make the arrangements.