Corfu to Corfu Charter Itinerary, an Ionian Island Circuit
Sit back and unwind on this 7-Day Corfu to Corfu charter itinerary. Enjoy Greece and all it has to offer. Exploring the beautiful Ionian islands is something you will surely enjoy.
A Corfu yacht charter is the perfect way to see this amazing part of Greece peacefully and privately. In addition, a luxury private yacht ensures all your needs are taken care of, and the only thing left to do is relax.
Day 1 | Ipsos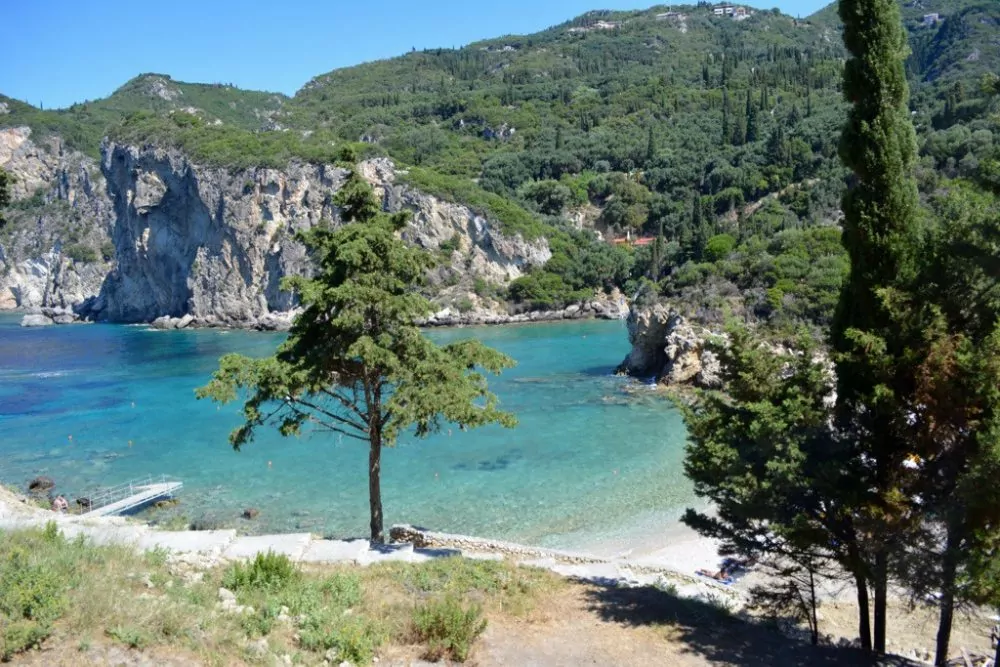 Join the yacht after 4 p.m. in Gouvia Marina on Corfu Island. After boarding, the yacht will head out of the marina and sail to Ipsos for your first evening.
Day 2 | Petriti
Enjoy a morning swim and breakfast, then it's time to set sail and head north to the pretty bay of Agni. Olives surround Agni, with pine and cypress trees scattered up the steep hills. After lunch, it's time to head south, anchoring under the stars in the sleepy hollow of Petriti. Petriti is an attractive shaded green place with a stream running down through reed beds to the sea.
Day 3 | Paxos
Morning swims or a quick waterski in the calm water, then sail around the bottom of Corfu to Mikronisi and its beautiful, long sandy beach. After lunch, sail across to Paxos and the town of Lakka. The water here is a patchwork quilt of blues and greens.
Day 4 | Anti-Paxos
In the morning calm, it's worth going around the island's west side, where there are several impressive sea caves. Then you'll continue south to Anti-Paxos. This is a beautiful island with sandy beaches and beautiful waters. Anchor for lunch and spend the afternoon enjoying this beautiful island.
Day 5 | Parga
It's time to leave the islands and head to the mainland and Two Rock Bay. Two Rock Bay is recognizable by the two above-water rocks in the approaches. After lunch, you'll head north to Parga, one of the most attractive places along this coast with its old castle and the village on a hillside.
Parga is a gem sparkling with natural beauty and historical treasures. The ancient Parga Castle dominates the landscape. It is perched on a hillside, offering panoramic views of the town and the Ionian Sea.
Wander through the charming village with terracotta-roofed houses and narrow streets. Explore the local shops, dine in quaint tavernas, and immerse yourself in the town's rich history and culture.
In addition to the castle, consider visiting the nearby Ali Pasha Castle, a historic fortress with tales of intrigue. Parga's coastline is dotted with inviting beaches and coves, ideal for relaxing swimming or watersports.
Day 6 | Sivota Mourtos – Corfu to Corfu Charter Itinerary
As you embark on day 6 of your Corfu to Corfu charter itinerary, have a leisurely breakfast onboard your yacht. With the morning sun casting a golden glow upon the shimmering waters, it's time to resume your northern journey.
Your midday destination is the enchanting Katsonisi Anchorage, a secluded haven known for its pristine beauty. Here, your Captain will anchor your yacht in the clear waters with a captivating blue emerald hue. This idyllic spot offers the perfect backdrop for a leisurely lunch and a swim.
Following your stop at Katsonisi, set sail for Sivota Mourtos, a charming coastal town on the Greek mainland. Nestled amid the lush greenery of the Epirus region, Sivota Mourtos is celebrated for its picturesque landscape and relaxed atmosphere. Spend a lazy afternoon exploring the town's quaint streets adorned with colorful flowers and traditional Greek architecture.
While in the vicinity, consider venturing to the nearby islands that dot the Ionian Sea. Each island possesses its unique charm, offering opportunities for beachcombing, snorkeling, or simply basking in the warm Mediterranean sun.
Day 7 | Corfu Town
Prepare for a rewarding day of sailing as you embark on a longer journey, charting a course that will ultimately lead you back to the captivating isle of Corfu and its charming capital, Corfu Town. While the sea voyage may be longer today, it promises a unique opportunity to savor the open waters and embrace the tranquility of the Ionian Sea.
As you approach Corfu Town, take in the scenic beauty of the coastline and anticipate a memorable evening on land. Here are some activities to consider for your final night ashore:
Explore Corfu Town
Upon anchoring near Corfu Town, venture ashore to explore this historic and culturally rich city. Stroll through the old town's narrow streets, a UNESCO World Heritage site, and marvel at the Venetian, French, and British influences evident in the architecture and landmarks.
Visit the iconic landmarks of Corfu Town, including the Old Fortress, New Fortress, and the Liston, a charming promenade lined with cafes. The Spianada, a vast square, is perfect for a leisurely walk and people-watching.
Visit the local shops and boutiques in Corfu Town, where you can find a variety of souvenirs, crafts, and artisanal products. Don't forget to sample some traditional Greek delicacies and perhaps purchase local goods to bring a taste of Corfu home.
Corfu Town boasts a diverse culinary scene, offering a wide range of dining options, from traditional Greek tavernas serving moussaka and fresh seafood to international cuisine. Savor a delicious meal at a local restaurant and toast to the conclusion of your unforgettable journey through the Ionian Islands.
Corfu Town comes alive at night with its vibrant nightlife. Enjoy live music, cocktails, and dancing at the numerous bars and clubs in the town. Share stories of your adventures with fellow travelers as you bid farewell to the enchanting Ionian archipelago.
Your last evening in Corfu Town provides an opportunity to reflect on the incredible experiences and memories created during your charter journey. Corfu Town promises a fitting finale to your Corfu to Corfu charter itinerary.
Day 8 | Depart for the Island of Corfu
On the final day of your Corfu to Corfu charter itinerary, rise at 10 a.m. for an early start. Enjoy the beautiful view and blue water on the short sail back to the dock in Gouvia Marina on the island of Corfu.
This is just an example of a wonderful Corfu to Corfu charter itinerary in the Greek islands. Depending on your preferences and the time of year, we will help to customize your itinerary to best suit your needs.
Please call us today at 1 (321) 777-1707 or describe Your Vacation Vision to help you plan your fully-crewed private luxury yachting vacation! Inquire as soon as possible about your custom, crewed yacht charter.
You make the memories. We make the arrangements.