Kalamata Charter Itinerary West Messinia
From the beautiful and historic port city of Kalamata, you can explore the western side of the Mani Peninsula in Greece. Just 2.5 hours from Athens, you'll find a wealth of natural beauty, ancient sites, and exciting activities on your Kalamata Charter Itinerary in West Messinia.
Explore West Messinia and the Mani Penninsula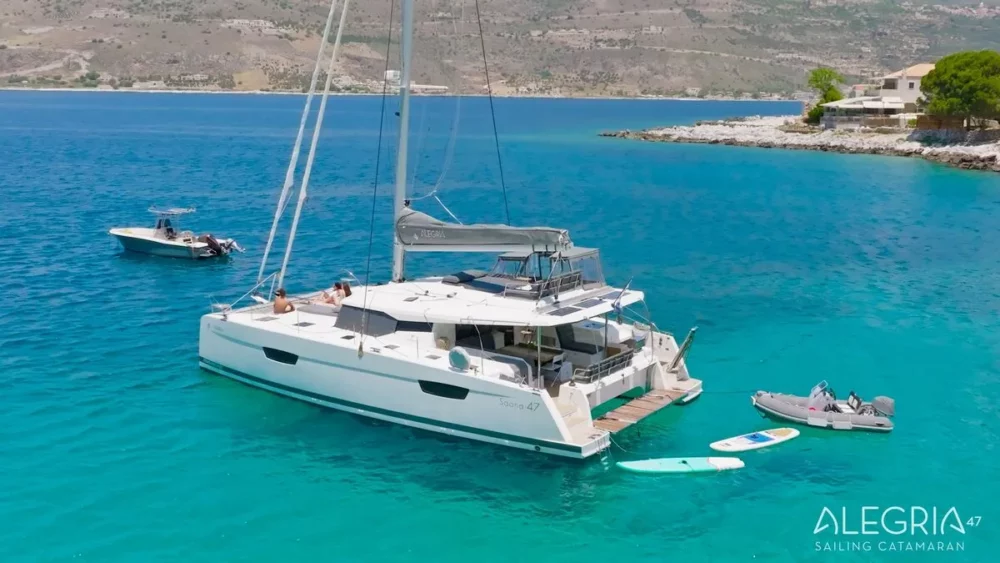 Day 1: Kalamata – Koroni & Zaga Beach: 2 hours
Embark on your charter from Kalamata and sail two hours southwest to reach your first destination of Koroni Beach. Sitting between the Taygetos mountains and the Messenian Gulf, it's an ideal charter location.
The town of Koroni features Medieval mansions and churches. These are spread out through a winding network of alleyways embracing the town like ribbons that guide you to Akrotiri and the castle. An ancient legend states that Koroni was named after copper coins (Kourouna) found during excavations in the area.
Day 2: Koroni Zaga Beach – Marathi Beach: 2 hours
On Day 2, you can enjoy your morning at Zaga Beach before departing for your next 2-hour journey south to Marathi Beach. Marathi is situated on a gorgeous stretch of shoreline with crystal-clear waters and inviting coves for anchoring. It's a favorite spot for snorkeling and scuba diving. As you approach Marathi, you can make out the 13th-century tower that dominates the landscape.
Once you've arrived in Marathi, spend your day exploring the area by boat. You can visit the island of Schiza, where you'll find a beautiful beach and plenty of natural beauty to explore. The village also has excellent shopping and dining options, so don't forget to explore ashore!
If you'd like to experience a more relaxed pace. Then spend your day sailing around the bay of Marathi and stop to explore any of the smaller islands nearby. You may even spot some dolphins while you cruise around!
Day 3: Marathi Beach- Foinikounda – Methoni 1.5 hours
After departing Marathi, you will sail to beautiful Foinikounda Beach for lunch or to enjoy water toys in the calm bay. You'll continue west to Methoni, passing the cape side Prophet Elias church.
Methoni is a fantastic coastal hamlet in southwestern Peloponnese, 32 nautical miles from Kalamata. This tranquil yet historically significant city boasts several ancient ruins, including the impressive Venetian Castle, one of the largest in the Mediterranean. It's withstood many Franks, Venetians, and Ottomans invasions throughout the Middle Ages and Ottoman period.
Day 4: Methoni – Pylos / Navarino Bay 2 hours | Kalamata Charter Itinerary West Messinia
After Methoni, head to the beautiful Bay of Navarino. If you're looking for a place rich in history, visiting Pylos is a must. At the bay's entrance of the same name sits 'Niokastro,' or new castle, constructed by the Turks in 1573, while 'Palaiokastro,' or old castle, dates back to when the Franks built it on the "Koryfasio" hillside. Pylos used to be known as Koryfasio, founded by Pylos himself.
Day 5: Pylos – Voidokoilia & Sapientza Island 2.5 hours
Once you reach Voidokilia's stunning golden arc beach, you'll want to dive right into those calm waters. As you return to your boat along the edge of an estuarine lagoon, home to myriad sea birds, chameleons, and tortoises, appreciate its wonderful birdlife, particularly during evening hours.
Across the bay, visit the island of Sapinetza. The island is a haven for wildlife, and you can spot various species of birds, turtles, and dolphins during your sail. The Sapientza Lighthouse is a stunning landmark that stands watch over the island. The beacon offers a fantastic view of the entire area. There are plenty of opportunities for swimming, snorkeling, and kayaking in the shallow waters surrounding the lighthouse. The island also boasts many sandy beaches that offer a peaceful, relaxing place.
Day 6: Sapientza – Diros Caves 4.5 hours – Limeni
Depart your private anchorage on Sappientza and head across the bay in 4.5 hours. On the south side of Areopoli, you will find the Caves of Diros, an archaeological site on the western side of the Peloponnese Peninsula. Discovered in the 1950s, they feature incredible depths, colors, and relics from humans and animals.
Spend the night in nearby Limeni, a picturesque seaside village with blue waters and stone towers from the Greek war of independence. Tour the village, enjoy the local cuisine, and marvel at the Byzantine chapels that still dot the coastline.
Day 7: Limeni – Kardamyli 2 hours
Leave Limeni, where you can sail around Gialova Lagoon, an important wetland area of the Mediterranean. Here you can spot rare species of migratory birds, turtles, and other wildlife. Furthermore, go two hours north to Kardmyli in the heart of the Peloponnese peninsula. The picturesque town is renowned for its traditional architecture and breathtaking views of the Ionian Sea. You can explore the winding streets, browse shops selling local specialties, and sample some delicious seafood restaurants.
Cruise around the bay, where you'll be treated to stunning views of the mountains in the distance. In addition to the incredible sights, there are plenty of activities for all ages. These include swimming and sunbathing on the beach. Exploring nearby coves by kayak or SUP, or simply relaxing on the deck of your yacht with a cold drink in hand.
Kalamata Charter Itinerary West Messinia
We hope our sample Kalamata Charter Itinerary West Messinia gives you a glimpse of how it would be to charter a yacht in Greece. For more, please check out some of our other itineraries.
Please call us today at 1 (321) 777-1707 or describe Your Vacation Vision to help you plan your fully-crewed private luxury yachting vacation! Inquire as soon as possible about your custom, crewed yacht charter.
You make the memories. We make the arrangements.