Kalamata
Get to know Kalamata, Greece, a gorgeous seaside town at the inlet of the Messiniakos Gulf just 2.5 hours from Athens by car. There's even an international airport with many summer flights from Athens and abroad.
Perhaps most famous for the olives of the same name, Kalamata is also an excellent yacht charter destination, still hidden from most tourists.
This area is great for travelers looking for an off-the-beaten-path experience that allows them to encounter authentic Greece. A private yacht charter would be ideal for families and couples looking to uncover new and exciting places unknown to most who visit Greece.
Our guide to Kalamata yacht charters will take you through some of the best yachts, locations, and things to do and see while in the area.
Kalmata Catamarans to Charter
Sailing Catamarans are a popular type of yacht to charter in the area due to the excellent wind conditions and shallow bays. Smaller groups, especially families, will love the sailing adventure and quick access to the water that these boats provide. Contact us for the latest on yachts available for charter in Greece. Famous island groups to explore include but are not limited to the Ionian, Dodecanese, Saronic, and Cyclades.
Sailing Catamaran ALEGRIA
The 47′ Fountaine Pajot Catamaran ALEGRIA is one such yacht based in Kalamata. Captained by local Dimitris Petikidis, you will be in excellent hands while exploring everything this great area offers. Built in 2021 with four double cabins, she comfortably hosts eight guests in a modern and warm interior.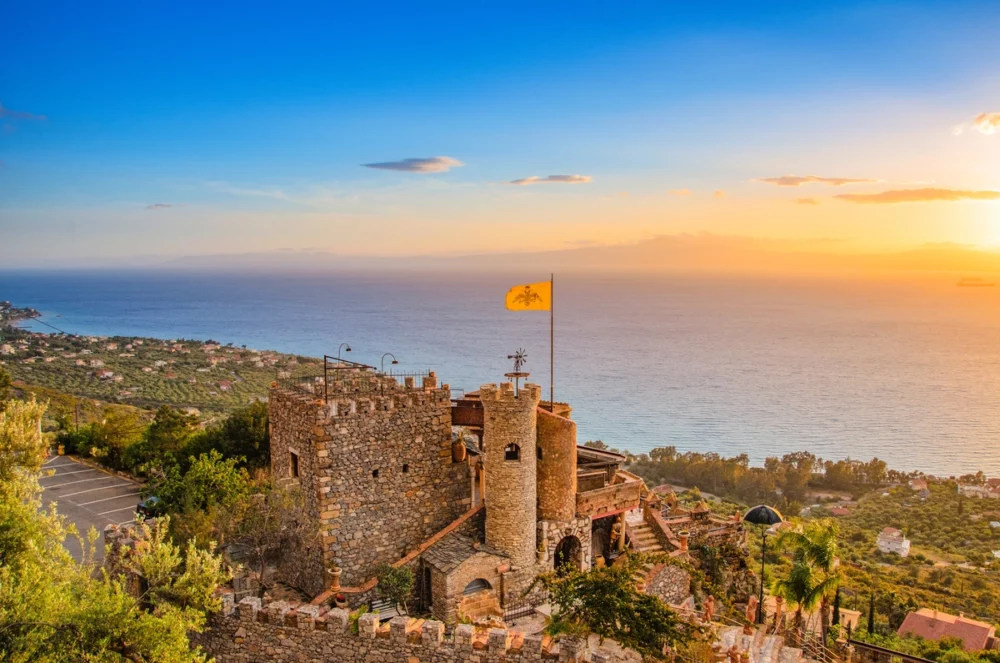 The Port City of Kalamata
A beautiful historical town, Kalamata lies between farmlands, olive orchards, and mountains of South Peloponnese. The area is famous not only for the mythical Taygetus mountain range but also for nearby Sparta. The sailing area around Kalamata boasts azure waters, beautiful beaches, Venetian castles, historical sites, and calm seas.
Places to Visit on a Kalamata Yacht Charter
The route possibilities in this area are diverse, from the unique spots of Mani Peninsula and Elafonisos island on the East side to Messinia's West with Sapienza island, Navarino bay, and Voidokoilia beach. Below, we've outlined two distinct areas and highlights you can visit while on your Kalamata yacht charter.
Southwest Peloponnese – Western Messinian
Voidokilia
Voidokilia is a stunning horseshoe-shaped beach with magnificent turquoise waters and dunes north of Navarino bay. Anchoring in the north corner of the beach, you can head ashore and turn left to find a sign for the castle. Make your way to the north end of the castle for spectacular views. Genuine adventure seekers can even take the steep, rocky path (more sliding down than walking!) to Nestor's Cave.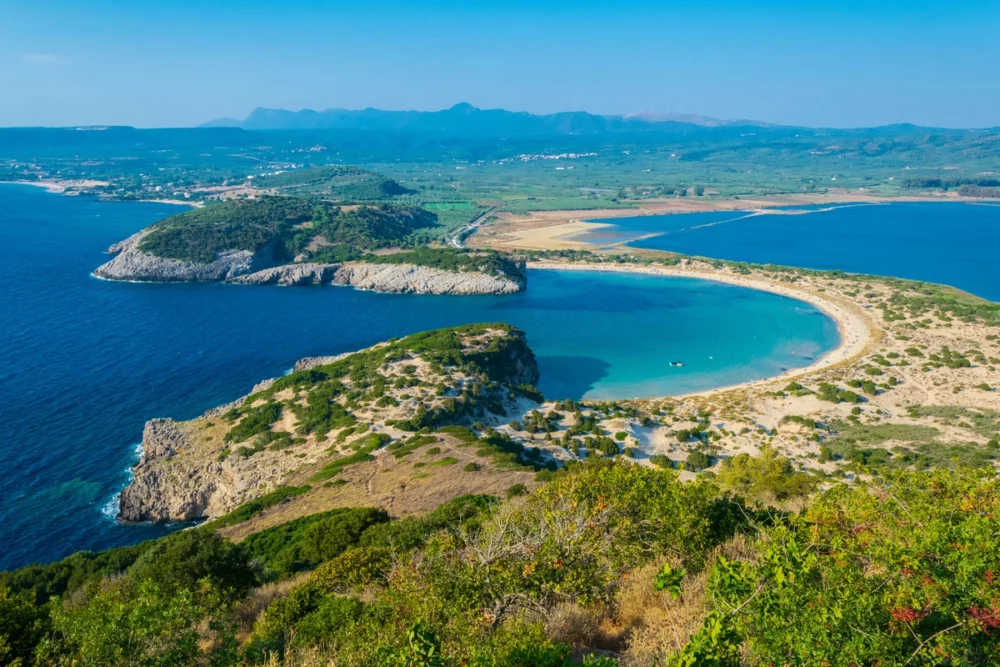 Koroni
Koroni, the municipality's capital, is a breathtaking town with a Venetian Harbor in Messinia. It is on a hillside with a magnificent view of the Messenian Gulf and the majestic Taygetos Mountain. The city has charming narrow streets and houses with ground tones that have remained unchanged since the Venetian Period.
Southeast Peloponnese – Mani and Elafonisos
Elafonisos
At the edge of the southeastern Peloponnese, it is one of Greece's most beautiful islands, featuring many incredible anchorages. Enjoy its waters and gastronomic offerings, and relish in the white sandy beaches, milky turquoise waters, thyme aromas, endless blue sky, and bright sunshine!
Gerolimenas
Gerolimenas was once an important trading port for the surrounding region. Located in the heart of Mesa Mani, or inner Mani, Gerolimenas is home to the picturesque Cavo Grosso cape. Spend the morning strolling through the quaint alleyways of the village, enjoying the unique cultural identity and the remarkable architecture of the stone tower houses.
Kythera
Kythera, a place of pure enchantment, is home to Goddess Aphrodite and offers an array of breathtaking beauty. The area features hiking-friendly hills and mountains, lush vegetation, sparkling waterfalls, and tropical lagoons.White- sand beaches with cliffs and caves to explore makes Kythera a must-see!
Things To Do and See on a Kalamata Yacht Charter
Hit the beach. Kalamata and the surrounding coves are packed with uncrowded beaches.
Explore ancient archeological sites, castles, and caves.
Go wine tasting. Enjoy a vineyard and wine-tasting tour around Kalamata, Pylos, and Trifylia. Moreover, there are also distilleries to visit that produce ouzo, raki, liqueur, and cognac.
Visit the birthplace of the Olympics in Olympia.
Sail the gorgeous waters, taking advantage of the area's protected seas and tranquil atmosphere.
Go kayaking or stand-up paddle boarding around the seaside rock formations.
Gastronomy of Kalamata
Local Foods to Try
Sfela cheese, similar to feta but saltier and spicier.
Local meat like pasto (or synglino) is olive-smoked and salted pork scented with oranges.
Pasteli, or sesame bars.
Chicken with hylopites, a square pasta found throughout the Peloponnese.
Classic vegetable-based dishes like fried zucchini flowers with fresh tomatoes or black-eyed beans with spinach, greens, and tomatoes.
Cod tsiladia, a salted cod in tomato sauce with onions and Corinthian raisins.
Lalangia, circles of fiend dough, are usually present at festivals.
Drinks to Taste
Have a taste of Malvasia, a sweet wine local to the area.
Try native wines from other local grapes, including Roditis, Filari, and international grapes like Chardonnay and Merlot.
Sip locally made cognac and ouzo.
Browse Greek Yachts for Charter
6 Cabins
Year/Rebuilt: 1994 Refit:
Built: 1994
€650,000 - €790,000 /wk
239.00 Ft Power
36 Cabins
Year/Rebuilt: 2012 Refit:
Built: 2012
€247,650 - €342,000 /wk
223.00 Ft Power
Please call us today at 1 (321) 777-1707 or describe Your Vacation Vision to help you plan your fully-crewed private luxury yachting vacation! Inquire as soon as possible about your custom, crewed yacht charter.
You make the memories. We make the arrangements.