Tinos | A Stunning Gem in the Cyclades
Tinos is a beautiful island of the Cyclades located between Syros, Andros, and Mykonos. Located on the northern side of the Cyclades, This island is within the heart of the Cyclades archipelago. This Greek island often remains hidden in the shadow of its more famous neighbors like Mykonos and Santorini. However, this serene and picturesque island deserves a spotlight of its own.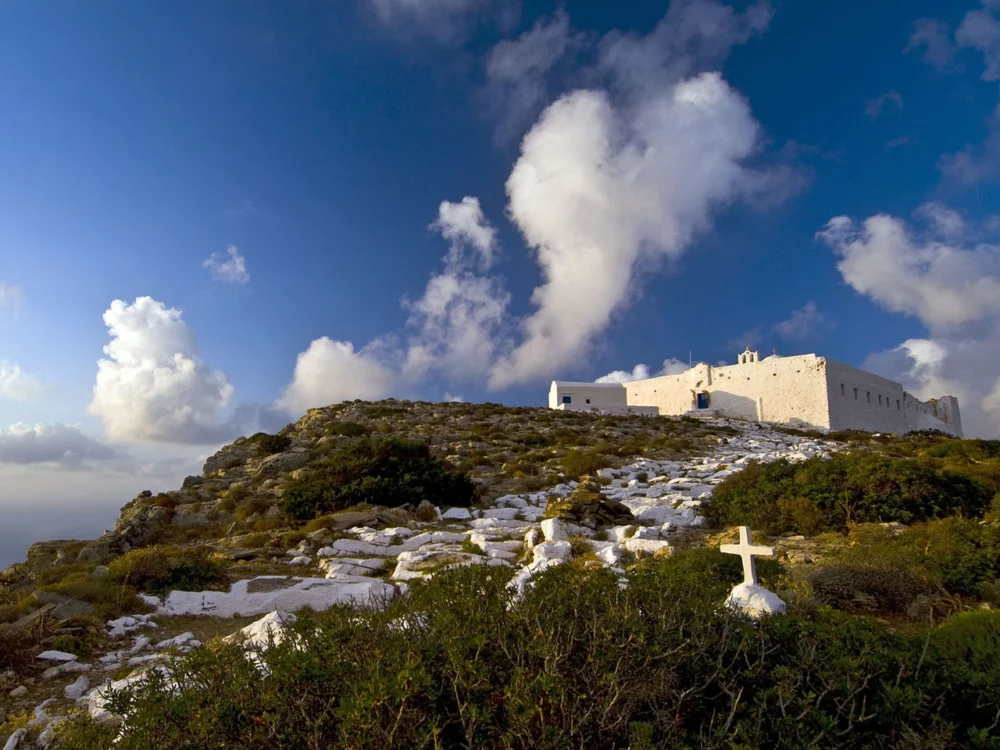 Climate
The Island of Tinos boasts a Mediterranean climate with mild, wet winters and hot, dry summers. If you're seeking sunny days and warm temperatures, the best time to visit is during the spring and summer months, from May to September. This is when the island is in full bloom, making it perfect for outdoor adventures and beachcombing.
Places to see
Archaeological Museum. There are findings from excavations all over the island, primarily from the ancient temples of Demeter and Poseidon.
The Art Gallery. The gallery is in a large room in the complex of the church of the Virgin Mary. See over 100 paintings and replicas of work made by famous Greek and international artists.
The Church of Panagia Megalochari. The church is on a hill above Chora. Many pilgrims walk on their knees, from the port to the church, to keep the solemn promise to the Virgin Mary.
The Museum of Giannoulis Chalepas. The Giannoulis Chalepas (1851-1938) is probably the most famous personality in Tinos. He was a notable marble sculpture artist known for his remarkable works and exciting life.
Tinos Town (Chora): The island's capital and largest town. Tinos Town is a maze of charming alleyways, neoclassical architecture, and bustling squares. It's home to the stunning Church of Panagia Evangelistria, a pilgrimage site for Greek Orthodox believers.
Koumaros Village: This traditional village is a serene retreat surrounded by lush green hills. Explore its narrow streets, visit the Church of Agios Ioannis, and savor the tranquility.
Pyrgos Village: Known for its marble workshops, Pyrgos is where you can witness artisans carving exquisite sculptures and monuments. The village is a testament to the island's rich marble heritage.
Exomvourgo: Hike up to the ruins of the Exomvourgo Fortress, perched on a dramatic granite peak. The panoramic vistas from here are simply breathtaking.
Church of Agios Nikolaos tis Stegis: In the charming village of Komi, this church boasts impressive frescoes that offer a glimpse into the island's rich Byzantine heritage.
Venardados Village: Discover the traditional village of Venardados, where you can wander through picturesque streets and enjoy the quiet pace of island life.
Things to do
Go to the beach. Many beautiful beaches include family, secluded, and lively ones. Just a few include Agios Ioannis Porto Beach, Sostis Beach, Markos Beach, Romanos Beach, Kolymbithra Bay Beach, Kionia Beach, Panormos Beach, and Fokas Beach. For a serene escape, also visit the tranquil Livada Beach.
Swim. Since the water is so blue and warm, you will undoubtedly want to go for a swim.
Hike. The countryside of Tinos is ideal for hiking since footpaths lead to mountainous villages, old windmills and dovecotes, abandoned monasteries, and secluded beaches.
Windsurf. The winds around the island make conditions ideal for windsurfing.
Attend a jazz festival.
Gastronomy
Tinos' gastronomy is a delightful blend of traditional Greek flavors with a unique twist. Here are some dishes to savor:
Greek Cheese: Tinos is famous for its cheeses, especially the pungent but delicious Tinos cheese,
Local Seafood: Enjoy freshly caught fish and seafood dishes at seaside tavernas. Try the "marathopita," a traditional pie made with fennel and seafood.
Artichokes: Tinos is renowned for its artichokes, featured in various dishes such as "ntolmadakia," stuffed artichoke hearts.
Tinian Cuisine: Savor the island's specialties, including "strapatsada" (scrambled eggs with tomatoes) and "louza" (air-dried pork).
Tinos Island may not be the most famous in the Cyclades. However, it offers a captivating blend of culture, natural beauty, and delectable cuisine. Whether seeking spiritual enlightenment, outdoor adventures, or a tranquil escape, Tinos welcomes you with open arms to explore its treasures.
Please call us today at 1 (321) 777-1707 or describe Your Vacation Vision to help you plan your fully-crewed private luxury yachting vacation! Inquire as soon as possible about your custom, crewed yacht charter.
You make the memories. We make the arrangements.