Discovering Hidden Gems of the Lil Cyclades
Between Naxos and Amorgos are a small group of approximately twelve islands known as the "Lil Cyclades." The area is composed of predominantly rocky islands in the Aegean Sea. These little gems (called "Small Cyclades") hide beautiful coves, creeks, and beaches.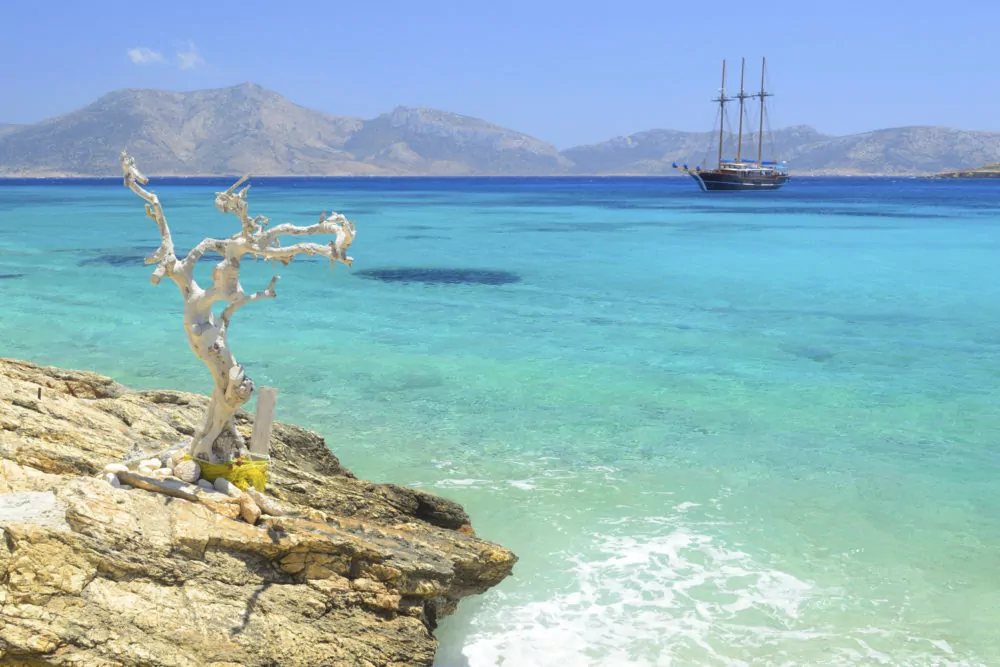 About a dozen small Cyclades exist, but only four are inhabited. These four islands are Donoussa, Pano Koufonissi, Schinoussa, and Iraklia. You'll find many places to explore, relax, and enjoy these islands' natural beauty.
Places to see
These islands are best seen on your private yacht. During the summer months, many yachts seek shelter in these islands from the Meltemi winds.
Donoussa

Kendros Beach
Livadi
Stavros' Beach

Iraklia

Livadi
Voriní Spiliá
Tourkopígado

Koufonissi

Ámmos Beach
Pori Beach
Fínikas Beach
Fanos

Schinoussa

Tsigoúri
Alygariá
Almyrós
Psilí Ámmos
Things to Do
Here are some ideas for things to do in the Little Cyclades:
Attend Local Festivals: If your visit coincides with a local festival or celebration, don't miss the opportunity to immerse yourself in the island's culture. Traditional dances, music, and delicious food are usually part of the festivities.
Nature: The Little Cyclades are home to various bird species, making them a paradise for birdwatchers. Iraklia, in particular, is known for its diverse birdlife. The islands' unique ecosystems are also worth exploring. You can spot native plants, such as wildflowers and aromatic herbs, and observe local wildlife, including goats and seabirds.
Stargazing: With minimal light pollution, these islands offer excellent conditions for stargazing. Lay on a beach or hillside and gaze at the starry night sky.
Discover Hidden Caves: Some islands have hidden sea caves that you can explore by boat or kayak. These caves often have fascinating rock formations and crystal-clear waters.
Take a Cooking Class: Learn to prepare traditional Greek dishes during a cooking class offered by a local chef. You can later impress your friends and family with your newfound culinary skills.
Visit Small Museums: While the Lil Cyclades are not known for their museums, small local museums showcase the islands' history and culture. The Folklore Museum in Ano Koufonissi is an example.
Visit Ancient Quarries: On some islands, you can explore ancient quarries where valuable materials like emery were extracted. These quarries offer an intriguing glimpse into the islands' historical significance.
Rock Climbing: If you're an adventurous traveler, consider rock climbing on some of the islands' cliffs. The islands' rocky terrain provides suitable challenges for climbers.
Local Markets: If you have a chance, visit the local markets where you can buy fresh produce, handmade crafts, and souvenirs created by local artisans.
Lil Cyclades | Climate
The Cyclades Islands enjoy a Mediterranean climate, with mild, moderate winters and warm, sunny summers. Low temperatures range from around 11 °C in January and February to about 25 °C in July and August. Of course, rain is always a possibility, especially in the winter.
Lil Cyclades | Gastronomy
The sunny days on the islands are ideal for drying foods such as octopus, tomatoes, okra, and grapes. Drying the foods allows them to keep longer and become more flavorful. In addition to dried foods, the variety of local seafood is fantastic. You'll find it prepared boiled, baked, fried, or grilled on charcoal and served with olive oil and lemon.
Generally, the best places to eat on the Lil Cyclades are mainly in the main settlements and ports. However, you'll find delightful cuisine scattered around, sometimes even where you don't expect it.
Getting Around Lil Cyclades
This is the perfect destination for an exclusive vacation experience. This group of islands is less frequented than some Cyclades islands because of its difficult position, which means you'll have the place practically to yourself.
The area has limited accommodation options, so booking a private yacht is best. You'll be able to island hop to your heart's content, and regular ferries from Naxos make getting around during the summer season a breeze.
So what are you waiting for? Lil Cyclades is the perfect place to escape the crowds and enjoy peace on your private luxury yacht.
Please call us today at 1 (321) 777-1707 or describe Your Vacation Vision to help you plan your fully-crewed private luxury yachting vacation! Inquire as soon as possible about your custom, crewed yacht charter.
You make the memories. We make the arrangements.