Turkey may not be the first place you think of when planning your luxury vacation. However, this unique destination is full of history, culture, natural beauty, and excellent dining. Enjoy the freedom and adventure of exploring this marvelous land on a Turkey yacht rental vacation.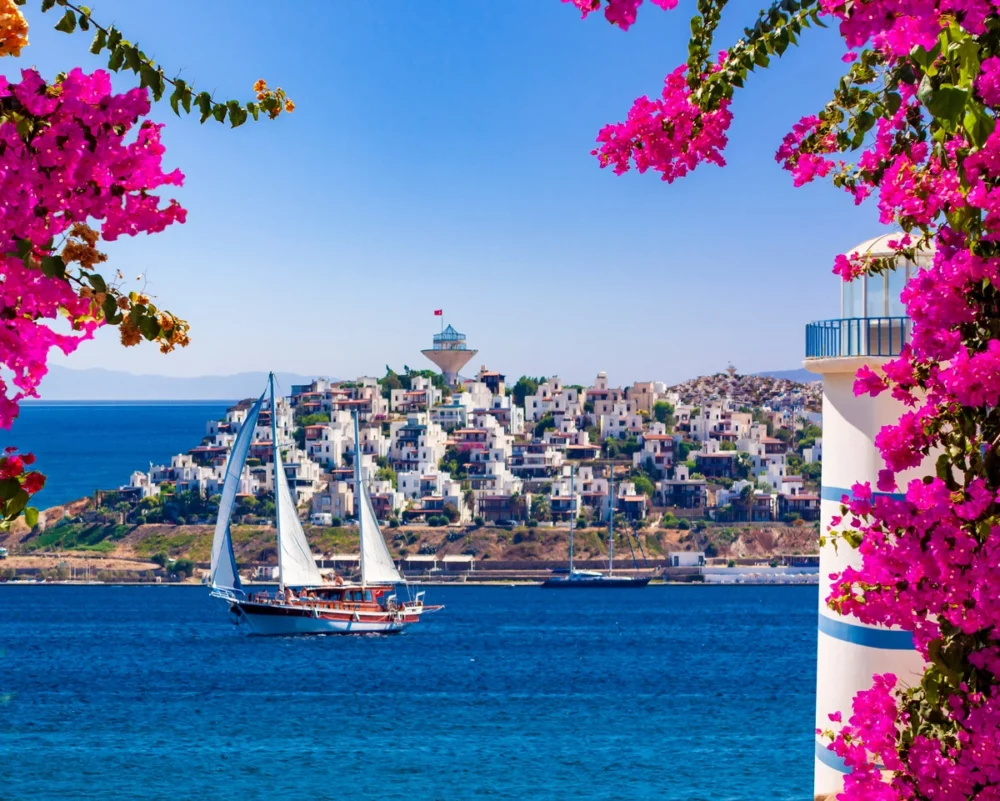 Sailing around Turkey's stunning coastlines and islands has become quite popular with vacationers looking for more authentic experiences than hotels and resorts. With so many different places to visit, including over 500 islands and islets and 4,400 miles of coastline, it's no wonder Turkey is a sought-after vacation destination. The scenery is breathtaking, and the hospitality and warmth of the Turkish people are genuine.
In addition to being a resort destination, Turkey is home to ancient archaeological sites worthy of exploration. You can enjoy shopping, tours, and other activities onshore, such as visiting an authentic Turkish bath. There are many water sports for those with a more adventurous side, like kiteboarding, scuba diving, and snorkeling.
Turkey's Most Exclusive Places to Rent a Boat

Turkey's exclusive boat rental places are Marmaris, Bodrum, Fethiye, and Dalaman. Located in southwest Turkey, these locations offer superb sailing conditions all year round, thanks to their proximity to Turkey's ancient Greek waters. What's more, Turkey also has some of Europe's best marinas.
Turkey's Best Places to Visit on a Private Boat

There are many spectacular places to explore when you go on your yacht charter on the coast of Turkey. Just a few of these breathtaking destinations include:
Bodrum. Bodrum is famous for its vibrant markets and unique Museum of Underwater Archaeology in the Crusader Castle.
Serce Bay. Serce has a sheltered harbor with very clear water. Spend some time paddling a kayak around the bay.
Datça. Enjoy lunch at one of the restaurants along the beach; the beaches in Datça are quite pretty. Afterward, , then stroll the cobblestone streets and browse the shops.
Knidos. Knidos is also well-known for its amazing views and natural harbor, alongside its history. Explore the ruins of an ancient city.
Marmaris. Take an authentic Turkish bath, walk through Günnücek (Marmaris National Park), visit Ephesus, explore Marmaris Castle, stroll Icon beach, or take a day trip to the Marmaris Dalyan & Turtle Beach for a rejuvenating mud bath.
The Great Blue Cave: The Great Blue Cave, also known as the Azure Window, was created by waves lapping at limestone rocks that jut out over the water.
What Makes Boating in Turkey Such an Amazing Experience?
Turkey's beautiful coastline and pristine waters make it an ideal destination for boat rentals. Turkey has a long boating history, with locals enjoying boats since 6000 B.C. Whether you are interested in historical sites, landscapes, adventure activities, rich culture, or delicious food, Turkey is an extremely rewarding place to explore.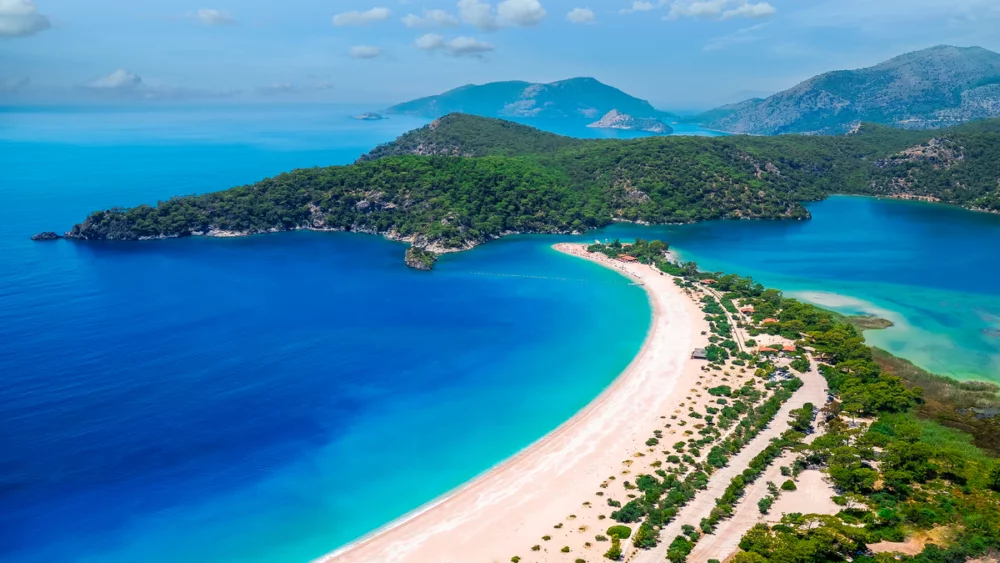 More reasons boating in Turkey is such a fantastic experience include:
There is a lot to see. One great thing about boating around Turkey is that there are many small islands and lagoons to explore and plenty of nooks and crannies to check out along Turkey's coastline. In addition, many parts of Turkey have views that date back thousands of years. Thanks to ruins like ancient bridges that still stand today.
The food. The coast of Turkey has a fantastic selection of restaurants. Older, established places serve traditional cuisines such as mezes, kebabs, grilled meats, and fresh seafood. However, in recent years, the number of upscale restaurants has increased.
The beaches. There are many beautiful beaches, bays, and lagoons to discover. Notably Oludeniz beach, which is frequently photographed.
The people. The people of Turkey are very hospitable and friendly. When you make a Turkish friend, you'll most likely have a friend for life.
History. There are a remarkable number of archaeological sites all over the country. A few important places are Ephesus and Cappadocia.
The Scuba Diving. Kaş is the diving capital of Turkey. In fact, it is one of the top 100 dive sites in the world because of its abundance of marine life and ancient relics. There is some great wreck diving in Bodrum, including a massive aircraft carrier to explore.
A Sample Itinerary on a Turkey Yacht Rental Vacation
There are many possibilities for your Turkey yacht rental vacation itinerary. We will work closely with you to create the perfect itinerary based on your preferences and desires. A sample itinerary might look something like this:
Start in Marmaris, then on day two, sail to Serce Bay. You can see a Byzantine shipwreck from the 11th century, exhibited in the Bodrum Museum.
On the third day, sail and anchor at Datça. Datça was founded by the Dorians, who came from the Aegean Sea to the southern coast of Ionia in the 7th century B.C.
Day four cruise to Bencik Bay.
Day five, sail into the Hisaronu Gulf. Dock in Orhaniye bay, where you will see the unique scenery of a natural tidal formation called 'Kiz Kumu' (Maiden's Beach). In the afternoon, sail to Selimiye for dinner and an overnight stay.
On day six, travel to Dirsekbuku and set the anchor. Go ashore in Bozburun, which is a small fishing town.
On day seven, cruise to Arap Island for a beach day, then return to Marmaris.
Things to Consider When Planning Your Yacht Charter
Once you have decided to take a yacht charter vacation, there are some things that you will need to consider. Be sure to consider factors such as:
The kind of boat you want to rent. If you are looking for an authentic sailing experience, then a traditional monohull sailboat is for you. A motor yacht is ideal if speed, spaciousness, and luxury are important. Or for lots of deck space and large cabins, then a motor sailer may be ideal. And, if you are looking for stability and nearly equally-sized cabins, then a catamaran may be best for you.
The number of people traveling.
Activities you and your guests would like to do.
Places you would like to see.
Special events you would like to celebrate, such as a birthday, anniversary, or graduation.
Now is the perfect time to book your summer yacht charter in Turkey. Check out five reasons to do a charter in Turkey.
Please call us today at 1 (321) 777-1707 or describe Your Vacation Vision to help you plan your fully-crewed private luxury yachting vacation! Inquire as soon as possible about your custom, crewed yacht charter.
You make the memories. We make the arrangements.