Galapagos Islands Yacht Charter
The Galapagos Islands are home to some of the world's most beautiful and unique wildlife, making it an ideal destination for a yacht charter. With crystal clear waters and rich marine life, a yacht charter in the Galapagos Islands will surely be a once-in-a-lifetime experience.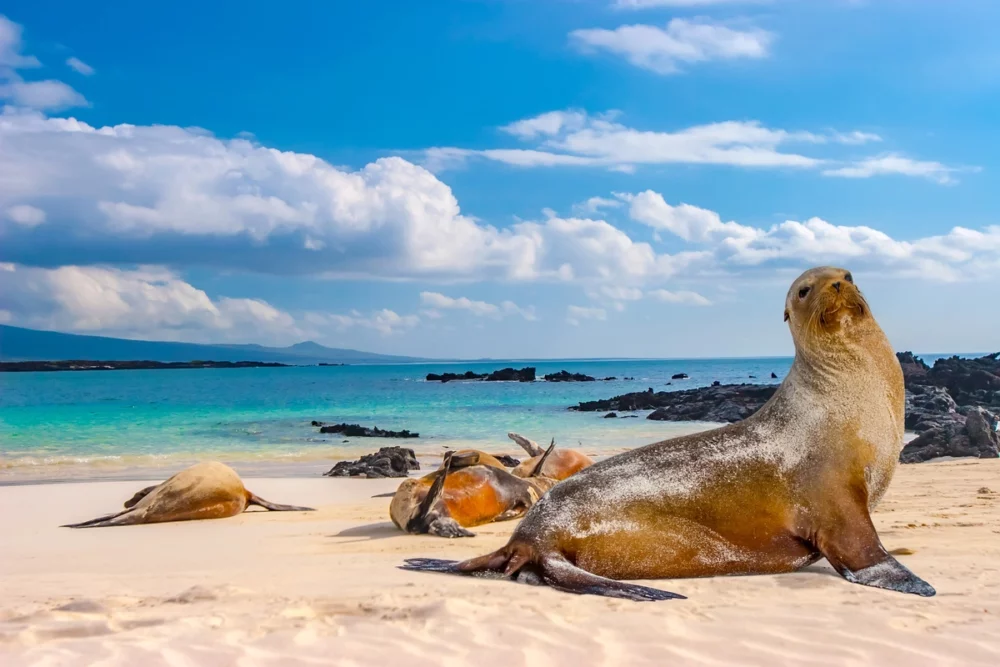 So, what makes the Galapagos Islands an almost mythological destination? The answer would have to be its isolated volcanic islands and fragile ecosystems. With a Galapagos Islands yacht charter, you'll experience an unforgettable journey. One of the yachts chartering in the Galapagos is STELLA MARIS.
The Islands are roughly 1,000 kilometers from the Ecuadorian Coast in South America. They lie at a point where three ocean currents merge, making it the wealthiest marine ecosystem in the world.
Galapagos is all about nature on land and underwater. These Islands are gorgeous and enriched with a fantastic collection of flora and fauna. You will experience unique wildlife like whales, dolphins, fur seals, marine iguanas, and birds. Moreover, you'll have the unique opportunity to swim and snorkel with sea lions and penguins.
Galapagos Island Weather
The Galapagos Islands have a dry and mild climate, with steady temperatures throughout the year. The islands' dry season lasts from July to December, and the wet season from January to June. During the dry season, temperatures range from 24°C (75°F) to 28°C (82°F), and during the wet season, temperatures range from 22°C (72°F) to 26°C (78°F). The water temperature remains relatively constant throughout the year, ranging between 23°C (73°F) and 26°C (79°F).
The islands are affected by the El Niño phenomenon every two to seven years, which can cause drastic changes in the climate. During El Niño events, the islands experience higher temperatures, increased rain and wind, and reduced wildlife populations due to poor food availability. You may want to consider these factors when choosing your charter dates.

Bartolome Island
One of the highlights of your Galapagos Islands yacht charter is Bartolome Island. It is off Sullivan Bay, a small island known for its famous Pinnacle Rock. You will get plenty of photo opportunities at this ideal destination. The main attractions at Bartolome Island include:
Water activities. The north beach is suitable for snorkeling as well as swimming.
Wildlife viewing includes Galapagos penguins, white-tipped sharks, green sea turtles, and stingrays.
Best Galapagos Beaches
You probably don't imagine beaches when you think of the Galapagos Islands. But there are many to explore!
Galapagos Beach at Tortuga Bay
White sand and turquoise water greet you at Tortuga Bay Beach. At Tortuga Bay, you'll likely encounter an iguana or two. A large marine iguana colony lives here, so you will probably see a few sunning on the sand or swimming in the sea.
This beach is an excellent place for activities such as:
Watersports such as surfing, snorkeling, and swimming.
Wildlife viewing, such as sea lions, pink flamingos, pelicans, blue-footed boobies,…and more.
Gardner Bay Beach
Gardner Bay is one of the most beautiful beaches on the Galapagos islands. In fact, it was voted as one of the top 20 beaches in the world. Spend some time relaxing here, and be sure to get a photo with one of the friendly, local sea lions.
Red Beach, Rabida Island
Rabida is an uninhabited island that has an other-worldly red sand beach. The iron-rich volcanic rocks found on Rabida island create an unusual sand color. This is an excellent place for taking photographs, especially from January to April when the vegetation is greenest.
Black Beach, James Bay, Santiago
James Bay is another unique Galapagos islands beach. It is easily recognized by its black sand beach and interesting lava formations. Charles Darwin wrote about his landing at this precise spot, so you follow his very important footsteps.
James Bay is one of the few places to see Galapagos Fur Seals.
Punta Carola Beach, San Cristobal Island
Punta Carola is on San Cristobal island and is a good beach for surfers and those who love the outdoors. The wildlife on Punta Carola includes sea lions, Marine Iguanas, Pelicans, and occasionally sea turtles.
Isabela Island | Galapagos Islands Yacht Charter
Isla Isabela is the largest of the Galapagos Islands. It is also one of the most captivating islands in the world. This old island is composed of six volcanoes. Popular attractions include:
Bolivar Channel
Urvina Bay
Tuff cones at Tagus Cove
Unique wildlife includes Galapagos tortoises, penguins, tropical bird species, marine iguanas, Darwin's finches, and cormorants.
White sandy beaches
Quiet lagoons
Los Tuneles (Puerto Villamil)
Something you shouldn't miss when going on your Galapagos Islands yacht charter is Los Tuneles. It is only a 30-minute boat ride from Puerto Villamil. Here, enjoy snorkeling with white-tipped sharks, manta rays, spotted eagle rays, green sea turtles, and seahorses in the shallows.
Santa Cruz Island
Santa Cruz is the central island of the Galapagos, with a famous urban center. This island is a giant dormant volcano. There is a gigantic lava tunnel that is over 2000 meters long on the island that is simply incredible to walk through. Additionally, Santa Cruz offers gorgeous beaches and wildlife.
Visit popular attractions such as:
The Charles Darwin Research Station
Giant Lava tubes to explore
Giant Tortoise Preserves
The mangrove estuary of Black Turtle Cove
The Galapagos Islands have it all! Satisfying both the thrill-seeker – who may enjoy snorkeling with playful sea lions and reef sharks – and the more contemplative type who appreciates sightseeing, bird watching, and lounging on the deck.
Things to Do in the Galapagos Islands
Diving. Divers will thrill at the underwater diversity of the Galapagos. There is an incredible amount of marine life to discover.
Fishing. Wahoo, yellowfin tuna, albacore, dolphin fish, amberjack, grouper, and sea bass are all year-round catch species. Black marlin and blue marlin are catch-and-release.
Surfing. You probably don't think of the Galapagos when you think about surfing. However, Galapagos has excellent surfing conditions all year round.
Paddleboarding. Paddleboarding in the Galapagos is a great way to experience abundant, beautiful scenery and marine life.
Galapagos Gastronomy
The cuisine in the Galapagos Islands is similar to that of many Central and South American coastal nations, such as Ecuador. In addition to meat, potatoes, and grains, the dishes include yucca, fish, and seafood from the coast, combining elements from Ecuadorian highland dishes.
Belize | Galapagos Islands | Mexico | Panama
MAP – Galapagos Islands Yacht Charters

Please call us today at 1 (321) 777-1707 or describe Your Vacation Vision to help you plan your fully-crewed private luxury yachting vacation! Inquire as soon as possible about your custom, crewed yacht charter.
You make the memories. We make the arrangements.