Are you in search of a luxurious and original vacation? Consider a private yacht rental! Yacht rentals provide an extraordinary experience with access to exclusive, high-end amenities and the open sea. Whether planning a romantic getaway, family trip, or corporate retreat, renting a yacht can offer you an exceptional vacation experience.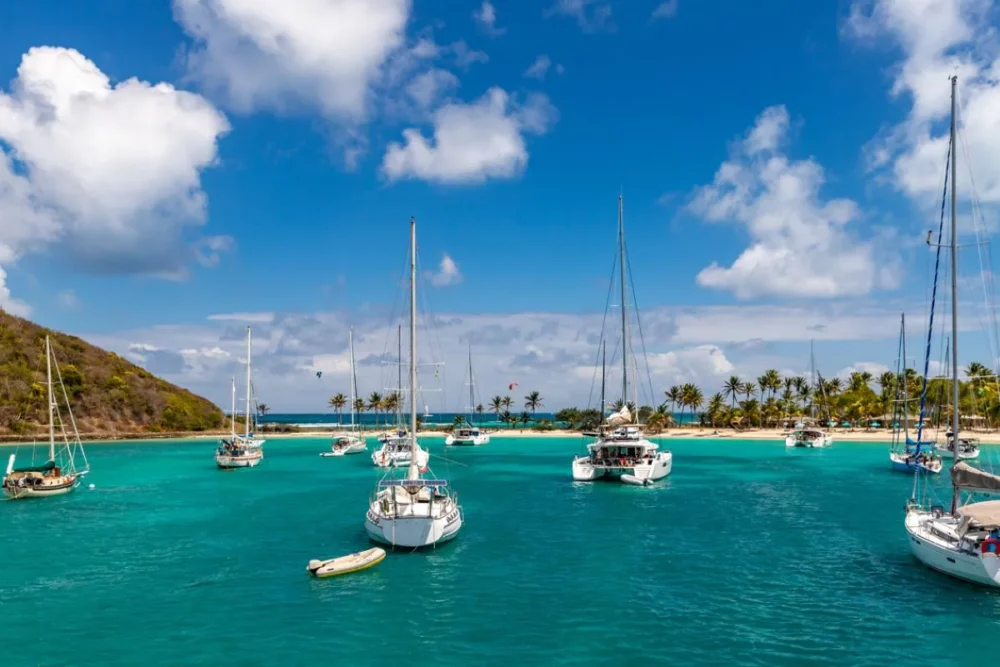 Why choose a yacht rental?
Chartering a luxury yacht is increasingly popular.
But why should you choose a yacht rental over other options? First, a yacht rental gives you the ultimate luxury and privacy you can't get from a traditional hotel or resort. You can sail to remote and exclusive destinations without the crowds and noise.
Are there yacht rentals for parties?
Yes! More and more people rent yachts for events like parties, weddings, and birthdays. If you're looking for a truly unique and memorable vacation experience, renting a yacht is the way to go.
Additionally, yacht rentals offer flexibility for your schedule, allowing you to customize your trip to your preferences. Explore the Virgin Islands, snorkel in the Bahamas, or relax on deck; the choice is yours.
Renting a yacht gives you access to various activities and experiences tailored to your desires. From water sports to fine dining, there is something for everyone.
The crew on a yacht rental will handle everything you need to ensure a stress-free and enjoyable vacation. So, if you're looking for an extraordinary, luxurious, and unique vacation, consider renting a yacht for your next getaway.
Where can I find luxury yacht rentals?
You've come to the right place to find a luxury yacht charter! Browse this website for available yacht charter options and destinations. This will help you understand the kind of charter experience you're looking for. Best of all, we have a range of yachts from which to choose.
Contact us by phone, email, or contact form. One of our professional charter brokers will reach out to you quickly. Have some details in mind, such as travel dates, destination preferences, number of guests, and any special requests.
How much does it cost to rent a yacht?
Now that we've discussed the benefits of renting a yacht for your next vacation, you're probably wondering about the cost. The cost of renting a yacht can vary depending on a few factors.
The size and type of boat you choose will affect the overall cost. Larger and more luxurious yachts will generally be more expensive to rent. Additionally, the length of your rental will also affect the cost. Yacht rental fees are by the day or week, with longer rentals offering better value for your money.
Depending on the location, a week's rental price will vary.
What does a yacht rental include?
When you rent a yacht, you're not just renting a luxurious mode of transportation but also an entire world of possibilities. A yacht rental includes various amenities and services to ensure your vacation is comfortable and enjoyable.
Depending on your specific yacht and package, you can expect access to spacious, high-quality cabins and bathrooms. Additionally, many yacht rentals come equipped with top-of-the-line amenities, including fully stocked bars, gourmet kitchens, and entertainment systems.
As for services, yacht rentals include a professional crew to take care of all your needs. This includes a captain to navigate the waters and a chef to prepare delicious meals. You'll also have more crew members helping out with activities.
You'll also have access to a variety of water sports equipment. Try out things like jet skis and paddleboards, and make the most of your time on the water. With a yacht rental, you can expect to have everything you need for a one-of-a-kind vacation.
Make Your Plans to Rent a Boat Today!
So, charter a yacht for your next vacation.
Whatever your desired location is, we have a great selection of yachts for your sailing vacation. Let us know what type of yacht you prefer. We will send you options for your review. Then, we'll curate the experience.
The motor yachts offer luxurious spaces. A motor boat rental can transform your dream vacation into a tranquil escape or adventure. It's a delightful experience on the water.
Please call us today at 1 (321) 777-1707 or describe Your Vacation Vision to help you plan your fully-crewed private luxury yachting vacation! Inquire as soon as possible about your custom, crewed yacht charter.
You make the memories. We make the arrangements.