Experience the Greek Islands on the classic Geek Motorsailer COSMOS. These islands are a favorite destination for travelers seeking sun, sea, and a taste of ancient history. Discover paradise aboard COSMOS, an authentic boat that combines the thrill of the sea, islands, and Greek hospitality.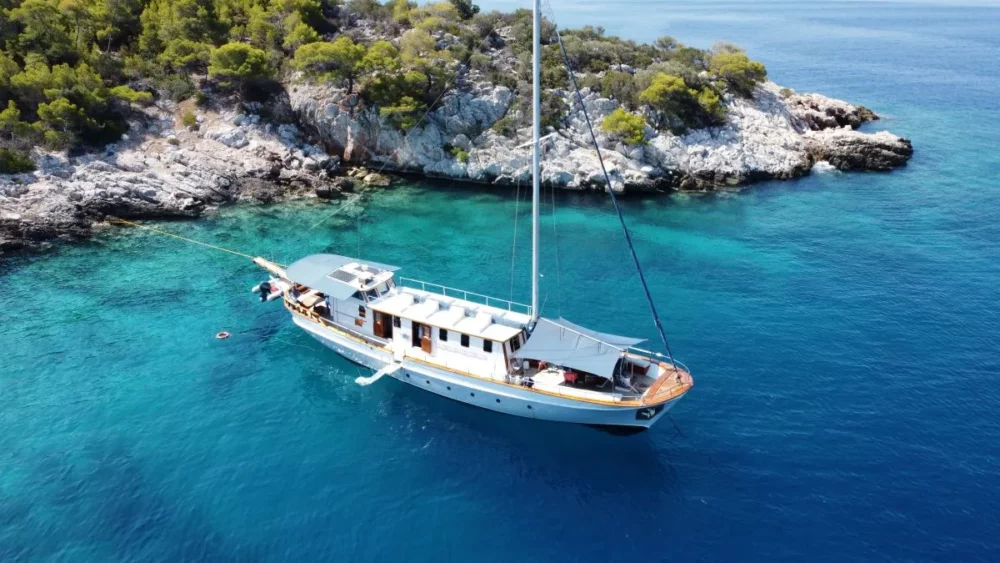 COSMOS is a masterpiece of craftsmanship, blending traditional design with modern amenities. Its wooden exterior reflects the timeless elegance of Greek maritime tradition. The interior boasts all the modern comforts of a luxury yacht. With a length of 78 feet, COSMOS provides ample space for relaxation, entertainment, and exploration.
The boat has various water sports equipment, allowing you to indulge in paddleboarding, kayaking, and relaxing on the inflatable sofa. The four-member crew is knowledgeable and attentive, catering to every need and ensuring a seamless and enjoyable journey.
Greek motorsailer COSMOS transforms into a floating paradise as the sun sets over the Aegean Sea. Savor gourmet meals prepared by the onboard chef, accompanied by fine wines and the company of your fellow travelers. Four spacious cabins provide comfort for up to eight guests, with all the amenities needed for a restful night's sleep.
Greek Motorsailer COSMOS Sample Itinerary
The journey begins in Athens, where COSMOS sets sail to explore the famous Cyclades archipelago. The Cyclades are a group of islands known for their stunning beauty, diverse landscapes, and rich cultural heritage.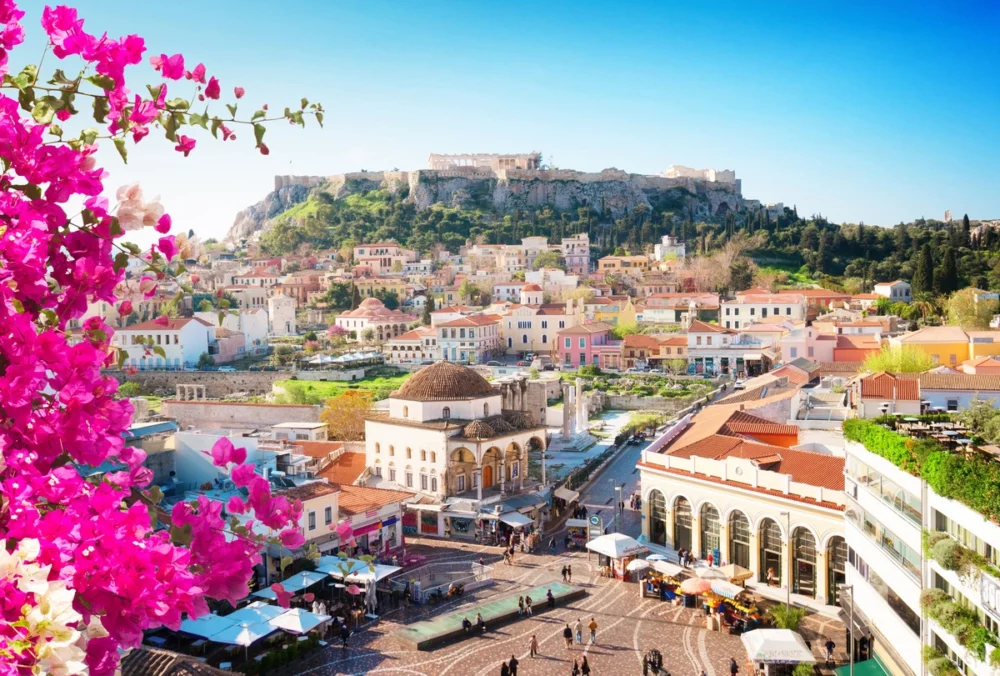 Day 1 of Greek Motorsailer COSMOS Itinerary | Ancient Epidaurus
Depart Athens and sail to Epidaurus, where you'll visit the famous Ancient Theater. Marvel at the exceptional acoustics and imagine the performances that once graced its stage. Afterward, return to COSMOS for a relaxing evening aboard, enjoying delicious cuisine and breathtaking views of the Aegean Sea.
Day 2 | Hydra
Hydra, a car-free paradise in Greece, offers many things to see and do. So, while exploring the picturesque village with its narrow, cobblestone streets adorned with vibrant bougainvillea, you can also visit the Hydra Museum Historical Archives to learn about the island's rich maritime history.
In addition, enjoy leisurely walks along the waterfront promenade and soak up the sun on the island's beautiful beaches. Also, be sure to discover hidden coves for a refreshing swim.
Don't miss the opportunity to savor delicious Greek cuisine at the charming tavernas. In addition, explore the art galleries showcasing the works of local artists.
Day 3 | Nafplion on Greek Motorsailer COSMOS
Nafplion is a special place with a rich history and an enchanting old town. Explore the winding streets and admire the neoclassical architecture. Also, visit historical sites like Palamidi Fortress and Bourtzi Castle.
Since Nafplion was once the first capital of Greece, you can immerse yourself in its fascinating past while walking through its charming alleys. Also, indulge in the local cuisine at cozy tavernas, and soak up the breathtaking sea views and scenery.
Indulge in a tasty dinner aboard the Greek motorsailer COSMOS in the evening.
Day 4 | Spetses and Porto Cheli
Today, cruise to the glamorous town of Spetses or the nearby Porto Cheli. Explore the elegant streets lined with neoclassical mansions and discover charming cafes and boutique shops. Afterward, relax on the sandy beaches or swim in the crystal-clear waters.
Day 5 | Poros
Sail to Poros and admire the stunning natural scenery as you approach the island. Poros offers a unique blend of natural beauty and charming ambiance. Although it may be smaller than other Greek islands, Poros captivates visitors with its picturesque landscapes and crystal-clear waters.
Go ashore and admire the town's neoclassical buildings, stroll the narrow alleyways, and visit the Archaeological Museum. As the day winds down, enjoy a delightful sunset cocktail and a sumptuous dinner prepared by your chef.
Day 6 | Aegina
Discover the secluded beauty of Aegina, an island nestled in a picturesque bay. Take a leisurely stroll along the waterfront promenade and soak up the peaceful atmosphere. Explore the island's rich history and visit the ancient Temple of Aphaia. You will certainly not want to miss tasting the famous Aegina pistachios.
Day 7 | Athens
As your journey ends, sail back to Athens, where you bid farewell to this unforgettable Greek island experience. Take some time to explore the vibrant city of Athens, visit historical landmarks like the Acropolis, and indulge in delicious Greek cuisine before concluding your adventure aboard Greek Motor Sailer COMOS.
KEY FEATURES of M/S Cosmos
Length: 78 feet
Cabins: 4 (1 master with queen bed and indoor Jacuzzi, 1 VIP cabin with queen bed, one cabin with double bed, one cabin with twin single beds)
Guests: 8
All cabins have deluxe en suite bathrooms and full A/C with separate controls.
Beds are coco mat mattresses 100 natural.
Wi-Fi
Large Tables in the cockpit and dining area.
The sundeck is made from Burma Teak, and it is a wonderful area to enjoy the views and sun.
Charter Rates for Greek Motorsailer COSMOS
The yacht charter rates for Greek Motorsailer COSMOS are as follows:
High Season: 22,000 EUR/week Plus Expenses
Low Season 14,000 EUR/week Plus Expenses
In addition, the Advance Provisioning Allowance (APA) is 35% of the charter fee for operating expenses.
Please call us today at 1 (321) 777-1707 or describe Your Vacation Vision to help you plan your fully-crewed private luxury yachting vacation! Inquire as soon as possible about your custom, crewed yacht charter.
You make the memories. We make the arrangements.