Best Restaurants and Food in Italy
Are you planning a trip to Italy and looking for the best restaurants and food to try? Look no further! This guide to Italy's best restaurants and food will provide you with all the information you need for the ultimate food-filled vacation. Whether you're looking for the best restaurants in Italy, the best food to try, or both, this guide will give you all the tips and advice you need to enjoy Italy's delicious cuisine and wine.
Traditional Restaurants in Rome
As the capital of Italy, Rome is full of history and culture, making it a great place to explore and experience the best Italian cuisine. As such, there are numerous restaurants in Rome where you can sample some of the best food to try in Italy.
From classic Roman dishes like Carbonara and Cacio e Pepe to pizza and gelato, there's something for everyone. Here are some of the best restaurants and food to try in Rome.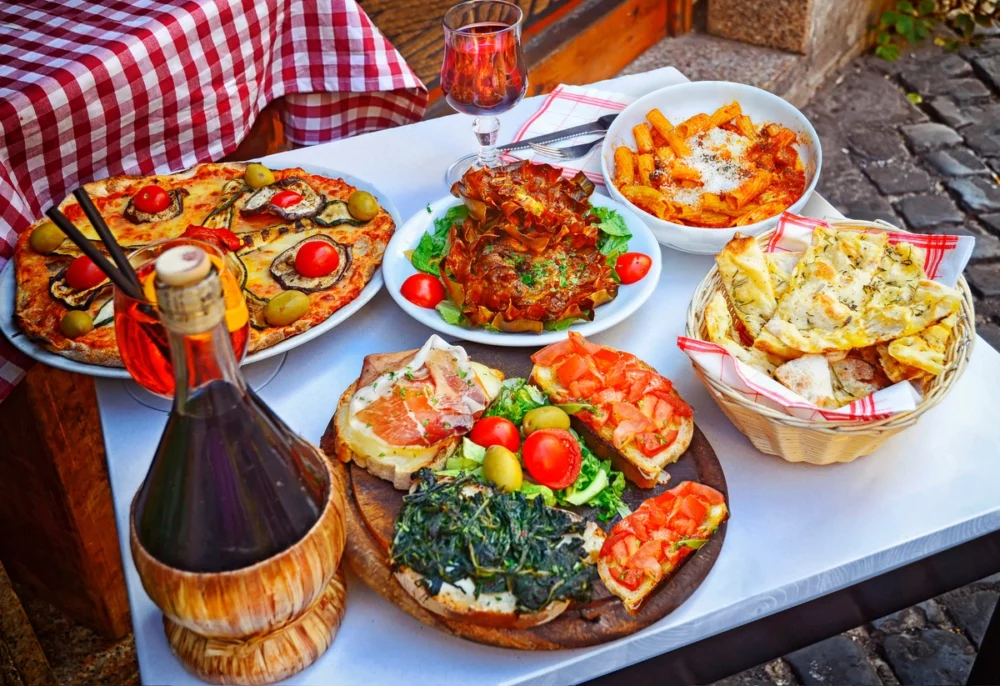 La Pergola
Located in the Rome Cavalieri Hotel, this three-Michelin-star restaurant serves modern Italian cuisine with a Roman twist. With an extensive wine list and some of the best dishes in Rome, this is a must-try for food lovers visiting the city.
Da Enzo al 29
This casual trattoria is in the Trastevere neighborhood and offers traditional Roman cuisine. Their specialty is carbonara and amatriciana pasta dishes, but they also serve dishes like baked pork ribs, fried zucchini flowers, and fried codfish.
Taverna Romana | Best Food and Restaurants in Italy
This small trattoria has been in business since 1934 and still serves some of the best Roman food in town. Their menu includes classics like spaghetti all'amatriciana, rigatoni alla carbonara, and polpette al sugo.
La Montecarlo
La Montecarlo is a Michelin-starred restaurant located near Campo de' Fiori. It offers contemporary Italian cuisine with a strong emphasis on local ingredients and flavors. From handmade pasta to octopus carpaccio, this is one of the best places in Rome to sample some truly outstanding Italian cuisine.
What and Where to Eat in Florence
Bistecca alla Fiorentina is one dish that is particularly popular in Florence. This large, juicy steak usually has a simple side dish of roasted potatoes or vegetables.
Other local favorites include ribollita, a hearty soup made with vegetables, beans, and bread.
Pappa al Pomodoro is a traditional tomato and bread soup.
Lampredotto is the quintessential street food in Florence. It's a sandwich made with slow-cooked tripe.
For dessert, don't miss out on cantucci, crunchy almond cookies often served with Vin Santo, a sweet dessert wine.
Traditional and Modern Dining in Florence
Here are some of the best restaurants in Florence, Italy, that you should visit for an unforgettable dining experience.
Il Palagio
This Michelin-starred restaurant serves high-end Italian cuisine that will leave you wanting more. Try their signature dish, the black squid ink risotto, for a truly unique and delicious experience.
Ristorante Cibreo
This popular eatery specializes in regional Tuscan cuisine, offering some of the best food to try in Italy. Don't miss out on the pici con salsiccia e funghi – hand-rolled spaghetti with sausage and mushrooms – for a true taste of Florence.
Trattoria 4 Leoni
Located near the Piazza del Duomo, this trattoria serves up classic Florentine dishes like pappardelle al cinghiale (wild boar ragu) and pollo alla cacciatora (hunter's chicken).
Ristorante Adagio
This cozy little restaurant serves delicious Mediterranean dishes at very reasonable prices near the Santa Croce church. Try the octopus or the spaghetti alla carbonara for a taste of classic Italian cooking.
La Bottega di Via Maggio "Osteria in Bottega"
If you're looking for something more casual, this popular wine bar cafe is the perfect spot for a quick bite. Their menu features classic Italian dishes like pasta alla puttanesca, sandwiches with prosciutto and mozzarella, and freshly made desserts like tiramisu.
Where to Eat Well in Venice, Italy | Best Restaurants and Food in Italy
Venice is the place to be if you want a unique culinary experience! With its vibrant history, Venice is home to many delicious dishes to try. From seafood dishes like spaghetti alle vongole to traditional desserts like tiramisu, Venice will satisfy the tastes of any food-lover.
Traditional Food to Try in Venice includes:
Spaghetti alle Vongole: This classic Italian pasta dish has clams, garlic, olive oil, white wine, and parsley. This dish is best served with freshly-baked bread to help sop up all the delicious flavors.
Risi e Bisi: This Venetian specialty is a creamy risotto made with fresh green peas, prosciutto, and Parmesan cheese. A sprinkle of pancetta adds a nice smoky flavor to the dish.
Sarde in Saor: This Venetian specialty is made with marinated sardines cooked in sweet and sour onions. It's usually served as an antipasto and can be found on menus all over Venice.
Bacala Mantecato: This is a typical Venetian appetizer made with cod mashed with garlic, anchovies, onion, capers, and olive oil. It's served on crostini and is a popular way to start any Venetian meal.
Tiramisu: This classic Italian dessert is a must-try when in Venice. Layers of ladyfingers soaked in espresso, marsala wine, and mascarpone cheese are then topped with cocoa powder for a decadent treat.
Best Restaurants in Venice
From traditional Italian fare like risotto and seafood dishes to Venetian classics like Bigoli in salsa, Venice's restaurants have something for everyone. Here are some of the best restaurants in Venice that you won't want to miss!
Alle Testiere
This elegant restaurant offers traditional and modern Venetian cuisine. Try their signature seafood risotto called "risotto alle testiere."
Osteria al Garanghelo
Located in the Castello district, this rustic osteria serves classic Venetian cuisine in an intimate setting. Try their "bigolio con salsa," a Venetian specialty made with bigoli (a type of pasta) and fish sauce.
La Zucca
Located near Campo Santa Margherita, La Zucca is a vegetarian-friendly restaurant with an ever-changing menu of seasonal dishes. They specialize in vegan and vegetarian Italian dishes like vegetable risotto and artichoke parmesan.
Al Gatto Nero
Located on the island of Burano, Gatto Nero offers traditional Venetian cuisine in a warm and inviting atmosphere. Try their Zuppa di Pesce, a fish-based soup loaded with fresh seafood.
Da Ivo
Found in the Castello district, Da Ivo is a local favorite for its delicious seafood dishes. The menu is always changing and includes dishes like pasta with prawns, squid ink risotto, and some of the best food to try in Italy: polenta with mussels.
Top Food and Restaurants in Sicily
Sicilian cuisine is a delightful blend of flavors, from sweet, salty, and savory to spicy, herbaceous, and acidic. With its Mediterranean climate, the island produces fresh ingredients and offers a variety of special dishes. From traditional Sicilian pasta dishes to delicious seafood, it's easy to find a great meal here.
Seafood is an integral part of Sicilian cooking, along with many vegetables and sweet and savory dishes with ricotta cheese. In addition, Sicily is home to many great wines and vineyards to visit. Italy will spoil you with its unique and delicious wines, from Marsala in the west to the Aeolian islands in the northeast.
Traditional Sicilian Food to Try
Pasta con le Sarde – linguine topped with sardines, pine nuts, raisins, and fennel.
Another classic dish is Timballo di Anelletti, an elaborate casserole of macaroni, mozzarella, and tomato sauce.
Also, try Panelle con Cicciole, a chickpea fritters and potatoes sandwich.
Arancini, fried rice balls stuffed with various fillings, are the perfect and ubiquitous street food across Sicily.
You must have a Cannolo Siciliano, a fried pastry filled with ricotta cheese and chocolate chips for dessert.
Granita di Limone is another dolce, a sweet and tangy sorbet made with lemon juice and sugar.
Top Restaurants to Try in Sicily
From family-run trattorias to elegant restaurants overlooking the sea, here are some of the best restaurants in Sicily.
Ristorante Pizzeria La Lanterna, Palermo
Located in the old city center of Palermo, this charming pizzeria has been open since 1965 and still uses traditional recipes and ingredients from the local area. The rustic ambiance and fresh flavors make it a great spot for a casual dinner with friends.
Trattoria U Fucularu, Catania
This family-run trattoria is famous for its seafood dishes, with specialties including eggplant and various delicious kinds of pasta. The staff is welcoming and friendly, and the prices are very reasonable.
Antico Caffè Spinnato, Palermo
One of the oldest cafes in Palermo, Antico Caffè Spinnato, serves classic Sicilian cuisine such as arancini and pasta alla Norma. In addition, they also have a selection of cakes, pastries, and coffee drinks.
Ristorante Sant'Andrea, Taormina
With stunning views over Taormina Bay, this high-end restaurant serves classic and modern Sicilian dishes using only the freshest ingredients. Specialties include couscous and fresh Frutti di mare.
La Cambusa del Pirata, Siracusa
Situated on the waterfront in Siracusa, La Cambusa del Pirata is a lively seafood restaurant serving classic Sicilian dishes and fresh seafood sushi. The menu features everything from antipasti to desserts, and the atmosphere is relaxing and welcoming.
Sicily has something for everyone, whether looking for a romantic dinner or a casual lunch with friends. With its traditional and modern cuisine mix, it's no wonder this region is one of Italy's most beloved culinary destinations.
Best Restaurants and Food in Italy
Italy is overflowing with seasonal ingredients from fresh vegetables, seafood, meat, and pasta for a small country to suit everyone's tastes. One trip to this Mediterranean food-lovers paradise is certainly not enough. Head to our Italy itineraries to taste some sample Italy yacht charter itineraries that will surprise and delight your state buds. In addition, check out what you can expect on a Greek food yacht charter. And enjoy fine dining at Italian restaurants throughout the country.
Please call us today at 1 (321) 777-1707 or describe Your Vacation Vision to help you plan your fully-crewed private luxury yachting vacation! Inquire as soon as possible about your custom, crewed yacht charter.
You make the memories. We make the arrangements.