The Bahama Islands evoke thoughts of clear aqua waters, sparkling white sandy beaches, and laid-back locals. These islands are heaven on Earth. Compass Cay or Highbourne Cay in the Exumas offers relaxing beaches and shallow water for swimming or wading. Nassau, the capital of the Bahamas, has more shopping, dining, and nightlife. With year-round mild temperatures, gloriously clear waters, and welcoming locals, a Bahamas luxury yacht rental can be an ideal vacation.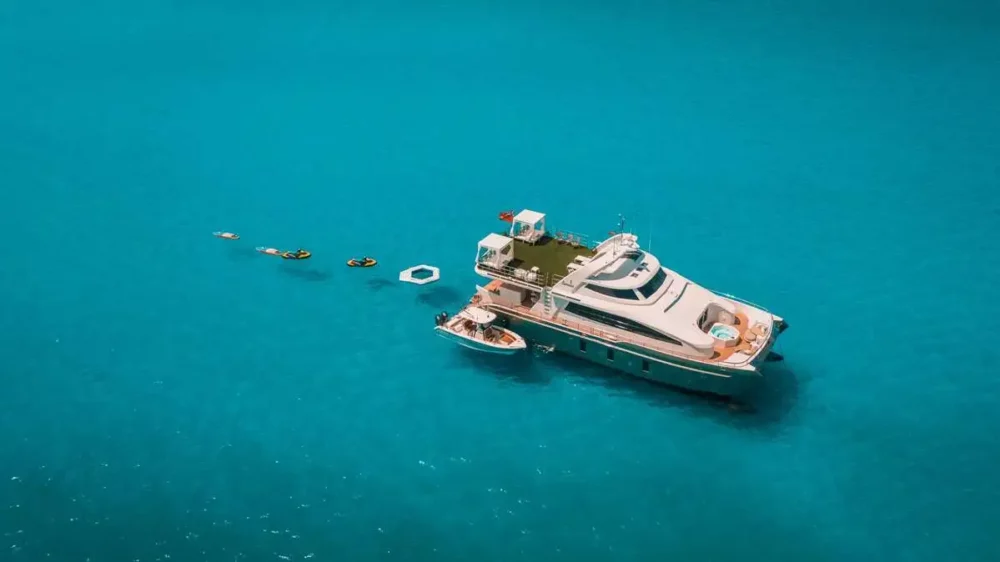 Getting to the Bahamas
It's easy to get to the Bahamas. Take a commercial flight from major US cities or charter a private flight. Private flights offer the added benefit of flexibility and distance from crowded airports. Land at one of many airports throughout the islands, then take private land transportation or a private seaplane to your waiting yacht.
Traveling from the United States, you can catch direct commercial or private flights from major cities such as Miami or Fort Lauderdale. International travelers can also fly into Lynden Pindling International Airport (NAS) in Nassau or explore private aviation options. We will arrange transportation to the marina where your yacht awaits.
What's the Best Yacht For Me?
There are different types of yachts: catamarans, power catamarans, sailboats, and motor yachts. The type of yacht you choose depends on several factors.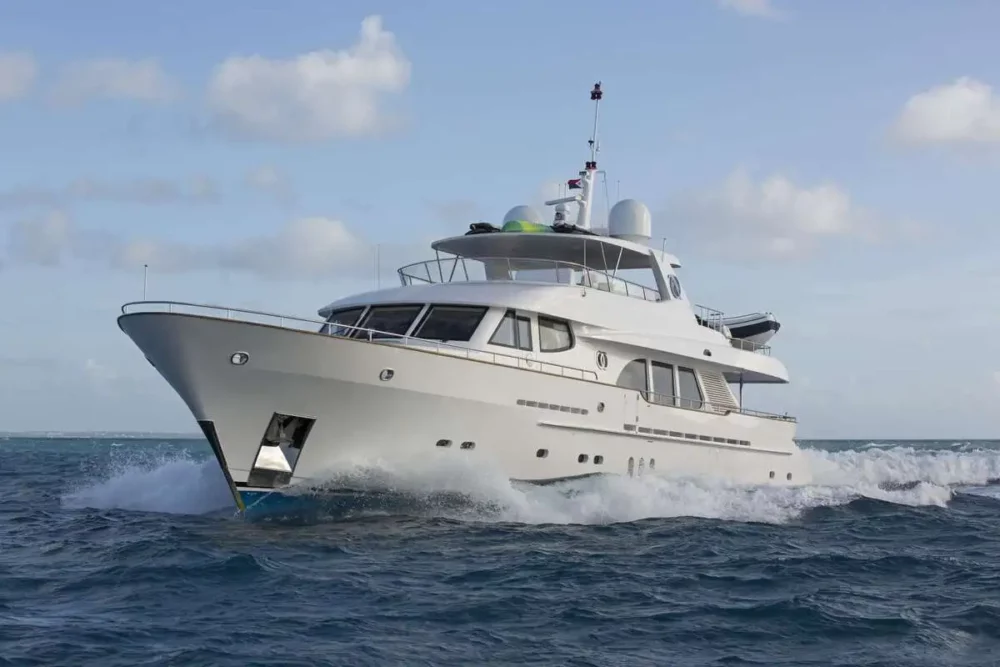 Motor yachts have spacious cabins and generous outside areas. These yachts can quickly travel from island to island.
Sailing yachts are more traditional and offer the unique feeling of gliding over the water under the power of the wind.
Catamarans are very popular because they have space and can travel in shallow water. The two hulls on the boat provide added stability and privacy in separate cabin areas.
Power catamarans have the added benefit of wind and engines carrying you from one island to the next. Sailing catamarans are also an option for a charter in the Exumas.
What to Expect On Board
A luxury yacht rental in the Bahamas offers a world of opulence, comfort, and adventure. These yachts have state-of-the-art amenities, attentive crew members, and ample space for relaxation and entertainment.
Enjoy luxury with spacious cabins, exquisite dining areas, sun decks with jacuzzis, water toys, and entertainment systems.
Indulge in gourmet cuisine prepared by professional chefs or enjoy a refreshing cocktail from the onboard bar. The crew will cater to your every need, ensuring a seamless and memorable experience throughout your journey.
A Typical Day on a Luxury Yacht Vacation
A typical day on a luxury yacht rental in the Bahamas combines relaxation, adventure, and personalized experiences. Every day can be tailored to your preferences; here's a glimpse of what you can expect: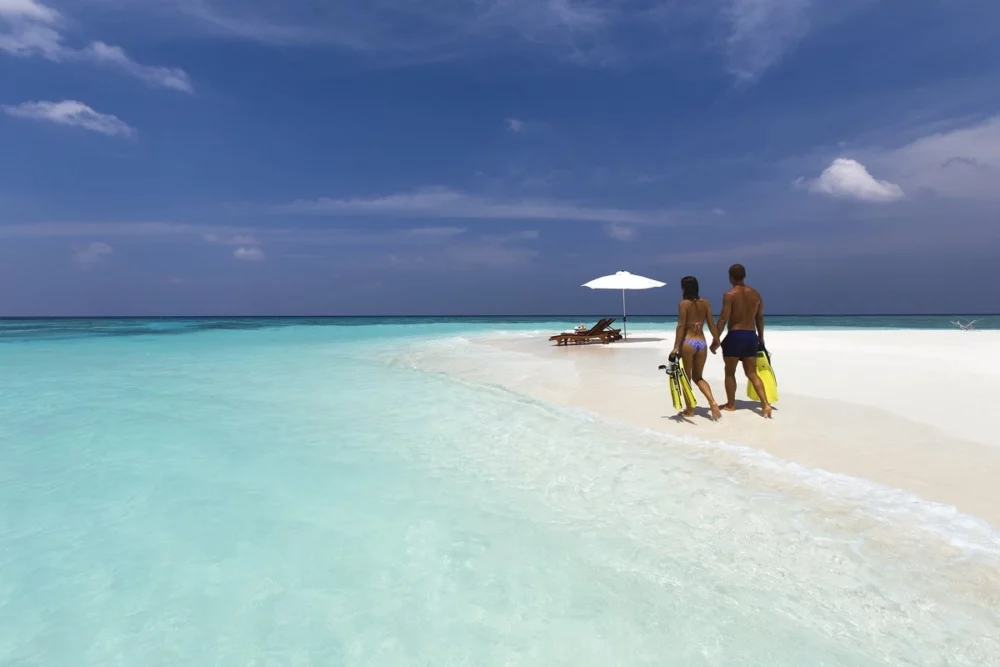 Morning
Wake up to the gentle sway of the yacht and the soothing sound of waves. Enjoy a delicious breakfast prepared by the onboard chef. Dine on the deck with panoramic views or in the elegant dining area. Savor freshly brewed coffee as you take in the stunning surroundings.
Mid-Morning
After breakfast, it's time to explore the beautiful waters. Grab your snorkeling gear, paddleboards, or kayaks and dive into the inviting turquoise sea. Discover vibrant coral reefs teeming with marine life, swim alongside tropical fish, or marvel at the colorful underwater world. Alternatively, you can relax on the deck, soak up the sun, and enjoy the luxurious amenities of your yacht.
Lunch
Return to the yacht for lunch prepared by the talented onboard chef. Indulge in a gourmet meal featuring fresh seafood, local delicacies, and international cuisine. Dine al fresco on the deck, enjoying the cool ocean breeze and breathtaking views.
Afternoon
In the afternoon, set sail to your next destination. Lounge on the sun deck, bask in the jacuzzi, or sip on a refreshing cocktail from the bar while taking in the scenic coastline. Engage in water sports activities like jet skiing, wakeboarding, or fishing. Alternatively, you can relax, read a book, enjoy a spa treatment onboard, or socialize with your guests.
Evening
As the sun sets, savor a gourmet dinner meticulously prepared by the chef. Delight in a culinary journey featuring exquisite flavors, complemented by fine wines and impeccable service. Enjoy the ambiance of a candlelit dinner on the deck or in the elegant dining area.
Night
After dinner, the evening is yours to unwind and enjoy. Watch a movie in the yacht's entertainment area, play games, or dance the night away under the stars. If you prefer a quieter evening, retreat to your luxurious cabin for a restful night's sleep, lulled by the gentle motion of the yacht and the sound of the sea.
The dedicated crew will be at your service throughout the day, catering to your needs and ensuring your comfort and safety. They can provide recommendations for activities, assist with water sports equipment, arrange excursions to islands or local attractions, and help you make the most of your Bahamas luxury yacht rental experience.
Remember, this itinerary is just a glimpse of what a typical day can look like. The beauty of a luxury yacht rental is the flexibility to customize your day according to your preferences and desires. Whether you seek adventure, relaxation, or a combination, your luxury yacht charter in the Bahamas will be tailored to create unforgettable memories.
Planning the Itinerary for Your Bahamas Luxury Yacht Rental
With so many islands to explore, you may wonder where to start. When thinking about where you would like to go and what you would like to do on your charter, remember not to over-plan.
List the places you MUST see and things you MUST do. Flexibility is critical since the wind and waves may alter your course. Some of the best memories are made when the unexpected happens: you see a bright rainbow after a sudden downpour, you come across a pod of dancing dolphins, or you happen upon a pristine cove where you drop anchor for a quiet afternoon.
The professionals at the CKIM Group are well-versed in the Bahamas, yacht charters, and personalized itineraries. We will curate a custom vacation package tailored just for you based on your interests and preferences. In addition, you will have the opportunity to speak with your captain in advance to talk about your ideas.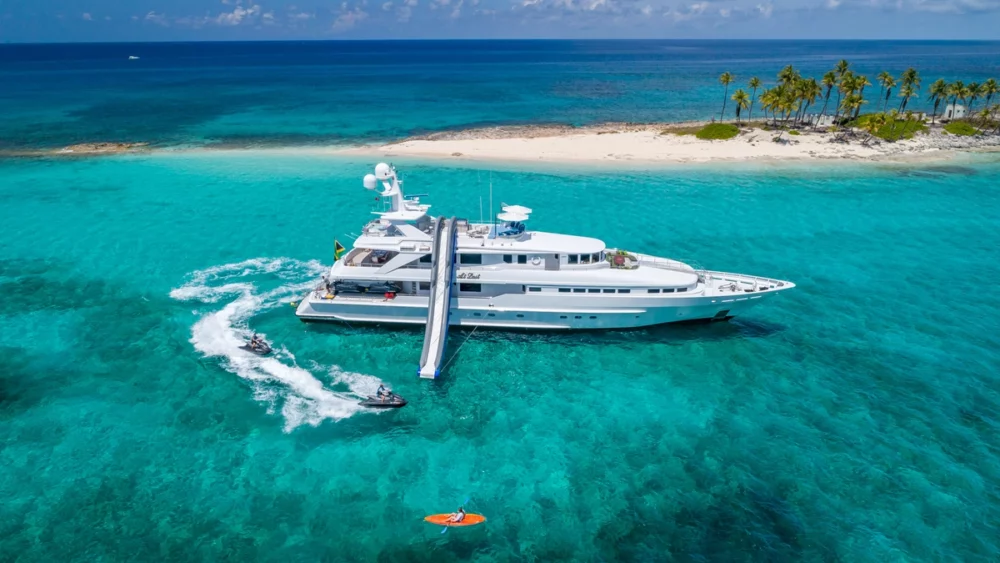 Places to Visit
There are over 365 Cays and 700 islands to visit in the Bahamas, so you won't quickly run out of places. Your private yacht charter will take you to the white sand beaches of Staniel Cay, Harbour Island, Big Major Cay, and more.
Whether you want to stretch out on the yacht's sun pads with a good book or get out the toys for an active day on the water, your Bahamas luxury yacht charter promises priceless memories.
Please call us today at 1 (321) 777-1707 or describe Your Vacation Vision to help you plan your fully-crewed private luxury yachting vacation! Inquire as soon as possible about your custom, crewed yacht charter.
You make the memories. We make the arrangements.