Best Bahamas Beaches and Cays
The Bahamas is home to some of the world's most beautiful beaches, and it's easy to see why. A few reasons to visit the best Bahamas beaches include Eleuthera's pink sands and the Exumas' turquoise waters.
Below, we'll highlight some of the best Bahamas Islands' beaches and cays that will take your breath away. Importantly, a private yacht charter is the best way to explore these incredible beaches.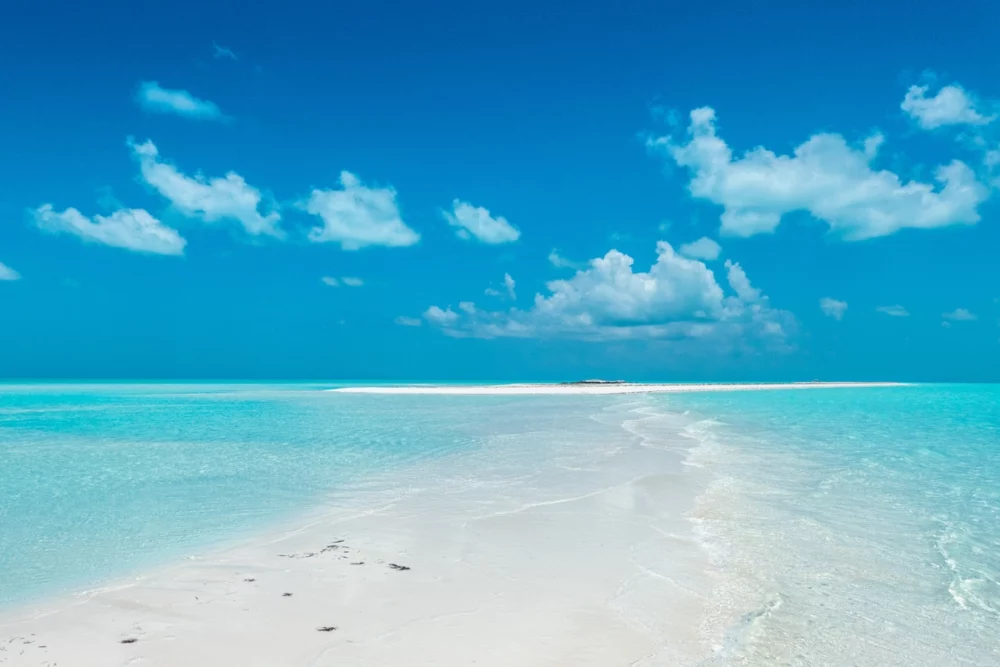 Love Beach, New Providence
Love Beach, one of the most tranquil beaches in the Bahamas, is on New Providence Island. It offers clear turquoise waters and soft white sand. This beach is an idyllic spot to relax and enjoy the beauty of the Caribbean.
In addition, it's typically less crowded than most New Providence beaches. Visitors can sunbathe, swim, or explore the nearby coral reef. It's also a great place to stop on a Bahamas wedding yacht charter.
French Leave Beach, Eleuthera Bahamas
French Leave Beach on Eleuthera Island is picture-perfect. This long stretch of white sand and tranquil turquoise waters is ideal for snorkeling, swimming, and picnicking with friends and family.
There are plenty of spots to explore, and you may even spot some wild pigs along the shoreline! French Leave Beach is one of the best beaches in the Bahamas. Visit our Eleuthera itineraries for more yacht charter vacation ideas.
Best Bahamas Beaches | Junkanoo Beach
Junkanoo Beach, located in New Providence, is one of the most popular beaches in The Bahamas. Named after the famous Bahamian festival, Junkanoo, the beach stretches for several miles, offering plenty of space for sunbathing and swimming.
Junkanoo Beach is good for family fun. It offers shallow waters with plenty of fish and a small beach where tame pigs roam freely. Bring your snorkeling gear, explore the nearby coral reef, or relax on the beach while you soak up some sunshine.
The beach also features a wide selection of restaurants and cafes. Try Junkanoo Beach Bar & Grill for authentic Bahamian food, such as conch fritters. Head to our best food and restaurants in the Bahamas page for more.
Monjack Cay
Monjack Cay is an island in the Exumas. It is famous for its pristine white sand beaches and crystal clear turquoise waters. Swimming, snorkeling, and kayaking are popular activities on Monjack Cay.
The island is home to a wide variety of wildlife, including sea turtles, iguanas, and seabirds. You can explore the amazing scenery and wildlife if you're feeling adventurous. Although the island has no amenities or restaurants, it's a great place to spend time in nature.
Pink Beach | Best Bahamas Beaches and Cays
For a truly unique beach experience, look no further than Pink Sand Beach on Harbour Island in the Bahamas. The bright pink sand is a rare combination of coral and shells. This beach is a popular spot for sunbathers and swimmers and is home to abundant wildlife.
Pig Beach Bahamas
Pig Beach, also known as Big Major Cay, is one of the most beautiful beaches in the Bahamas. The remote island, about 45 miles from Nassau, is home to a colony of feral pigs. The pigs are friendly and will swim up to you when you arrive.
The beach itself is stunning, with crystal clear water and white sand. Relax and enjoy the peace away from Nassau's hustle and bustle.
Tahiti Beach
Located on Eleuthera Island, Tahiti Beach is a stunning secluded paradise. The views from the beach are breathtaking and offer visitors a unique experience. Relax on this beach, enjoy the sun, and dip in the refreshing ocean.
The best time to visit Tahiti Beach is during the summer when the weather is warmer. The beach is usually quiet during this time, making it a great spot for a romantic getaway or relaxing. If you're looking for something more lively, the nearby town of Governors Harbour offers plenty of restaurants, bars, and shops.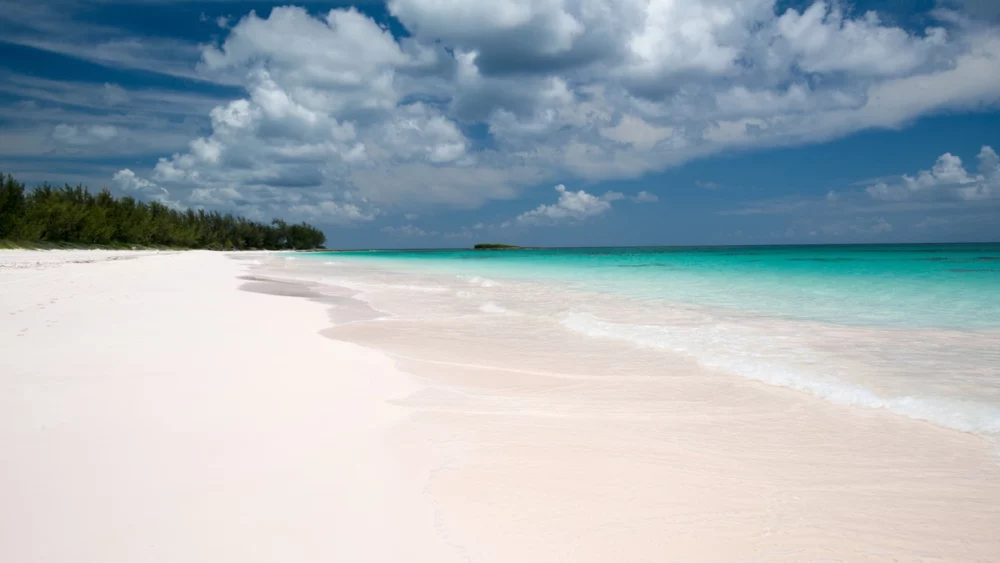 Best Bahamas Beaches | Staniel Cay
Staniel Cay has one of the most beautiful beaches in the Bahamas. This beach will take your breath away with clear waters, fine white sand, and lush vegetation. The best way to experience Staniel Cay is by boat.
For those wanting to explore more, abundant sea life like various fish, stingrays, dolphins, and even the occasional shark. Staniel Cay is also close to the famous swimming pigs. The shallow waters make it ideal for beginner snorkelers and those who want to enjoy the view.
At night, Staniel Cay is the perfect place for a romantic dinner. The stars from the Milky Way are visible from the beach.
Long Island, Bahamas
Next on our list of the best beaches in Long Island. It has diverse landscapes, including pristine beaches, rugged cliffs, and serene blue holes. It's a place where you can experience a more laid-back and authentic Bahamian lifestyle.
Cape Santa Maria on Long Island has an extraordinary beach. Many consider it one of the most beautiful beaches in the Bahamas and the Caribbean.
Abaco Bahamas Beaches | Best Bahamas Beaches and Cays
The Abacos boasts picture-perfect beaches. So, if you're looking for the best Bahamas beaches to relax on, look no further than this idyllic island chain. Whether you are searching for a private beachfront oasis or an endless shoreline, you'll find it in the Abacos.
The Abacos comprises seven main islands: Elbow Cay, Green Turtle Cay, and Man-O-War Cay. There are plenty of stunning stretches of sand to explore here, offering some of the most beautiful views in the Bahamas.
Treasure Cay
Treasure Cay Beach is one of the most popular beaches in the Abacos. Its 3-mile-long sandy shoreline is perfect for beachcombing and swimming. Tahiti Beach on Elbow Cay is another excellent spot to check out, and its shallow waters are ideal for families. Another family-friendly beach is Coco Bay, on Man-O-War Cay.
Elbow Cay
White Sound on Elbow Cay offers an off-the-beaten-path beach. Here, you'll find crystal-clear waters perfect for swimming and relaxing. Or, take a boat to Lubbers Quarters Cay and explore its hidden coves and secret beaches.
Coco Bay Man-O-War-Cay is one of the best Bahamas Beaches
Coconut Palm Bay boasts 14 acres of magnificent property between the Atlantic Ocean and the Sea of Abaco. Its two sandy beaches, refreshed by cooling island winds, make it the most splendid of the Abacos and the Bahamas.
Cable Beach, Nassau, Bahamas
Located on the westernmost point of New Providence Island, Cable Beach is one of the most popular beaches in the Bahamas.
You'll find plenty of beach chairs and umbrellas along the shoreline and a selection of restaurants and bars. For nightlife, Cable Beach offers one of the largest casinos in the Caribbean,
Gold Rock Beach, Grand Bahama Island
Gold Rock Beach is a stunning and well-known beach located within Lucayan National Park on Grand Bahama Island. The beach is especially easy to reach when the tide is low since a large sandbar appears.
Tropic of Cancer Beach
Little Exuma's shoreline is home to the magnificent Tropic of Cancer Beach. It also has the name Pelican Beach. You'll enjoy the white, powdery sand and glistening turquoise-blue waters.
Best Bahamas Beaches and Cays
A yacht charter in the Bahamas offers many incredible ways to explore over 700 islands and cays. When vacationing in this paradise, these best Bahamas beaches and cays are just the tip of the iceberg.
Skip the typical cruise ship vacation with its crowded cruise ports. Charter a private luxury yacht instead!
Please call us today at 1 (321) 777-1707 or describe Your Vacation Vision to help you plan your fully-crewed private luxury yachting vacation! Inquire as soon as possible about your custom, crewed yacht charter.
You make the memories. We make the arrangements.